Allt Fawr, GW/NW-025 - 698m ASL - SH 682 475 - OS Explorer OL17 & OL18 - 4 SOTA points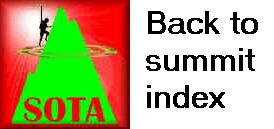 After Manod Mawr GW/NW-035 on Saturday 10th August 2013, we reversed our drive down the quarry road and then north through Blaenau Ffestiniog. The next - and final summit of our trip was Allt Fawr GW/NW-025. We parked on a small cul-de-sac at the side of the road at SH699485, and had our lunch - a flask of butternut squash, parsnip and ginger soup. I spotted a huge, steep and imposing grey mountain towering above us at some distance away. "What's that one over there?" I asked while pointing at it. "That's the one we're going up now Dad" came the reply. Eek. Soon we commenced the walk north, initially alongside the A470. We then turned left onto the PROW, a curving track which we followed for around 150m.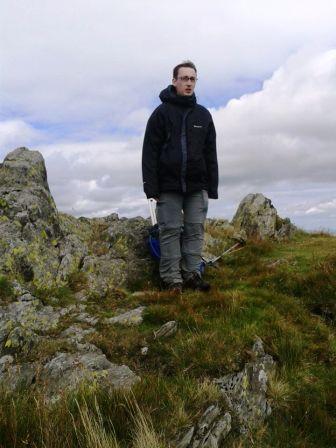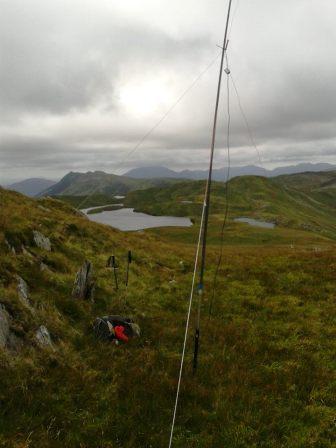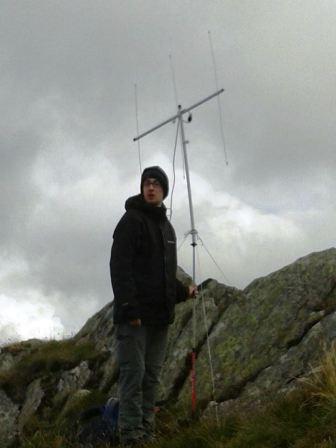 At SH699488, we cut left and began a tiring slog up a grassy slope to pick up the ridge line, which was coincidental with a wire fence. This we followed uphill, sometimes steeply with a bit of mild scrambling required. I made a mental note to avoid this section on the descent route later - and it was not the first time I went through this thought process on the ascent! From SH694486, the route went fairly flat and even a little downhill as we passed behind a couple of grassy mounds. From the fence corner at SH692486 we could hear the sound of laughter from people down at Llyn Dyrnogydd. There was no sign on the map of the telegraph poles and cables crossing at this point, but Jimmy pointed out that below our feet, and in the same direction as the poles, was the Blaenau Tunnel.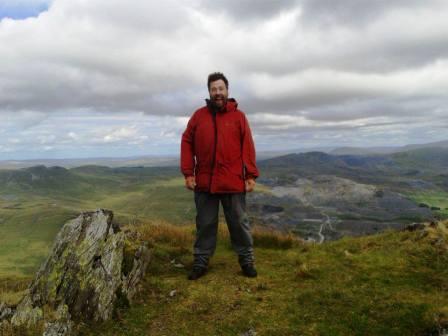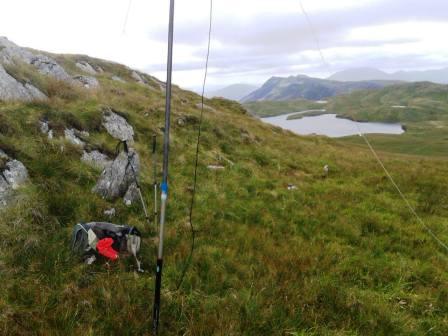 Climbing on took us onto an airy ridge with tremendous views on both sides, and with a good path beneath our feet at last. This was quite undulating and passed over the spot height of 583m, but good going until we reached the start of the final steep approach at SH683478. Now the work began, and I became increasingly aware of some exposure on my left hand side. When this became a muddy steep scramble, still only a metre or so from a potential "death plunge", I advised Jimmy, not for the first time in the day, that this was NOT going to be the descent route! I could just about manage going up, with my body's momentum propelling me towards solid higher ground. The opposite situation did not appeal whatsoever.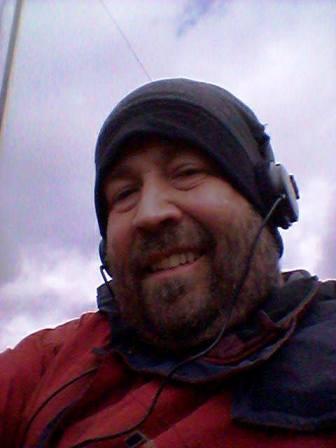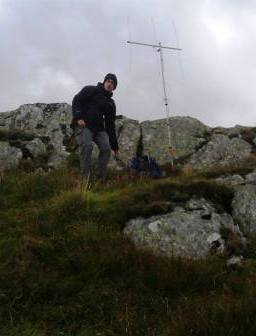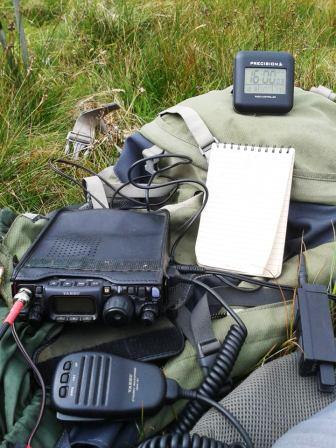 An opportunity to veer to the right, and spiral more gently towards the summit, was taken. Around 20m vertically below the summit, we added fleece, coat and hat as the wind began to pick up and the temperature drop. I ventured onto the narrow rocky summit ridge briefly for some photos. Jimmy dropped about one metre down from the summit to gain a little shelter, while I went further to a flat grassy patch, probably about 5m lower. This time, Jimmy was using the SOTA Beam and WASP which he felt might stand up to any windy conditions better than the MFD + SOTA Pole arrangement. I asked him to give me a shout if any S2S opportunities came up.

On 12m CW it was five QSOs, followed by eight on SSB. In the middle of this, I got the shout from Jimmy and we both worked Viki MW6BWA/P and Rod MW0JLA/P on Pen y Garn-goch GW/MW-016. Jimmy went on to record nine contacts on 2m FM, while I added Steve G6LUZ on 12m PSK31 to take my own QSO tally to 14.

The return route commenced with us following the ridge down to the small pool at SH676475, where we turned right to pick our way down the grassy slopes. We picked up the ascent route again on the ridge at SH683478, which we followed back to the fence corner at SH692486, via a slight diversion earlier planned by me to avoid some mild exposure. At this fence corner I took the decision to drop down to the appealing looking tarn of Llyn Dyrnogydd. This turned out to be not such a great move, for midges and flies accompanied us alongside the water, and a tricky boggy descent awaited us thereafter, with some steep slippery sections. But we were safely down to the track which we picked up at SH698489, for a simple final walk back to the car.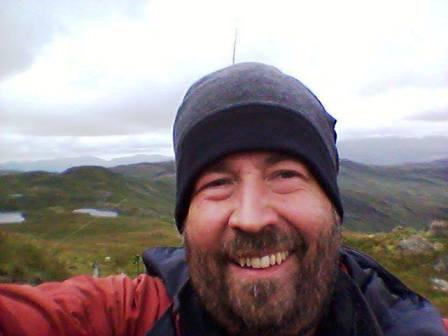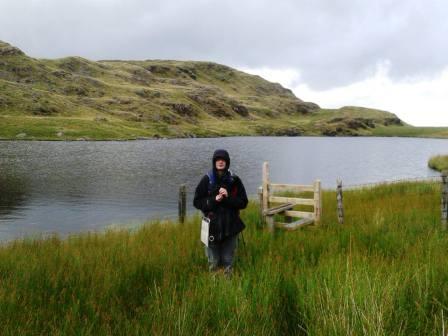 We had done quite well in my opinion, completing the round trip of ascent - activation - descent inside 4.5 hours, despite this being the fifth summit of a rather strenuous and tiring couple of days. Jimmy mentioned that he had definitely noticed a significant improvement in his father's fitness and stamina, and how I had been keeping up with him better than in earlier months this year. Jimmy's good planning meant that we were already well into the journey home from this final summit, and it seemed no time at all before we passed Betws-y-coed and were motoring towards Conwy. Our ETA for home was already 9.30pm without an evening meal, and a text exchange between Jimmy and Marianne determined that we would have a meal on the way back.

We stopped at the OK Diner on the A55 near Connah's Quay and indulged in burgers topped with chilli, cheese and onion ring, twister fries and chocolate and peanut butter milkshake. A few more calories then to replace those that had been expended on energy over the recent spate of activating. But I was definitely feeling fitter and stronger than I had done for 12 months.
| | | | |
| --- | --- | --- | --- |
| 2W0TDX/P on Mynydd y Cwm NW-076 | 2m | FM | J |
| 2W0XYL/P on Mynydd y Cwm NW-076 | 2m | FM | J |
| MW0ZXQ | 2m | FM | J |
| DJ5AV | 12m | CW | T |
| GW0HUN | 2m | FM | J |
| OK1DVM | 12m | CW | T |
| OM1AX | 12m | CW | T |
| N4EX | 12m | CW | T |
| SP7JLH | 12m | CW | T |
| MW0UPH/M | 2m | FM | J |
| 2W0OSH | 2m | FM | J |
| G6ODU | 12m | SSB | T |
| G6LUZ | 12m | SSB | T |
| MW0ZXQ | 12m | SSB | T |
| GW4EVX | 12m | SSB | T |
| MW6BWA/P on Pen y Garn-goch MW-016 | 2m | FM | J, T |
| MW0JLA/P on Pen y Garn-goch MW-016 | 2m | FM | J, T |
| MW3ZKT | 2m | FM | J |
| MW1CNL/M | 12m | SSB | T |
| DL2DXA | 12m | SSB | T |
| G6LUZ | 12m | PSK31 | T |