Bin of Cullen, GM/ES-084 - 320m ASL - NJ 480 643 - OS Explorer 425 - 1 SOTA point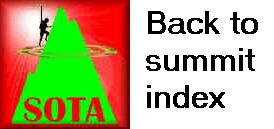 GM trip day 9 - Friday 7th August 2009 - Bin of Cullen GM/ES-084

And all too soon it was Friday - the last day of our Lossiemouth week. We had enjoyed Lossiemouth greatly. We found it to be a super little holiday town with great accommodation, friendly people, great beach, good cafes and restaurants etc - and conveniently placed for a whole selection of SOTA summits.

We had been looking at Bin of Cullen as a possible family walk. The map indicated a not-too-far and not-too-steep easy walk onto the summit, which would be sure to have stunning views over the Moray Firth. By this stage, to do it at all, would require another Tom & Jimmy 5am raid. But this turned out to be for the the best; a suitable family walk it was not!

The outward route followed the A96 to Fochabers, and the A98 towards Cullen. After passing Buckie, Jimmy directed me right onto a minor road on which would be our parking spot. This was in the wide track entrance at NJ471637, supposedly opposite the start of our path. But there was no sign of any route towards the summit.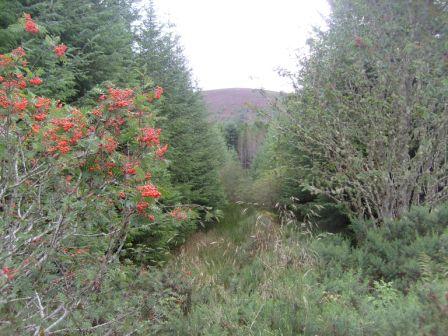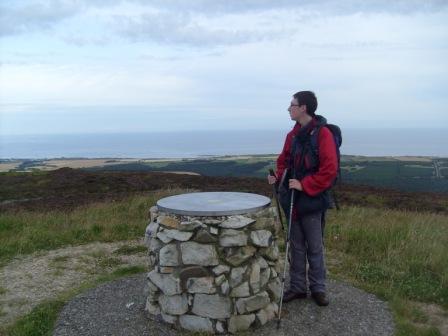 A bit more searching, and it appeared that we should head down a narrow cleared channel between the trees. The going wasn't good though, and deteriorated further down as we had to fight and clamber our way through some pretty dense forest. This was sapping, in terms of energy, spirit and time.

Eventually though, we emerged from the 'obstacle course' and soon picked up the distinct path up the hill. This was suddenly very good going, and we arrived on the summit to be rewarded with exactly the excellent view we had anticipated.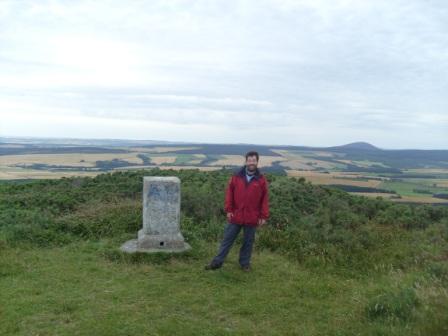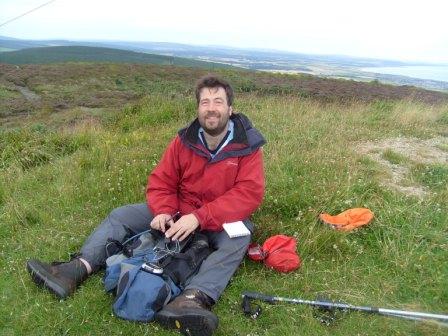 Things continued to go well, with Jimmy achieving his quota on his preferred 2m FM, and me rattling through 22 QSOs in 19 minutes on 7.032MHz CW. By 8.30am, and significantly cheered, we were on our way back down.

This time, we stuck with the distinct path, hoping that it would continue all the way to lead us out to the roadside. Unfortunately, it petered out back down in the dense woodland, and we had to fight our way out again. This proved exceptionally difficult, both from a physical - and navigational point of view. It became real guesswork where the 'channel' leading back up to the road might be.

We never found it. Instead, we chanced upon the boundary fence for the farm at Hillhead of Rannas, and skirted around that. Safely back in the car, it was a victorious mood as we drove back to Lossie with our 9th unique activation in the bag.

We loaded the car, took a shower, then joined Marianne and Liam for a full Scottish breakfast in the superb cafe below our apartment. With two days to get to Sandhead, near Stranraer, which was a Saturday to Saturday booking, there was no need to rush, so we first took a drive down to Tomintoul to visit Barry GM4TOE's shop - A'anside Studios.

Marianne, being an artist herself, really enjoyed browsing the art and crafts on display, and in particular the clocks crafted by Barry himself. Jimmy, Liam and myself did some shopping in the Scottish deli section of the shop, collecting Stornaway black pudding, tinned haggis and game. (All delicious, thank you Barry & Jacqui).

Our road journey took us further than we were anticipating, and the hotel we got to was in a place called Fenwick, just outside Kilmarnock, and less than two hours away from the second week's holiday accommodation.
Thanks to the following stations worked on this activation:

| | | | |
| --- | --- | --- | --- |
| GM4ILS | 2m | FM | J |
| MM0LOZ | 2m | FM | J |
| F5SQA | 40m | CW | T |
| GM8FFK | 2m | FM | J |
| OM1AX | 40m | CW | T |
| G3RMD | 40m | CW | T |
| DL2HWI | 40m | CW | T |
| MM0UDI/M | 2m | FM | J |
| G3RDQ | 40m | CW | T |
| F6CXJ | 40m | CW | T |
| DL4FDM | 40m | CW | T |
| DK2FG | 40m | CW | T |
| G4ZIB | 40m | CW | T |
| DL2EF | 40m | CW | T |
| DL1FU | 40m | CW | T |
| DL6FAX | 40m | CW | T |
| DJ2IA | 40m | CW | T |
| HE8AFI | 40m | CW | T |
| S51ZG | 40m | CW | T |
| G4OBK | 40m | CW | T |
| DJ5AV | 40m | CW | T |
| OE8SPW | 40m | CW | T |
| G3KYF | 40m | CW | T |
| DL7VKD | 40m | CW | T |
| ON4CAP | 40m | CW | T |
| DL2DXA | 40m | CW | T |