Brown Muir, GM/CS-120 - 339m ASL - NJ 258 548 - OS Explorer 424 - 1 SOTA point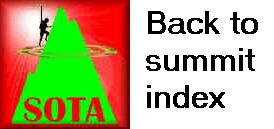 GM trip day 6 - Tuesday 4th August 2009 - Brown Muir GM/CS-120

A welcome lie-in commenced on this day, for our SOTA activity was planned to coincide with the evening RSGB 2m activity contest. The chosen summit was quite close to us, and selected as one with a fairly easy approach.

However, with a day to kill before heading out SOTAing, we took a trip into Fochabers, and a sort of "pilgrimage" to Baxters! As well as the factory and warehouse operation, the Baxters 'Village' also included a deli shop, restaurant, tea-room, video presentation and reconstruction of George Baxter's original shop. Audrey Baxter's new Tender Beef & Ale deli soup was available for sampling, as was a very sweet whisky liqueur.

Jimmy yearned for some of Baxter's discontinued soup flavours like cream of pheasant, but I had shopping to do from the current ranges. Suffice to say that I stocked up on some exotic soups (coming soon to an activation report near you), whisky fudge (known in these parts as "tablet") and haggis flavour oatcakes. And a bottle of Gordan & MacPhail 10 year Speyside single malt.

We then adjourned to the tea-room for lunch - which was to fill us more than sufficiently for the rest of the day. The £9.95 afternoon tea included choice of two sandwiches from the menu, pot of tea, scones, and then the selections of scrummy cakes just kept on being brought to the table! Afternoon tea? It turned out to be a gargantuan feast, very highly recommended.

Into the village of Fochabers itself, the main attraction was a very interesting and well-stocked museum, for which entry was completely free. However, my thoughts were now beginning to turn to getting out on the hills in a timely manner for the night's 2m contest. Not long after getting back to the apartment in Lossiemouth, Jimmy and I were on the road once more.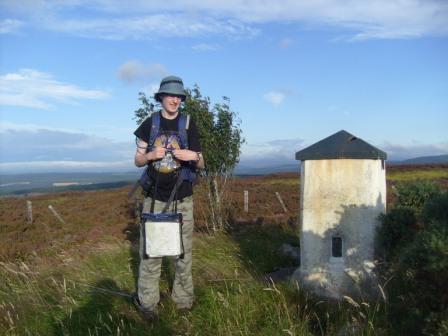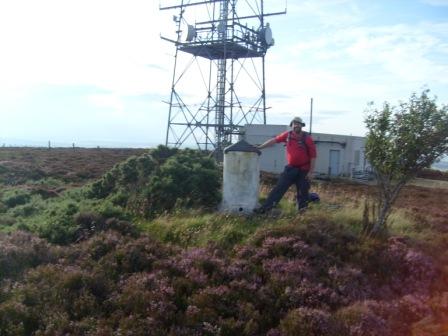 Although the OS 1:25000 sheet indicates that the track to the summit starts at NJ261566, a local farmer there advised us that he wasn't sure if the summit was accessible via that route. Instead, he advised us to drive part-way along the tarmac track starting at NJ275563, a much better approach.

The OS map didn't indicate that this route connected up to the summit, but we trusted the local knowledge, and parked a short distance along it at Moniemouries. This left us with a pleasant early evening walk of about 20/30 minutes, and we arrived on summit in plenty of time to set up for the 2m activity contest.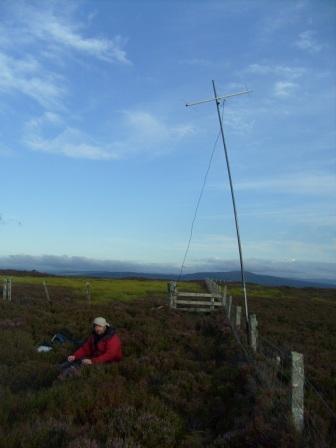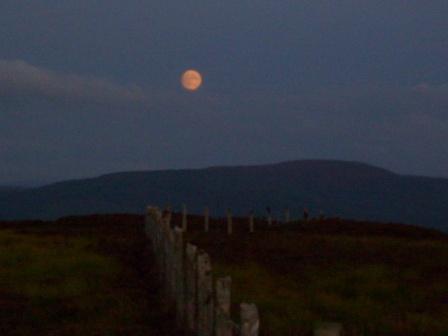 Jimmy found a geocache in the unusual metal roofed trig point, which he duly signed. I set up the SOTA Beam, but had the 40m dipole in the rucksack as back-up in the event of not qualifying the summit on 2m. This was a distinct possibility in remote North-East Scotland, but hopefully mitigated by the Tuesday night activity contest.

In the end, we each qualified the summit for SOTA entirely within the contest. However, with four on FM, and just two on SSB, we only reached serial number 006. I did hear a couple of GM contesters on, but naturally they were beaming south, and didn't hear me!

At around 9.20pm local, we called it a night and headed back down the hill. Being so far north, daylight was ample to do so without headtorches, and we were soon on the road back to Lossie. It wasn't a great entry in the VHF contest - but an entry nonetheless - and another unique SOTA summit activated.
Thanks to the following stations worked on this activation:

| | | | |
| --- | --- | --- | --- |
| 2M1HLE/M | 2m | SSB | T, J |
| GM4TOE | 2m | SSB | T, J |
| 2M0IBO/P | 2m | FM | T, J |
| MM0TQH | 2m | FM | T, J |
| 2M0JAT | 2m | FM | T, J |
| MM0LOZ | 2m | FM | T, J |