Knockan, GM/ES-081 - 372m ASL - NJ 351 464 - OS Explorer 424 - 1 SOTA point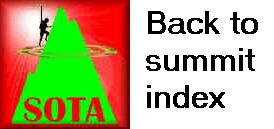 GM trip day 4 - Sunday 2nd August 2009 - Knockan GM/ES-081

This hill was one of a shortlist of several targeted by Jimmy for a very personal milestone. He had never had a "first activation", and that was probably quite rare for someone active in the programme for nearly four years and well-place in the Activator Uniques honour roll. I got a few myself back in 2003 - the three Craven Arms WB summits and the two Isle of Wight SE summits spring to mind - but they are naturally harder to come by these days, in fact none remain in England or Wales.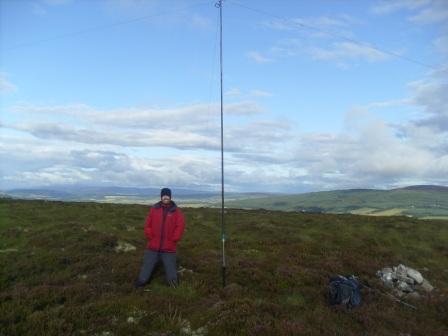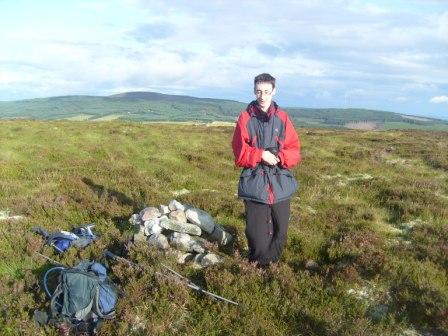 So the first early-morning raid of the holiday would have to be one of these unactivated hills, for Jimmy to have his callsign listed as the first activator forever more on SOTAwatch and the Database.

We headed out to pick up the A95 between Aberlour and Keith, before turning south onto a minor road, down to the start of a track at NJ371456. Like the two CS summits the previous evening, the track afforded comfortable easy walking with little by way of gradient to worry about. Just a simple, pleasant early morning stroll.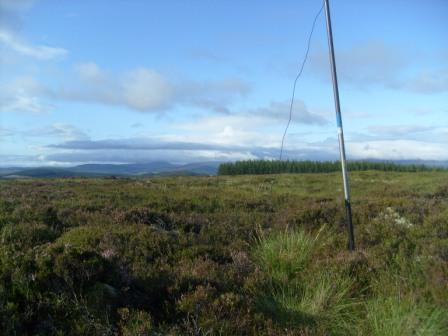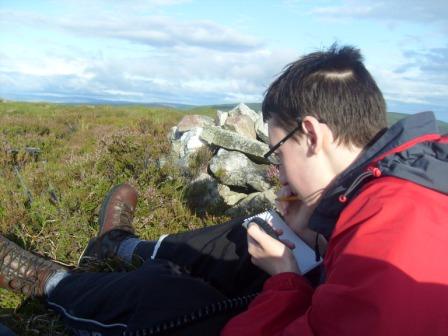 The lie of the track on the map didn't seem to coincide with what was in fact on the ground, but it took us to where we wanted to be, so persisted with it. The track petered out and became very spongy and boggy, but we could now begin to climb the hill with more purpose along the curving patterns of burnt channels in the heather.

Having learnt my lesson from last night, this time it was the 40m dipole that was erected first. Jimmy went on 7.160MHz SSB and got three easy QSOs. But not a fourth. Twenty minutes of silence later, and running out of ideas, I tried spotting him on 21.200MHz SSB. Jimmy called there, and was worked almost immediately by GM0UDL!

So that was the first activation of Knockan GM/ES-081 safely in the bag for Jimmy, and then 7.032MHz CW was in good form for me, with 25 swift QSOs. We got cracking with the descent and return drive, keen to demonstrate to Marianne that we could do these early morning SOTAs and still be back at a time so as not to take significant chunks out of the day. Our return at 10.25am was deemed more than acceptable, the 5am get-up had paid off, and this was a very successful expedition in more ways than one.
Thanks to the following stations worked on this activation:

| | | | |
| --- | --- | --- | --- |
| G4ELZ | 40m | SSB | J |
| G3RMD | 40m | SSB | J |
| SM6CMU | 40m | SSB | J |
| GM0UDL | 15m | SSB | J |
| 9A7W | 40m | CW | T |
| F5SQA | 40m | CW | T |
| F6CEL | 40m | CW | T |
| G4ELZ | 40m | CW | T |
| DL1FU | 40m | CW | T |
| F5PEZ | 40m | CW | T |
| G4ZIB | 40m | CW | T |
| G3RMD | 40m | CW | T |
| DF1BN | 40m | CW | T |
| DL2EF | 40m | CW | T |
| OK1UN | 40m | CW | T |
| HB9AAQ | 40m | CW | T |
| EI7CC | 40m | CW | T |
| DL3JPN | 40m | CW | T |
| DL3FT | 40m | CW | T |
| LA5SAA | 40m | CW | T |
| OE8SPW | 40m | CW | T |
| ON6NW | 40m | CW | T |
| 9A4MF | 40m | CW | T |
| DL8DXL | 40m | CW | T |
| SM5APS | 40m | CW | T |
| SM6CMU | 40m | CW | T |
| SF7YT | 40m | CW | T |
| ON4ON | 40m | CW | T |
| GM0UDL | 40m | CW | T |