Friday 4th August 2006 - Baldersdale to Langdon Beck - 15 miles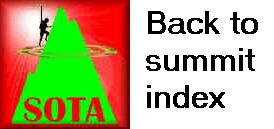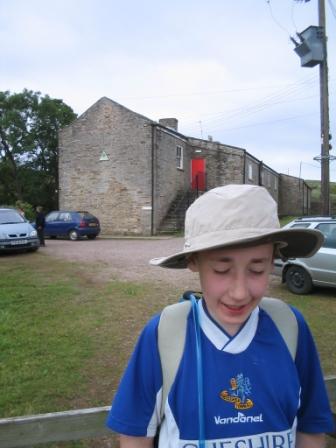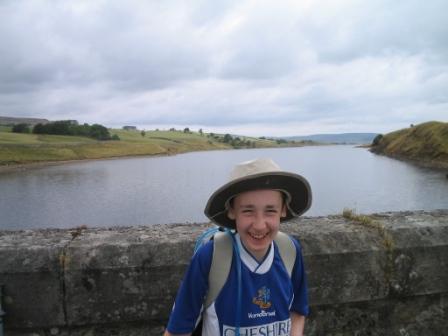 Having had a good night's sleep and an energising healthy breakfast in what we agreed was the best youth hostel ever, we were highly motivated to continue our Pennine Way walk up to Langdon Beck. I had tried to book Langdon Beck Youth Hostel about 10 months previously via the YHA Booking Bureau in Matlock, but was denied as it had already been book by a large group for this date. I was therefore rather surprised to see Dan, Mick, Toke and Bobby all able to book in by telephone just 24 hours in advance. It turned out the group had cancelled at the last minute, but never mind, Jimmy and I were already booked in at the Langdon Beck Hotel by this stage. Dan and Mick, and Toke and Bobby were again quicker out of the traps than Jimmy and I this morning, so we were soon walking in our usual group size of two. The necessary photos of Baldersdale Youth Hostel and Blackton Reservoir were captured before we climbed out of the basin by Birk Hat farm.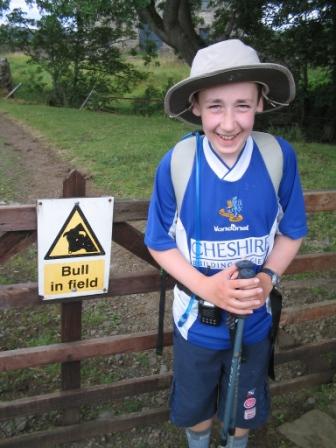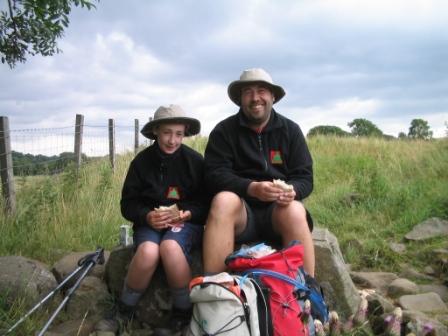 The bulk of the morning session was taken up by an unmemorable walk through the meadows of Lunedale punctuated only by the road bridge crossing of Grassholme Reservoir. As we approached lunchtime, we approached the town of Middleton-in-Teesdale. However, we elected not to make a tourist inspection, and turned left before the town to follow the Pennine Way path along the south bank of the River Tees. Visions of a wide and deep channel of brown water, lined with shipyards and chemical works were stored in the subconscious alongside the entry marked "Tees", but this would be a long way from the truth. Well almost.
We followed this broad but shallow flow of mainly blue and sometimes white water very gradually uphill, the sense of anticipation growing with each step. We were aware that the features of the River Tees would become ever more impressive over the next two days. Some conveniently positioned rocks were our cue for lunch. We reflected on how our lunch habits had changed over the first week and a half of the campaign. For the first few days on the Way we would eat little and often, breaking for food every hour or two. By now, eleven days in, only the water was consumed 'little and often'. The packed lunches were eaten in their entirety for lunch, where we would rest for between thirty minutes and an hour and eat the lot, save for a piece of fruit or energy bar in reserve.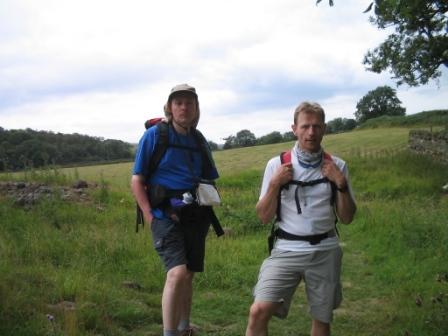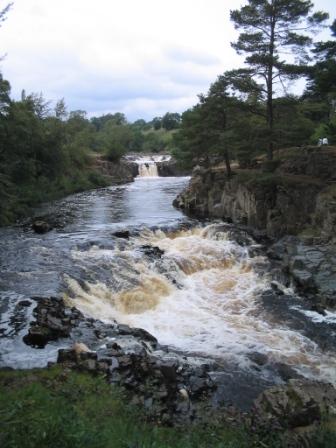 While dining, the familiar figures of Dan and Mick walked up to us. "How did we overtake you?" I asked, as we hadn't seen them since they pulled out ahead of us at Blackton. The answer was that they had been for lunch in Middleton-in-Teesdale, explaining how we got ahead of them. They thought that Bobby and Toke had explored the town as well, but were already well beyond this point on the path. Dan and Mick pressed on while Jimmy and myself rounded off lunch with some fruit. The next section of walking was easy, and making good time came naturally with something of interest to look forward to around almost every corner. The first of these was Low Force, a series of white water rapids in contrast to the gentle and tranquil flow of the Tees back at Middleton.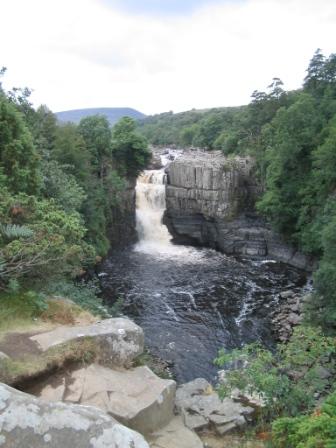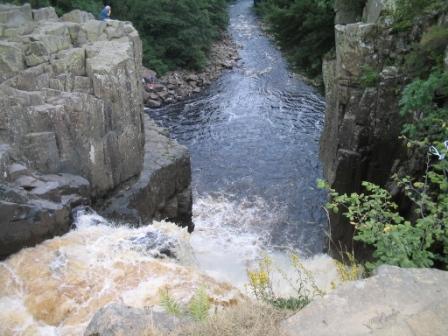 The going was very good, with height gained only gradually with the odd step here and there as the river rolled off slightly higher ground. Then suddenly this changed. The path started to offer some steep rocky steps where putting one's hand down assisted the pull-up. We got our first glimpse of High Force, a 69 foot cascade of white water from a dolerite rock shelf. However, it wasn't until we were climbing steeply up beside it, and looking down on it from above that we truly sensed its awesome power and "force".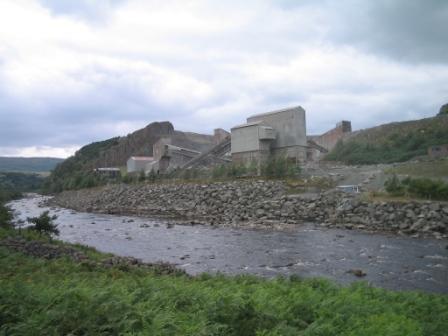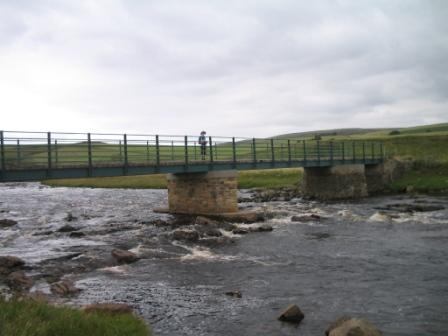 The Tees returned to its earlier wide, shallow and unthreatening state as we ambled leisurely upstream. The one and only hint of the industry around the Tees many miles downstream was the stone quarry on the north bank, about a mile south of Forest-in-Teesdale. Saur Hill Bridge marked the end of Pennine Way walking for the day, but instead of bearing right for Langdon Beck Youth Hostel we needed to continue northwards on the bridleway and public footpath on the west bank of the Tees. This led us into the hamlet of Langdon Beck itself, and we began to look for where the Langdon Beck Hotel might be. Nothing stood out, until we realised that the large white house in front of us was indeed the Langdon Beck Hotel.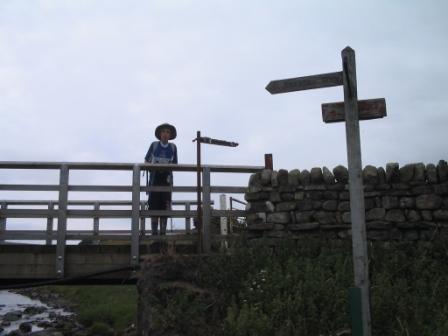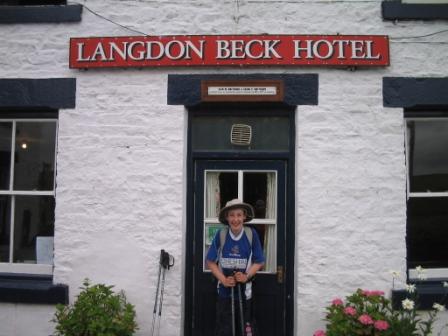 I admit to being rather unnerved by my first impressions of the Langdon Beck Hotel. It was deceptively huge inside, with two bars and two large dining rooms. Through corridors were more lounges and games rooms, not to mention private quarters. A wide sweeping flight of stairs led to the long corridors of bedrooms and bathrooms on the first floor. I didn't recall seeing any actual residences in the vicinity, and wondered if the place could make a profit, and therefore if it could provide the sustenance and comfort for which we yearned.
First though, there was a more demanding problem. For the first time on our trek, our bags had not arrived at the accommodation. The landlord checked in a few places where the driver might have placed them, but without success. Jimmy started to get anxious, which was grating, but at least it was for the first time since the first day, so I decided to grin and bear it. The landlady 'phoned up Mike Schofield at Brigantes who was able to confirm that today's driver had dropped our bags, mistakenly, at Langdon Beck Youth Hostel. Our hosts told us that it happens on a regular basis with all deliveries and mail. The landlady kindly drove out to collect our bags from the hostel and bring them back to the hotel, while Jimmy and I sank a pint at the bar. He had his usual pint of corporation pop, while I selected the delicious Jarrow Rivet Catcher from the fine selection of hand-pull real ales on the bar.
A break in routine was enforced, because this was the first accommodation that did not have showers. A big hot bath was refreshingly welcome, even though it took a little longer. Clean and changed, we returned to the bar and restaurant. Poring over the menu, we couldn't help but be tempted by the luxurious dishes listed. I made an executive decision that tonight we would be treating ourselves to starters and main course. Jimmy and I both began with an enormous stack of mussels in white wine sauce, which was absolutely delicious. We also mirrored each other with the main course selection, both ordering a medium-rare 16oz T-bone steak. These beasts arrived done to sheer perfection, and on monster-sized oval plates in order to accommodate the mounds of chips, mushrooms, peas and onion rings in attendance. It would have been impolite of me not to respectfully wash down this fine steak with fine ale, and so pints of Black Sheep Emmerdale and Allendale Best completed my sampling of the bar's real ales. Where they all came from I don't know, but the restaurant was pretty busy by the time we were finishing our meals. In any case, my initial concerns about the Langdon Beck Hotel proved unfounded. We retired to our twin room with tired bodies, full bellies and happy brains.