Banc Llechwedd-mawr, GW/MW-007 - 560m ASL - SN 775 898 - OS Explorer 213 - 2 SOTA points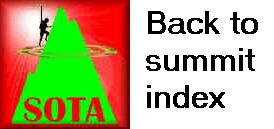 Thursday 20th August 2020
We'd originally set aside this week to go away to Mid Wales and work towards our GW activator completion. As it was, with the state of the pandemic as it was, Jimmy was uncomfortable with the idea of booking accommodation and staying away. So we scaled back the plan to day-trips only. The weather forecast looked good for the Thursday, and we headed out early on the long drive to the Nant-y-moch Reservoir south of Machynlleth.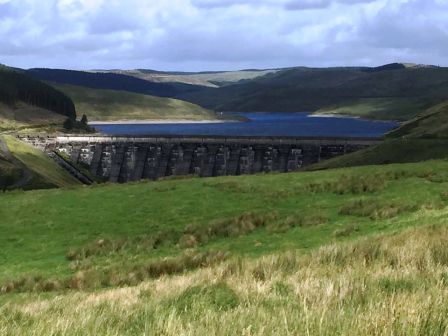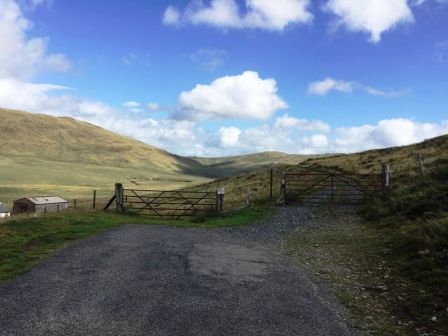 We parked at Maesnant near the north-east end of the reservoir, at the end of the long cul-de-sac lane. There was space on a grass verge beside the road to safely leave the car.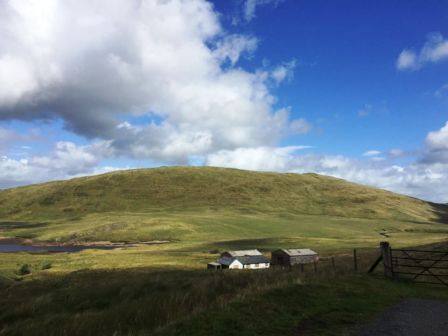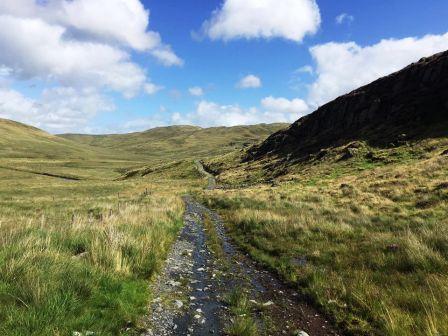 The walk then commenced along the track beneath Fainc Ddu Uchaf, before cutting left over rough ground to the footbridge over Afon Hyddgen.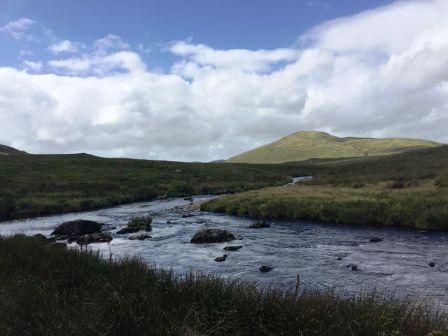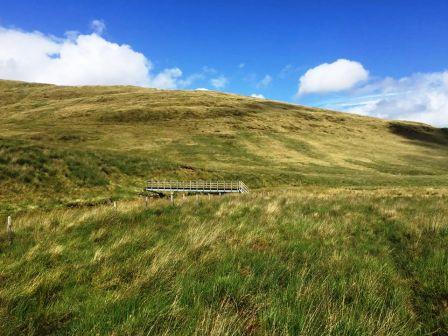 After crossing the river, there was an area of difficult boggy terrain, much of it disguised by the very long grass! We were glad to get beyond this and start climbing more steeply!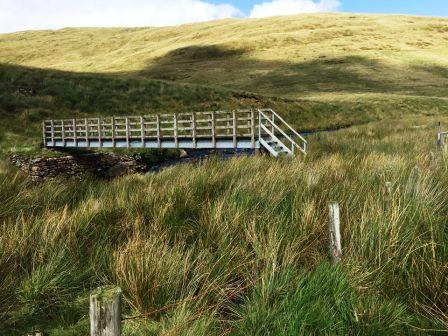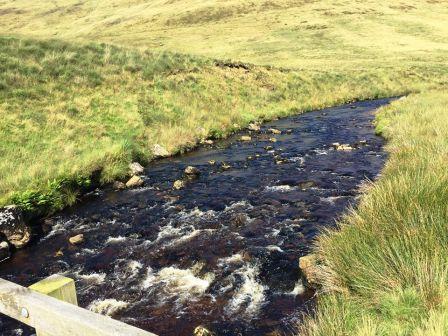 Jimmy took a direct approach straight up the slope in the direction of the summit. I opted to cover more ground but ease the gradient by plotting a series of zigzags. My strategy proved to be the better one and I reached the summit a good five minutes before Jimmy.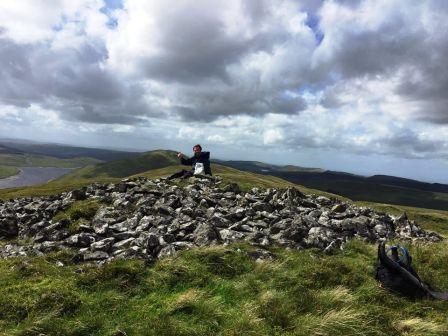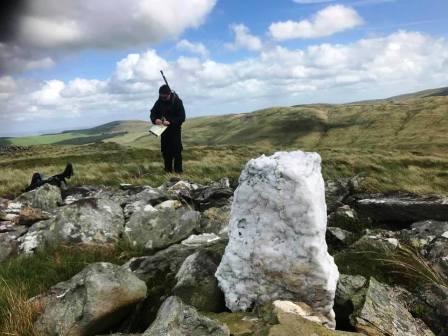 It was incredibly windy at the summit, so we dropped away on the lee side, which was on the north-eastern slopes of the hill. We settled on a suitably sheltered spot in the activation zone and set up our antennas.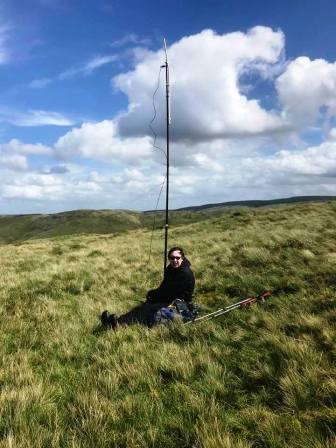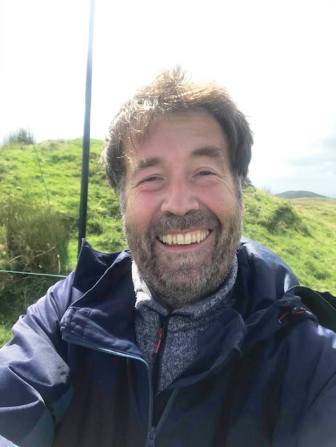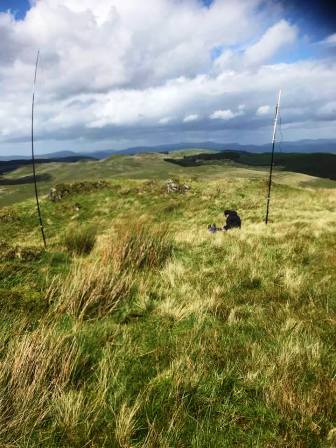 The activation was straight-forward. Jimmy MW0HGY/P was QRV on 2m FM, making five contacts. While he was setting up his MFD, I qualified the activation myself on 2m FM just using my handheld and rubber duck! I then went onto 20m CW adding a further 14 QSOs.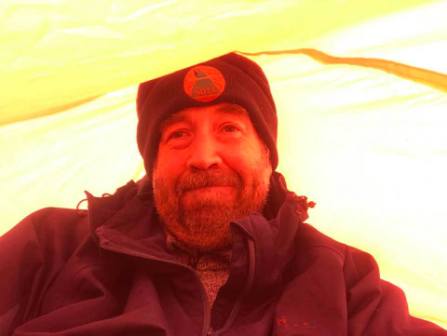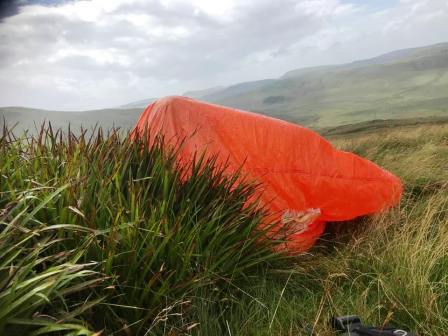 We then set about the traverse over to Drosgol GW/MW-008. Not long after starting dropping down the south-western end of the summit ridge, a heavy rain shower hit, forcing us to pause and take cover in our respective bothy bags. Fortunately, the shower was short lived, and dry weather returned for the rest of the day.
| | | | | |
| --- | --- | --- | --- | --- |
| Time | Callsign | Band | Mode | Op |
| 11:34 | GW4VPX | 144MHz | FM | MW1EYP/P, MW0HGY/P |
| 11:37 | MW0OFA | 144MHz | FM | MW1EYP/P, MW0HGY/P |
| 11:40 | MW0WEE | 144MHz | FM | MW1EYP/P, MW0HGY/P |
| 11:44 | GW8SFT/M | 144MHz | FM | MW1EYP/P |
| 12:03 | N8BJQ | 14MHz | CW | MW1EYP/P |
| 12:04 | EA2WX/1 | 14MHz | CW | MW1EYP/P |
| 12:04 | OE6GND | 14MHz | CW | MW1EYP/P |
| 12:05 | SP9NLI | 14MHz | CW | MW1EYP/P |
| 12:06 | EA2DT | 14MHz | CW | MW1EYP/P |
| 12:07 | GW4TQD | 144MHz | FM | MW0HGY/P |
| 12:07 | F5MDY/P | 14MHz | CW | MW1EYP/P |
| 12:08 | DJ5AV | 14MHz | CW | MW1EYP/P |
| 12:08 | DL8DXL | 14MHz | CW | MW1EYP/P |
| 12:09 | LZ2AF/2 | 14MHz | CW | MW1EYP/P |
| 12:12 | GW6TKK | 144MHz | FM | MW0HGY/P |
| 12:13 | DF3XZ | 14MHz | CW | MW1EYP/P |
| 12:14 | SP9AMH | 14MHz | CW | MW1EYP/P |
| 12:23 | RV3F | 14MHz | FT8 | MW1EYP/P |
| 12:25 | DH3ZK | 14MHz | FT8 | MW1EYP/P |
| 12:29 | EA7CPX | 14MHz | FT8 | MW1EYP/P |