Benbradagh, GI/SM-009 - 465m ASL - C 722 113 - OSNI Discoverer 8 - 2 SOTA points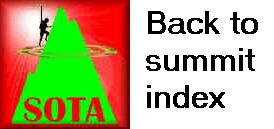 Friday 7th August 2015 was our last full day in County Derry, but we had used out full day pass-out the previous day. We had two early mornings left to play with, and three summits that Jimmy wanted to activate. He reckoned that two of them could be done in one morning, so that is what we set out to do. This time, instead of heading out west through Derry, we would be going south via Limavady. Benbradagh looked very prominent as we approached, and it is indeed very steep sided on its northern and western sides. On its south side however, its slopes are gentler, and a public road leads up to a picnic area on its south ridge and as high as 415m ASL.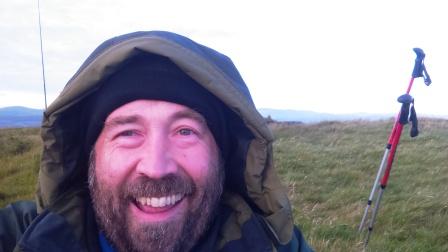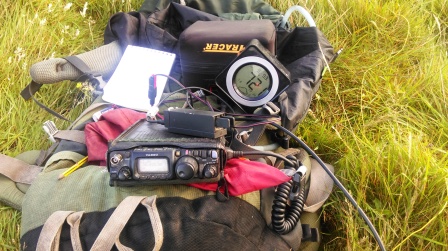 Therefore the walk was mainly flat, with a gentle uphill pull towards the summit at the end. When I got to the top I said to Jimmy that this would have been the best choice for contest night, with its excellent take-off in all directions and lofty, convenient parking spot. Having said that, I'm not sure how comfortable I would have been leaving my car there for the best part of four hours at night, judging by the items of "litter" in evidence!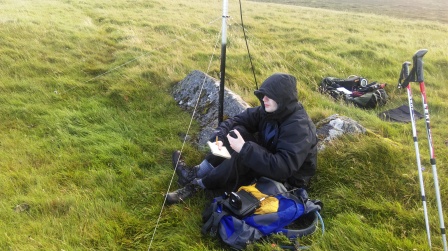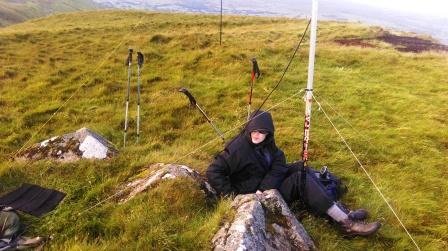 I enjoyed the views over Lough Foyle as we set up our antennas. I enjoyed even more finding Jan OK2PDT/P calling CQ SOTA on 10m CW as soon as I switched on the rig. A S2S and multiplier straight away - brilliant! Meanwhile, Jimmy made two contacts on 2m FM. Switching to 40m CW, I added two more, then got my point by working EA2LU on 40m SSB. Jimmy then took over on my station, adding four of his own on 40m SSB. We were packed up and back at the car just after 8am on a beautiful Irish morning, and making our way to Donald's Hill GI/SM-013.
| | | | | | |
| --- | --- | --- | --- | --- | --- |
| Time | Call | Band | Mode | S2S | Op |
| 06:13z | MI0IRZ/M | 144MHz | FM | | J |
| 06:15z | OK2PDT/P | 28MHz | CW | OK/JM-036 | T |
| 06:15z | MI0GDO | 144MHz | FM | | J |
| 06:26z | G4OBK | 7MHz | CW | | T |
| 06:27z | F5IEP | 7MHz | CW | | T |
| 06:32z | EA2LU | 7MHz | SSB | | T, J |
| 06:36z | DK5WL | 7MHz | SSB | | J |
| 06:37z | G4OBK | 7MHz | SSB | | J |
| 06:37z | M0MDA | 7MHz | SSB | | J |