GM trip day 13 - Tuesday 11th August 2009 - Beneraird GM/SS-201

While not terrible, we weren't being blessed by the same excellent weather of the previous week. An earlier attempt to get out and activate this summit ended after half-an-hour of dejection in the car waiting for the rain to stop at the parking spot. It never did, and we returned to Sandhead.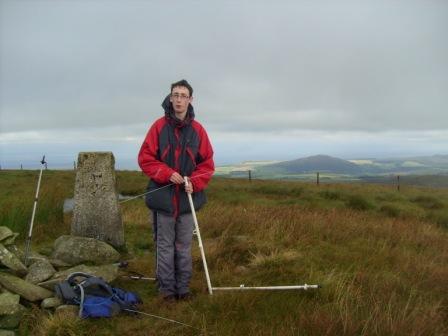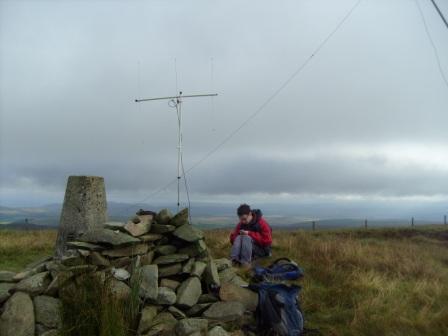 However, Jimmy and I are nothing if not determined, and we did one of our 5am get-ups on the Tuesday. The driving route saw us heading north on the A77, but turning right well before Cairnryan to ascend into the hills and follow a long minor road towards Lagafater Lodge.

This time the weather was much more favourable, and we donned boots and packs to set off walking along a rough track. The route afforded good, steady and consistent walking along the shoulder of Black Glen, and then around to the summit trig.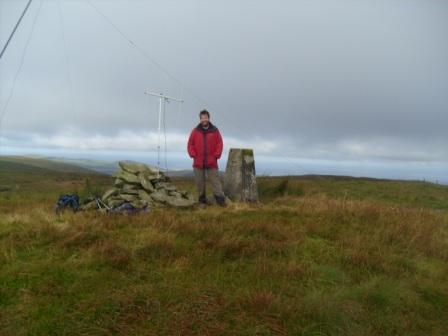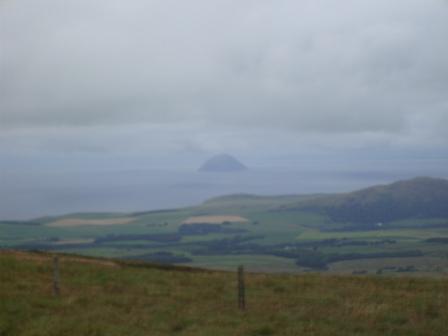 I was kept busy by a run of 16 on 7.032MHz CW, but in contrast, Jimmy caught only one on 2m FM. Therefore, once I had finished, the 817 and dipole was given over to Jimmy to work on 7.115MHz SSB, where he made the other three contacts he required - but interestingly, no more.

We walked the return leg down Black Glen and contemplated the other end of the long day to come, which would culminate in an evening activation. Thanks to the following stations worked on this activation:

| | | | |
| --- | --- | --- | --- |
| G4SSH | 40m | CW | T |
| HB9AAQ | 40m | CW | T |
| DL1FU | 40m | CW | T |
| OZ/DL7ULK/P | 40m | CW | T |
| 9A4MF | 40m | CW | T |
| GM0AXY | 40m | CW | T |
| F8AAB | 40m | CW | T |
| OE6WIG | 40m | CW | T |
| F6GEO | 40m | CW | T |
| DL2DXA | 40m | CW | T |
| GI4POC | 2m | FM | J |
| S51ZG | 40m | CW | T |
| DL2EF | 40m | CW | T |
| GM4YMM | 40m | SSB | J |
| G0TDM | 40m | SSB | J |
| ON4ON | 40m | SSB | J |
| F5SQA | 40m | CW | T |
| F5LWF | 40m | CW | T |
| G0TDM | 40m | CW | T |
| DL4BQL | 40m | CW | T |