Carneddol, GW/NW-068 - 235m ASL - SH 301 331 - OS Explorer 253 - 1 SOTA point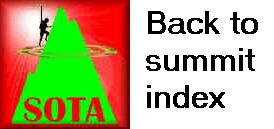 It was a 6am getaway in order to make the most of the day, Saturday 23rd August 2008. The car was already packed with the clothes, SOTA gear and camping gear, and Jimmy, Liam and I were on the road well before 7am. Surprsingly, neither of the boys wanted to pull in for breakfast at Lymm Truck Stop, so we pressed on. However, by the time we hit one of the diners early on the A55, attitudes had modified, so in we went for some rather nice bacon and scrambled egg wraps and a pot of tea.

The route to the Lleyn Peninsular followed the A55, and then the signs for Pwllheli until reaching the village of Y Ffor. Here, we turned right and located our campsite. The tent went up easily - Jimmy and I are getting quite good at it now, after 8 years of practice - and we were eagerly anticipating our first summit of the Bank Holiday weekend. It was a warm and sunny afternoon - perfect.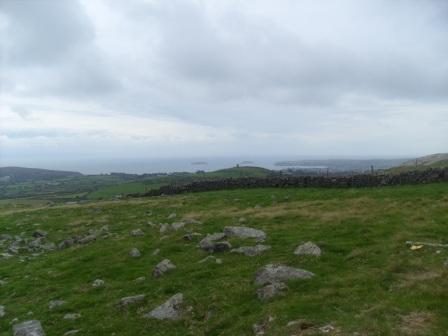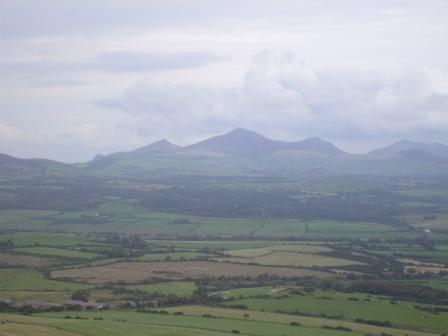 We parked by the gate due East of the summit, as we had done four years earlier. We started to plod up the hill, which seemed like hard work for a summit that looks so close on the map. However, once that hard work was over and the land levelled out, there was the summit before us. Jimmy raced to the top, snapping away with the camera, while Liam and I found a slightly sheltered spot by some rocks, doing our best to avoid a stiff old breeze, an unwelcome gatecrasher to the afternoon.

Jimmy rejoined the party and assisted me in setting up the 40m dipole. He started of the activation on 7.055MHz SSB, and soon worked ON3WAB and PA3FYG. However, nothing else was doing on 40m SSB. Jimmy lunged for his handheld and gave a speculative call - GW4XSX/M. But no more.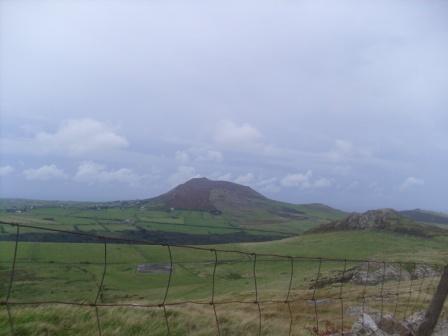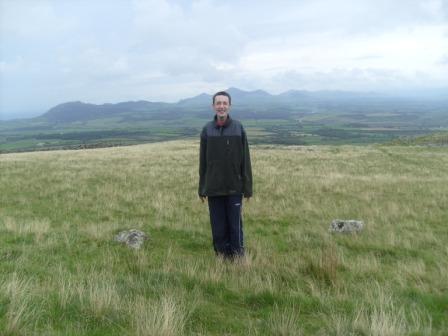 "OK, my turn" I said, "You can try again for your fourth later". Moving on to 7.032MHz CW, I made just four contacts. F6HIA and 9A7W both called me as well, but deep QSB put paid to both of those, with exchanges incomplete. So four, not six for me. During this, out of nowhere, a very heavy rain shower kicked in and completely soaked us. In seconds, our trousers were so wet as to render the donning of waterproof overtrousers pointless. Jimmy called again on the VX-110 and got another local, so we were done.

It was chucking it down, and we weren't hanging about. I told Jimmy to take the car keys and descend with his brother, and that I would pack everything up myself. Thoughts of a second summit on the opening day were abolished, as we made our way back to the campsite to dry off and change into dry clothes.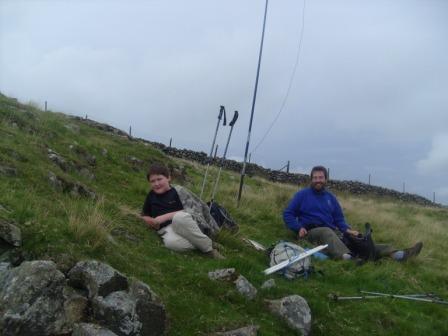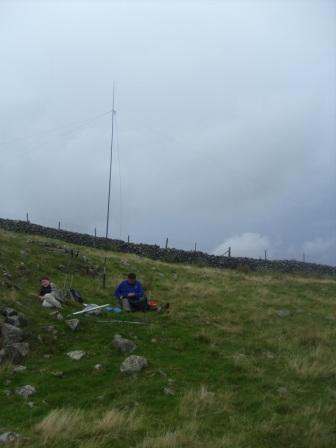 We were expecting to be joined by my brother-in-law Campbell and his son Calum, but there was no sign. We lazed around in the tent looking at maps and listening to the hammering sound of rain on canvas. Eventually, at 6pm, Jimmy and Liam's cousing and uncle arrived and pitched in the rain. Nobody fancied firing up the stoves in this, so we took a drive into Pwllheli for fish & chips. Meanwhile, a call to the operators of the Bardsey Island ferry revealed that tomorrow morning's crossing had been cancelled due to the sea being too rough. Was the weekend going to be a wash-out?

For the first time ever, the large front "living area" part of my tent was used that night, with Campbell, Calum, Jimmy and myself sitting and chatting around the gaslight until around midnight. Liam was tucked up in his sleeping bag before 10pm. A couple of warm fleeces each, plus Stella and Kronenburg 1664 for the grown-ups, helped diminish concerns about the storm that was battering around outside! Many thanks to the following stations, all worked on 5 watts:
| | | | | | |
| --- | --- | --- | --- | --- | --- |
| ON3WAB | Wakken | Peter | 40m | SSB | J |
| PA3FYG | Zeewolde | Hans | 40m | SSB | J |
| GW4XSX/M | near Aberdaron | Mike | 2m | FM | J |
| F6CEL | Pignicourt | Ghislain | 40m | CW | T |
| DL6KVA | Rostock | Axel | 40m | CW | T |
| PA3AFF | Valkenswaard | Piet | 40m | CW | T |
| DL9SXX | Haar | Hanno | 40m | CW | T |
| GW4UKU | Llanbedrog | Pete | 2m | FM | J |