Cnoc Mor, GM/NS-150 - 269m ASL - NH 490 569 - OS Explorer 437 - 1 SOTA point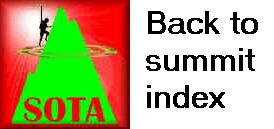 GM Tour - Wednesday 25th August 2010
After yet another successful 5am get-up, we were on the A96 into Inverness, over the suspension bridge and heading towards Dingwall. Jimmy directed me into the country lanes and up a long cul-de-sac to park at the farmhouse at NH498577. From here, we continued to the same direction along a narrow public footpath which led to a double junction of routes at the edge of the wood.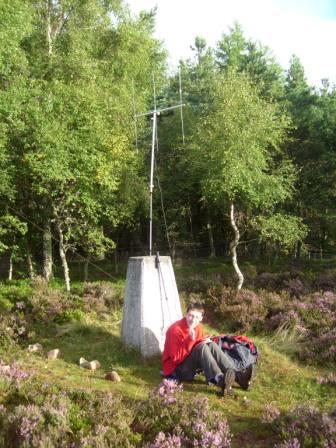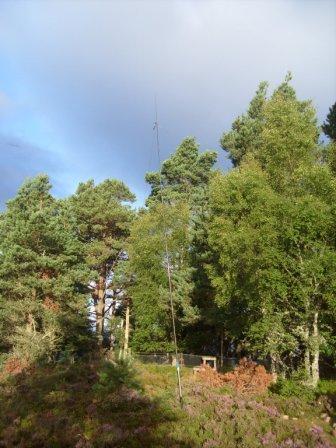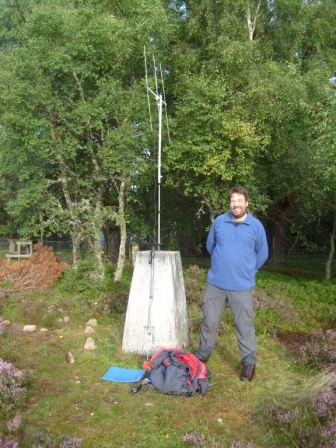 Jimmy had planned to follow the main path as shown on the map, but another path had a big "Cnoc Mor" signpost on it, despite the route not being on the OS sheets. Nonetheless, we decided to follow the signed path, which was good going along the fence line until just before the summit when it presented us with a roller-coaster finish of very steep ups and downs.

Jimmy utilised the lack of cap on the trig point to set the SOTA Beam up quickly and easily, while I set up for 40m a few feet away, increasingly sheltering under my jacket from the midges. It was otherwise a beautiful hot and sunny morning. 16 QSOs ensued on 40m CW.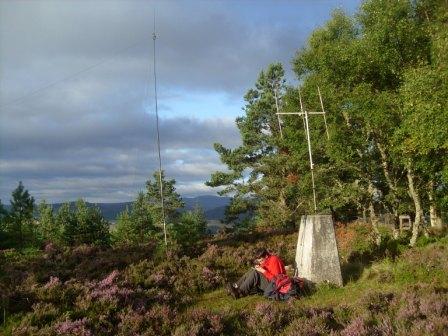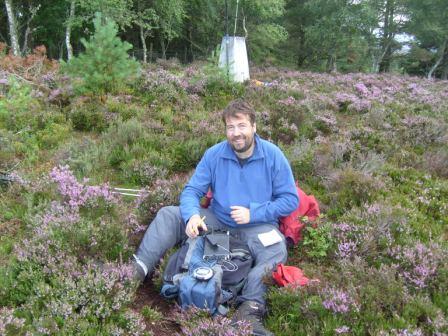 For the return, we opted for the mapped path which was much more level and graded, and offered fine views over Loch Ussie. On the down side, the narrow path was made narrower still by the omnipresence of gorse on both sides! This was the last dawn raid, albeit not the last 5am get-up. It was mission accomplished as we returned to the holiday cottage at 9.30am.

Enjoying the best weather day of the week was now very much in order, so we drove down to Lossiemouth. We paired off, Jimmy and Marianne went mackerel fishing on the pier, while Liam and I went to the beach at the other end of town for a swim in the sea.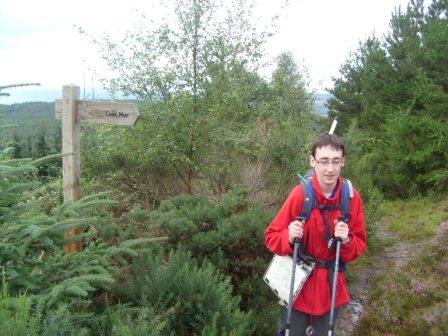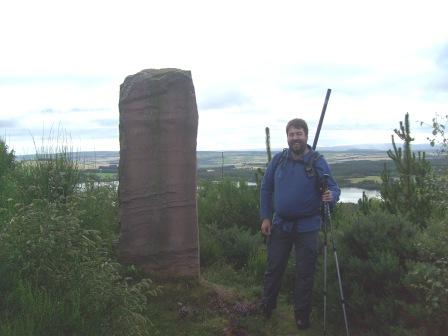 That evening, Jimmy and I were booked to deliver the SOTA presentation at the Inverness radio club. This is based in a remarkable two storey underground bunker, of which we had a tour before the talk. We had an enjoyable evening and a decent sized audience of 22. The ubiquitous Steve AAV and Helen AAU were there, having only seen them 24 hours earlier at Chanonry Point for the dolphin spotting! The talk meant that we had a much later night than that we would have preferred ahead of the big Cairngorms expedition the following day, especially with another 5am get-up in the plans.
| | | | |
| --- | --- | --- | --- |
| MM0LOZ | 2m | FM | J |
| 2M0TAX/M | 2m | FM | J |
| F5SQA | 40m | CW | T |
| HB9AGH | 40m | CW | T |
| GM7AAV/P | 2m | FM | J |
| HA1AG | 40m | CW | T |
| S51ZG | 40m | CW | T |
| OK1CZ | 40m | CW | T |
| MM0DHY/M | 2m | FM | J |
| F6CXJ | 40m | CW | T |
| DB1LI | 40m | CW | T |
| OE6WIG | 40m | CW | T |
| SM5APS | 40m | CW | T |
| SK5PZ | 40m | CW | T |
| 9A7W | 40m | CW | T |
| DL4FDM | 40m | CW | T |
| G3RMD | 40m | CW | T |
| DF5WA | 40m | CW | T |
| IK3DRO | 40m | CW | T |
| DK5WL | 40m | CW | T |