Cracoe Fell, G/NP-032 - 508m ASL - SD 993 588 - OS Explorer OL2 - 2 SOTA points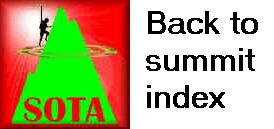 It was 31 down, one to go, in terms of the NP activator uniques for Jimmy and I. The next opportunity to go out walking would see us in one place only, and that would be Cracoe Fell G/NP-032, with everything from Cross Fell G/NP-001 to Birks Fell G/NP-031 already chalked off. This included the two now deleted summits Horse Head Moor G/NP-021 which we did in a bit of a rush once its "card was marked", and Thorpe Fell Top G/NP-025.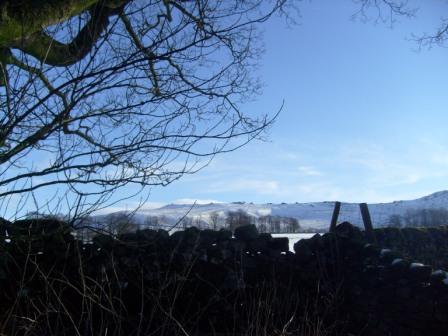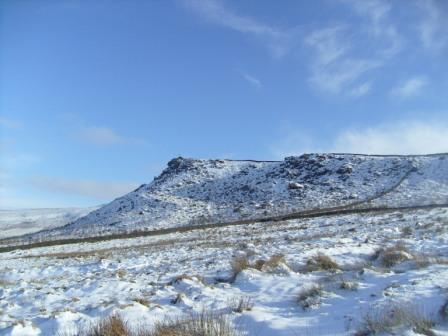 Saturday 7th February 2009 was never earmarked as the day, for Macclesfield Town FC were schedule to play a home game versus Notts County. Nonetheless, Jimmy, Liam and myself were up at 6am as we would be for a SOTA expedition, as we were going down to help clear the snow from the Moss Rose pitch at 7am, in return for complimentary bacon butties and coffee.

However, upon arriving at the ground with our spades, a chap left it and said "No chance, it's frozen solid, even under the frost covers". Jimmy pounced. "Let's go to Cracoe Fell then instead". My thoughts exactly! We returned home via the Co-op to pick up some soup which I warmed while Jimmy got changed as he didn't feel he was in walking-appropriate clothing. Liam and I already were, and the gear was already pretty much ready, so it was a quick turnaround.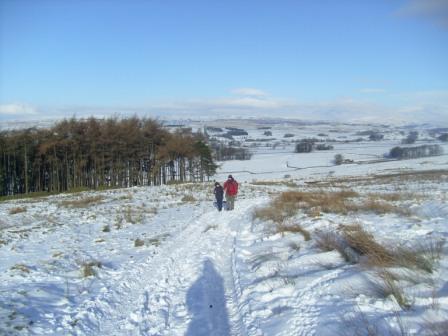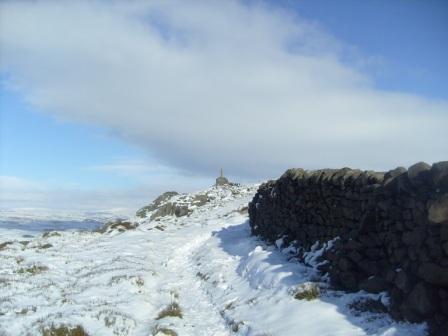 Today's route saw us head up the A34, M60, M66, M65 and A56 towards Skipton. We were accompanied by Canalside Community Radio, Silk FM and BBC Radio 5 Live as we awaited official confirmation that the match was indeed off. In Colne, we pulled in by "Laura's Larder" and ordered filled hot oven-bottoms - sausage, bacon and mushroom for me, spam and egg for Jimmy and garlic chicken for Liam. It was all very tasty, and a good substantial breakfast for the three of us, costing just £6.

Jimmy continued shouting the driving directions, and eventually we pulled up on a small lay-by on the B6265. On with the boots, and a short road walk back to the start of the bridleway. An icy track led up the fellside as we glanced across at the high-above Rylstone Cross, and the memorial on Cracoe Fell summit, that appeared to be only a short hop further along the ridge.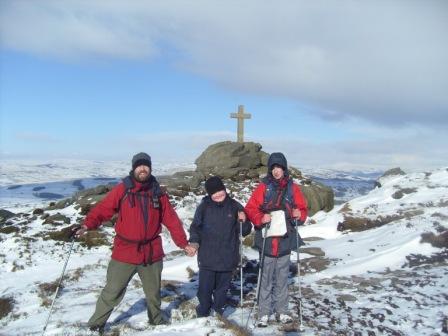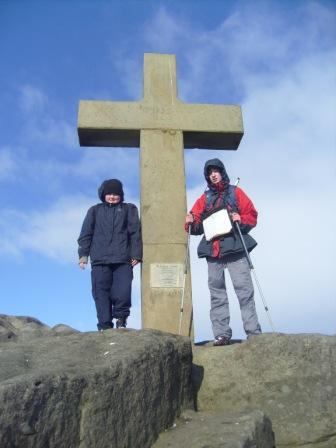 As we gained height, the lying snow soon got deeper, especially where Jimmy decided we were to cut left uphill towards the wall, rather than turn at the gate. A few times we lost our legs up to our thighs, but it was quite fun in the pure driven snow.

We climbed up to the high wall, and I mentioned to Jimmy that I was sure we were supposed to be on the other side of it. Indeed, other walkers were, but a reasonable path was also on our side, albeit far more undulating than on the south of the wall.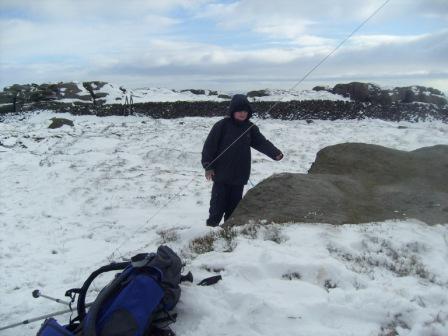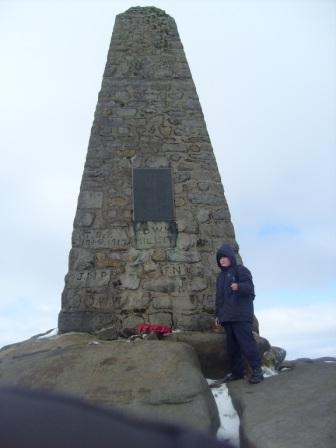 After a pause for photos at the impressive and imposing Rylstone Cross, we climbed the ladder stile and resumed our walk up to Cracoe Fell summit. It turned out that our vista from the lay-by had been misleading. The climb to the Rylstone Cross was quite quick, but the traverse now to Cracoe Fell was lengthy. It was however reasonably good going on the frozen peat, and we recognised that we were avoiding the bog suffered by previous activators. Some sections of ice and compacted snow were quite dicy, so a little care was needed.

On approaching the summit, I realised that I still hadn't updated the 'phones with the new shortened SOTAwatch URLs. I gave Roy G4SSH a ring, and he kindly posted the ETA spot and further intentions (ie Jimmy going on SSB after) for us.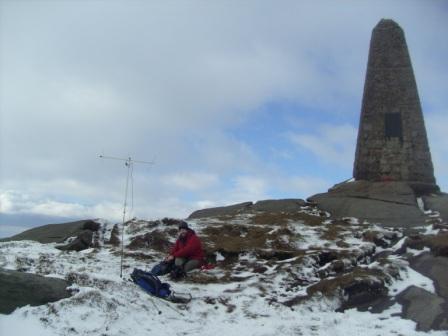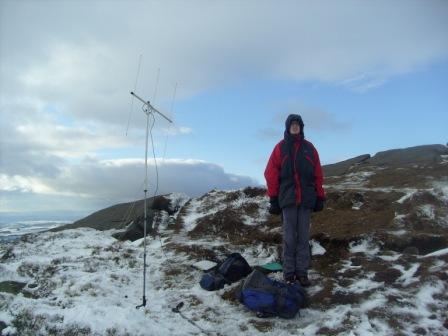 Just in front of the obelisk, I set up the SOTA Beam, horizontally polarised, and made a start on 2m CW. This was my best 2m CW activation yet, with eight stations in the log in swift order, and even that wonderful sound of a pile-up at one stage. Stations worked included Roy G4SSH in Scarborough down to Frank G3RMD in Cheltenham. It was good to hear Mike GW0DSP calling again from Connahs Quay after his recent exertions in GM-land.

Chuffed with the number of stations worked, and the DX achieved on 2m CW, Jimmy soon usurped me with loads more worked and better ODX (Don G0RQL in Devon) when he took over on 2m SSB. I dished up a few servings of lentil soup for the lads and myself in-between logging duties while Jimmy was operating. Finally, I put the beam on vertical on did a run of QSOs on 2m FM. It was a very satisfying joint activation.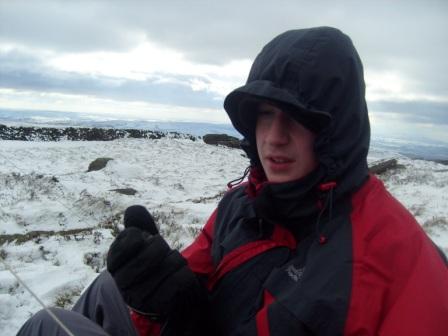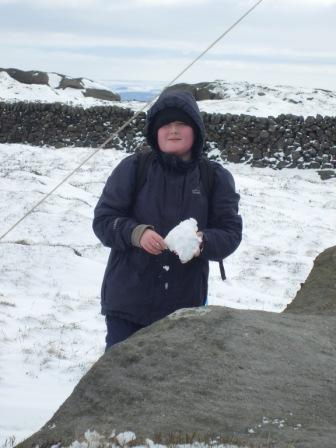 The descent was pleasant again in the snow, but contrasting with the ascent, it now being largely trodden down on what was a busy route today. No longer we were losing limbs to deep drifted snow! We were on the road again by 4pm, and in 2m FM mobile contact with Geoff G6MZX, who we were meeting for a beer in the Tempest near Thornton-in-Craven. Here we spent a very pleasant 45 minutes before getting on the roads and motorways south to Cheshire.

Marianne, who is now a textaholic since getting a new 'phone from her hubby for Christmas, inundated Jimmy with messages during the drive back, a process which culminated in me collecting a box full of fine Indian cuisine from the Weston Balti Raj. Some days are just meant to be perfect!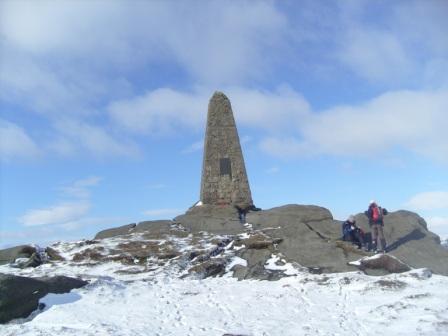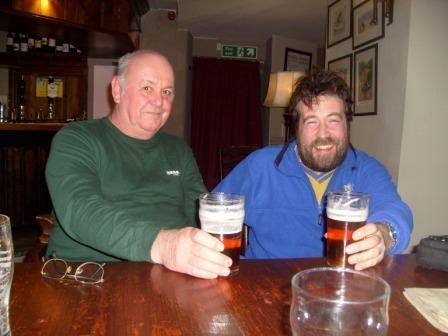 So Jimmy M3EYP and me M1EYP joined Richard G3CWI, Steve G1INK and Clive M1YAM as NP region activator completists. For ourselves, we could now claim G/CE, G/NP, G/SE, G/SP, G/TW, G/WB and GI/AH as completed regions for SOTA. NP was definitely the most difficult and challenging out of all those, but we intended returning for the likes of Whernside G/NP-004, Ingleborough G/NP-005, Wild Boar Fell G/NP-007, Pen-y-ghent G/NP-010 and Fountains Fell G/NP-017.

Many thanks to all stations that called in on a memorable activation, and especially the 2m CW, which was a real highlight for me.
| | | | | | |
| --- | --- | --- | --- | --- | --- |
| M3EYP/M | Rylstone Fell | Jimmy | 2m | FM | T |
| G4OBK | Pickering | Phil | 2m | CW | T |
| G4SSH | Scarborough | Roy | 2m | CW | T |
| G4OWG | Rawdon | Roger | 2m | CW | T |
| G4CPA | Crosshills | Geoff | 2m | CW | T |
| G0NIG | Otley | Nigel | 2m | CW | T |
| G3RMD | Cheltenham | Frank | 2m | CW | T |
| G3OHC | Selby | Graham | 2m | CW | T |
| GW0DSP | Connahs Quay | Mike | 2m | CW | T |
| MW0JDK/P | Foel Fenlli NW-051 | John | 2m | SSB | T |
| 2W0KPO/P | Foel Fenlli NW-051 | Steve | 2m | SSB | J |
| GW0DSP | Connahs Quay | Mike | 2m | SSB | J |
| G4OWG | Rawdon | Roger | 2m | SSB | J |
| G4CPA | Crosshills | Geoff | 2m | SSB | J |
| G7SKR | Warrington | Dave | 2m | SSB | J |
| G6MZX | Thornton-in-Craven | Geoff | 2m | SSB | J |
| GW4EVX | Mold | Ron | 2m | SSB | J |
| G0RQL | Milton Damerel | Don | 2m | SSB | J |
| G3OHC | Selby | Graham | 2m | SSB | J |
| 2E0BMO | Standish | Roger | 2m | SSB | J |
| 2E0IOG | Burnley | Darren | 2m | SSB | J |
| 2E0MTC | Burnley | Cathy | 2m | SSB | J |
| M0GIE | Royton | Phil | 2m | SSB | J |
| G4ZRP | Wirral | Brian | 2m | SSB | J |
| G6CRV | Heysham | Dave | 2m | FM | T |
| G4OWG | Rawdon | Roger | 2m | FM | T |
| G0OXV/M | Southport | Keith | 2m | FM | T |
| G6MZX/M | Tempest Arms | Geoff | 2m | FM | T |
| G4OBK | Pickering | Phil | 2m | FM | T |
| M0TKD | Halifax | Keith | 2m | FM | T |
| G3OHC | Selby | Graham | 2m | FM | T |
| M0RCP/P | Buckden Pike NP-009 | Rick | 2m | FM | T |
| M3OOL/P | Buckden Pike NP-009 | Thomas | 2m | FM | J |