Craignamaddy, GI/SM-016 - 382m ASL - H 522 894 - OSNI Discoverer 13 - 1 SOTA point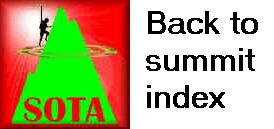 GI SOTA Trip - Activation #13 - Craignamaddy GI/SM-016 - Thursday 2nd June 2016
We approached our third summit of the day via the narrow road from H505885. At H515897 we left the road (which was by now better described as a "track") and followed the fence along the crest of the ridge. The going wasn't brilliant underfoot, but slightly easier as long as you could remain with a faint sheep track/baggers' path - whichever it was! A fence corner by the 380m contour was sufficient for me, so I set up there in the interest of preserving available time. Jimmy, as expected, pushed on to the 382m summit. After setting my own antenna and gear up, I left my VX7 monitoring 2m FM so I could keep abreast of Jimmy's progress as his operating position was around half a kilometre from mine!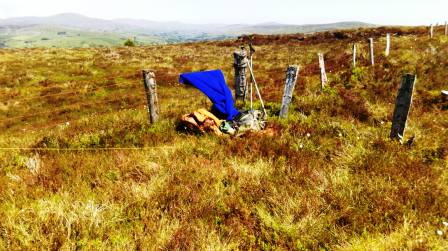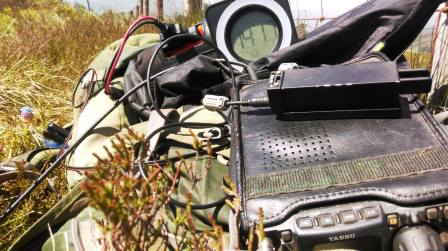 Well I had no trouble at all. 16 QSOs were made on 40m, 5 on SSB and 11 on CW, including S2S with HB9BIN/P on HB/LU-011. Meanwhile Jimmy had managed just one on 2m FM. I did those 5 QSOs on 40m SSB in order to establish a frequency and sufficient interest so that Jimmy could quickly qualify upon his return. And indeed he did, with he remaining three QSOs coming in less than 60 seconds!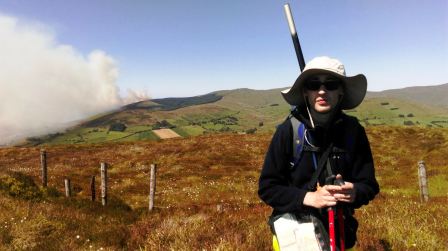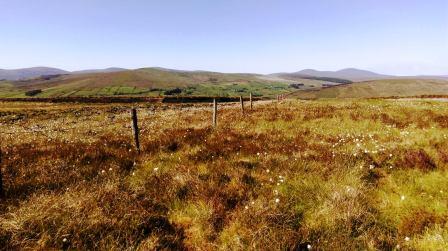 We reversed our route to the car, enjoyed our flask of beef and dumpling soup, and got on our way towards Crocknamoghil GI/SM-019. Already, I was saying to Jimmy that in all reality, I expected this next one to be the last of the day, and there would be no fifth activation as originally alerted.
I noticed an unnatural amount of smoke pumping out of the hillsides to the north, possibly around Mullaghclogha GI/SM-002. Sure enough, when we checked BBC Radio Ulster, we learned that a two mile stretch of moor was on fire with fire crews in attendance trying to prevent the spread. This fire continued to burn for at least two more days.
| | | | | | |
| --- | --- | --- | --- | --- | --- |
| Time | Call | Band | Mode | S2S | Op |
| 13:30z | G3VXJ | 7MHz | CW | | MI1EYP/P |
| 13:31z | HB9CGA | 7MHz | CW | | MI1EYP/P |
| 13:32z | GI7FHZ/M | 144MHz | FM | | MI0HGY/P |
| 13:32z | SP8RHP | 7MHz | CW | | MI1EYP/P |
| 13:33z | G3RDQ | 7MHz | CW | | MI1EYP/P |
| 13:34z | EA2LU | 7MHz | CW | | MI1EYP/P |
| 13:38z | HB9BIN/P | 7MHz | CW | HB/LU-011 | MI1EYP/P |
| 13:39z | DL6WT | 7MHz | CW | | MI1EYP/P |
| 13:42z | ON6ZQ | 7MHz | CW | | MI1EYP/P |
| 13:43z | DL7VKD | 7MHz | CW | | MI1EYP/P |
| 13:43z | PA9CW | 7MHz | CW | | MI1EYP/P |
| 13:44z | G4OIG | 7MHz | CW | | MI1EYP/P |
| 13:47z | G7BGA | 7MHz | SSB | | MI1EYP/P, MI0HGY/P |
| 13:48z | G0FEX | 7MHz | SSB | | MI1EYP/P, MI0HGY/P |
| 13:50z | GW4VPX | 7MHz | SSB | | MI1EYP/P, MI0HGY/P |
| 13:53z | G3RMD | 7MHz | SSB | | MI1EYP/P |
| 13:58z | G4IAR | 7MHz | SSB | | MI1EYP/P |