Creag Mhor, GM/ES-017 - 895m ASL - NJ 057 058 - OS Explorer 404 - 4 SOTA points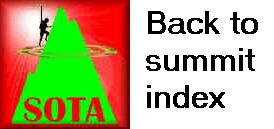 GM Tour - Thursday 26th August 2010 (part 2)
From the summit of Bynack More GM/ES-010, this hill appeared to be such a long way down below our feet, and looked little more than a pimple on the landscape. From the stream below and between the two, it looked more realistically as the 200m uphill plod it was.

And it was time to turn the tables. Keep up with Jimmy I could not. No-one can keep up with Jimmy. But he didn't get too far away, and I did manage to show Barry and Tommy a clean pair of heels. The weather had held rather nicely all day - too nicely in fact. It was so warm as to be shirt sleeve order above 3000 feet - but the absence of wind and rain meant that full coats and fleece hats had to be worn to keep the size of the midge targets to a minimum.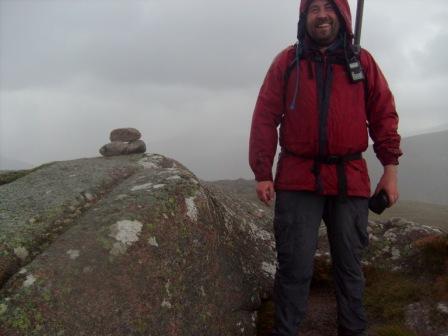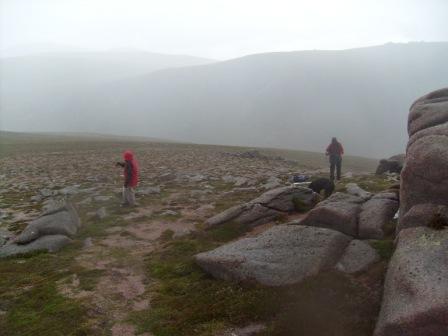 But just as we arrived on summit, it started raining. It was only a 20 minute shower at the end of the day. A little wind would have made it easy for us to use the abundance of large vertical rock slabs as shelter from the rain - but there wasn't any wind at all - so the rain just came straight verticaly down. Working conditions were 5MHz for Barry, 40m for me and 2m for Jimmy again.

Initially, Barry and I could not hear anything on our HF bands, so disruptive was the static rain. However it eased a little for Barry allowing him to qualify the summit, and on 40m it eased dramatically, allowing a run of easy contacts on CW. However, Jimmy had only managed a single contact on 2m FM, so he took over the 40m station with the added accessory of a microphone.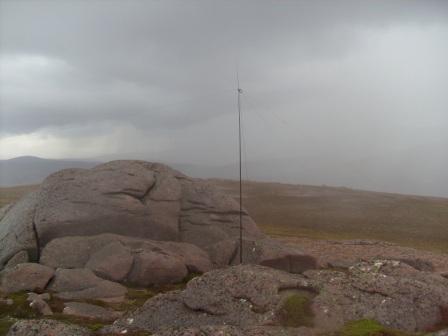 The QSB was appalling, and three strong stations responded to Jimmy's QSOs, only to completely disappear on the next over. Don G0RQL made it into the log, but Jimmy judged that another crack at 2m would be optimal. Using a higher site for the beam, and with Barry in charge of beam headings, Jimmy now got the QSOs he needed. A 5th contact was with Steve GM7AAV/P - what a pity he wasn't that previously elusive 2nd contact, as he could have rounded up Helen GM7AAU/P and Caroline 2M0YLO/P for the 3rd and 4th!

Packing up on the summit was appalling with increasing intensity of midge activity, and they were going to hound us for the next three hours of walking. At least the descent off Creag Mhor back to the path and river was nothing like as severe as the earlier summit, and I was able to get into my stride fairly well this time. It seems a feature of Barry's expeditions is an alarming amount of ascending to be done on the walk-outs! I'll never forget a steep 420m of ascent AFTER Ben Macdui GM/ES-001 and Beinn Mheadhoin GM/ES-005 in 2009. This wasn't as severe as that, but it still seemed we had two long and strenuous ascents after the second summit as our only escape on this occasion as well.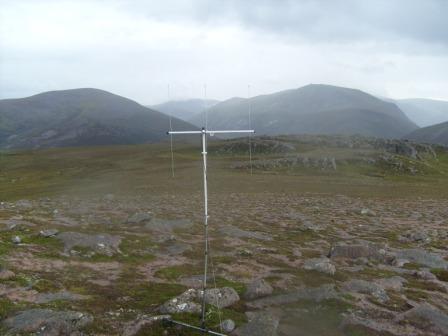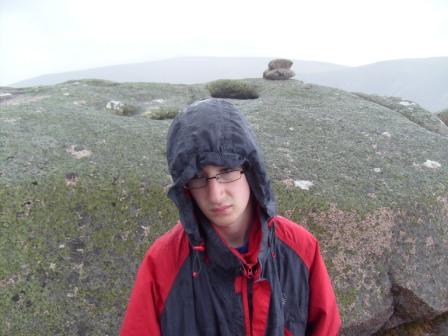 The midges finally went to bed after the sun set, ending three hours of sheer purgatory. At last we could remove our coats, hoods and hats, and walk in a little more comfort - apart from my feet which were by now rather sore! Tommy was clearly getting tired, but this did not prevent him from diving into the heather either side of the path every time his nose detected a snack - and he usually emerged happily munching on an apple core!

Unfortunately, I had run out of water too early before the end of this walk, and had to walk too far without any. I would pay for this later! When we did reach the cars, I had a few big swigs out of a bottle, but I should have taken on much more! The three of us reconvened at the Spice of India in Aviemore. Tommy had already had his dinner at the parking spot, and was now asleep in the boot of Barry's car. We enjoyed a delicious curry and bottle of lager - although neither of these helped with my rehydration process, and I couldn't quite finish my meal, much to my embarrassment! Back in the car, the diet went on to water and Red Bull, as I guided Jimmy, me and the car back to Nairn. Thanks to Barry and Tommy for their superb company, and to all the following callers:
| | | | |
| --- | --- | --- | --- |
| G3WPF | 40m | CW | T |
| DF5WA | 40m | CW | T |
| HA1AG | 40m | CW | T |
| SM1CXE | 40m | CW | T |
| G4OBK | 40m | CW | T |
| G4WSX | 40m | CW | T |
| F6CXJ | 40m | CW | T |
| MM3ZRF | 2m | FM | J |
| G3RDQ | 40m | CW | T |
| DL2EF | 40m | CW | T |
| F5SQA | 40m | CW | T |
| 9A7W | 40m | CW | T |
| IK3GER | 40m | CW | T |
| DL1FU | 40m | CW | T |
| G0RQL | 40m | SSB | J |
| 2M0ETR | 2m | FM | J |
| GM0SFQ | 2m | FM | J |
| GM7AAV/M | 2m | FM | J |
Of course, we could not leave Speyside without a pilgrimage to Baxters to visit the tea rooms, and collect supplies from the shop. Here are some photos of the visit: