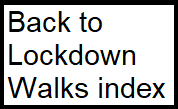 Route description & photos
Start anywhere on Merebrook Road. Limited on-street parking available. Walk to the top end of Merebrook Road and over onto Colville Road. Cross Chester Road onto Maxfield Close and walk to the end (behind St Luke's Church).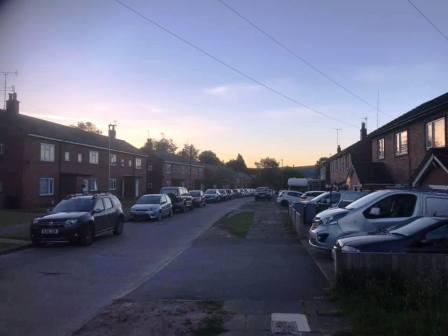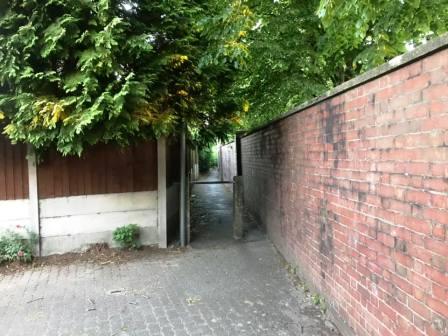 Turn left into a long narrow ginnel, following this out onto Dalesford Crescent. Bear right to walk towards Fallibroome Road, then right again, and left into Fallibroome Close. Enter another ginnel to walk through to Camborne Avenue on the Greenside Estate. At the end, turn left, then right and right again up a few steps. Turn left to follow a long greenway running between the backs of two rows of residential houses.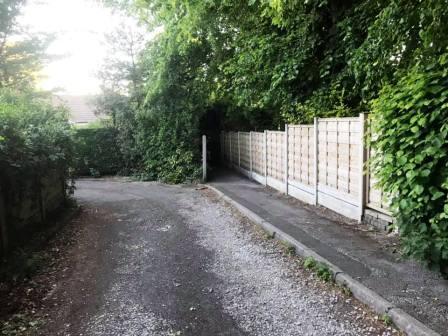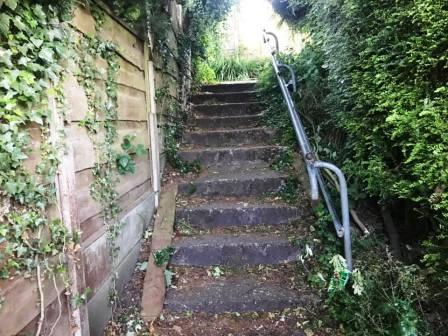 Continue straight on through more narrow ginnels, eventually emerging onto Newquay Drive.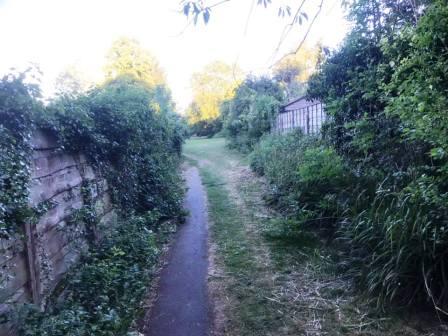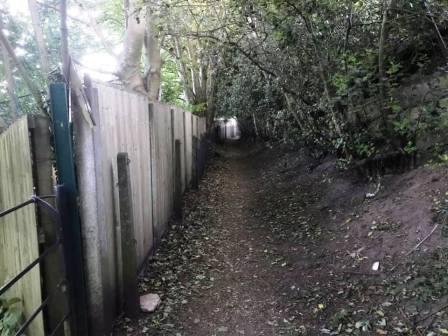 Continue onto Whirley Road, turning right to walk past a small farm on your left. Turn left through a kissing gate to walk along a straight footpath across the common land at Longmoss. Continue onto the path between two barbed wire fences. Turn right at the end and follow the path around a few corners onto a track.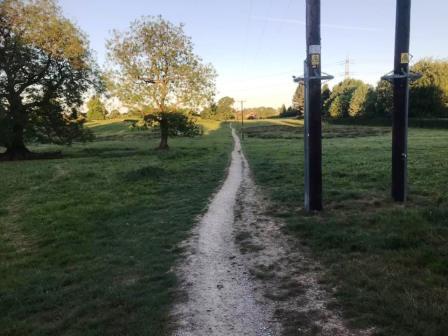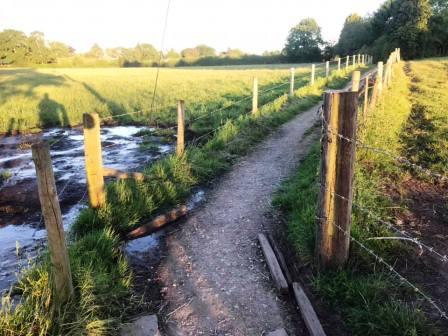 Continue on the track, looking out for a few steps on the right, leading to a narrow path up to Longmoss Top.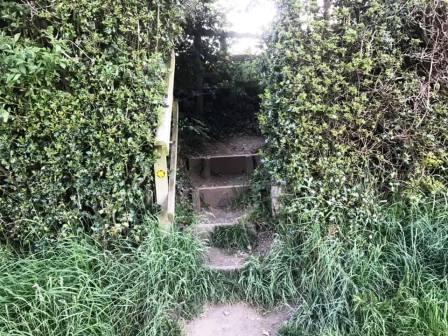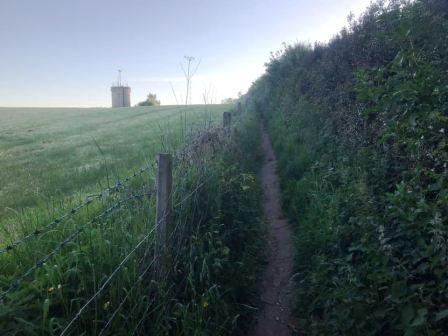 At the end of the path, turn left into Whirley Road, and follow down to Whirley Hall, then turn right into Wrigley Lane.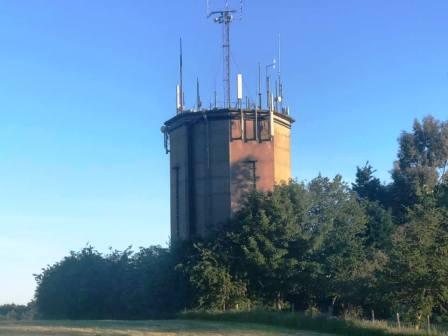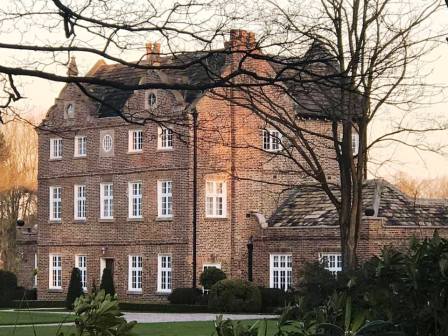 A short distance up this road, look out for a stile into a field on the left. At this point, cross the stile, and walk across the public footpath across the back of Whirley Hall estate towards a bluebell wood.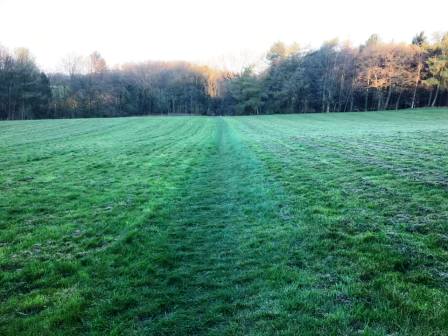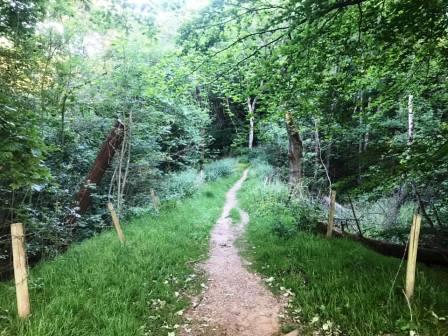 Continue on the lovely path through the wood. emerging out onto lofty field with south-facing views at Highlees.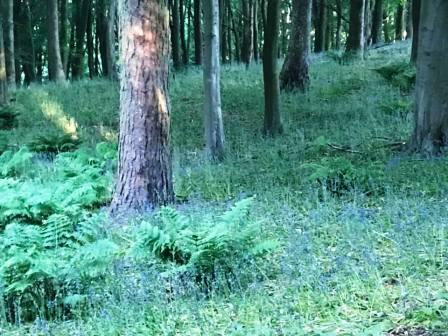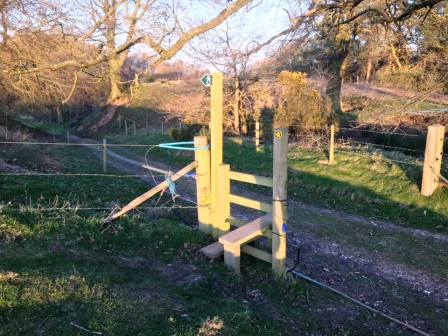 At the end of this field, bear left onto a well-defined track, following this a short distance to a stile, above you to the right.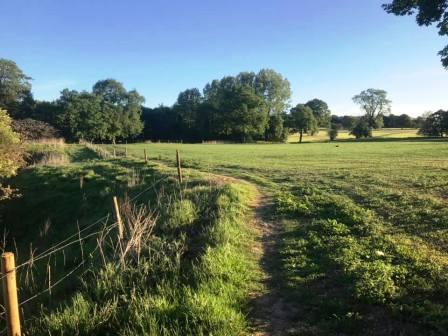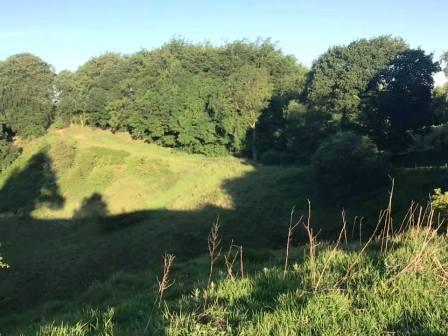 Cross the stile and follow the path around the right-hand boundary of the field at Highlees.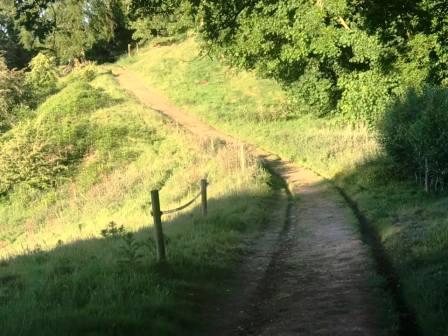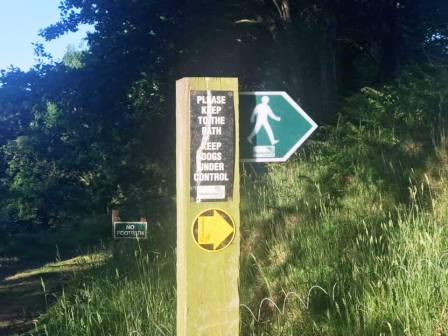 At the bottom, cross another stile and turn right onto a farm track. This leads out onto a country lane (Birtles Road), onto which you turn right.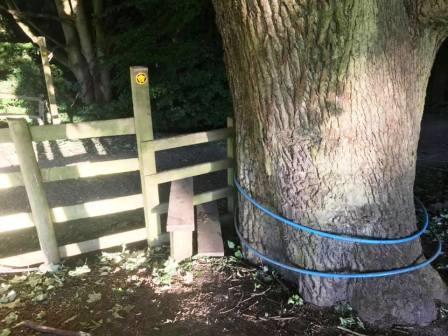 Almost immediately, turn left into another field, which after an initial rise, slopes gently downhill.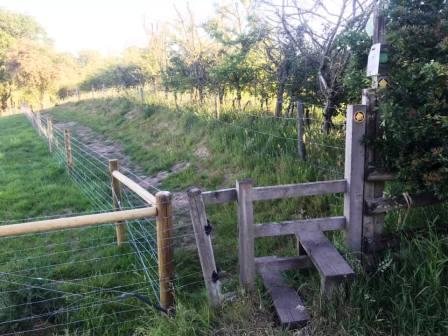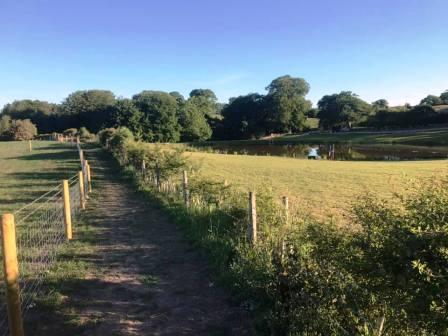 The views open out over the Cheshire Plain on your left. Continue along the right-hand boundary of the field and into another wooded area.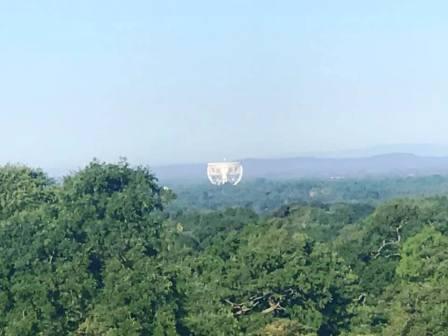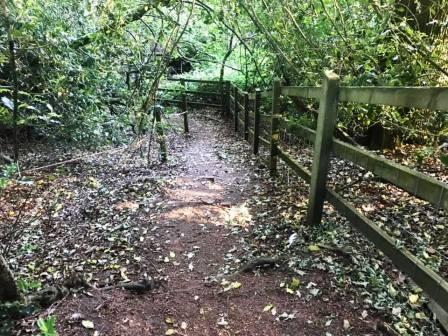 Enjoy a delightful section of footpath through the woods through to Hocker Lane. Several wooden footbridges and board walks are encountered, as well as a couple of unexpectedly steep ups and downs.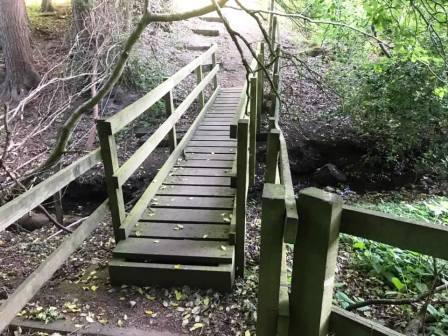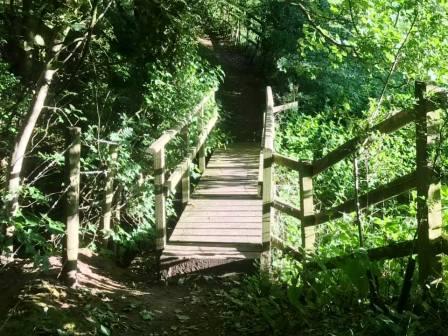 As the path emerges onto Hocker Lane, turn left and walk down to the crossroads at Shawcross.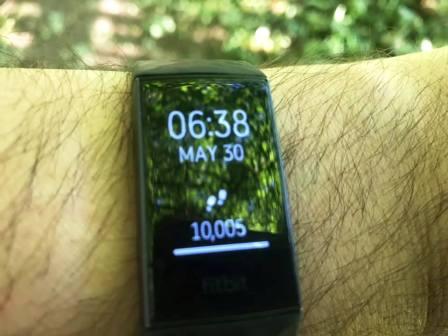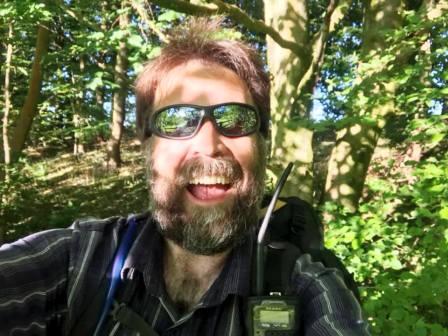 Turn right at the crossroads, and follow the road up alongside Clinton Hill, which is crowned by a beacon on your left. Just past the main entrance onto Clinton Hill, turn onto the public footpath on your left. A rare (for the Cheshire Plain!) bit of ridge walk leads off in a NNW direction.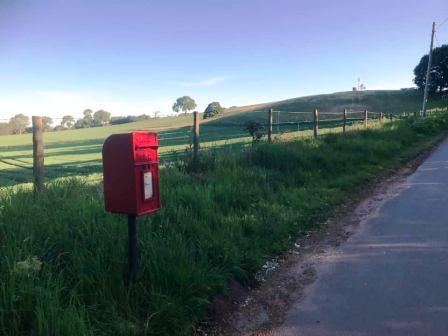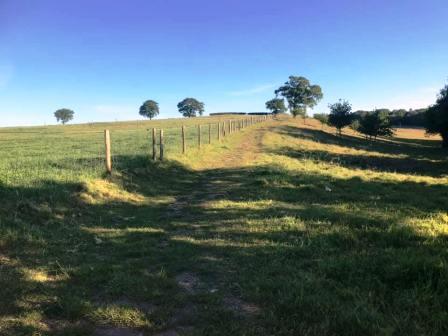 The part of this path that can loosely be described as a "ridge" is very short and soon returns to more typical farmland walking. This remains very pleasant though.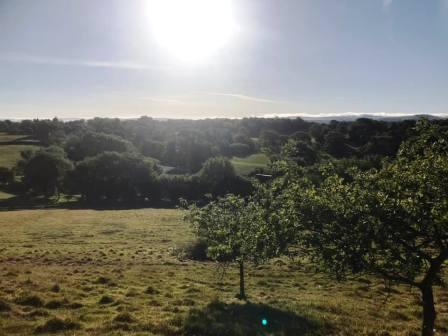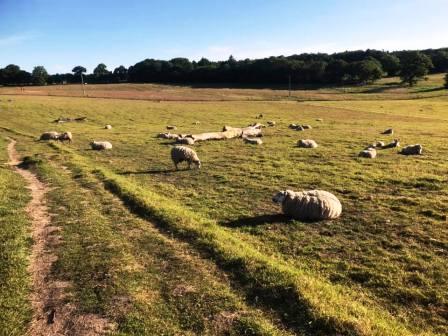 The footpath emerges onto a sharp road corner, and there is a bench here if a short rest is required. Turn right to follow the road, looking out for a stile and path into the woods on your left.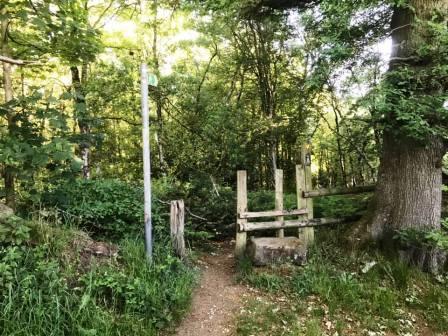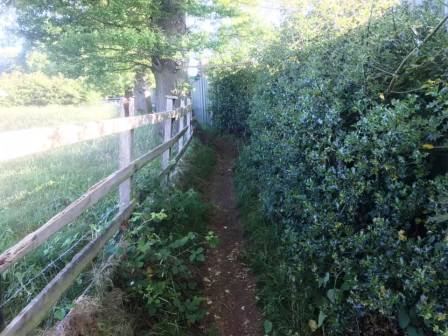 At the edge of the wood, cross the Alderley-Macclesfield road. The Wizard pub is a short distance to your left if refreshments are desired. After crossing the road, go straight ahead onto a track and then almost immediately turn left onto a long straight footpath. Follow up to the large gated entrance but take the footpath to the left to follow around the left boundary of the property.At a crossroad of paths, turn right. (You could turn left here to visit the Wizard pub if desired).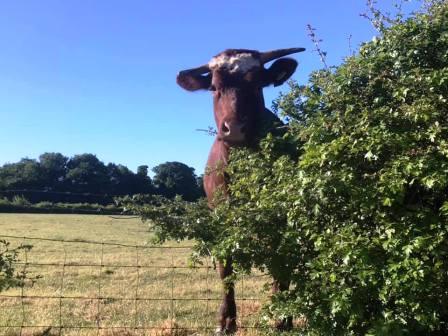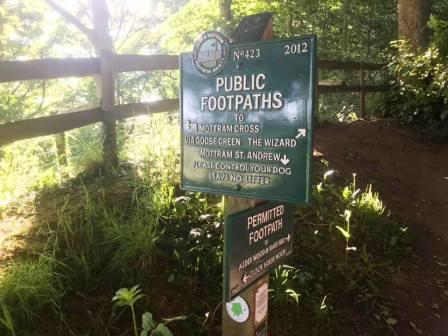 Follow the path slightly downhill. Much of the footpath here is flanked on both sides by barbed wire fences so there is little opportunity to wander off course! At the junction of paths, bear right, and then left towards the woods at Daniel Hill. At the woods, turn left, and then almost immediately very sharp right. At the intersection of paths, continue straight on into the Hare Hill Estate by climbing a few steps.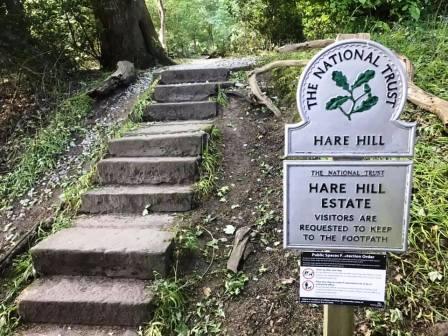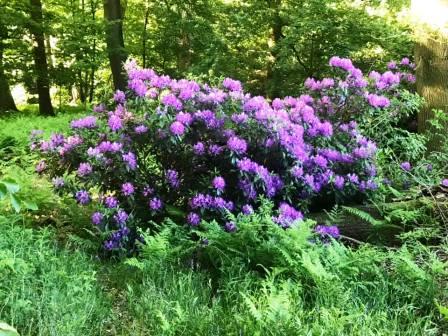 Follow the clear path (a permissive path) that weaves its way around the Hare Hill Estate, eventually emerging from the woods with a sharp left turn. This is quickly followed with a sharp right turn, and a walk across a field to another wooded area.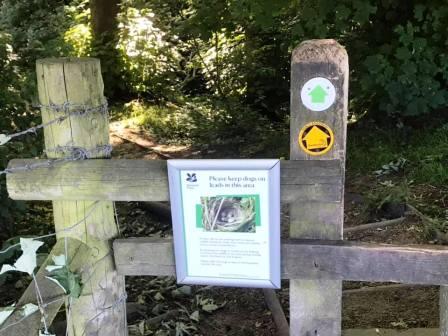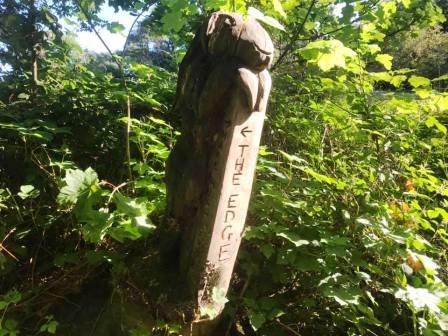 Follow the footpath straight on through a couple of fields to Oaks Road. Turners House Farm is directly opposite. Turn left to walk a few yards along the road, and then right for the footpath from Goose Green Farm to Allen's Farm.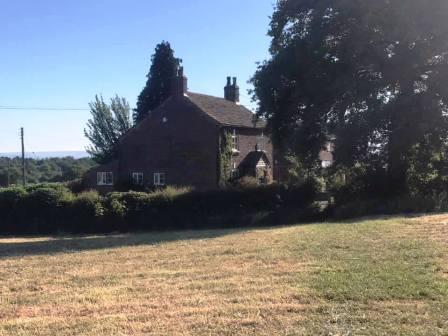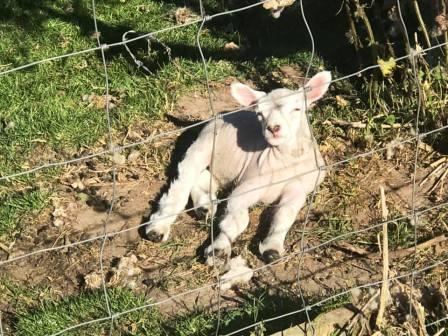 Exit Allen's Farm onto a track and turn left. Very soon, turn right to climb a small rise, passing through a couple of gates in quick succession. The climb becomes a bit stiffer after the second gate, and tops out at a large hedge beside a road.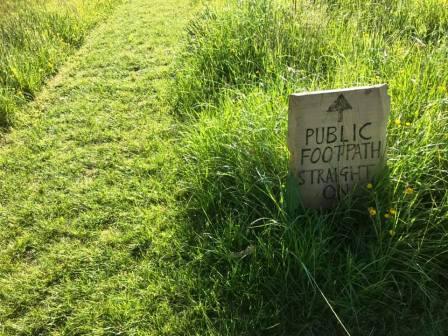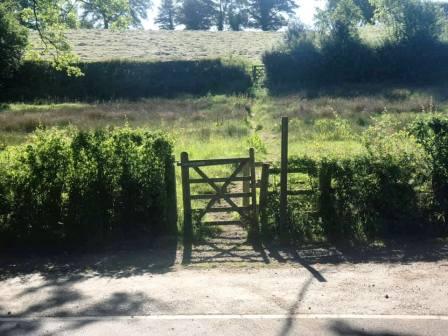 Unusually, you don't exit onto the road at this point; indeed, there is no opportunity to do so! Instead, follow the signpost to walk initially beside the hedge, and then cut right across the field to another sign and opening onto a track.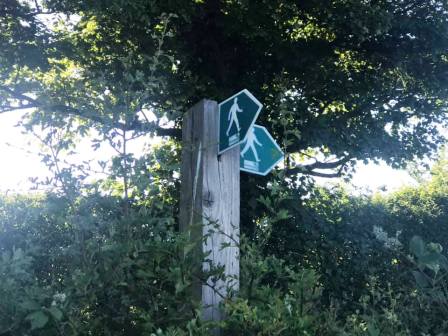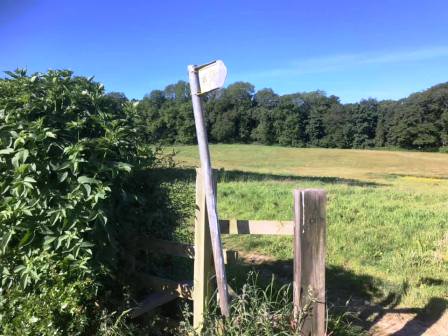 Take care to follow a faint trodden path in the grass across the next couple of fields. It is easy to mislay these, but there is a line to follow in the grass if you remain observant! You may also look ahead to see where the next stiles are at the field boundaries.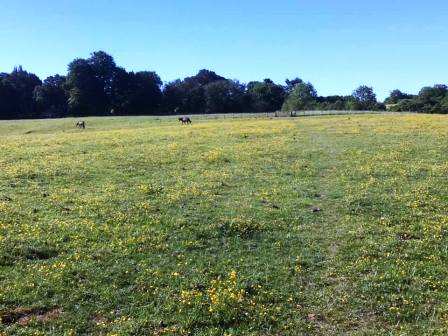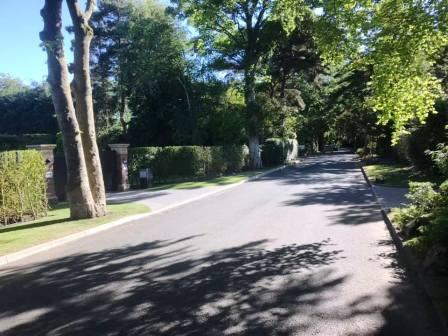 The path exits onto Withinlee Road, Prestbury. This is a kind of "millionaire's row", lined with spectacular multi-million pound properties. When you walk along here, you can't help but wonder which famous footballers live there! Expect to see several response vehicles from Stopfordian Security that usually appear to be on active duty along this road!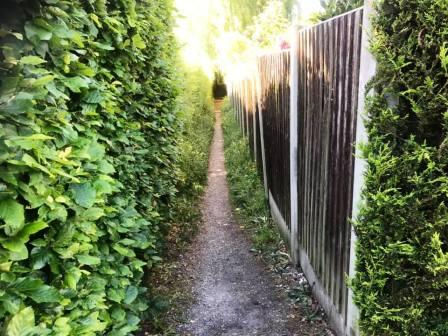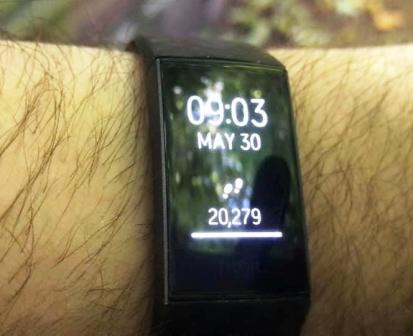 At the end of Withinlee Road, turn right to walk alongside the main A538 Prestbury-Wilmslow road. It's only a short section of road walking, but involves a couple of bends and no footpaths, so care and awareness is essential. Fortunately, when the first right turn appears - Castlegate - we turn right into it, as this is our route. At the bottom of Castlegate, look carefully to your right to spot an opening into a ginnel. This is an unexpectedly long passageway between backyards, and is almost a quarter-of-a-mile long.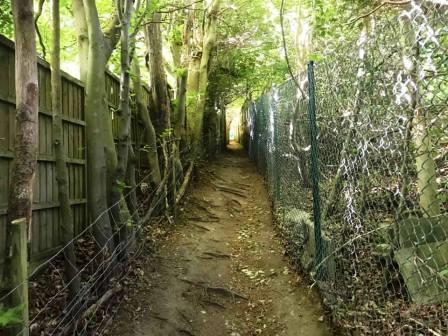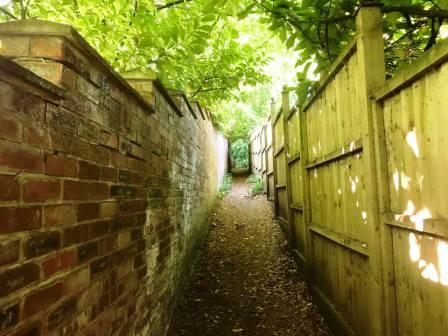 At the end of the passageway, turn left onto the road, and then right onto another. Look for a public footpath on your left to enter the route across Prestbury Golf Course.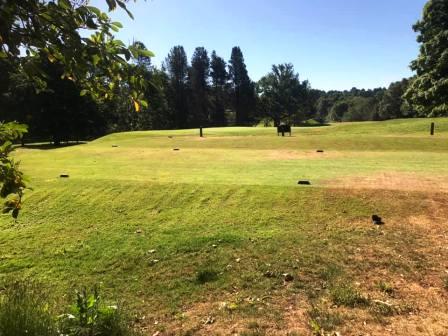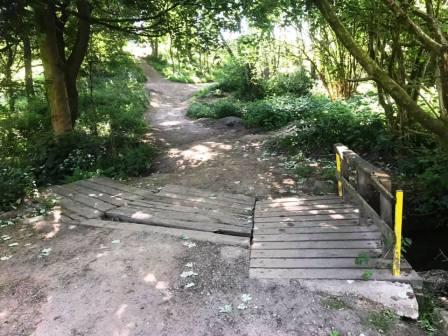 This popular route crosses the progress of golfers in a couple of places, so like with any PROWs across golf courses, remain vigilant and watch for any approaching players - especially if they are about to hit a drive or tee-shot!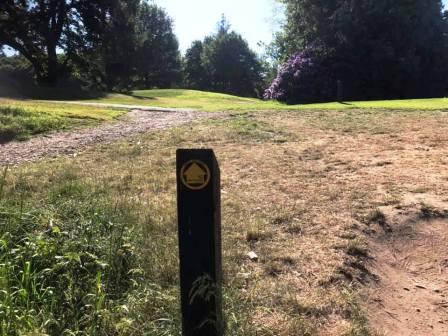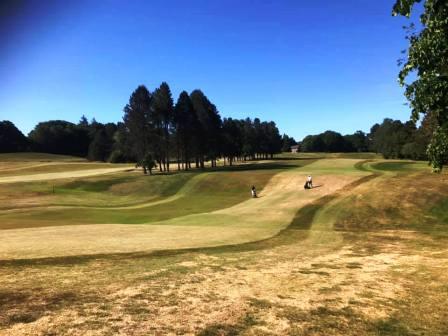 The footpath across the golf course climbs up towards a small wood on your left. At this point, there is an optional detour. A faint service vehicle track can be picked up the climbs around the edge of the wood towards the top of this small rise. The track becomes more defined, and as it levels off, look for the trig point to your left. This is Dalebrow, TP2722.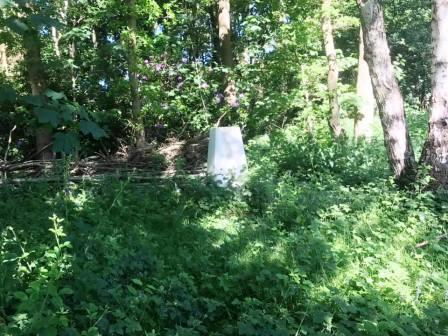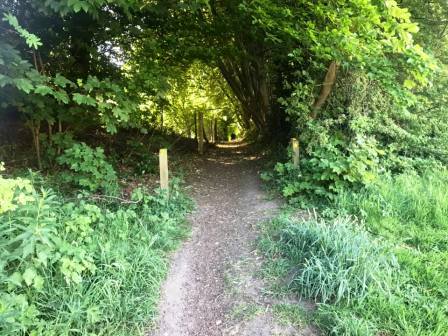 The path crosses another fairway and climbs to a track that leads out of the golf course. Join the golf club access road and follow it down to the main road. Turn right, and then quickly left onto a narrow path to the left of Yew Tree Farm. This section can be badly overgrown with weeds and nettles, and can be challenging! It is however very short before reaching open fields.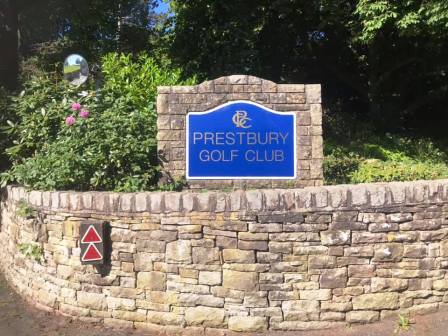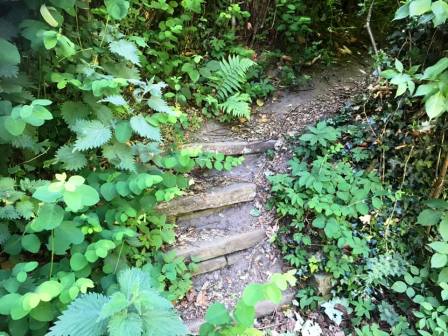 The public footpath progresses in a southerly direction over Yew Tree Farm and Walnut Tree Farm. In places it is difficult to follow on the ground, but careful looking ahead can usually pick out the next stile.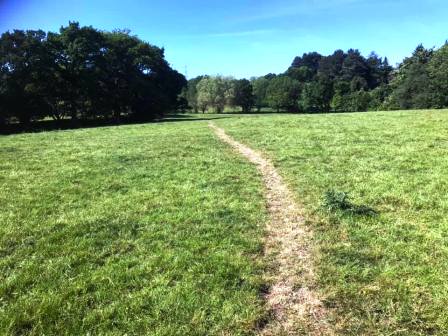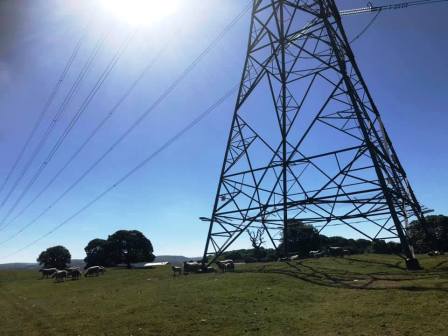 After a stile, you follow a clear line of trees towards an electricity pylon. The pylon is a good landmark here; pass just to the right of it. Continue to the stile onto Prestbury Road, near Upton Priory, Macclesfield.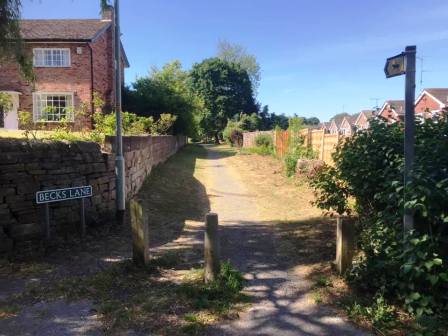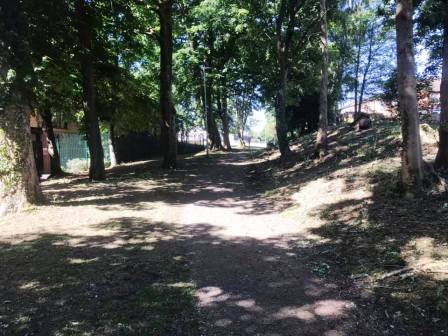 Cross the main road and turn left for a short distance. Turn right onto Becks Lane, which is still shown on some maps as a road, but is only a bridleway at this end. This long path disects Upton Priory housing estate. We leave it at its halfway point at the shops on Westmorland Close. Cross over Kennedy Avenue from the shoppers car park and continue directly ahead onto a tarmac footpath into a private housing estate.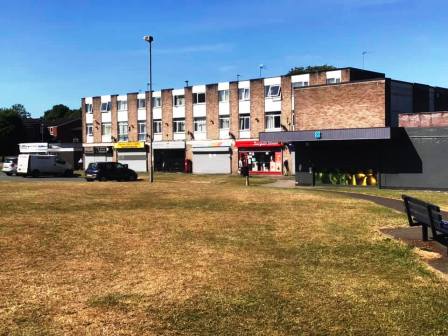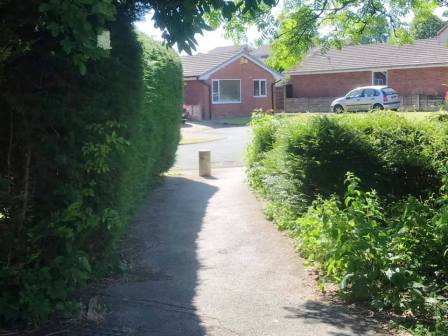 A series of paths and streets are then followed over this estate and past the East Cheshire Hospice. The residential area is left on a path across a green common towards Victoria Road. Cross that road to then walk across "The Villas", yet another residential area, on the site of the old Parkside Hospital.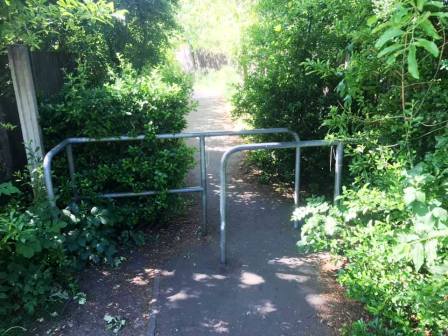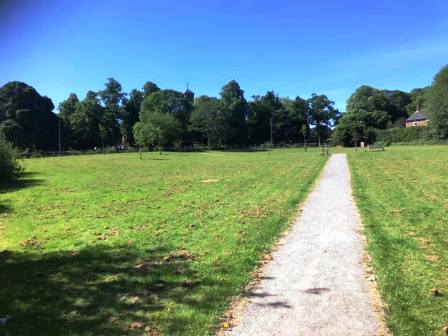 Follow the road around the right-hand-side of the building with the clock tower, all the way around and behind it. Look out for an opening in the metal fences for a path with a black metal post at its start. Follow this out onto Chester Road.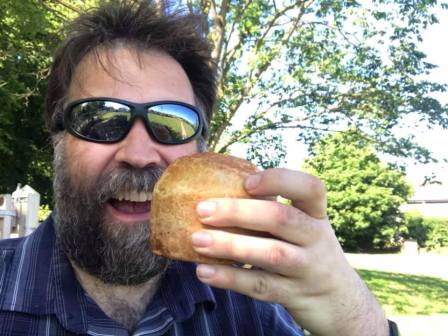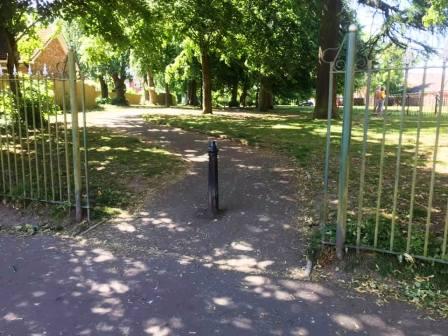 Turn right onto Chester Road, and then left into a walkway through to Springfield Road.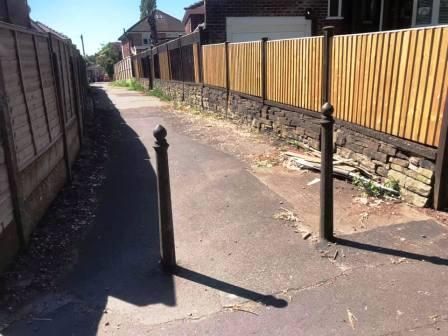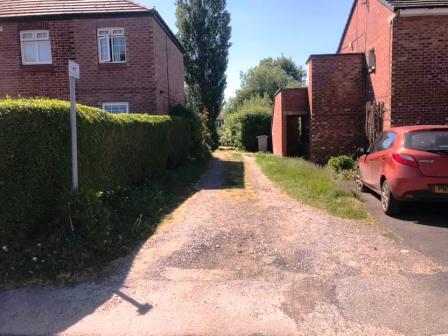 Turn right, and then quickly left into an alleyway, that turns sharp left and continues down to some allotments.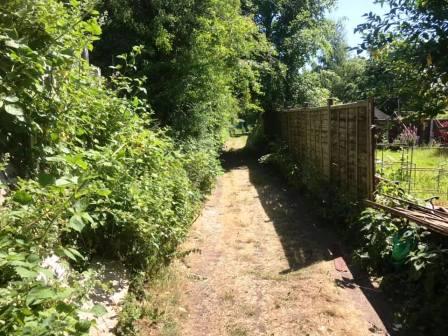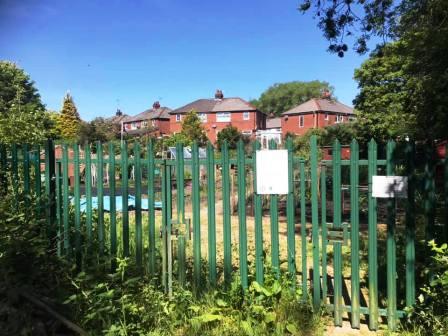 Beyond the allotments, the path becomes overgrown and much less pleasant, but progress is still possible, and this section is short.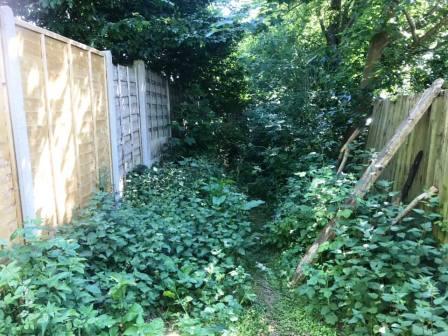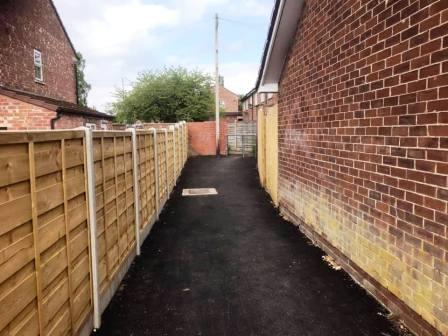 Turn right into Merebrook Close, and right again into the alleyway leading to Merebrook Road. The route is complete.