Loughermore, GI/SM-014 - 396m ASL - C 589 156 - OSNI Discoverer 7 - 1 SOTA point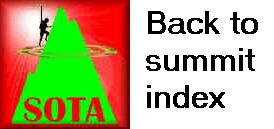 Just a matter of a few hours after walking off Binevenagh GI/SM-015 in the dark, we were at it again. Wednesday 5th August 2015 was a very simple and fairly quick driving route, following the A2 into Limavady and then the B69 into the Loughermore Forest. At C602138 we turned sharp right onto a minor road, which took us up to a parking spot right by the start of the forest track at C603148.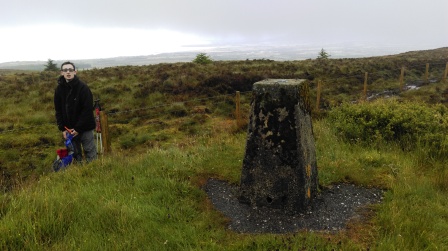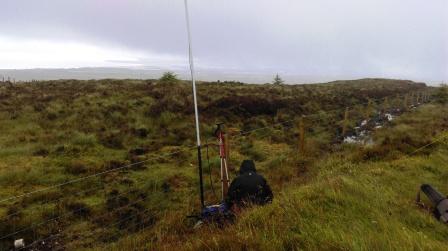 We then had a walk of about 2km along good forest tracks. The uphill gradient was only ever very gentle. It seemed a long meandering walk being flanked on both sides by tall trees and not having any views. Eventually though, we emerged from the forest and then only faced a short, slightly uphill walk to the trig point. I baggsed the pillar as my backrest and hence operating spot, while Jimmy went for ShelterMax by hunkering down below the small bank just in front of me.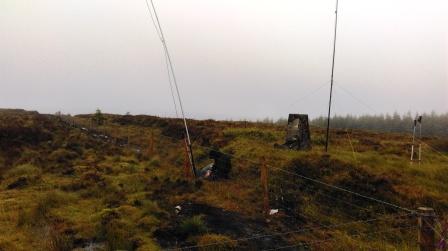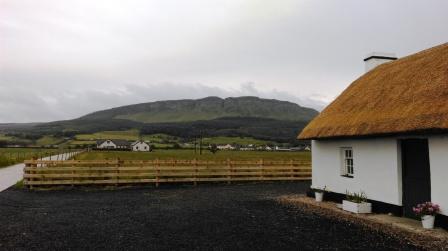 Contacts were difficult to come by for both of us. I just couldn't raise anything at all on 6m or 10m, while Jimmy at least managed a couple on 2m FM. Ultimately, I went on to 2m FM myself, and worked the same two stations, somewhat later. The breakthrough came when Jimmy worked fellow SOTA activator Victor GI4ONL. Fortunately, Victor was able to hear my 10m signals on groundwave, so that also got me my third contact, and my Challenge multiplier. And then almost immediately we both worked William GI4OYM in Portrush - so job done - phew! We spent the rest of the day looking round Portrush. Jimmy and I prepared that evening for a full day out the following day, beginning with Holywell Hill GI/SM-022.
| | | | | |
| --- | --- | --- | --- | --- |
| Time | Call | Band | Mode | Op |
| 06:58z | MI0GDO | 144MHz | FM | J, T |
| 07:32z | MI0TGO/M | 144MHz | FM | J, T |
| 07:36z | GI4ONL | 144MHz | FM | J |
| 07:39z | GI4ONL | 28MHz | CW | T |
| 07:40z | GI4OYM | 144MHz | FM | J, T |