Montana Roja, EA8/LA-026 - 196m ASL - 28.8686N 13.8577W - Lanzarote Tour & Trail map - 1 SOTA point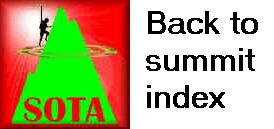 Friday 20th April 2018 saw a very rare activation, in which the whole family came along. Yes, Marianne and Liam both hiked up to the summit with us! They soon moved on and left us though, while Jimmy and I hunted for somewhere to set up.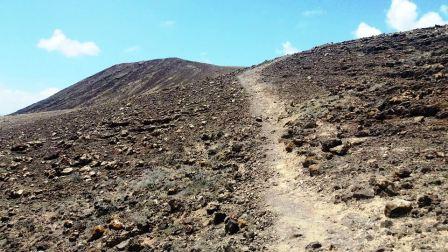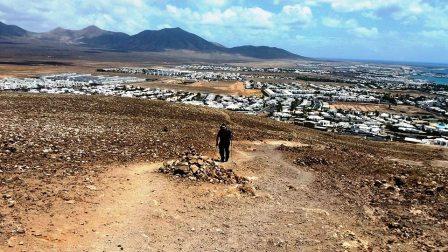 We started from the end of a cul-de-sac road in a housing/villa development on the outskirts of Playa Blanca. The initial path was quite steep up gravelly ground, before easing off to join the crater rim. The rim was much broader than that on the previous day's summit, but it was almost impossible to find a place to set up. This was due to the very strong wind blasting all around the crater rim.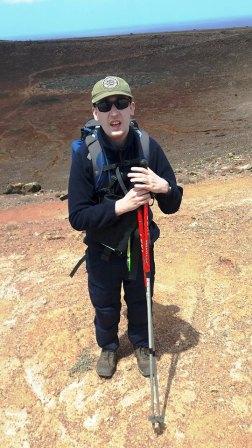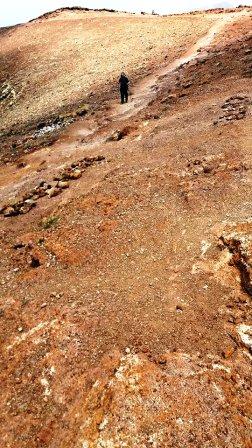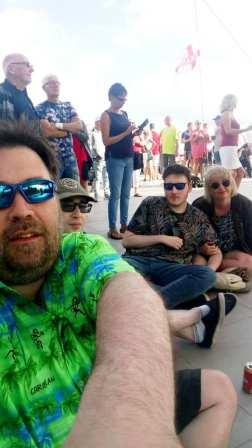 First we tried handheld VHF and both worked Stu EA8/G0JUL. But it was clear that there was going to be no further VHF traffic. Eventually Jimmy and I decided to do what we could on the corner about 15m below the summit. The mast was set to the lowest possible height that would still accommodate the 20m groundplane antenna. Jimmy ran the radials out as best he could despite the difficulty of pegging into the rocky ground.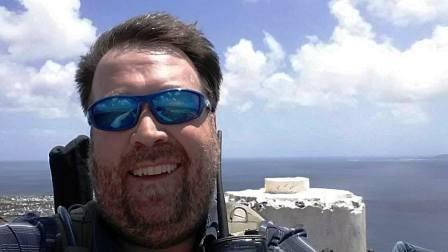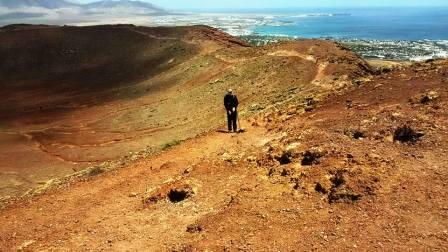 On SSB, Jimmy made a further four QSOs to qualify with room to spare. I went on CW and also qualified quickly. We both remarked on how well the Travelmast held up in such severe wind, albeit at much reduced height. We packed up, descended and met Maz and Liam at the hire car.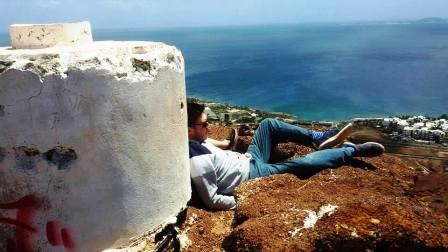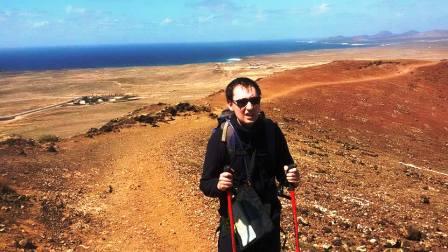 Following this, we spent a pleasant late afternoon in Playa Blanca, with me taking the opportunity for a swim in the clear waters of the ocean while the rest of the gang had drinks and ice cream on the beach terrace. Thanks to all chasers that worked us.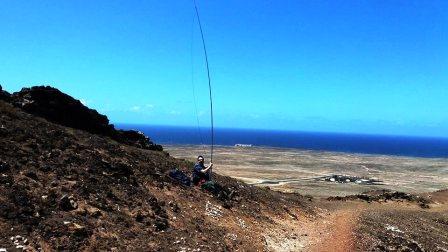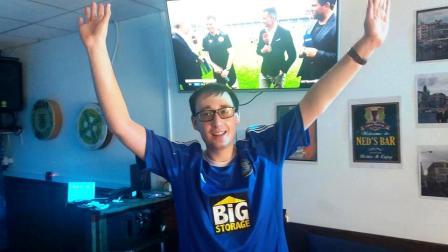 The following afternoon saw us watch live National League football in a small bar in Puerto del Carmen, as Macclesfield Town FC clinched the league title away at Eastleigh!
| | | | | |
| --- | --- | --- | --- | --- |
| Time | Call | Band | Mode | Op |
| 13:39z | EA8/G0JUL | 144MHz | FM | EA8/M1EYP/P, EA8/M0HGY/P |
| 14:08z | DF4TD | 14MHz | SSB | EA8/M0HGY/P |
| 14:11z | G0VWP | 14MHz | SSB | EA8/M0HGY/P |
| 14:14z | DJ5AV | 14MHz | SSB | EA8/M0HGY/P |
| 14:15z | EA2DT | 14MHz | SSB | EA8/M0HGY/P |
| 14:19z | DF4TD | 14MHz | CW | EA8/M1EYP/P |
| 14:21z | DL6UNF | 14MHz | CW | EA8/M1EYP/P |
| 14:22z | ON4FI | 14MHz | CW | EA8/M1EYP/P |
| 14:23z | G0POT | 14MHz | CW | EA8/M1EYP/P |
| 14:23z | F5SQA | 14MHz | CW | EA8/M1EYP/P |