Montana Tahiche, EA8/LA-019 - 321m ASL - 29.0114N 13.5363W - Lanzarote Tour & Trail map - 1 SOTA point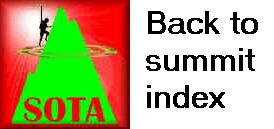 The final activation of the EA8 Lanzarote was on Tuesday 24th April 2018, the day we would (later) fly home. This was a perfectly executed early morning expedition by Jimmy and myself. The agreed get-up was at 4.30am. We ascended in the dark and were on the air just before sunrise.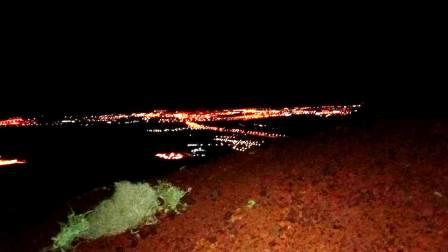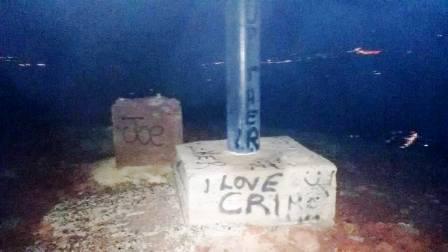 We parked on a wide rough track just off-road, and started walking up the initially gentle slope. It was yet a good hour plus before sunrise, so we were walking with headtorches for the entire ascent. After the path levelled out, we turned left and attacked the steeper slope. We were to later discover that a much better route would have been to continue straight on, leading to a gentle zigzag path up to the crater rim. We missed this in the dark though, and were now committed to a painful slog up a 45 degree slope on loose volcanic scree. I thought my calf muscles were going to explode! It would have been impossible for me without my trekking poles!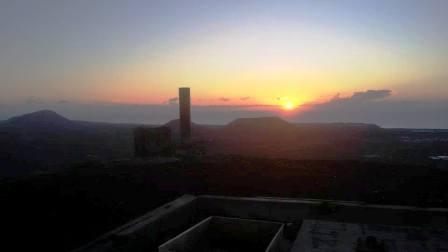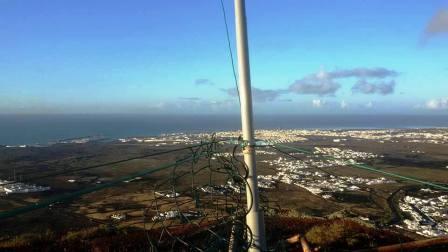 Once the gradient eased, I could stretch out a bit - and breathe a big sigh of relief! Keeping well away from the deep plunging crater to my right, I ambled up to the summit marker post, and then a little beyond to what appeared to be a nicely sheltered and flat area a couple of metres lower than the summit. Some large rocks formed a sort of balcony rail on the steep southern edge of this mini-plateau.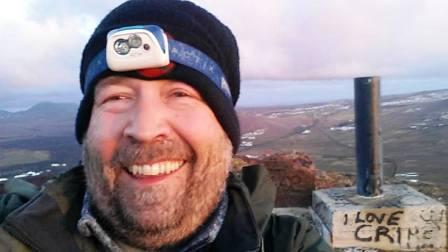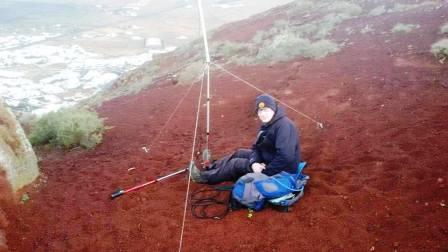 Jimmy set up his MFD there, and I started to set up - but I noticed a pile of discarded wire mesh fencing back up towards the summit post. I sensed an opportunity for some support for my mast. That support had been me on the previous two Lanzarote activations! I slotted in the Travelmast, and it was well supported in a vertical position. It was less windy than the previous two activations, but I still only extended the mast to the minimum necessary to accommodate the driven element of the 20m groundplane antenna. The radials were almost horizontal with the feedpoint being so low. On one radial, we couldn't get a peg into the ground, so a loop was made on the guying cord, and tied around a large rock!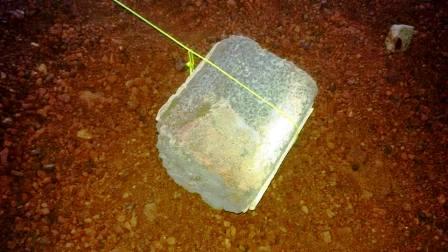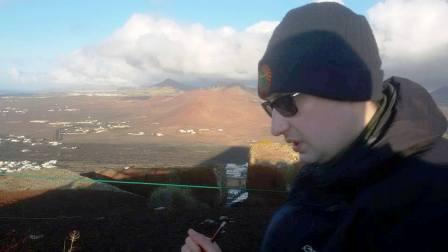 Pleasingly though, the antenna was fine and the VSWR indication was more than acceptable. As we settled down to play radio, the sun began to rise, and with it, so opened up the 20m band. Jimmy had no joy soliciting activity on VHF. We both had fun on the 20m band, me working on CW and making several contacts including Japan. Jimmy operated with the microphone and worked down a big European pile-up, which he enjoyed.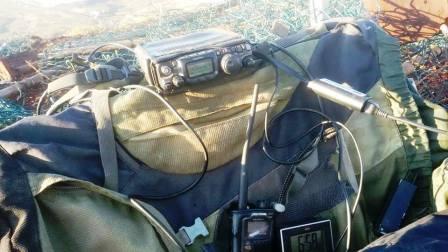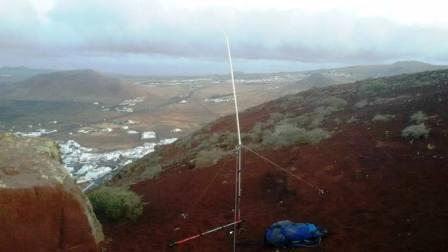 It was a lovely walk on what appeared to be a pair of twin volcanoes. The descent route involved an airy ridge between the two craters. Beautiful volcanic landscape which we could fully appreciate on the descent, now illuminated by a fabulous morning sunshine. Breathtaking.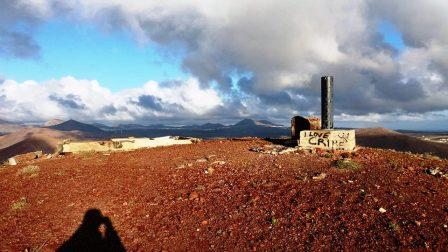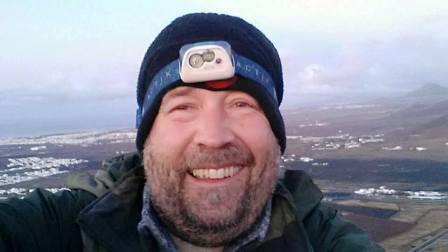 In daylight on the descent, we could clearly see the zigzag path that would have made for a more comfortable ascent! At least we descended that way. We were back at the villa at 0940 in plenty of time for the breakfast, and a refreshing swim before checkout. Later, we were relaxing in the departure lounge at the airport with Cerveza Grande Tropical. It had been an excellent holiday.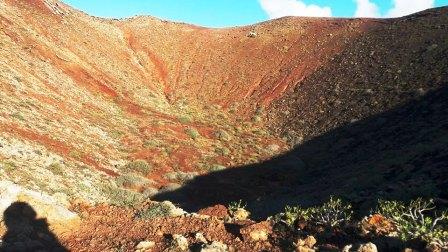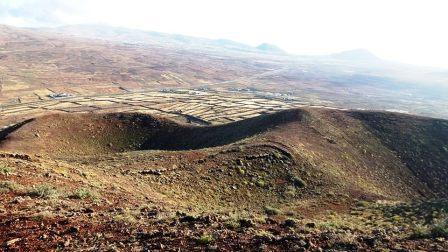 | | | | | | |
| --- | --- | --- | --- | --- | --- |
| Time | Call | Band | Mode | S2S | Op |
| 06:35z | OK2PDT | 14MHz | CW | | EA8/M1EYP/P |
| 06:36z | IK2LEY | 14MHz | CW | | EA8/M1EYP/P |
| 06:38z | G4KJD | 14MHz | CW | | EA8/M1EYP/P |
| 06:40z | HB9JOE | 14MHz | CW | | EA8/M1EYP/P |
| 06:41z | F5LKW/P | 14MHz | CW | F/CR-204 | EA8/M1EYP/P |
| 06:44z | DJ5AV | 14MHz | CW | | EA8/M1EYP/P |
| 06:45z | M0MLH | 14MHz | CW | | EA8/M1EYP/P |
| 06:47z | EA2IF | 14MHz | CW | | EA8/M1EYP/P |
| 06:48z | R7DA | 14MHz | CW | | EA8/M1EYP/P |
| 06:48z | G4OBK | 14MHz | CW | | EA8/M1EYP/P |
| 06:51z | G0VWP | 14MHz | SSB | | EA8/M0HGY/P |
| 06:53z | G3CWI | 14MHz | SSB | | EA8/M0HGY/P |
| 06:55z | DJ5AV | 14MHz | SSB | | EA8/M0HGY/P |
| 06:56z | EA2IF | 14MHz | SSB | | EA8/M0HGY/P |
| 06:57z | ON3YB | 14MHz | SSB | | EA8/M0HGY/P |
| 06:58z | EA2CKX | 14MHz | SSB | | EA8/M0HGY/P |
| 06:59z | GM0AXY | 14MHz | SSB | | EA8/M0HGY/P |
| 07:00z | G6LKB | 14MHz | SSB | | EA8/M0HGY/P |
| 07:00z | ON4VT | 14MHz | SSB | | EA8/M0HGY/P |
| 07:01z | OE5AUL | 14MHz | SSB | | EA8/M0HGY/P |
| 07:02z | ON5GM | 14MHz | SSB | | EA8/M0HGY/P |
| 07:03z | MW0YVK | 14MHz | SSB | | EA8/M0HGY/P |
| 07:03z | G3RMD | 14MHz | SSB | | EA8/M0HGY/P |
| 07:04z | PA7ZEE | 14MHz | SSB | | EA8/M0HGY/P |
| 07:05z | PA0B | 14MHz | SSB | | EA8/M0HGY/P |
| 07:08z | F5LKW/P | 14MHz | SSB | F/CR-204 | EA8/M0HGY/P |
| 07:09z | EA6AAB | 14MHz | SSB | | EA8/M0HGY/P |
| 07:11z | DD5LP | 14MHz | SSB | | EA8/M0HGY/P |
| 07:16z | G3RMD | 14MHz | CW | | EA8/M1EYP/P |
| 07:17z | G3RDQ | 14MHz | CW | | EA8/M1EYP/P |
| 07:18z | F5SQA | 14MHz | CW | | EA8/M1EYP/P |
| 07:20z | F6EWB | 14MHz | CW | | EA8/M1EYP/P |
| 07:22z | JH1MDJ | 14MHz | CW | | EA8/M1EYP/P |
| 07:23z | PA7ZEE | 14MHz | CW | | EA8/M1EYP/P |
| 07:23z | PA0SKP | 14MHz | CW | | EA8/M1EYP/P |
| 07:26z | GW4VPX | 14MHz | CW | | EA8/M1EYP/P |
| 07:27z | OH3GZ | 14MHz | CW | | EA8/M1EYP/P |