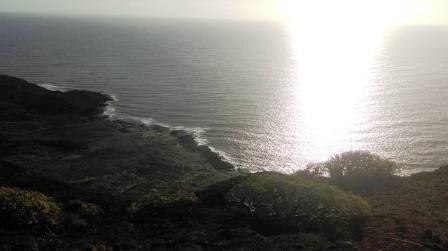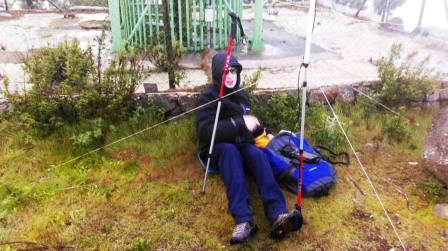 We drove north from Costa Adeje into the National Park, still under night sky. We reached the parking area just as day was starting to break, so even though we had headtorches ready for use, there was just enough light now coming through not to require them. The access road for the transmitter complex at the summit had only the slightest gradient for much of the way, save for a couple of zigzags, so it was a straightforward and easy walk in to the summit.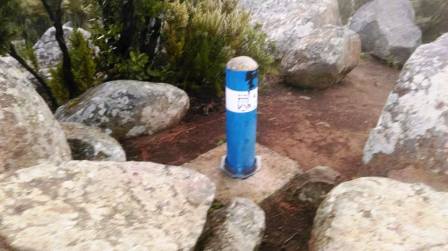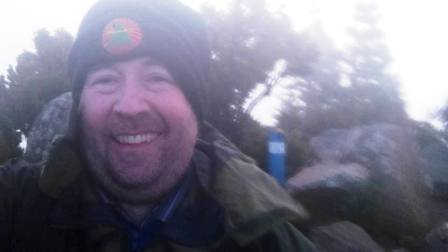 I set up on 20m and had no difficulty at all in qualifying on CW. Meanwhile, Jimmy EA8/M0HGY/P was banging his head against a brick wall on 2m FM. I had a gap in my callers after just five QSOs, so I let Jimmy take over the HF station, on 20m SSB. With the help of a self-spot, he was qualified within minutes, and soon after he was called by ZL1BYZ for his first ever ZL in amateur radio! Jimmy made 8 QSOs on 20m SSB before having another, ultimately unsuccessul, try on VHF.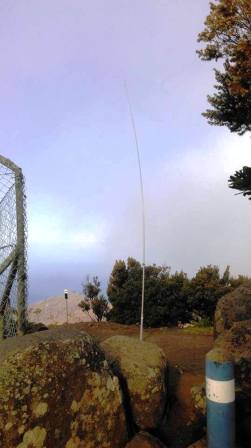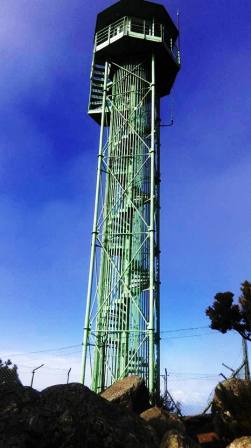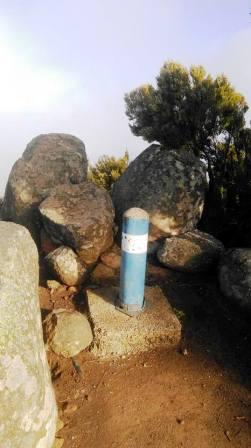 Resuming on 20m CW, I also worked ZL1BYZ, plus many other chasers and a couple of S2S QSOs. We had also carried the 15m vertical up, and I was enjoying myself, so we decided to give that a go too. I got seven contacts on CW, and Jimmy added a couple on SSB.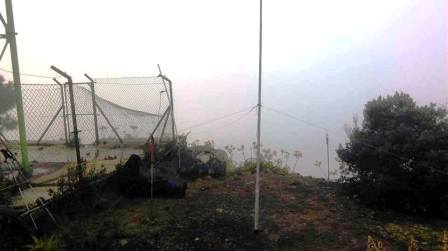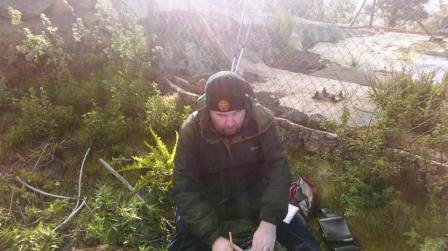 The walk back was every bit as straightforward as the outward leg, and we were back at the car in good time. We were both now pretty hungry again; it had been a good while since breakfast! After driving the short distance back to the main road, we could see a very appealing looking food and drink opportunity!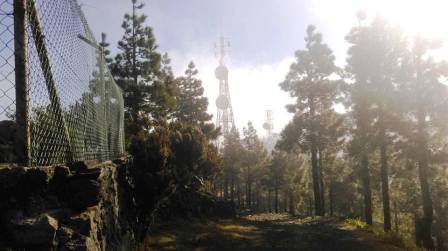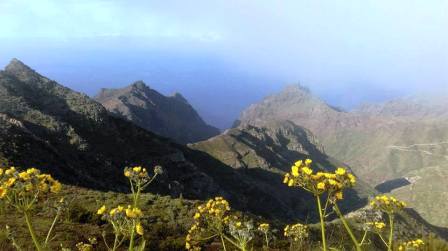 Jimmy and I went in here for a pleasant tapas lunch and a welcome refreshing beer. It was still quite nippy up here at altitude in the National Park, and most people were wearing sweaters and cardigans. It was a total contrast when we got back to Costa Adeje, where it was very hot - much warmer than the norm for early March - but I for one was not complaining, and enjoyed basking by the pool in between my swims.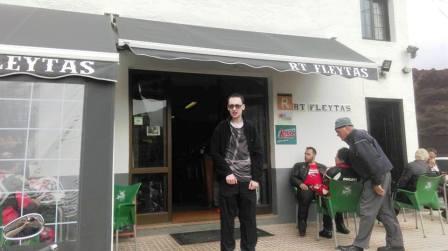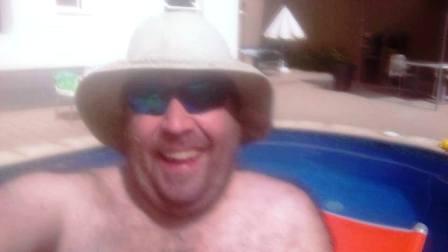 There would now be a gap of three days before our next SOTA outing of the holiday - to Roque del Conde EA8/TF-010. Not that this was a problem - we were having a fantastic holiday in fabulous weather, some lovely coastal walks and delicious meals, and many visits to Liam's favourite venue - News Cafe, Costa Adeje - for the karaoke! Tonight though we headed down to San Eugenio to watch the stand-up comedy of my good friend George King.
| | | | | | |
| --- | --- | --- | --- | --- | --- |
| Time | Call | Band | Mode | S2S | Op |
| 08:18z | UT2UN | 14MHz | CW | | EA8/M1EYP/P |
| 08:26z | DL1FU | 14MHz | CW | | EA8/M1EYP/P |
| 08:28z | F6FTB | 14MHz | CW | | EA8/M1EYP/P |
| 08:29z | OK1DVM | 14MHz | CW | | EA8/M1EYP/P |
| 08:31z | PA0ALW | 14MHz | CW | | EA8/M1EYP/P |
| 08:36z | DJ5AV | 14MHz | SSB | | EA8/M0HGY/P |
| 08:37z | OK1DVM | 14MHz | SSB | | EA8/M0HGY/P |
| 08:39z | OE7FMH | 14MHz | SSB | | EA8/M0HGY/P |
| 08:40z | F6FTB | 14MHz | SSB | | EA8/M0HGY/P |
| 08:41z | EA2DT | 14MHz | SSB | | EA8/M0HGY/P |
| 08:42z | ZL1BYZ | 14MHz | SSB | | EA8/M0HGY/P |
| 08:44z | G4OBK | 14MHz | SSB | | EA8/M0HGY/P |
| 08:45z | G0VWP | 14MHz | SSB | | EA8/M0HGY/P |
| 08:53z | ZL1BYZ | 14MHz | CW | | EA8/M1EYP/P |
| 08:54z | OE5FSM | 14MHz | CW | | EA8/M1EYP/P |
| 08:56z | YO2BP | 14MHz | CW | | EA8/M1EYP/P |
| 08:57z | SA4BLM | 14MHz | CW | | EA8/M1EYP/P |
| 08:58z | 9A2UN | 14MHz | CW | | EA8/M1EYP/P |
| 09:01z | LZ1QZ | 14MHz | CW | | EA8/M1EYP/P |
| 09:07z | CT7/F6HBR | 14MHz | CW | | EA8/M1EYP/P |
| 09:07z | HB9DQM | 14MHz | CW | | EA8/M1EYP/P |
| 09:08z | OK2QA | 14MHz | CW | | EA8/M1EYP/P |
| 09:09z | EA2BD | 14MHz | CW | | EA8/M1EYP/P |
| 09:10z | DF5WA | 14MHz | CW | | EA8/M1EYP/P |
| 09:10z | EA144MHZM | 14MHz | CW | | EA8/M1EYP/P |
| 09:12z | HB9CLT | 14MHz | CW | | EA8/M1EYP/P |
| 09:14z | SM7ZDI | 14MHz | CW | | EA8/M1EYP/P |
| 09:16z | S52CU | 14MHz | CW | | EA8/M1EYP/P |
| 09:17z | EA1AER | 14MHz | CW | | EA8/M1EYP/P |
| 09:18z | OM/OK2PDT/P | 14MHz | CW | OM/BA-001 | EA8/M1EYP/P |
| 09:20z | S57D | 14MHz | CW | | EA8/M1EYP/P |
| 09:20z | PA0SKP | 14MHz | CW | | EA8/M1EYP/P |
| 09:21z | F5SQA | 14MHz | CW | | EA8/M1EYP/P |
| 09:24z | OK2BDF/P | 14MHz | CW | OK/JM-065 | EA8/M1EYP/P |
| 09:26z | G4SSH | 14MHz | CW | | EA8/M1EYP/P |
| 09:30z | DL3HXX | 14MHz | CW | | EA8/M1EYP/P |
| 09:31z | DL9YCS | 14MHz | CW | | EA8/M1EYP/P |
| 09:32z | DL2HWI | 14MHz | CW | | EA8/M1EYP/P |
| 09:59z | 9A2UN | 21MHz | CW | | EA8/M1EYP/P |
| 10:07z | DF5WA | 21MHz | CW | | EA8/M1EYP/P |
| 10:07z | F6EAZ | 21MHz | CW | | EA8/M1EYP/P |
| 10:09z | M0WBG | 21MHz | CW | | EA8/M1EYP/P |
| 10:10z | OM1DM | 21MHz | CW | | EA8/M1EYP/P |
| 10:11z | HB9LAN | 21MHz | CW | | EA8/M1EYP/P |
| 10:12z | I5QNJ | 21MHz | CW | | EA8/M1EYP/P |
| 10:19z | F8CZI | 21MHz | SSB | | EA8/M0HGY/P |
| 10:22z | HA7WA | 21MHz | SSB | | EA8/M0HGY/P |