Mullaghash, GI/SM-008 - 480m ASL - C 640 019 - OSNI Discoverer 7 - 2 SOTA points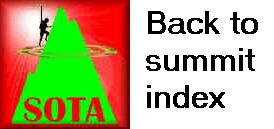 We had just three summits to go to complete all 66 in Northern Ireland as day broke on Wednesday 5th July 2017. Jimmy had identified Mullaghash GI/SM-008 as a potentially long and challenging walk though, so we allocated a full day to this single hill. Again, it wasn't an early start, especially with the late finish the previous night. As usual, we were greeted with the chickens pottering around our doorstep, and a disinterested cat basking in the sunshine!
We headed north towards the village of Feeny and found a big old farmhouse with a massive yard on the B44 at Ballydonegan. There didn't seem to be any other nearby parking opportunties, so I thought I'd drive into the entirely empty yard and knock at the door. No answer, and there just didn't seem to be anyone about at all. In fact I wasn't convinced the property was occupied at all. We decided to chance it, as our track was right beside the yard. I left a note on my dashboard with our mobile numbers.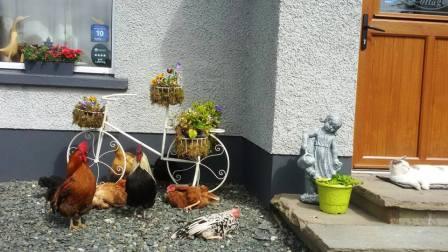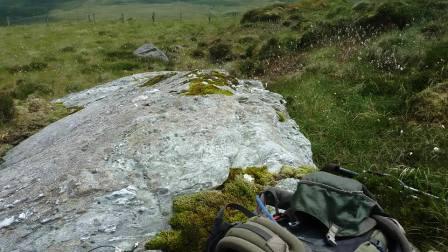 Walking the first couple of kilometres around this mostly level track, that skirts around the west and south of Mullaghash was fine. I could see that Jimmy was waiting for me by a gate, to give the signal to start heading uphill, so I angled off immediately and soon has some height above him. Once he spotted what I was up to, it didn't take him long to catch up! This was now extremely hard walk, steep and on tussocky rough ground, through many large areas of tall vegetation. Whatsmore, it always looked like we had a massively long way still to go. This was definitely a hill for the purists.
We stopped by some rocks for a much needed rest, and to have our soup lunch. We thought we were very close to the summit, but there was actually still a fair bit of work to do. After what seemed like an eternity, and the most physically demanding workout I'd had for a long time, I reached the summit, some time after Jimmy, it has to be said. Qualification was no problem, but after all, the radio was without doubt the easiest component of this expedition!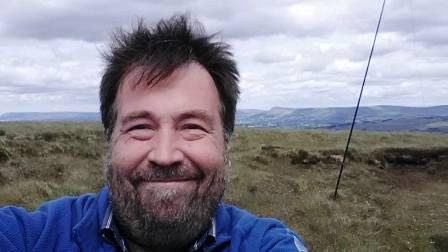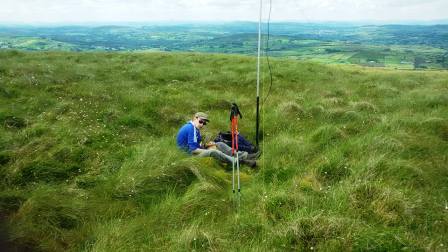 Jimmy had an idea. The ascent had not been at all easy, and Jimmy thought that following the wall straight down to the saddle with Knockanbane Mountain, then veering right (west) to pick up the track would be easier. We later rued this decision and wished we had stuck to our golden rule of returning the same way, if it was feasible enough. This return route was pure purgatory, with bog, deep vegetation, streams, obstacles, you name it. If we thought it was slow to make progress on the ascent, this was different league altogether!
When we did eventually reach the track, I insisted on a rest. At least with it being a one summit day, we had plenty of time available to get back and get ready for dinner. Back at the farmyard, there was still no sign of life. Well, human life anyway. We were greeted by a great many chickens, who seemed to take a shine to Jimmy and started chasing him around the farmyard! It was back to the Eddie's Crossroads pub that night for another full Ulster Fry, pints of Guinness and games of pool. The following day, we would climb and activate our last two Northern Irish summits, starting with Mullaghclogha GI/SM-002.
| | | | | | |
| --- | --- | --- | --- | --- | --- |
| Time | Call | Band | Mode | S2S | Op |
| 13:40z | M0BKV | 5MHz | CW | | MI1EYP/P |
| 13:40z | MI0RTY | 144MHz | FM | | MI0HGY/P |
| 13:42z | GM0EVV/P | 5MHz | SSB | GM/SS-172 | MI1EYP/P |
| 13:46z | G4FGJ | 5MHz | CW | | MI1EYP/P |
| 13:48z | GI4OPH | 144MHz | FM | | MI0HGY/P |
| 13:49z | G7HFS/P | 5MHz | SSB | | MI1EYP/P |
| 13:51z | G0RQL | 5MHz | SSB | | MI1EYP/P |
| 13:53z | MI0JST/M | 144MHz | FM | | MI0HGY/P |
| 13:55z | EI3GYB | 5MHz | SSB | | MI1EYP/P |
| 13:56z | GI4LXL | 144MHz | FM | | MI0HGY/P |
| 13:56z | G0FEX | 5MHz | SSB | | MI1EYP/P |
| 13:56z | G4IAR | 5MHz | SSB | | MI1EYP/P |
| 13:59z | G4OBK | 5MHz | SSB | | MI1EYP/P |
| 14:00z | EI9GLB | 5MHz | SSB | | MI1EYP/P |
| 14:02z | MI0GDO | 144MHz | FM | | MI1EYP/P, MI0HGY/P |
| 14:03z | MI3CXM | 144MHz | FM | | MI1EYP/P, MI0HGY/P |
| 14:05z | GI0AZA/M | 144MHz | FM | | MI1EYP/P, MI0HGY/P |