Pegwn Mawr, GW/MW-006 - 586m ASL - SO 023 812 - OS Explorer 214 - 2 SOTA points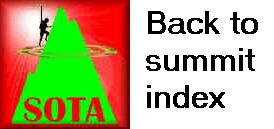 Friday 28th December 2018 - Gaulfest - Pegwn Mawr GW/MW-006 & Beacon Hill GW/MW-009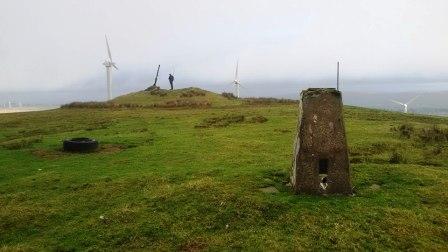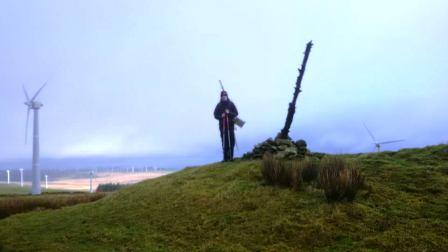 What a brilliant day out. With the exceptionally mild December weather, and two activator uniques on offer, even Jimmy M0HGY was prised out of his bed. To be honest, we were both flabbergasted that after 16 years of SOTAing, there remained feasible daytrippable outings that involved ATNOs. We kicked off with Pegwn Mawr GW/MW-006, which was a very tame summit. An easy 20 minute stroll up a windfarm access track to the trig. The turbines were really noisy though!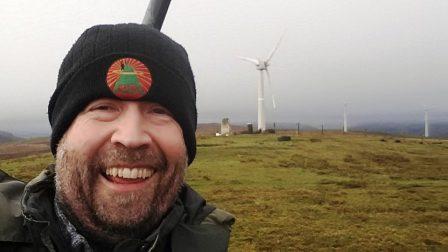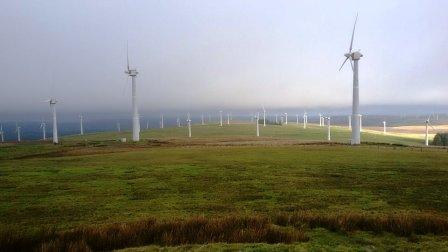 This was where we had the most fun. We both made plenty of S2S, on 2m FM, 20m SSB and 20m CW, and several that were different to each other! Jimmy made a total of 18 QSOs - 12 on 2m FM and 6 on 20m SSB. This included 6 S2S: GW4VPX/P on GW/MW-001, M3TMX/P on G/WB-010, GW4TQE/P on GW/NW-021, MW6OVW/P on GW/SW-041, SQ9MDF/P on SP/BZ-030 and SQ9NOT/P on SP/BZ-030. I made 23 contacts - 9 on 20 CW, 5 on 20m SSB and 9 on 2m FM. This included 4 S2S: MW0PLA/P on GW/NW-012 EA3HP/P on EA3/BC-020, GW4VPX/P on GW/MW-001 and M3TMX/P on G/WB-010.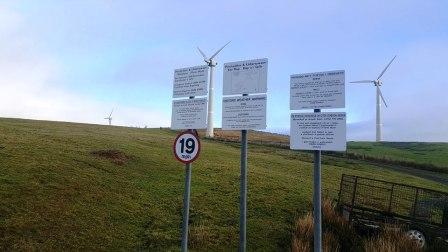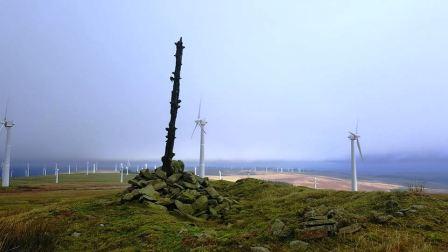 The sheep were very tame and kept homing in on Jimmy. One in particular would not leave him alone! We then moved across to Beacon Hill GW/MW-009.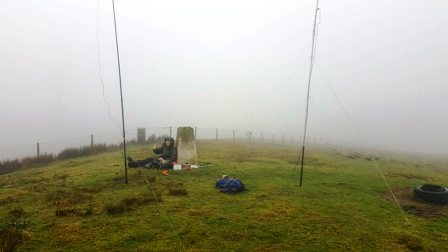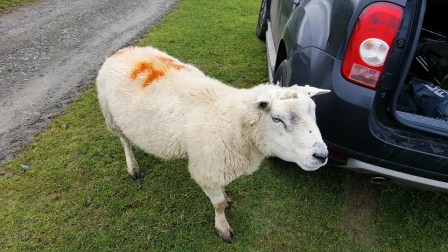 | | | | | | |
| --- | --- | --- | --- | --- | --- |
| Time | Call | Band | Mode | S2S | Op |
| 10:19z | OK2PDT | 14MHz | CW | | MW1EYP/P |
| 10:20z | RU7K | 14MHz | CW | | MW1EYP/P |
| 10:23z | SP9AMH | 14MHz | CW | | MW1EYP/P |
| 10:24z | I3DBD | 14MHz | CW | | MW1EYP/P |
| 10:25z | OE5EEP | 14MHz | CW | | MW1EYP/P |
| 10:26z | IK2CFD | 14MHz | CW | | MW1EYP/P |
| 10:27z | G8XYJ | 144MHz | FM | | MW0HGY/P |
| 10:28z | MW0PLA/P | 14MHz | CW | GW/NW-012 | MW1EYP/P |
| 10:30z | SV2HSZ | 14MHz | CW | | MW1EYP/P |
| 10:31z | GW4TQE/P | 144MHz | FM | GW/NW-021 | MW0HGY/P |
| 10:33z | CT1DRB | 14MHz | CW | | MW1EYP/P |
| 10:34z | G0OHY | 144MHz | FM | | MW0HGY/P |
| 10:35z | MW6OVW/P | 144MHz | FM | GW/SW-041 | MW0HGY/P |
| 10:37z | G4IOQ | 144MHz | FM | | MW0HGY/P |
| 10:38z | IN3ADF | 14MHz | SSB | | MW1EYP/P |
| 10:39z | SV2HSZ | 14MHz | SSB | | MW1EYP/P |
| 10:40z | M0HCU | 144MHz | FM | | MW0HGY/P |
| 10:40z | SV1RVJ | 14MHz | SSB | | MW1EYP/P |
| 10:40z | SV2HSY | 14MHz | SSB | | MW1EYP/P |
| 10:41z | G8HMV | 144MHz | FM | | MW0HGY/P |
| 10:43z | EA3HP/P | 14MHz | SSB | EA3/BC-020 | MW1EYP/P |
| 10:46z | GW4VPX/P | 144MHz | FM | GW/MW-001 | MW0HGY/P, MW1EYP/P |
| 10:47z | M3TMX/P | 144MHz | FM | G/WB-010 | MW0HGY/P, MW1EYP/P |
| 10:49z | OM1AX | 14MHz | SSB | | MW0HGY/P |
| 10:49z | M0JLA | 144MHz | FM | | MW1EYP/P |
| 10:50z | RV9DC | 14MHz | SSB | | MW0HGY/P |
| 10:50z | M1JMH | 144MHz | FM | | MW1EYP/P |
| 10:53z | SQ9MDF/P | 14MHz | SSB | SP/BZ-030 | MW0HGY/P |
| 10:54z | G0LGS | 144MHz | FM | | MW0HGY/P, MW1EYP/P |
| 10:55z | SQ9NOT/P | 14MHz | SSB | SP/BZ-030 | MW0HGY/P |
| 10:55z | MW0WEE | 144MHz | FM | | MW1EYP/P |
| 10:56z | GW4TQD | 144MHz | FM | | MW0HGY/P, MW1EYP/P |
| 10:57z | EB2GKK | 14MHz | SSB | | MW0HGY/P |
| 10:57z | MW0TMD/M | 144MHz | FM | | MW1EYP/P |
| 10:57z | GW4TJC/M | 144MHz | FM | | MW0HGY/P, MW1EYP/P |
| 10:58z | HA2PP | 14MHz | SSB | | MW0HGY/P |