Owenreagh Hill, GI/SM-011 - 407m ASL - H 420 959 - OSNI Discoverer 12 - 2 SOTA points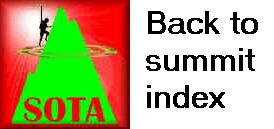 GI SOTA Trip - Activation #16 - Owenreagh Hill GI/SM-011 - Friday 3rd June 2016
From Dooish Mountain EI/IN-081, we drove back into GI, through Strabane and into the minor roads to the East of that border town. In accordance with advice gleaned from the excellent and informative http://mountainviews.ie Irish hillwalking website, we parked in the wide entrance to the wind farm road at H423972.
To the right hand side of the large metal gate was an access point for walkers, and we began to walk up the wide track towards the turbines. As we did, we were passed by a service vehicle. We stood to the side of the road and received a cheerful wave and smile from the staff member at the wheel. Upon reaching the highest point of the service road, I decided to set up and activate right there. This was just 7m vertically lower than the true summit. Jimmy, as per usual, went to the actual top to set up his MFD for 2m.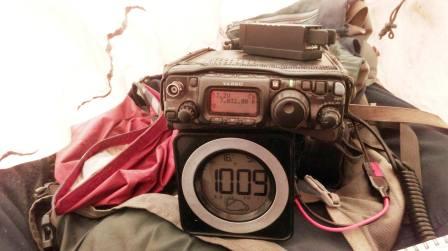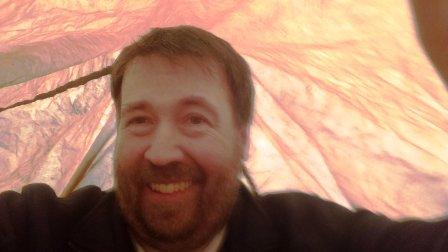 In each of our respective positions, we were attacked by swarms of midges. A breath of wind would have been nice, but there was not even that. The midges beat Jimmy all ends up. For the first time on this tour he didn't make even a single VHF contact. He packed up under continuing attack and came to join me in my operating spot.
Fortunately - for Jimmy - I had easily qualified with 14 QSOs on 40m. I managed to do this while retaining sanity by using my bothy bag shelter. I have used it to shelter from midges before. It is hard to deploy it without getting any midges on the inside, and under this swarm it was impossible, but a couple of hundred of the blighters is very much preferable to a couple of thousand. Also, on the inside, they got dopey and were easy to kill. And, interestingly, most of them took themselves off to the end of the bag near my boots and well away from my head and radio.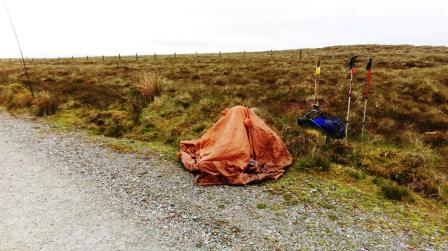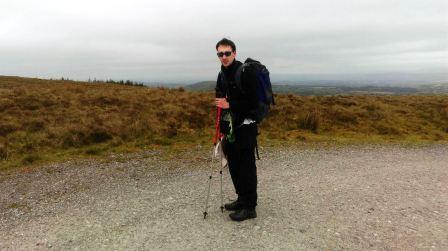 The best news for Jimmy was that my 14 contacts on 7MHz were all on SSB on the WAB net frequency 7.160MHz. They were expecting him too, so he just took over from me, pulling the bothy bag around him. I was now on the outside and resuming my shouting, swearing and dancing with the midges. I should be embarrassed, but I've witnessed first-hand the mental breakdown of SOTA greats such as Barry GM4TOE under such attack. So I know it happens to the best of us.
Another service vehicle passed, Another cheery wave and a smile. Jimmy quickly got eleven 40m SSB QSOs into his logbook anyway, so we were good to go. First we took an early lunch and emptied our flask of mulligatawny soup into our tummies once we reached the car. In-car listening was still mainly BBC Radio Ulster as we followed news of the continuing moorland fire near Strabane. It was time to drive to our penultimate summit - Balix Hill GI/SM-012.
| | | | | |
| --- | --- | --- | --- | --- |
| Time | Call | Band | Mode | Op |
| 09:18z | 2E0KVJ | 7MHz | SSB | MI1EYP/P, MI0HGY/P |
| 09:19z | G0FEX | 7MHz | SSB | MI1EYP/P, MI0HGY/P |
| 09:20z | G4CQR | 7MHz | SSB | MI1EYP/P |
| 09:21z | M6NTM/M | 7MHz | SSB | MI1EYP/P, MI0HGY/P |
| 09:21z | G0OFD | 7MHz | SSB | MI1EYP/P |
| 09:26z | G8TMV | 7MHz | SSB | MI1EYP/P |
| 09:27z | G8MIA | 7MHz | SSB | MI1EYP/P |
| 09:28z | G0RQL | 7MHz | SSB | MI1EYP/P, MI0HGY/P |
| 09:29z | G3RDQ | 7MHz | SSB | MI1EYP/P |
| 09:30z | EI2KD | 7MHz | SSB | MI1EYP/P, MI0HGY/P |
| 09:31z | G4WSB | 7MHz | SSB | MI1EYP/P |
| 09:34z | MK0BKV | 7MHz | SSB | MI1EYP/P, MI0HGY/P |
| 09:38z | MM3PDM/M | 7MHz | SSB | MI1EYP/P |
| 09:38z | SM6CNX | 7MHz | SSB | MI1EYP/P |
| 09:46z | G7AFM | 7MHz | SSB | MI0HGY/P |
| 09:46z | G4OBK | 7MHz | SSB | MI0HGY/P |
| 09:47z | PE1OAD/MM | 7MHz | SSB | MI0HGY/P |
| 09:48z | M3FEH | 7MHz | SSB | MI0HGY/P |
| 09:50z | GM0VWP/P | 7MHz | SSB | MI0HGY/P |