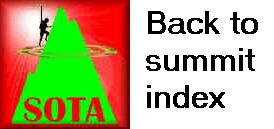 Edward M6NSR celebrated his 19th birthday recently, and suggested it would be appropriate for amateur radio friends and family to join him for an activation and a curry to mark the occasion. Who were we to refuse? Shining Tor G/SP-004 was the chosen summit, for its local proximity, and winter bonus points. It was Sunday 8th January 2012, and a bracing morning walk was in order to "detox" from the previous day's alcohol intake that accompanied the Macclesfield Town v Bolton Wanderers FA Cup tie. The usual walk up was followed, from just short of the Cat & Fiddle pub between Macclesfield and Buxton.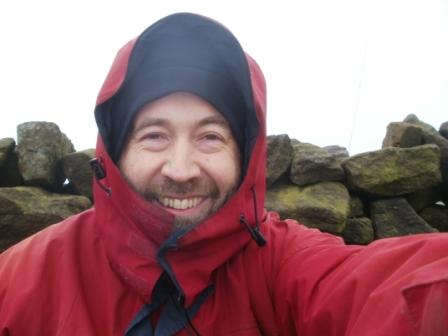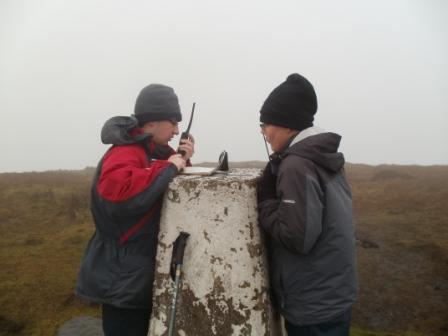 It was breezy and cold on the summit, and I went for the bench in the wall corner. Jimmy and Edward went to the trig point, but decided to operate using 2m handhelds only, with no beam, as they didn't feel like setting it up. They both qualified comfortably nonetheless.

On 10m CW, it was 17 QSOs for me, but all into just 3 DXCCs - RA, UR and G. On 10m SSB I worked another 8 - comprising G, GW and RA, while on 10m FM it was just another two G stations. Finishing on 2m FM, also handheld style, I worked two GWs, including Keith GW8HXE/P on Foel Fenlli GW/NW-051, completing a rather fun set of 29 QSOs for my activation.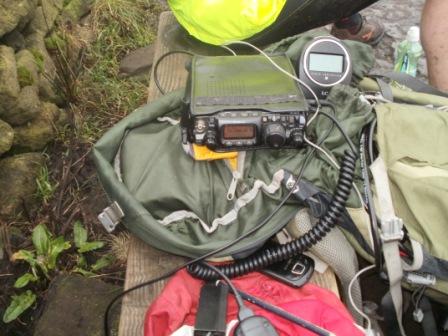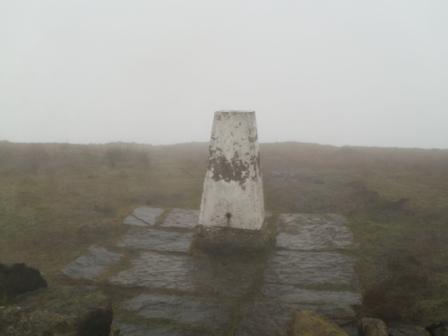 Jimmy M3EYP and Ed M6NSR had long since departed the summit by the time I had finished, and sensibly so, as the weather had deteriorated sharply later on. They were waiting warm and dry in my car, but I had taken a bit of a soaking during packing up that had only partially dried out during the descent. We drove up Charity Lane in Walker Barn to good old "Chaser Central" to do some chasing, but it seemed that the weather had beaten all the other activations off the UK summits as well. There was certainly a void of action on 2m FM.
After dropping Ed off home, we returned to our home QTH for a freshen up and a watch of the City-United FA Cup game on the box. Later, we reconvened at the Weston Balti Raj for Ed's birthday meal, where it was one of those excellent occasions where the radio amateurs outnumbered the rest! As well as Ed, Jimmy and myself, there was Ed's mum and dad, Emily 2E1AEQ, Ray G0DMV, plus Richard G3CWI. We were joined by Marianne and Liam, plus Jimmy and Ed's mates Craig and Hunter, and enjoyed the superb cuisine (and lager) on offer.
| | | | |
| --- | --- | --- | --- |
| 2E0NHM | 2m | FM | J |
| M0DWQ | 2m | FM | J |
| M1EYO/P on Black Hill SP-002 | 2m | FM | J |
| M0TGT | 2m | FM | J |
| G4VSS | 2m | FM | J |
| G6ODU | 2m | FM | J |
| UV5QQ | 10m | CW | T |
| G0VOF | 10m | CW | T |
| M0TUB | 10m | CW | T |
| RK3SWB | 10m | CW | T |
| US3LX | 10m | CW | T |
| RN3GL | 10m | CW | T |
| RU3SD | 10m | CW | T |
| RX6MY | 10m | CW | T |
| UA45Y | 10m | CW | T |
| M0PNN | 10m | CW | T |
| US7ISE | 10m | CW | T |
| G4SSH | 10m | CW | T |
| RX4YY | 10m | CW | T |
| G3RMD | 10m | CW | T |
| R3CM | 10m | CW | T |
| G4RKO | 10m | CW | T |
| UA6AK | 10m | CW | T |
| GW7AAV | 10m | SSB | T |
| GW7AAU | 10m | SSB | T |
| 2E0NHM | 10m | SSB | T |
| 2E0YYY | 10m | SSB | T |
| G6ODU | 10m | SSB | T |
| RU3U | 10m | SSB | T |
| M0PNN | 10m | SSB | T |
| M0TUB | 10m | SSB | T |
| M0PNN | 10m | FM | T |
| M6MMM | 10m | FM | T |
| MW6RBH/M | 2m | FM | T |
| GW8HXE/P on Foel Fenlli NW-051 | 2m | FM | T |
Probably the best spoonerism I ever heard! Courtesy of Mickey 2O0YYY/P as I was ascending Shining Tor G/SP-004 on Monday 3rd September 2012. Liam and I had some time to kill in the afternoon, and a beautiful warm sunny afternoon it was too. So I headed up the A537 Cat & Fiddle road and pulled in beside an already parked car at the usual parking spot. Upon kitting up, I noticed a "Moorlands & DARS" sign in the adjacent car, and loads of poles, cables etc. It had to be Delilah - except that I thought he was on Gun G/SP-013, and he doesn't normally make a habit of doing more than one summit in a day, as that tends to require spending less than 24 hours on each!

During the ascent, I found a net on 2m FM with Karen 2E0XYL, Bob G6ODU and Brian G4ZRP discussing SOTA matters. I tried to join, but I only really had comms with Karen, so I didn't hang around too long. I started earwigging to the beginning of Mike's activation, whereupon I heard him describe the summit as being "between Maxton and Bucclesfield". That alone made the trip worthwhile!

Soon, Liam and I were nearing the summit, and could see Mickey's vertical 2m antenna. We passed through the gate and along the field a bit, before setting up for 30m and 6m. These were bad choices! 2m was definitely the place to be playing radio today, as the activations by Mickey, and later Simon 2E0CHV/P on Long Mynd-Pole Bank G/WB-005 proved.

I managed one contact on 6m CW (G4KXW) and none on the Rockmite 30. Switching over to the FT-817 for 30m CW, I made six QSOs. All too soon it was time to vacate the summit and get Liam to a planned rendezvous with friends at the circus, which was in town. Mickey was pressing on as ever, and I worked him myself as I got back to the car.

As did Richard G3CWI, who I then met at the Park Tavern in Macclesfield after dropping Liam off, for a pleasant couple of Bollington Brewing Company ales. Callsign used was MO1EYP/P, thanks to all stations worked:
| | | |
| --- | --- | --- |
| G4KXW | 6m | CW |
| OE7PHI | 30m | CW |
| DJ9MH | 30m | CW |
| S58MU | 30m | CW |
| DJ6TK | 30m | CW |
| DL5KUR | 30m | CW |
| SM7GUY | 30m | CW |
Friday 2nd November - part 3.

In the early evening, Marianne lined up two and a half hours of telly on the Sky Box planner. This consisted of Coronation Street, Eastenders, Coronation Street and Trollied. "Think I'll take a walk" I said, and set off out to complete the third of my set of three local summits in the day. I drove up the A537 Macclesfield to Buxton road to the parking spot just short of the Cat & Fiddle. A nightime activation of Shining Tor G/SP-004 beckoned. It was cold and breezy, but I got into a good stride and enjoyed my torchlit walk to the summit.

At the summit, the wind was south-south westerly - the same direction (near enough) as the wall I was hoping to use as shelter. I could do no better than camp down on the ground by the end of the long bench. But only after erecting the MM20; I had decided that 20m was the optimum band to play on for the evening, even though the original idea was for yet more 10 metres.

It was cold, drizzly at times, and I was very tired after an early start that morning and two SOTA activations already in the day. I was soon inside the bothy bag, and trying to find semi-comfortable ways of lying down in it! On the radio, I heard the activation from Steve KY7K/P on Blue Jay Peak W7A/AE-024 on 20m SSB, but he didn't hear my attempts to call in. I had better luck on 20m CW, with a string of 5 USA, 2 Canada, 3 English and 1 Welsh in the log of 11 stations worked.

After packing away, I tried a call on 2m FM from the handie. I'm not sure why, since my hands were in pain from being so cold. Anyway, 2E0JKR answered the call, and I wasn't disappointed that no-one else did. My hands were very pleased to be reinserted into the padded gloves just prior to descent. I warmed up quite quickly in the walk, and even more so in the car. I was home just before midnight after a rather enjoyable day.
| | | |
| --- | --- | --- |
| N1EU | 20m | CW |
| KC3RT | 20m | CW |
| G0VOF | 20m | CW |
| VE2JCW | 20m | CW |
| WA2USA | 20m | CW |
| AA4AK | 20m | CW |
| N9SW | 20m | CW |
| VE2DJN | 20m | CW |
| GW4OKT | 20m | CW |
| M0XOC | 20m | CW |
| G4NOL | 20m | CW |
| 2E0JKR | 2m | FM |