I quit in despair after less than an hour of the Backpackers' Contest, suffering very high SWR and completely unable to solve the problem. I managed just ten 2m SSB contacts and one 2m CW QSO in the contest, chancing it with the high SWR with relatively local stations.
Earlier, I had arrived on Shining Tor summit around 8am local on Sunday 17th May 2015, and got cracking on 10m. It was unreasonably cold for the second half of May, and I sheltered from the harsh wind by squeezing into the small gap between the wall corner and the wooden bench - "Michael's Seat". The going was very slow again on 28MHz. I tried S+P and running on both CW and SSB, limping to 25 and 7 QSOs respectively. Was there any redeeming feature of the activation at all? Well I worked Azerbaijan, Kazakhstan and Israel amongst others, and the broccoli and stilton soup was nice.
| | | | | |
| --- | --- | --- | --- | --- |
| Time | Call | Band | Mode | S2S |
| 07:23z | G4OBK | 28MHz | CW | |
| 07:25z | G4BLH | 28MHz | CW | |
| 07:27z | G4APO | 28MHz | CW | |
| 07:49z | EF0F | 28MHz | CW | |
| 07:51z | EW2BO | 28MHz | CW | |
| 07:53z | 4J6RO | 28MHz | CW | |
| 07:57z | G4FPA | 28MHz | CW | |
| 08:04z | EF8U | 28MHz | CW | |
| 08:09z | M0SIY | 28MHz | SSB | |
| 08:22z | UT4UO | 28MHz | SSB | |
| 08:23z | G3RMD | 28MHz | SSB | |
| 08:34z | 4Z70V | 28MHz | CW | |
| 08:39z | SP8RHP | 28MHz | CW | |
| 08:40z | G3CWI | 28MHz | CW | |
| 08:46z | G3MFH | 28MHz | CW | |
| 08:47z | GW4CQZ | 28MHz | CW | |
| 08:48z | EA5AER | 28MHz | CW | |
| 08:48z | CT2IWW | 28MHz | CW | |
| 08:54z | EU1KY | 28MHz | CW | |
| 08:57z | LY2NK | 28MHz | CW | |
| 09:00z | ES1BA | 28MHz | SSB | |
| 09:06z | M6RUG | 28MHz | SSB | |
| 09:11z | M0MDA | 28MHz | SSB | |
| 09:12z | G0BJK | 28MHz | SSB | |
| 09:18z | LY7Z | 28MHz | CW | |
| 09:20z | UN6P | 28MHz | CW | |
| 09:39z | LY2RJ | 28MHz | CW | |
| 09:41z | AT150ITU | 28MHz | CW | |
| 09:43z | UT0U | 28MHz | CW | |
| 09:47z | EV1R | 28MHz | CW | |
| 09:52z | LY2SA | 28MHz | CW | |
| 09:59z | EF5F | 28MHz | CW | |
| 11:00z | G4HGI | 144MHz | SSB | |
| 11:04z | G0EAK/P | 144MHz | SSB | |
| 11:12z | G4JLG | 144MHz | SSB | |
| 11:15z | G8DTF | 144MHz | SSB | |
| 11:16z | M0PCF/P | 144MHz | SSB | |
| 11:18z | M0ICK/P | 144MHz | SSB | |
| 11:22z | GW7LAS/P | 144MHz | SSB | GW/NW-012 |
| 11:30z | GW3ATZ | 144MHz | SSB | |
| 11:33z | M0OMB | 144MHz | SSB | |
| 11:37z | G4G | 144MHz | SSB | |
| 11:57z | G3CWI/P | 144MHz | SSB | |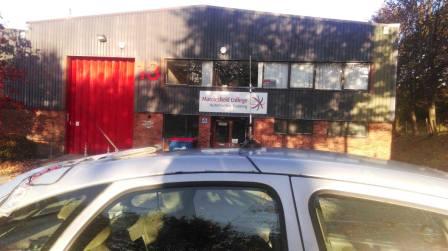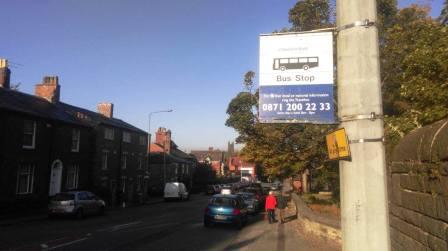 It was a Shining Tor walk with a difference on Monday 12th October 2015. Dropped Liam off at work at the automotives workshop at Hurdsfield Industrial Estate.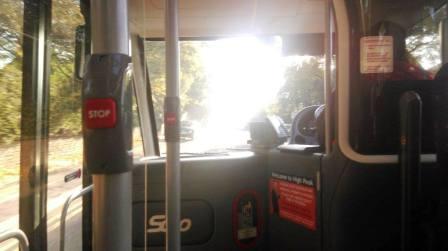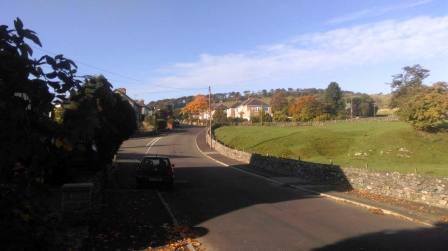 Walked across Victoria Park, Macclesfield. Caught the 0915 bus to Buxton.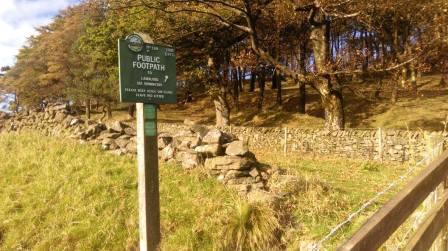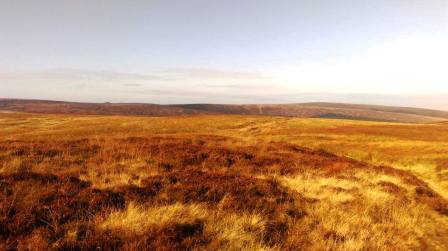 Walked down the Old Macclesfield Road to the start of the track.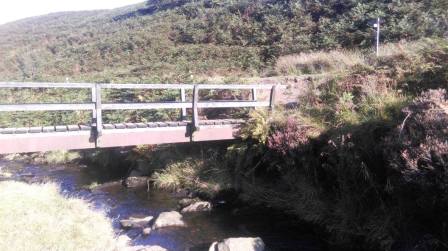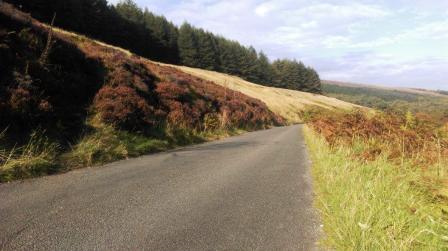 Cut up the public footpath onto Burbage Edge then down an old favourite path down Goyt's Moss into the Goyt Valley.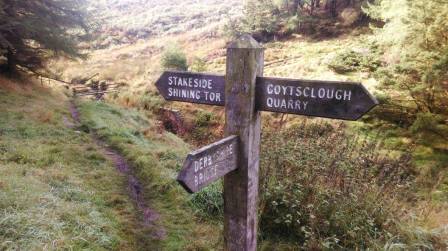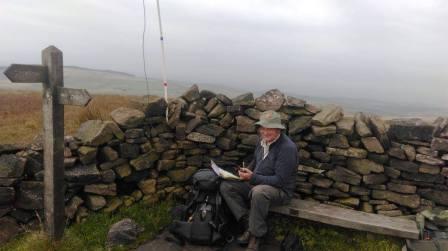 Through the woodland around Goytsclough Quarry and then the climb up Stake Side onto the ridge.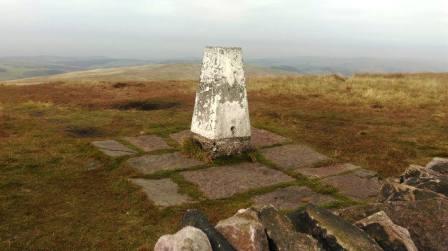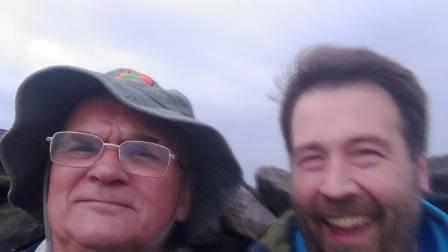 Then the familar drop and climb up to Shining Tor G/SP-004 summit. Surprised and pleased to meet Nick G4OOE/P already activating here. Had a sit down, rest and enjoyed my Beef Broth soup here. After Nick packed up and descended, was joined by a huge party of walkers all with impressively elaborate packed lunches. Not wanting to feel left out, broke out a bag of beef jerky to follow my soup. Just using the VX7 handheld and RD, made 5 QSOs on 2m FM.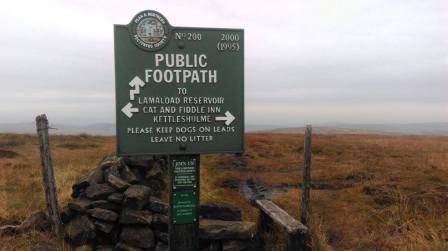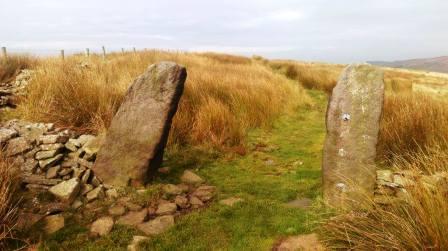 Descended steeply west off Shining Tor, before rising slightly again onto a nice short section of ridge, before heading north, then west again down to Lamaload Reservoir.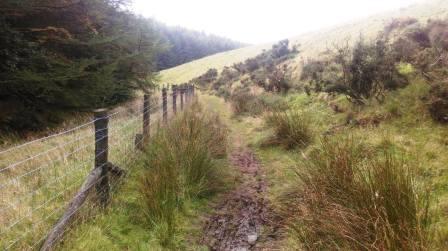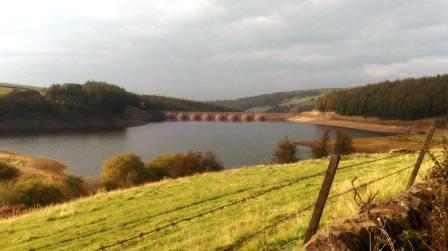 Some nice woodland walking here around the water, before coming round to the huge dam.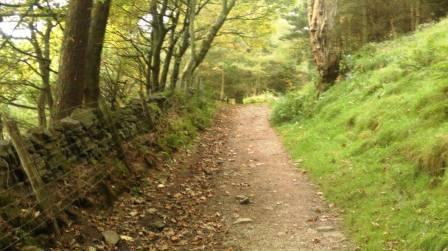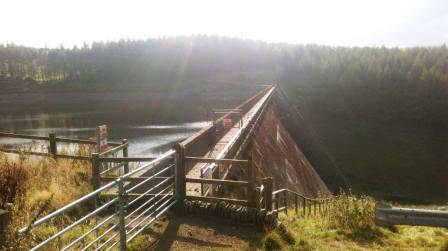 Edgy bullocks blocking the way forward on the PROW, so hopped over onto the stairway down the side of the dam, bringing me out onto the service road at its foot.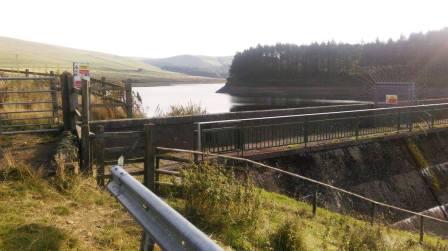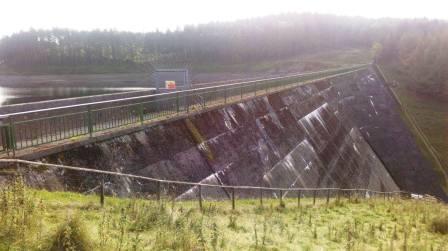 All that followed was a long and boring walk down the tarmac access road for the water treatment works, all the way to Rainow village. Had originally intended to use PROWs from Lamaload to Hurdsfield, but ran out of time in terms of meeting Liam from work at 4pm. Got a taxi from Rainow to Hurdsfield, just in time for a swift pint at the Durham Ox.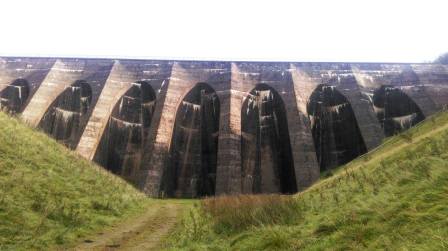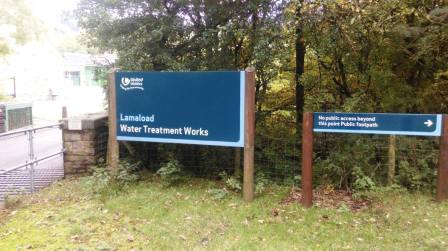 A nice long walk, of which I must do more. Really a superb walk, with every 5 minutes being different visually, and in character to anything previous. Pure enjoyment.
| | | | |
| --- | --- | --- | --- |
| Time | Call | Band | Mode |
| 11:44z | M6AIF | 144MHz | FM |
| 11:45z | 2W0JYN | 144MHz | FM |
| 11:46z | G0HRT | 144MHz | FM |
| 11:48z | M6RUG | 144MHz | FM |
| 11:50z | 2E0SIA | 144MHz | FM |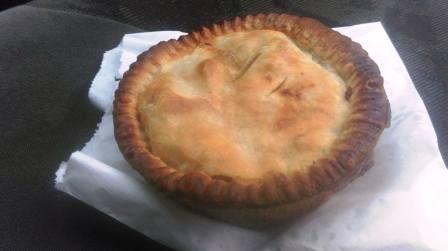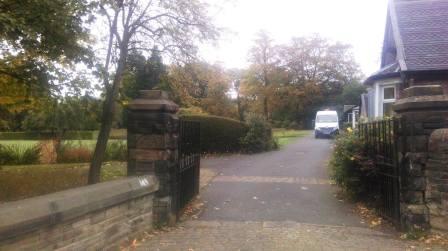 Friday 16th October 2015, and another, different "proper" walk up Shining Tor. I didn't leave the mike at home, but left it in the car with the FT-817 and the Tracer 16Ah battery pack. Cor, that made my rucksack light! Even the addition of a litre flask of lentil & bacon soup and my walking jacket, it being rather mild at the start, didn't mask the refreshing lightness of my payload.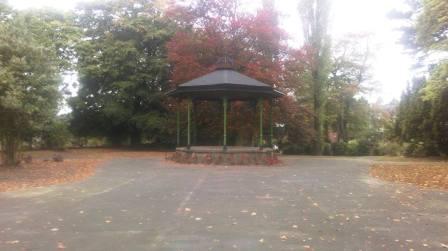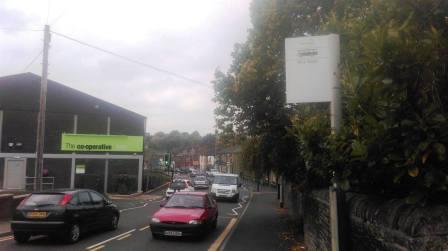 After dropping Liam off at college, I made my way into Macclesfield and grabbed a Spearing's meat & potato pie for my breakfast. Marshall Spearing is a famous pork butcher in Macclesfield, but is even more famous for his meat & potato pies, freshly baked six mornings every week. These famous pies have even been immortalised in song by the local folk artiste Pete Blackthorn!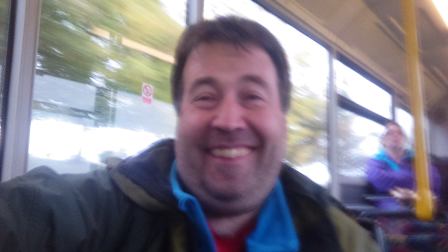 I found myself a parking space towards the bottom of Buxton Road adjacent to the entrance to Victoria Park. There used to be a large maze of concrete council flats here. I knew them well as I grew up in them in the 1970s, and started married life in them in the 1990s! They've all gone now, but the park after which "Vicky Park Flats" got their name, remains. It was a nostalgic wander through as I recognised various places I used to play out as a child.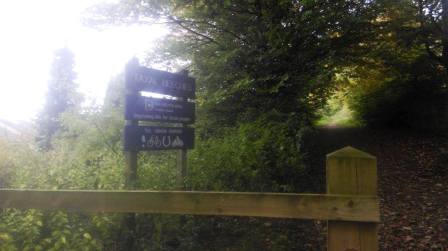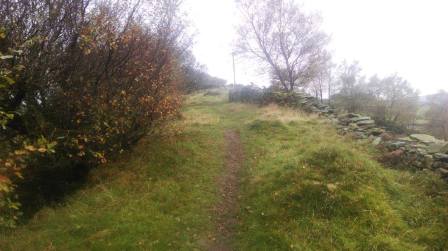 As I emerged onto Hurdsfield Road, I noticed a breakfast cafe really close to the bus stop, and made a mental note for future reference! A few yards walk up the road and I caught the Number 60 bus service to Whaley Bridge. Well, that's where the bus was going; I alighted shortly before at the village of Taxal.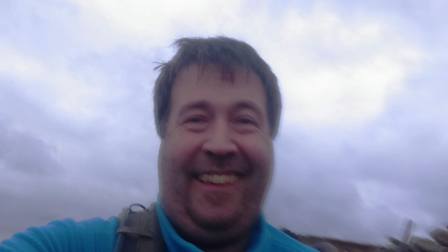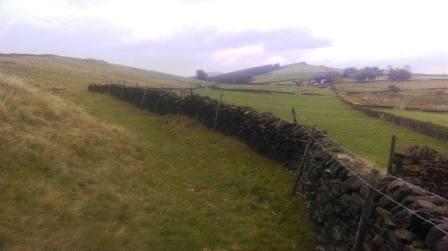 A long cul-de-sac road leads down into Taxal village itself, but I took the public footpath about 50 yards before it on the right. This led up to a lovely woodland path, marked as "Taxal Beeches". After this, I met a tarmac road climbing back up from Taxal village, and followed this up to its highest point. I then followed fine path that followed the drystone wall along the spine of Taxal Edge. This was very enjoyable walking indeed.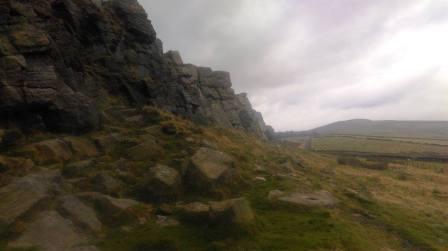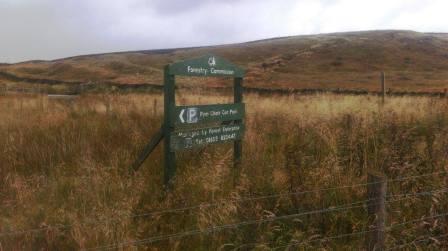 I now climbed up a gently sloping field full of gentle friendly sheep towards Windgather Rocks. This popular feature for rock climbers and scramblers was new territory for me, even though I had always lived within ten miles of it. As I approached the highest point, I nipped through a nick in the rocks so that I could walk alongside Windgather Rocks, rather than above them, and enjoy their spectacle. Just one hard-hatted and roped-up climber was passed as I pressed on above the Goyt Forest.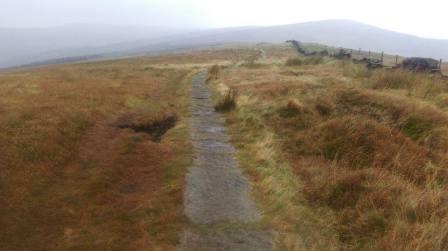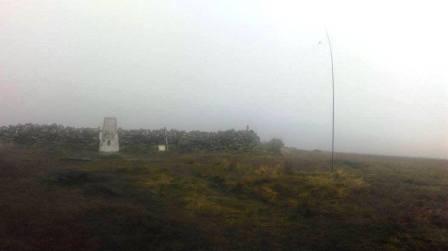 The path was soon joined by the road (Side End Lane) coming in from the north. I was anticipating a mile or so of road walking, but in fact the good path continued in parallel on the opposite side of the wall. As the car park at Pym Chair was reached, I started to think about a rest and a bite to eat. However, some fine drizzle started, and a cold wind picked up, so I threw on my Berghaus jacket and carried on walking instead!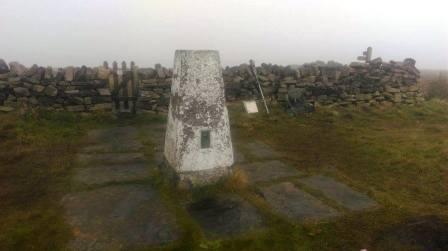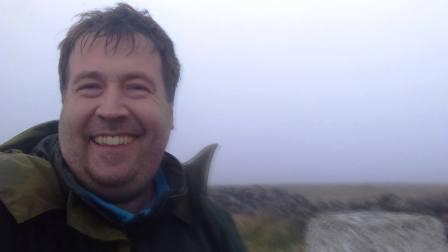 The next section of the route was known to me, although I had only walked it maybe twice before. The path, which had been surprisingly good underfoot all the way so far, now went up yet another level courtesy of stone flagging. After climbing over Cats Tor, I knew that only once more ascent remained before reaching the summit of Shining Tor G/SP-004. I was joined by a chap from Kendal, Cumbria, and we walked together the rest of the way to the top. This stretch absolutely flew by, as it often does when you are in conversation with a fellow walker.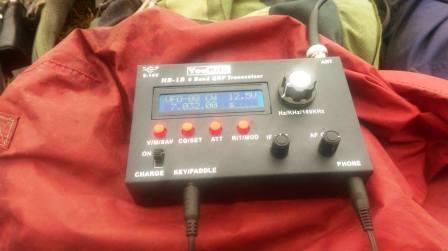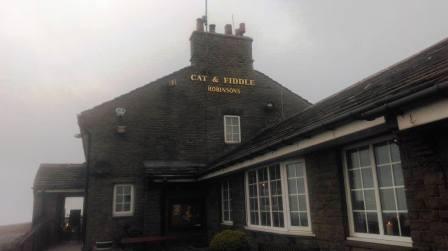 At Shining Tor summit, the first thing I noticed was how cold it had become. Not desperately cold, at 9 degrees Celcius, but enough to add a fleecy hat and set up quickly and get shelter as quickly as possible. I set up the end-fed longwire on mini-pole in conjunction with the SOTAbeams Micro Z tuner. This is my lightest antenna system, and it walks on all bands 40m through 6m. It would only be deployed on 40-30-20 on this occasion though, as I was carrying the Youkits HB1B rig.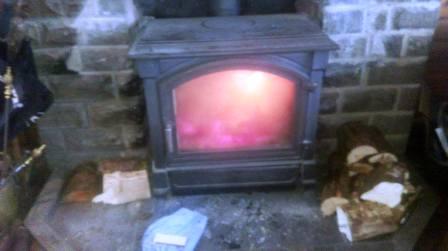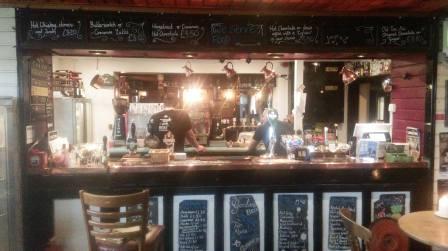 I wasn't hanging around, as I wanted to be on the 2.45pm bus from the Cat & Fiddle, and wanted to allow time for at least one pint in the hikers' bar first! So it was a quickfire ten QSOs on 40m CW and 30m CW in 14 minutes, followed by a swift packaway. Each contact was interspersed with a huge slurp of lentil and bacon soup, which tasted wonderful. In my mind, I was never quite sure how long the "normal" Shining Tor walk takes, whether it be 20 minutes or 40 minutes. So I made a note of the time - 2.05pm - as I set off for the Cat & Fiddle.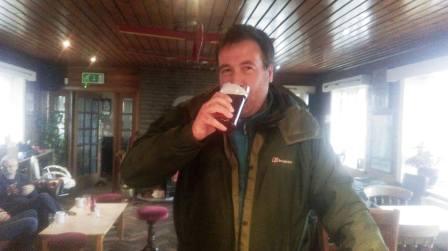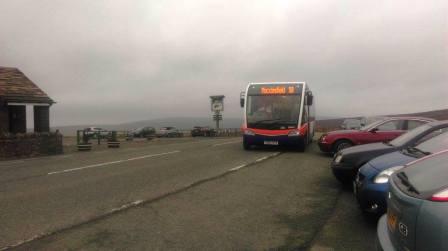 I was satisfied to arrive at the pub 25 minutes later, at 2.30pm. A swiftly downed and most welcome pint of Hartley's Cumbria Ale, grabbed the poles, map and rucksack, and legged it across the road to catch the Number 58 bus back to Macclesfield. It had been one of the best walks I had done in ages, and I thoroughly enjoyed it. To round things off, I met Jimmy M0HGY and Richard G3CWI for a couple more pints at the Society Rooms in Macclesfield. Thanks to Richard for the route suggestion.
| | | | |
| --- | --- | --- | --- |
| Time | Call | Band | Mode |
| 12:22z | ON4FI | 7MHz | CW |
| 12:23z | HB9AFI | 7MHz | CW |
| 12:25z | G4FGJ | 7MHz | CW |
| 12:26z | M0WBG | 7MHz | CW |
| 12:33z | DK7ZH | 10MHz | CW |
| 12:33z | OK1DVM | 10MHz | CW |
| 12:34z | DJ5AV | 10MHz | CW |
| 12:35z | OE7PHI | 10MHz | CW |
| 12:35z | S52CU | 10MHz | CW |
| 12:36z | OK2PDT | 10MHz | CW |
What with all this 10m boast-fest going on, I was looking forward to going up Shining Tor G/SP-004 on the afternoon of Sunday 20th December 2015. Jimmy M0HGY checked the weather forecast and bailed out as soon as the Met Office website informed him it wasn't midsummers day - ie the temperature was less than 20 degrees Celcius and the wind was above zero. Silly boy, it was a super day for walking and playing radio.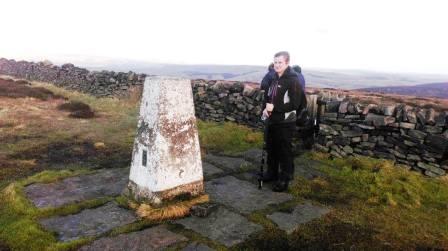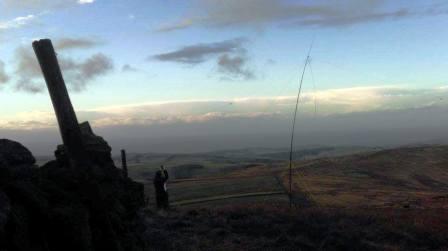 I met Jonathan G2HFR at the Cat & Fiddle - which itself was closed "until further notice". No reasons given, and the closure was taking lots of bikers by surprise. Dozens of them arrived and were disappointed just in the few minutes I was putting my boots on.
Well, on the summit, 10m was not as advertised above. There wasn't a single signal of any mode anywhere across 28MHz and 29MHz. In the end I self-spotted on SSB (after doing so on CW resulted in zilch), and worked 9 chasers, all of whom would have been in 70cm FM range. Jonathan did a load on 60m and possibly 40m, before using my set-up to collect his Challenge multiplier and a few more unique callsigns. The greater pleasure from the activation was the chat with Jonathan on both legs of the walk.
| | | | |
| --- | --- | --- | --- |
| Time | Call | Band | Mode |
| 15:02z | G0SLR | 28MHz | SSB |
| 15:03z | M0MDA | 28MHz | SSB |
| 15:04z | G7ADF | 28MHz | SSB |
| 15:07z | 2W0JYN | 28MHz | SSB |
| 15:07z | G4BLH | 28MHz | SSB |
| 15:09z | M0HGY | 28MHz | SSB |
| 15:13z | GW4RWR | 28MHz | SSB |
| 15:15z | M3MOV | 28MHz | SSB |
| 15:16z | M0DRC | 28MHz | SSB |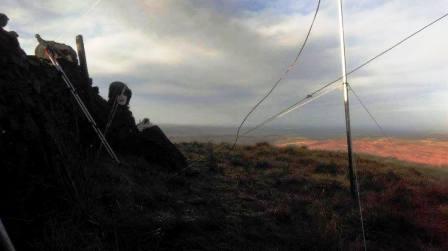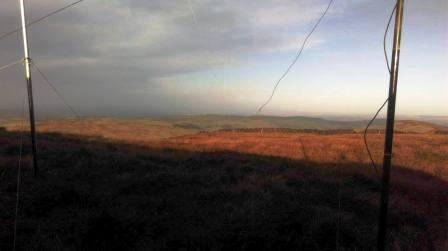 The "IO83 Effect" was being cited as to why you could get VHF amateur radio contacts in North West England, but not anywhere else in the UK! However, but the initiator of the theory was himself from these parts! Anyway, the matter was put to the test on the morning of Thursday 31st December 2015 - New Year's Eve. Using mainly 2.5 watts, Jimmy made 33 QSOs on 2m FM from Shining Tor. Meanwhile, I made a relatively unimpressive 13 on 10m CW/SSB.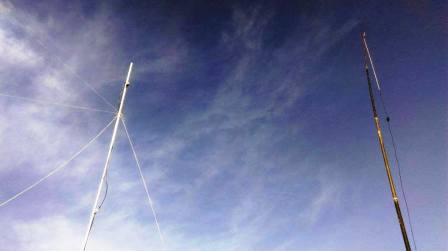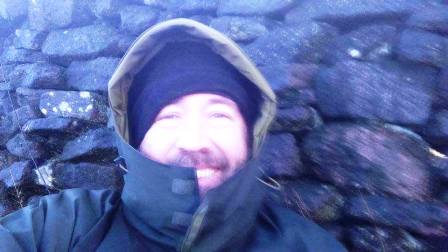 | | | | | |
| --- | --- | --- | --- | --- |
| Time | Call | Band | Mode | Op |
| 10:31z | M6RUG | 144MHz | FM | M0HGY/P |
| 10:40z | 2E0LKC | 144MHz | FM | M0HGY/P |
| 10:43z | M6DHK | 144MHz | FM | M0HGY/P |
| 10:47z | M6NSV | 144MHz | FM | M0HGY/P |
| 10:49z | G8XYJ | 144MHz | FM | M0HGY/P |
| 10:50z | 2E0EHG | 144MHz | FM | M0HGY/P |
| 10:54z | UA4UAR | 28MHz | CW | MX1SWL/P |
| 10:54z | G3NPJ | 144MHz | FM | M0HGY/P |
| 10:54z | G4XEE | 144MHz | FM | M0HGY/P |
| 10:57z | 2E0FAM | 144MHz | FM | M0HGY/P |
| 11:00z | G0TFL | 28MHz | CW | MX1SWL/P |
| 11:01z | M6DHH | 144MHz | FM | M0HGY/P |
| 11:03z | M6AIA | 144MHz | FM | M0HGY/P |
| 11:04z | 2E0GMV | 144MHz | FM | M0HGY/P |
| 11:05z | RA6AJ | 28MHz | CW | MX1SWL/P |
| 11:07z | 2E0CQA | 144MHz | FM | M0HGY/P |
| 11:10z | GW4ZPL/P | 144MHz | FM | M0HGY/P |
| 11:13z | M0INY | 144MHz | FM | M0HGY/P |
| 11:13z | MW0PDV | 144MHz | FM | M0HGY/P |
| 11:14z | RK3RT | 28MHz | SSB | MX1SWL/P |
| 11:15z | MW0IDX | 144MHz | FM | M0HGY/P |
| 11:15z | M6CQE | 144MHz | FM | M0HGY/P |
| 11:16z | MW0ZAQ | 144MHz | FM | M0HGY/P |
| 11:17z | G7LAS | 144MHz | FM | M0HGY/P |
| 11:18z | M0RTQ | 144MHz | FM | M0HGY/P |
| 11:21z | G4NGV/M | 144MHz | FM | M0HGY/P |
| 11:22z | MW0IDX | 28MHz | SSB | MX1SWL/P |
| 11:23z | 2E0LMD | 144MHz | FM | M0HGY/P |
| 11:29z | MW0ZAQ | 28MHz | SSB | MX1SWL/P |
| 11:40z | 2E0SIA | 144MHz | FM | M0HGY/P |
| 11:43z | M1DOP | 144MHz | FM | M0HGY/P |
| 11:43z | M1BUL | 144MHz | FM | M0HGY/P |
| 11:45z | M0VZT | 28MHz | SSB | MX1SWL/P |
| 11:45z | M3ISN | 144MHz | FM | M0HGY/P |
| 11:46z | M0TVU | 144MHz | FM | M0HGY/P |
| 11:48z | MW0PDV | 28MHz | SSB | MX1SWL/P |
| 11:49z | M0DPX | 28MHz | SSB | MX1SWL/P |
| 11:49z | G0NAJ | 144MHz | FM | M0HGY/P |
| 11:51z | G4HZW | 28MHz | SSB | MX1SWL/P |
| 11:51z | M3ISJ | 144MHz | FM | M0HGY/P |
| 11:53z | G4PGJ | 144MHz | FM | M0HGY/P |
| 12:05z | MW0HCC/M | 144MHz | FM | M0HGY/P |
| 12:10z | G0CER | 144MHz | FM | M0HGY/P |
| 12:15z | UA6AK | 28MHz | CW | MX1SWL/P |
| 12:17z | G0VOF | 28MHz | CW | MX1SWL/P |
| 12:20z | G4APO | 28MHz | CW | MX1SWL/P |