Signal de Botrange, ON/ON-001 - 695m ASL - 50 30 5 N 6 5 32 E - NGI 50/1-2 - 8 SOTA points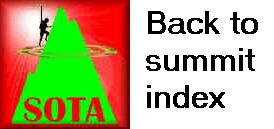 Wednesday 3rd July 2019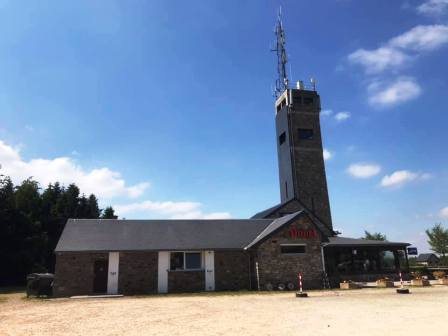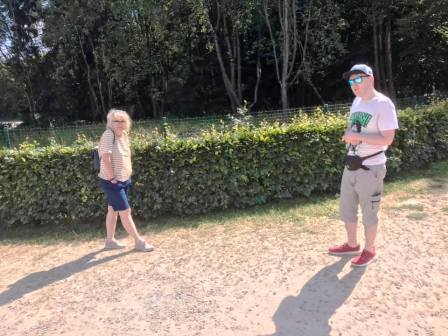 The restaurant at the highest point in Belgium was the motivating factor for Marianne to sanction a family activating outing. A minor inconvenience was arriving there only to find it was currently in the period of a temporary closure.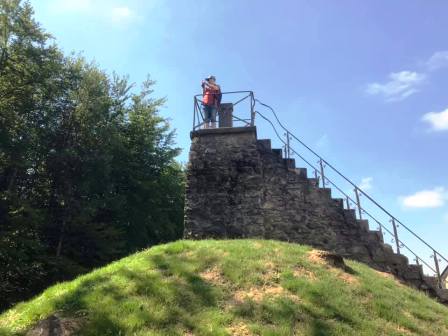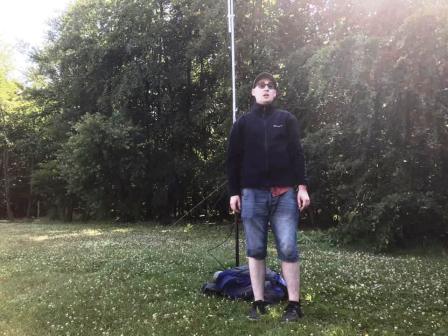 We drove back down the hill to Baraque Michel, formerly ON/ON-002. How this ever had its own reference Iíll never know! It was downslope from ON/ON-001 seemingly without any prominence of its own whatsoever!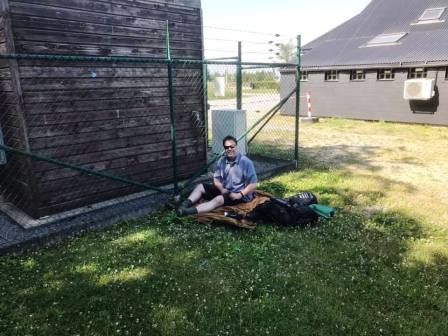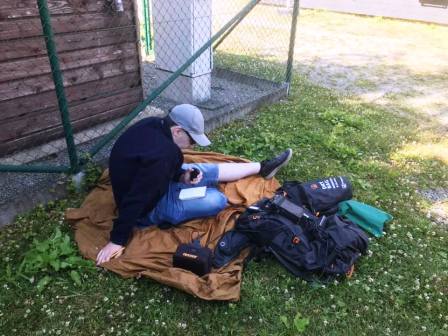 At least here was a restaurant we had noted as being open as we drove past it earlier. We had a nice meal and couple of beers in here. Obviously I knew about the French speaking community in Belgium, and of course the Flemish/Dutch speaking community. However the predominant language in use in the restaurant by both staff and guests was German. My chefís special spare ribs and chips was excellent.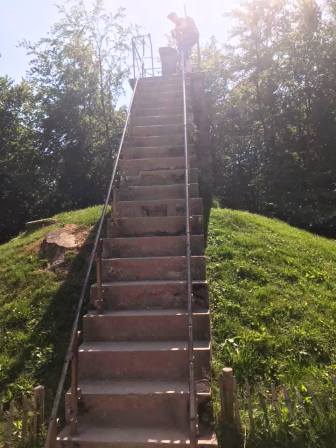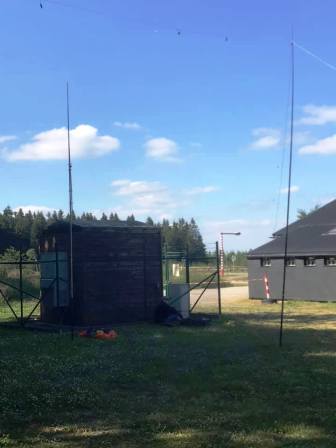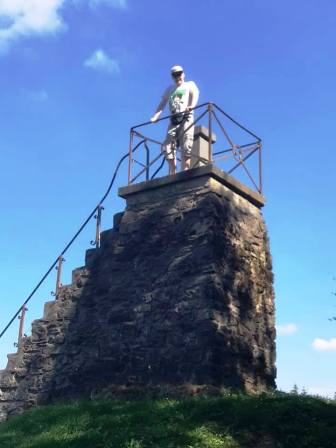 After driving back up to Signal de Botrange, Jimmy and I set up our antennas on a grassy area behind the restaurant. I worked 18 on 40m CW. Jimmy worked into PA on 2m FM before using 40m SSB to qualify. Marianne enjoyed a bit of sunbathing on the decking outside the restaurant!
| | | | | | |
| --- | --- | --- | --- | --- | --- |
| Time | Call | Band | Mode | S2S | Op |
| 14:34z | EA2DT | 7MHz | CW | | ON/M1EYP/P |
| 14:42z | DL3VTA | 7MHz | CW | | ON/M1EYP/P |
| 14:43z | OK1FMJ | 7MHz | CW | | ON/M1EYP/P |
| 14:43z | DL1AVK | 7MHz | CW | | ON/M1EYP/P |
| 14:45z | G0HIO | 7MHz | CW | | ON/M1EYP/P |
| 14:46z | HB9BIN/P | 7MHz | CW | HB/AG-010 | ON/M1EYP/P |
| 14:48z | G4OBK | 7MHz | CW | | ON/M1EYP/P |
| 14:48z | F6CSG | 7MHz | CW | | ON/M1EYP/P |
| 14:49z | OK2PDT | 7MHz | CW | | ON/M1EYP/P |
| 14:49z | G4FGJ | 7MHz | CW | | ON/M1EYP/P |
| 14:50z | ON5SY | 7MHz | CW | | ON/M1EYP/P |
| 14:51z | SP2SV | 7MHz | CW | | ON/M1EYP/P |
| 14:52z | F5LKW | 7MHz | CW | | ON/M1EYP/P |
| 14:52z | DL2DXA | 7MHz | CW | | ON/M1EYP/P |
| 14:53z | F6DRA | 7MHz | CW | | ON/M1EYP/P |
| 14:53z | ON4FI | 7MHz | CW | | ON/M1EYP/P |
| 14:53z | PC5W | 144MHz | FM | | ON/M0HGY/P |
| 14:54z | DL1EJG | 7MHz | CW | | ON/M1EYP/P |
| 14:55z | OM1AX | 7MHz | CW | | ON/M1EYP/P |
| 15:00z | G0HIO | 7MHz | SSB | | ON/M0HGY/P |
| 15:03z | HB9DHA | 7MHz | SSB | | ON/M0HGY/P |
| 15:03z | 2W0FLW | 7MHz | SSB | | ON/M0HGY/P |