South Barrule, GD/GD-003 - 483m ASL - SC 257 759 - IOM Outdoor Leisure South - 4 SOTA points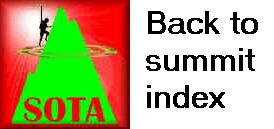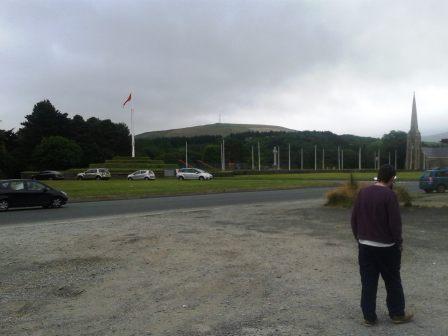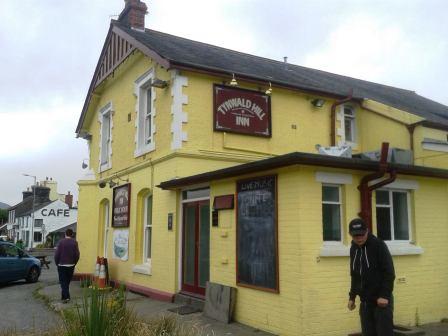 There was a touch of gloom and drizzle in the air in the first half of the morning on Sunday 21st July 2013. As such we were in no hurry to go hillwalking, so instead bided our time in the cafe in Tynwald with a pot of tea with scones and cakes. We then drove into Peel and had a look around there.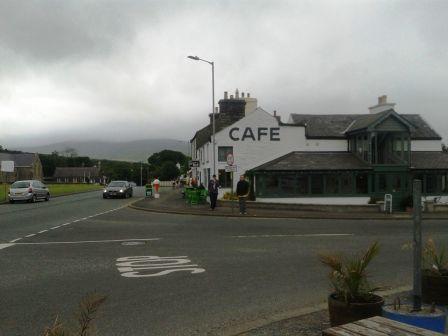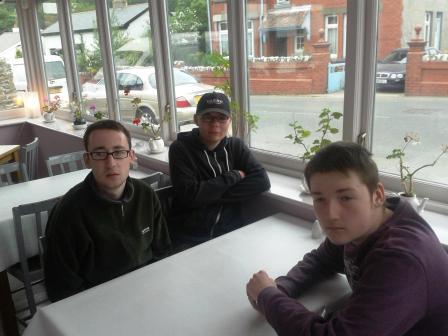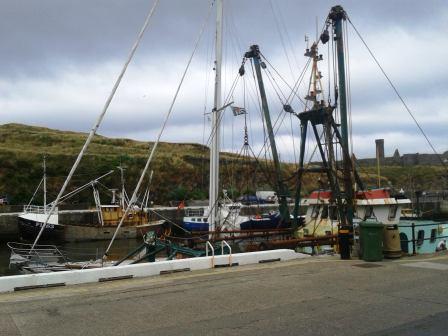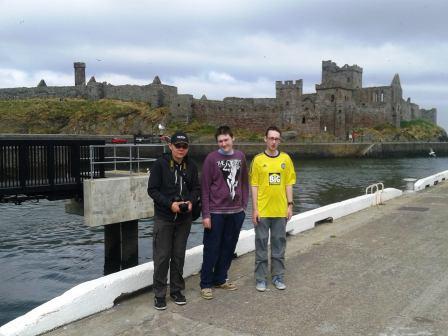 As the weather brightened up, I asked Jimmy to direct us up to the parking spot for South Barrule. This was just into a bridleway type track at SC 247 756. The lads and I set off up the hill, which turned out to be a bit of a slog, although not too bad as the distance to be covered was only about one kilometre. Typically, Jimmy raced away to the summit, leaving Liam to follow in second place, with myself and Edward proving the "steadiest" walkers at the back. But we got a good natter out of it, so didn't feel too bad about not keeping up with the speed demons ahead.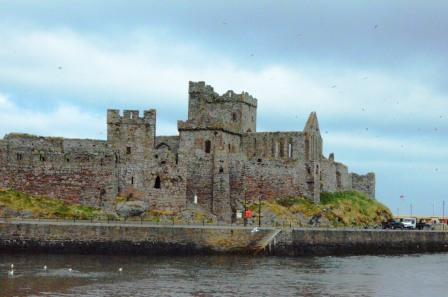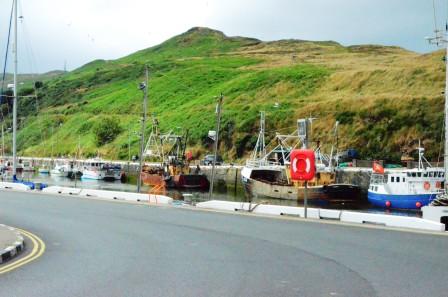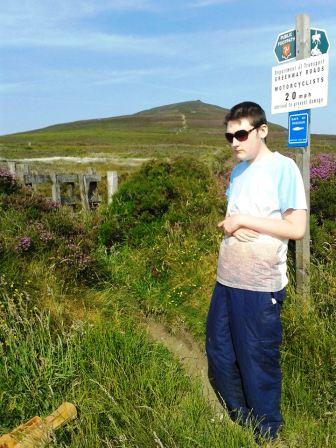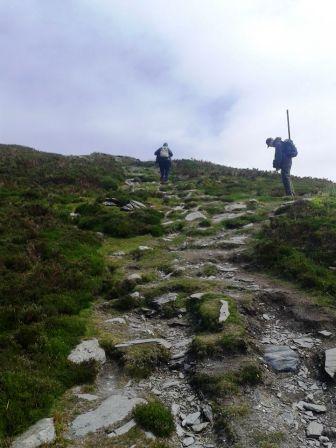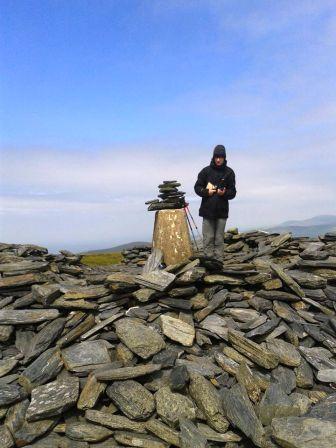 On the summit, we were greeted by a very strong and disruptive crosswind. Jimmy did not relish erecting the MFD on the SOTA Pole in such conditions, so he reverted to the trig point to work handheld and rubber duck style. This resulted in an easy and swift qualification including two summit-to-summit QSOs. In the meantime, Edward and I proved that it was possible to get the masts up in the wind, with careful selection of guying angles and tensions.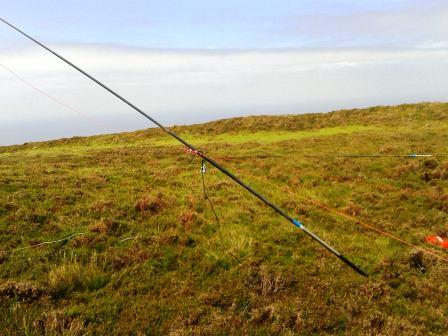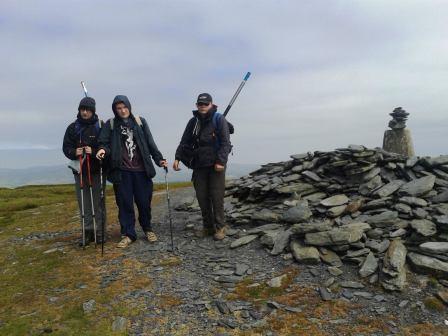 Edward struggled to get going on HF, failing to make any contacts despite getting spotted (by Jimmy) on 40m SSB. I had no such trouble with a single 12m PSK31 QSO (to secure the multiplier, if nothing else), followed by a run of 32 contacts on 20m CW. After working down the pile-up, I suggested to Edward that he tried 20m on his antenna, and this did the trick, allowing him to go on to make eleven contacts on 20m SSB. Like on Mull Hill GD/GD-005 the previous day, Liam and I descended first, and I got to work both Jimmy and Edward when they were still on summit, once I reached the car.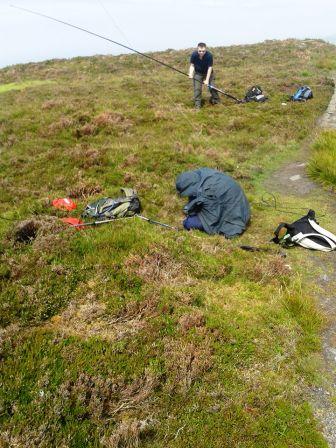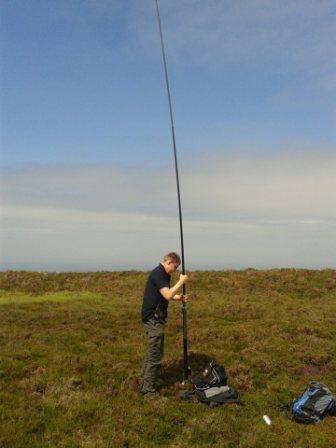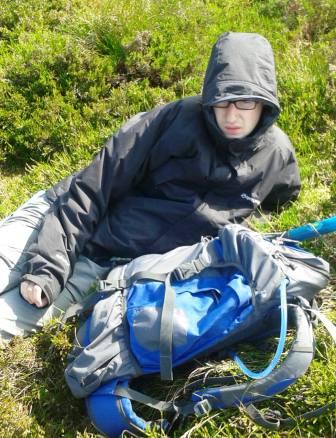 It was now a very pleasant warm late afternoon, and Liam and I relaxed and lounged around at the car while waiting for the other two to pack up and descend. We were pleased to be finishing earlier than the previous day, giving us plenty of time to return to the campsite, avail ourselves of the excellent hot and powerful showers, and get to the local pub - The Railway at Union Mills - in time for grub. However, we had so much spare time that we checked out the Crosby pub (in Crosby!) for a beer on the way back. Both pubs clearly had a keen motorcycle focus, which is unsurprising with them both situated on the classic TT route.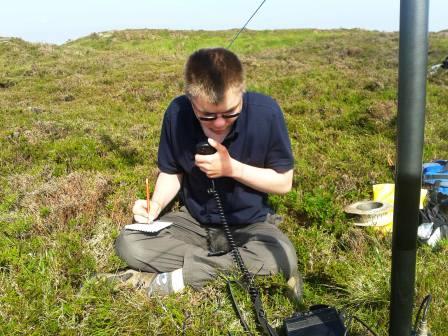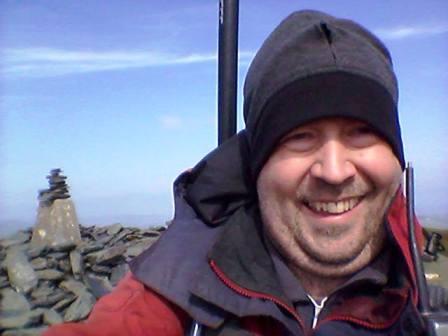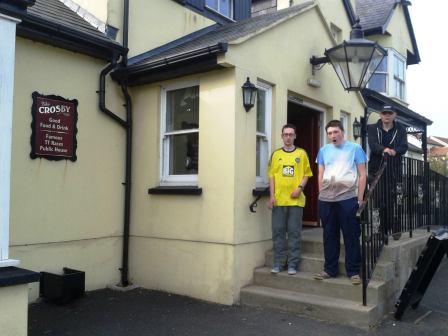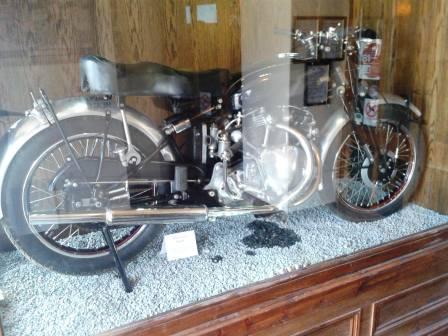 The special offer at the Railway was a bowl of Manx Queenies in a fresh cream, bacon and onion sauce. I had this with a bowl of chips and it was absolutely delicious, as was the Manxman Ale. We hung around the pub for a couple of rounds before returning to the campsite. My habit was to hang the VX7R in the inner tent, set it on sleep mode for 30 minutes, and drift off to sleep listening to Manx Radio on 1368kHz. Two of our target summits had been successfully activated and we looked forward to having a crack st Slieau Freoaghane GD/GD-002 the following morning.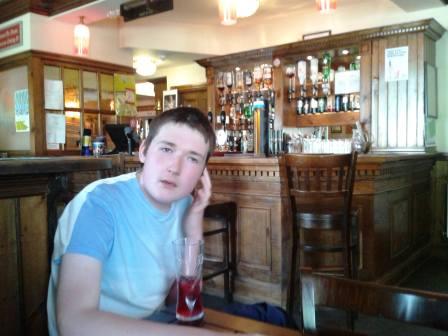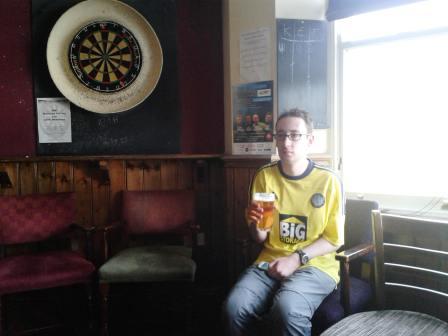 | | | | |
| --- | --- | --- | --- |
| M0BKQ/P on Skiddaw LD-004 | 2m | FM | J |
| MW3PZO | 2m | FM | J |
| 2E0XYL | 2m | FM | J |
| GW4CQZ/P on Penycloddiau NW-054 | 2m | FM | J |
| M3XIE | 12m | PSK31 | T |
| M3XJV/P | 2m | FM | J |
| IK1GPG | 20m | CW | T |
| EA2DT | 20m | CW | T |
| DL3HXX | 20m | CW | T |
| DL2DXA | 20m | CW | T |
| DL5AWI | 20m | CW | T |
| DL6AP/P | 20m | CW | T |
| DF2GN/P on Lindenberg BW-156 | 20m | CW | T |
| OH6KSX | 20m | CW | T |
| DL8DXL | 20m | CW | T |
| OM7OM | 20m | CW | T |
| OH3GZ | 20m | CW | T |
| F8AAB | 20m | CW | T |
| OE6WIG | 20m | CW | T |
| OK1DVM | 20m | CW | T |
| UA6HGY | 20m | CW | T |
| I1ABT | 20m | CW | T |
| OK2PYA | 20m | CW | T |
| N4EX | 20m | CW | T |
| HB9CEX | 20m | CW | T |
| S52CU | 20m | CW | T |
| OE5FSL | 20m | CW | T |
| S59DXX | 20m | CW | T |
| DL3JPN | 20m | CW | T |
| PB2T | 20m | CW | T |
| CT1DRB | 20m | CW | T |
| DF5WA | 20m | CW | T |
| VE1WT | 20m | CW | T |
| F5SQA | 20m | CW | T |
| S51WO | 20m | CW | T |
| 9A2WT | 20m | CW | T |
| UY0CA | 20m | CW | T |
| UR7CT | 20m | CW | T |
| EA2DT | 20m | SSB | E |
| EA7ITL | 20m | SSB | E |
| PD1AT | 20m | SSB | E |
| RV9DC | 20m | SSB | E |
| OH2FPK | 20m | SSB | E |
| EA3HJT | 20m | SSB | E |
| DJ5AV | 20m | SSB | E |
| EA7PY | 20m | SSB | E |
| EA3HKY | 20m | SSB | E |
| ES2IPA | 20m | SSB | E |
| EA3HLM | 20m | SSB | E |
| MD1EYP/M | 2m | FM | J |
| MD1EYP/M | 2m | FM | E |