Swinside, G/LD-057 - 244m ASL - NY 243 224 - OS Explorer OL4 - 1 SOTA point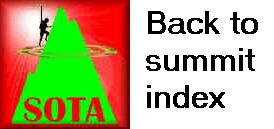 Monday 2nd May 2011 - Swinside G/LD-057, 244m ASL - 1 point

To be honest, I was quite surprised that we had got through three days and five summits (12 if you include the WOTAs) entirely as planned and in order. Usually something goes wrong or gets changed! And all that remained was arguably the easiest task of all, physically. Other aspects were far from tirvial though, having had to secure advance permission to access the summit, and the prospect of difficulty in using VHF in this mostly screened location.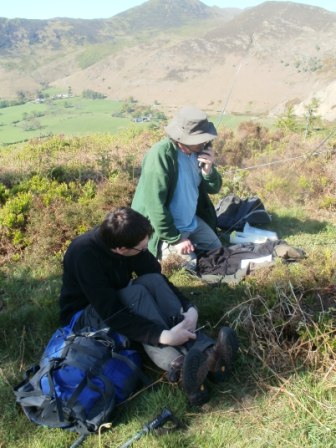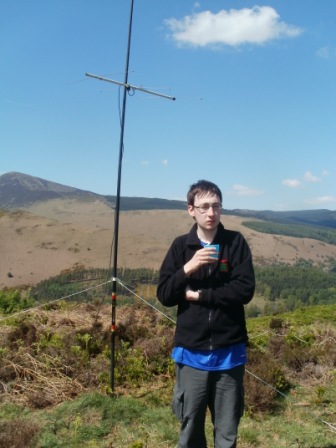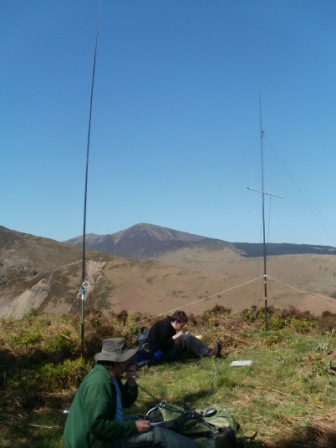 We parked, as agreed with the estate manager, just by some double gates at NY246221. We waited here for about two minutes, and then Rick M0RCP arrived, dropped off by his XYL Barbara. The three of us walked up the wide track as far as NY244222 where Jimmy led us off to the right, taking a line diagonally up the steep wooded slope. As the hill rounded off, we headed up to the highest point, which was also in a small clearing with good views of Derwent Water and Bassenthwaite Lake.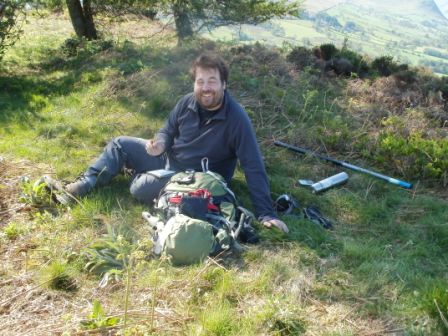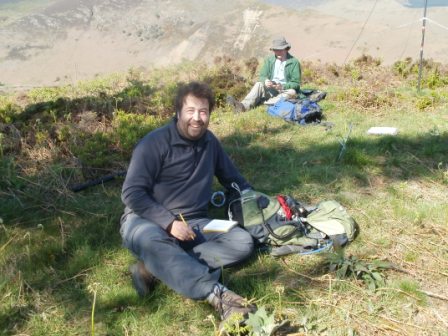 Jimmy and Rick shared a station for 2m FM, and made well beyond their requisite four contacts each easily. In fact they had both qualified the summit before I had finished pegging out the 40m dipole, which was something of a surprise! I made 17 QSOs on 40m CW, before swapping over to the 20m MM vertical, where a further 77 CW QSOs were made.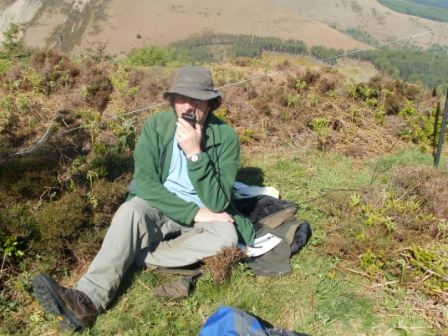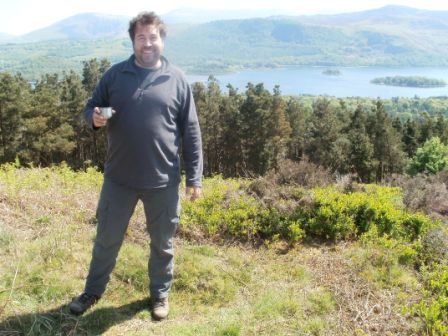 The pile-up was huge, but sadly became a little badly behaved right at the end. I was down to the last three or four stations to work, but when I called QRZ, they each sent their callsigns over and over again, seemingly because when they dropped key, they could hear someone else calling. I had promised Rick a lift back down to Keswick and time was getting on, so I had to leave those final few without a contact. Serves them right though - if they had each just called once, they would have all been safely in the log five minutes earlier.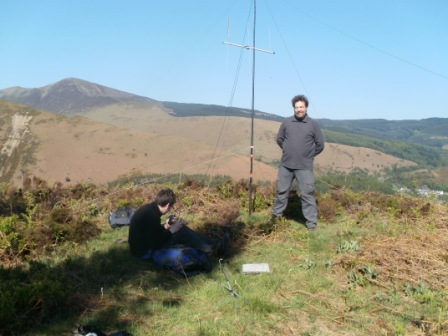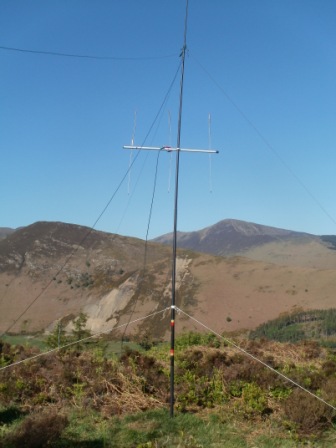 94 QSOs was a pleasing haul from G SOTAs rarest summit, and I enjoyed the short amble back to the car. After dropping Rick in Keswick, Jimmy and I had a good journey south with surprisingly little delay in the M55 area. Many thanks to all who worked us on all bands and modes during the Lake District International SOTA Weekend trip.
| | | | |
| --- | --- | --- | --- |
| G0VWP/M | 2m | FM | J |
| G0TDM | 2m | FM | J |
| MM1MPB | 2m | FM | J |
| GM4WHA | 2m | FM | J |
| M0XAT | 2m | FM | J |
| G0TDM | 40m | CW | T |
| ON5QRP | 40m | CW | T |
| F8LDX | 40m | CW | T |
| DL3HXX | 40m | CW | T |
| OE6WIG | 40m | CW | T |
| DJ5AV | 40m | CW | T |
| DL2HWI | 40m | CW | T |
| S58R | 40m | CW | T |
| HB9CGA/P on Vögelisegg AR-005 | 40m | CW | T |
| PA0WDG | 40m | CW | T |
| LA8BCA | 40m | CW | T |
| G1OAE | 2m | FM | J |
| PA0ALW | 40m | CW | T |
| PA0HRM | 40m | CW | T |
| I2CZQ | 40m | CW | T |
| OK2BDR | 40m | CW | T |
| G3VXJ | 40m | CW | T |
| F5SQA | 40m | CW | T |
| OE8SPW | 20m | CW | T |
| EC2DM | 20m | CW | T |
| HA7UG | 20m | CW | T |
| G0TDM | 20m | CW | T |
| G4UXH | 2m | FM | J |
| HA5WG | 20m | CW | T |
| RW3WA | 20m | CW | T |
| OK1IVU | 20m | CW | T |
| RX9WN | 20m | CW | T |
| OK1TD | 20m | CW | T |
| RA1OD | 20m | CW | T |
| 9A2JK | 20m | CW | T |
| R9AX | 20m | CW | T |
| SP3J | 20m | CW | T |
| IZ0FVD | 20m | CW | T |
| UT5UIA | 20m | CW | T |
| SM5ELV | 20m | CW | T |
| RU9CZ | 20m | CW | T |
| R2DW | 20m | CW | T |
| SM7CBS | 20m | CW | T |
| R9AB | 20m | CW | T |
| DL1TRK | 20m | CW | T |
| RA3BZ | 20m | CW | T |
| 9A4OE | 20m | CW | T |
| OM3KRZ | 20m | CW | T |
| OH1MRE | 20m | CW | T |
| DL8YRM | 20m | CW | T |
| DL5KVV | 20m | CW | T |
| DK7FZ | 20m | CW | T |
| DL5WS | 20m | CW | T |
| UX1IM | 20m | CW | T |
| 9A6ILI | 20m | CW | T |
| S52KM | 20m | CW | T |
| SP1PWP | 20m | CW | T |
| LZ3SM | 20m | CW | T |
| M5TNT | 2m | FM | J |
| SP9DLY | 20m | CW | T |
| G0MWE | 2m | FM | J |
| HB9DNB | 20m | CW | T |
| M0AYB/P | 2m | FM | J |
| RA3TO | 20m | CW | T |
| DH5MM | 20m | CW | T |
| HB9DAX | 20m | CW | T |
| OM3CFF | 20m | CW | T |
| OM7AW | 20m | CW | T |
| RD4WM | 20m | CW | T |
| S58AL | 20m | CW | T |
| S57CI | 20m | CW | T |
| I5FLN | 20m | CW | T |
| S51RU | 20m | CW | T |
| OK2PAY | 20m | CW | T |
| RQ4N | 20m | CW | T |
| S51ZG | 20m | CW | T |
| S52ON | 20m | CW | T |
| SP6IEQ | 20m | CW | T |
| IZ3ETU | 20m | CW | T |
| S58AL | 20m | CW | T |
| UA3DSS | 20m | CW | T |
| S59DXX | 20m | CW | T |
| EA3GHZ | 20m | CW | T |
| UA3CS | 20m | CW | T |
| HA4XG | 20m | CW | T |
| DF1YQ | 20m | CW | T |
| OZ4RT | 20m | CW | T |
| OZ5KU | 20m | CW | T |
| RV3LO | 20m | CW | T |
| DK4RM | 20m | CW | T |
| DL2RNS | 20m | CW | T |
| OH3BHL | 20m | CW | T |
| UA1OJL | 20m | CW | T |
| SP2JNK | 20m | CW | T |
| OE5GA | 20m | CW | T |
| SM5CNQ | 20m | CW | T |
| UA9LT | 20m | CW | T |
| RA3DNC | 20m | CW | T |
| UY5ZZ | 20m | CW | T |
| DJ3EF | 20m | CW | T |
| SP4NKU | 20m | CW | T |
| UA9FGT | 20m | CW | T |
| RO3DX | 20m | CW | T |
| SP2GSI | 20m | CW | T |