Sunday 30th July 2006 - from Earby YHA to Thornton-in-Craven, then walk to Malham - 11 miles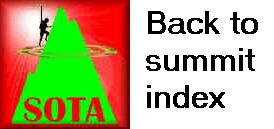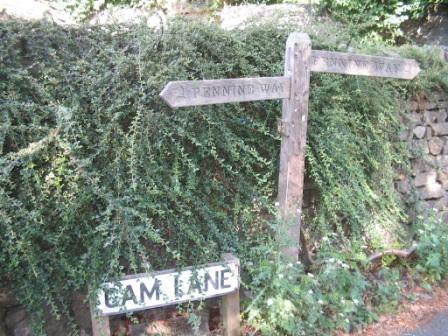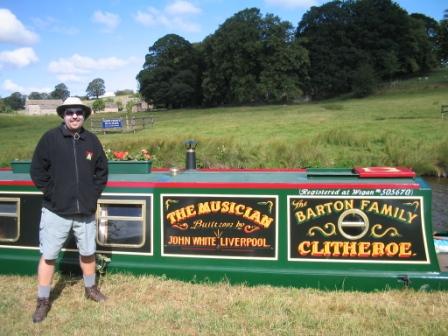 We knew today was going to be relatively easy, and we were looking forward to it We were not to be disappointed as life on the Pennine Way just kept getting better and better. We hadn't bought anything in ready for breakfast in the self-catering hostel at Earby, but we had plenty of spare flapjack and energy bar type stuff knocking around the rucksack pockets to get us started. Washed down with a couple of pints of water each, one of which was made into an instant whey protein shake, we were sufficiently if unconventionally breakfasted. I managed to call a taxi from nearby Barnoldswick which was able to run us back up to Thornton-in-Craven. The warden at the hostel assured us it was only an easy 20 minute walk up to Thornton from the hostel, but why make an easy day any harder?
The walk start was on Cam Lane, opposite where we had emerged from the dismantled railway on the other side of the A56 last night. Off we went, feeling good and really looking forward to another day in the gentle countryside before the rugged stuff really kicked-in in subsequent days. The initial sections of the day's walk required a little map reading to negotiate the route across the maze of fences in the gently undulating farmland. Dropping down Langber Hill we hit the Leeds-Liverpool Canal, to be immediately greeted by a beautifully painted barge. Its title - "The Musician" - was an irresistible moment for an impromptu photo-call.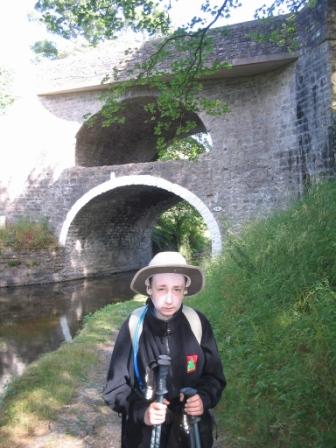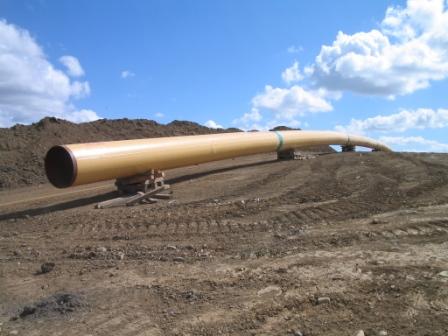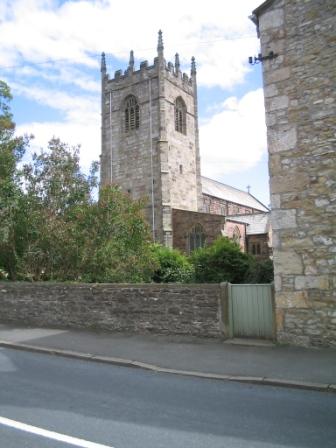 Jimmy's mobile 'phone rang out its happy little tune, with its caller display feature indicating the studio line of Silk FM. The Sunday morning presenter Sarah was keen to chat about the Pennine Way and our progress thus far, and our nominated charity Friends for Leisure. I was live on air for two or three minutes and enjoying the attention we seemed to be attracting back home. The towpath walking was extremely pleasant and picturesque, but we could see by the map that it was to be short-lived. Soon after the famous double arched bridge that carries the A59, we were looking to fork to the right, which we managed only eventually, after initially missing the signpost.
The plod over Scaleber Hill was rather featureless and boring until we were surprised by a compulsory diversion. This was to take us around a works area where a new pipeline was being installed. Another unexpected photo-call! Before long we were walking along the lanes of the picture-postcard town of Gargrave. The sights of the church, the Dalesman Cafe and the famous Pennine Way signpost were captured on the digital camera before we went into the cafe itself for a drink and a rest. "We might as well get an early lunch here" I suggested to Jimmy, resulting in orders for ham, egg & chips (Jimmy) and Dalesman Lunch (me) consisting of ham, Wensleydale, Dalesman Chutney, salad and bread. I allowed myself the decadence of a coke ice-cream float to cool off. We made a point of signing the Dalesman visitors' book before settling up and leaving.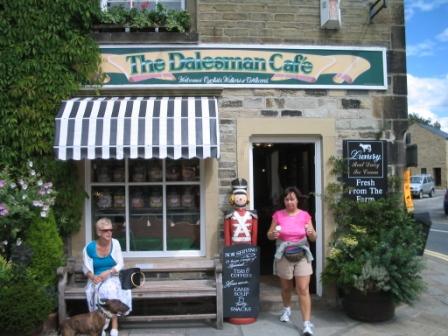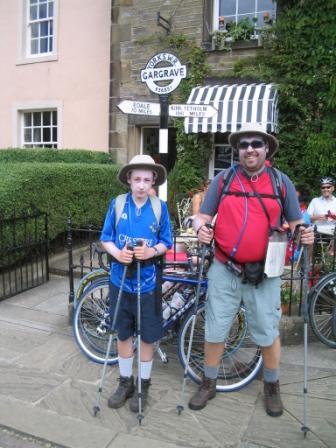 It amused Jimmy that the mileages on the Pennine Way signpost in Gargrave did not add up. "70 miles plus 186 miles equals 256 miles, when it should be 268 miles" he was keen to point out several times as we tried to follow the correct route out of the town. We were briefly reunited with the Leeds-Liverpool Canal where the locks gave us another excuse to dawdle for a few moments.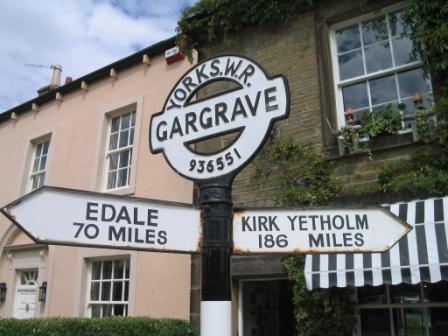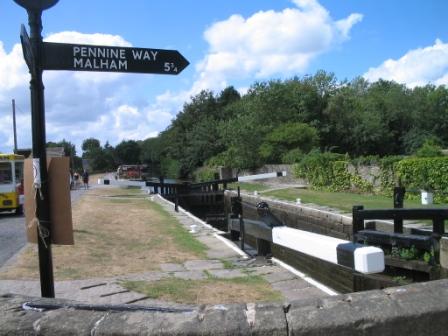 For the next hour, the objective was simply to get the ground covered and the map squares ticked off. There seemed there would be nothing of interest until we reached the banks of the River Aire, and indeed this was the case. Still, everything in life is an opportunity, and this was ours to "put in some miles" and test if the legs were capable of bagging a rapid 4km in our sixth day on the Pennine Way.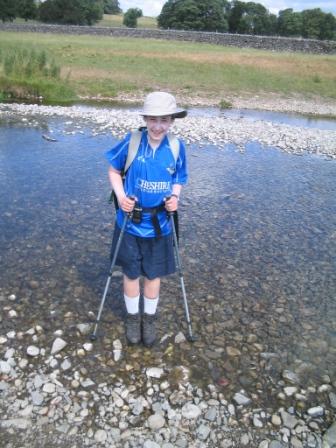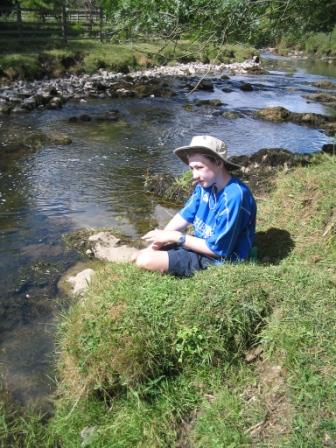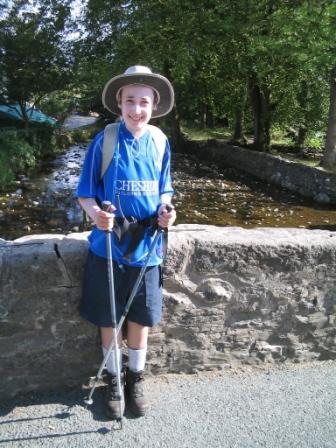 Yes they were, although the heat of the afternoon threatened to reach the oppressive heights of the first two days. We were soon indulging in the opportunity to cool the soles of our boots in the clear running shallow waters of the River Aire. At the other side of Newfield Bridge, we made a beeline for a pleasant spot on a grassy bank for a rest stop. I took the option to dangle my bare feet in the water, a joyful and invigorating experience, but not one that I could successfully advertise to Jimmy. A little girl trotted up and said "Is this your camera?" as she passed me my camera! She had found it on the floor about 50 yards away. I hadn't even noticed it was missing. I was most grateful, and concerned at my own sloppiness, and thrust some pocket money into her hand. All of a sudden it was mid-afternoon again already, and we still had a whole page - about 5km - to cover before Malham, today's objective.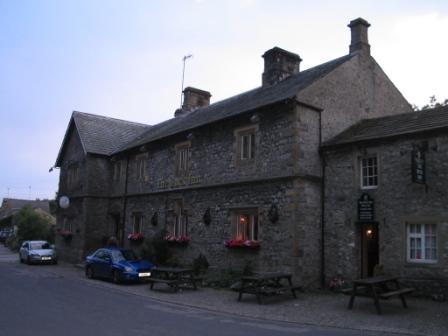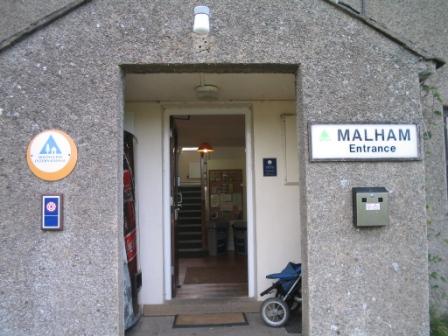 As we approached Malham, we could see Malham Cove towering over the village and began to anticipate the early parts of tomorrow's walk. Reaching the detination before the shops closed for the day meant that I could replace my malfunctioning compass and treat myself and Jimmy to an ice lolly each. A couple approached us and introduced themselves as fellow Pennine Way walkers Kevin and Janet. I had 'met' Kevin on the Pennine Way messageboard on http://www.coast2coast.co.uk during the weeks of June and July when anticipation was understandably high.
The youth hostel at Malham was a very big establishment with all facilities. Jimmy and myself were accommodated in an outbuilding bedroom, where we met Toke and Bobby again. They were in the same bedroom as us, and also dined with us in hostel. It seemed that had carried out their threat to dump much of their self-catering gear during their rest day in Hebden Bridge, but had reluctantly decided to continue carrying tent and sleeping bags as they couldn't be guaranteed of accommodation along the rest of the route. Anyway, a couple of longer days including a 24 mile epic had allowed them to make up for their rest day and catch us up. It was good to see them again.
Dinner was carrot soup, beef in red wine, followed by ice cream sundae, accompanied by a bottle of Black Lightning. Over at the Buck Inn I enjoyed a pint of Timothy Taylor Golden Best, but I couldn't remember the name of the other pub - or pint - that I had in Malham that night. I do remember that the second pub had a small internet cafe facility where I was able to catch up on my emails and post abbreviated reports as to my progress on messageboards and reflectors. Sleep was becoming a pleasure to look forward to each evening. We were now in "the zone" and able to retire as early as 9.30pm each night and guarantee high quality slumber through to gone 7am in the morning. The unexpected reliability of this process was yet another unanticipated treasure of the Pennine Way.