Carnearny, GI/AH-009 - 319m ASL - J 176 927 - OSNI Discoverer 14 - 1 SOTA points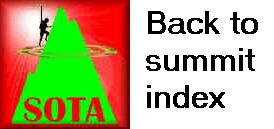 Good intentions and all thatÖ Thursday 23rd November 2017 was a 5am get-up for Jimmy and I. VFM was super at the services on the M2 between Belfast and Antrim - 9-piece Ulster Fry + toast + tea/coffee for £5. English service stations take note. In-car audio came courtesy of the first Ashes test match in Brisbane. Not via BBC Radio 4 Long Wave 198kHz as it has done for many years, but with significantly superior audio from BBC Radio 5 Live Sports Extra.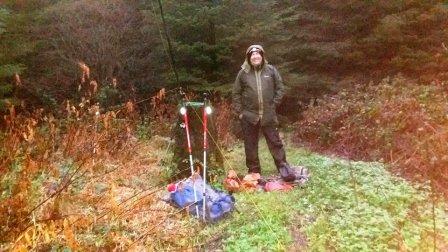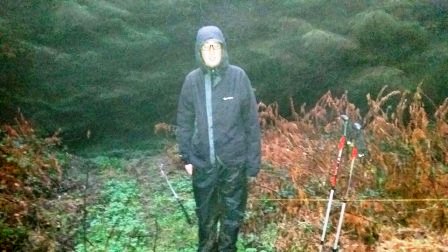 Jimmy successfully navigated us to the gate at the start of the route for Carnearny GI/AH-009 (formerly Tobernaveen Hill). It was still dark at 7am so we began the walk with headtorches. We were looking for the right turn up a boggy forest path, but veered off too early, so it was slightly more tricky terrain, though not too bad. When we did get back on the track, most of it was so boggy that it was a no-go. Fortunately, there was large enough gaps between the trees and branches to the side, that we were able to progress fairly easily on that firmer ground. In about 15 minutes we made it to the clearing at the summit, and the trig pillar.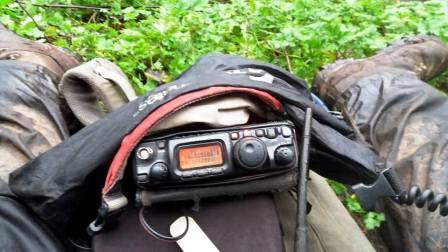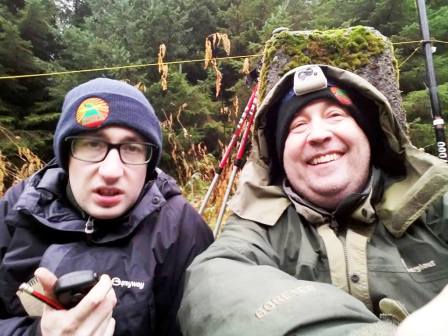 Setting up was tricky with little room for guys and radials. A little improvisation was required with the 20m GP with one radial wrapped around a Leki pole allowing it to double back on itself. It took Jimmy several attempts to erect the MFD on the SOTA pole. I was easily qualified on 20m CW before Jimmy was even QRV. Unfortunately, I had forgotten my mobile phone and left it in the car. Considering I was supposed to be attempting a PSK sked to VK, I felt a right chump! However, there didnít seem to be any condx to VK, and VK1DA reported the same when he advised that he wasnít able to get on PSK. I now didnít feel quite so bad!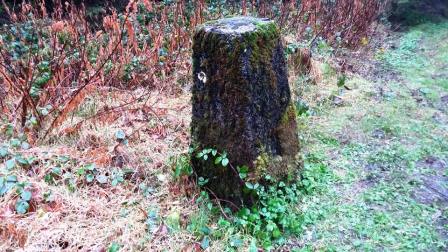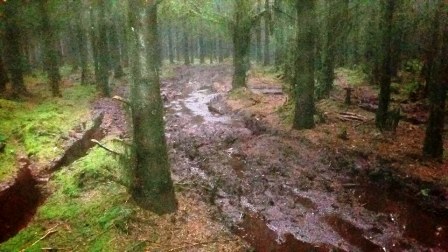 Jimmy worked Robert MI0GDO on 2m FM, as he usually does from every GI summit. But he couldnít raise any other interest on VHF, so he had a go on 20m SSB, which gave him the QSOs required. The summit clearing is surrounded by tall trees, so we had shelter from the icy wind with significant windchill. But when it started to rain, we decided to pack up and get back to Belfast. So no S2S, no DX, no VK, no PSK - but still a successful activation, and a new summit name added to the log, even if not a new summit reference.
| | | | | |
| --- | --- | --- | --- | --- |
| Time | Call | Band | Mode | Op |
| 08:17z | EA2LU | 14MHz | CW | MI1EYP/P |
| 08:19z | OM1AX | 14MHz | CW | MI1EYP/P |
| 08:22z | OH3GZ | 14MHz | CW | MI1EYP/P |
| 08:24z | S52CU | 14MHz | CW | MI1EYP/P |
| 08:25z | HA7ME | 14MHz | CW | MI1EYP/P |
| 08:28z | HA6VH | 14MHz | CW | MI1EYP/P |
| 08:30z | MI0GDO | 144MHz | FM | MI0HGY/P |
| 08:30z | IK3DRO | 14MHz | CW | MI1EYP/P |
| 08:45z | IZ4EFP/P | 14MHz | SSB | MI0HGY/P |
| 08:50z | S57ILF | 14MHz | SSB | MI0HGY/P |
| 08:51z | SV3IEG | 14MHz | SSB | MI0HGY/P |
| 08:52z | IK2LEY | 14MHz | SSB | MI0HGY/P |
It was a memorable break out in Belfast with some great nights out at the Christmas markets and even being bought a round by the champion boxer Carl Frampton! Here's a few photos: