Top o' Selside, G/LD-048 - 335m ASL - SD 309 919 - OS Explorer OL6 - 1 SOTA point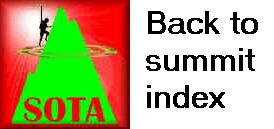 I hadn't really realised it, but doing Top o' Selside as an afternoon summit, after the early Claife Heights G/LD-053 made for a relatively long and tiring day on Saturday 18th April 2009. Especially with us electing to take the longer, more graded walk-in from the south.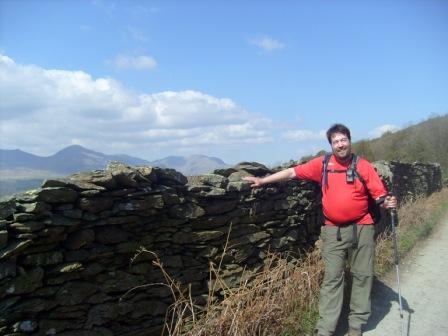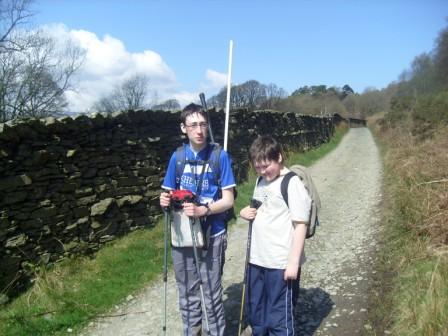 I would expect that most people park and approach from Dodgson Wood, but we decided to commence from the village of High Nibthwaite. We were lucky, as there is only space to park two cars in the village, and one space remained. We were soon on our way along the by-way, which certainly wasn't driveable!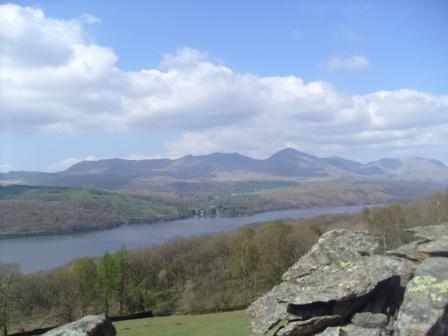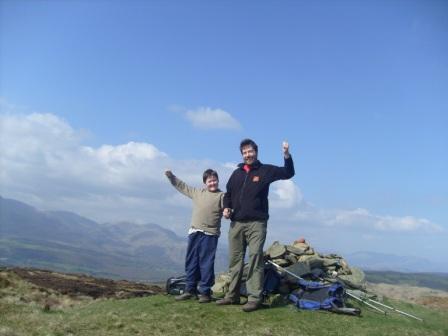 This was a long walk-in, but pleasant as it was very graded as it climbed above Coniston Water on this glorious Saturday afternoon. Eventually, Jimmy was able to announce that we had reached the point at which to turn right - SD303916. From here, there was suddenly some steeper ascending to be done, but in terms of distance we were virtually upon the summit, which was attained within minutes.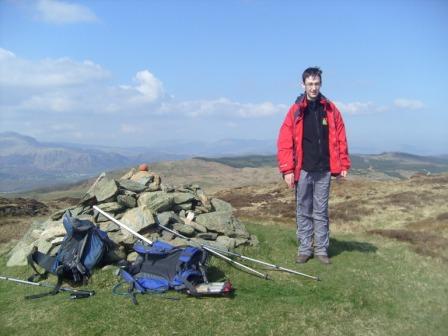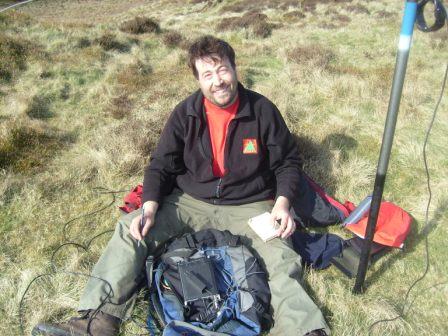 Jimmy plonked himself and his rucksack with RSS on the large summit cairn. I dropped a little lower onto a flatter patch to set up the Magic Moggy. And the cat purred on this summit, with USA (W), Israel (4Z) and Sardinia (IS0) supplementing the more standard fayre of UR, OK, S5, 9A, RA and HA. Over on 2m FM, Jimmy enjoyed a bumper run of 17 QSOs. Soup of the day was Moroccan spicy chickpea and lentil.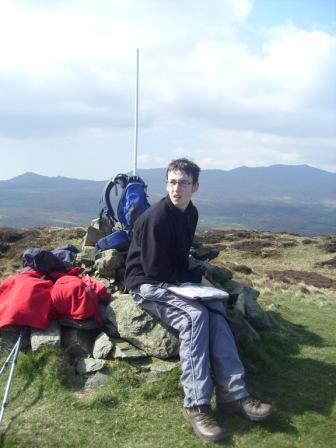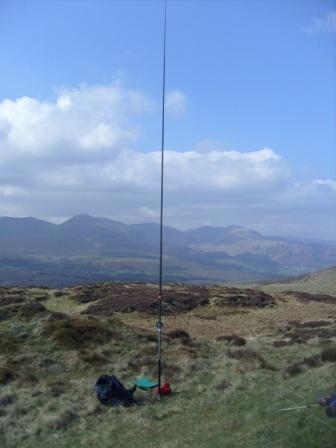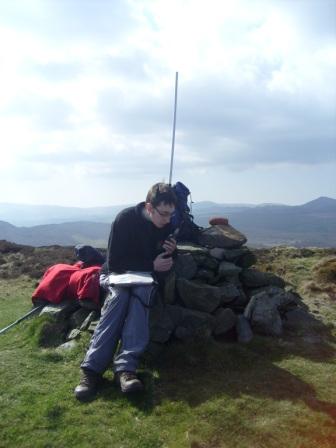 In order to complete the descent in as quick a time as possible, I sent Jimmy and Liam on ahead, while I packed up all the gear. They must have been 80% of the distance back to the car by the time I caught them up. And the timely descent would now reap rewards, for we were at the car bang on 6pm - the deadline for ordering a hostel evening meal. I 'phoned High Close YH, and was delighted to hear that I was just in time to place an order.

The drive back to the hostel took about 40 minutes, giving us just enough time to shower and change before dinner was served. Carrot & ginger soup (Liam had garlic bread), Steak & Ale pie, and sticky toffee pudding was a wholesome, filling, tasty and satisfying meal, and a special reward for Liam who had walked wonderfully all day. There could be no doubt that the addition of the Nintendo DS to his rucksack was providing that previously absent motivation!

The three of us then watched Britain's Got Talent in the TV lounge, after which Liam and Jimmy both chose to go to bed. And I should have done too. But I wanted to stick it out and watch Match of the Day. And when my favourite television programme did come on, I slept all the way through it, which was rather embarrassing. When will I ever learn?
Thanks to the following callers:
| | | | |
| --- | --- | --- | --- |
| G1OHH | 2m | FM | J |
| G4USW | 2m | FM | J |
| G0VMW/M | 2m | FM | J |
| G6MZX | 2m | FM | J |
| GW4EVX | 2m | FM | J |
| GW7AAV | 2m | FM | J |
| G4WHA/M | 2m | FM | J |
| G4BLH | 2m | FM | J |
| G0PZO | 2m | FM | J |
| US5VX | 20m | CW | T |
| OK2QA | 20m | CW | T |
| S51WO | 20m | CW | T |
| 2E0WOZ/M | 2m | FM | J |
| 9A7W | 20m | CW | T |
| UY5BA | 20m | CW | T |
| W1EBM | 20m | CW | T |
| 2E0SUD/M | 2m | FM | J |
| G7OEP/M | 2m | FM | J |
| G4ZRP | 2m | FM | J |
| 9A4MF | 20m | CW | T |
| 4Z4DX | 20m | CW | T |
| G1JTD/P on Easington Fell SP-012 | 2m | FM | J |
| GW0DSP | 2m | FM | J |
| G0OXV | 2m | FM | J |
| UA3GF | 20m | CW | T |
| 2E0JEX | 2m | FM | J |
| IS0LYN | 20m | CW | T |
| HA5CQZ | 20m | CW | T |