Tosson Hill, G/SB-007 - 440m ASL - NZ 004 982 - OS Explorer OL42 - 1 SOTA point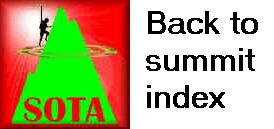 Saturday 30th July 2011 was my 17th wedding anniversary. For the second year running, Marianne and I were apart on this day. Again, I was on a SOTA camping trip with Jimmy, Liam and Jimmy's mate Craig, while Marianne was working. Marianne had sent me away with a big red box in the car, which turned out to contain a veritable feast of delicatessen type items - olive oil baked bread, artichoke hearts in a jar, rhubarb and ginger preserve, yoghurt and cereal bars, bottles of citrus brew etc. These had mostly been eaten by the expedition team as special breakfasts/lunches ahead of the anniversary date, but I did at least save opening the card until the day. An exchange of texts directed Marianne to where I had left her present - another charm for her Pandora bracelet.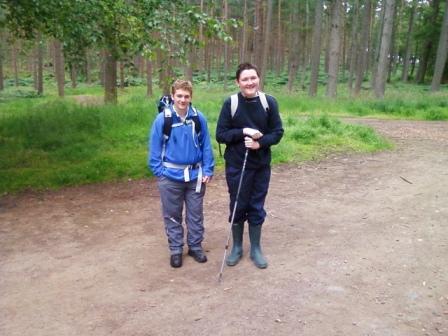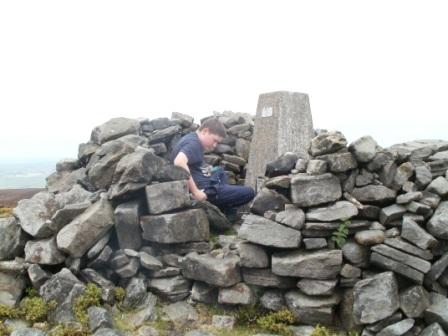 With the turgidity out of the way, we could concentrate on the matter in hand, and the next SOTA summit in the campaign - Tosson G/SB-007, and a 4.7km walk each way. We began by visiting the Co-op in Wooler to purchase breakfast and packed lunch items, as this strategy had worked well the previous day. Jimmy then directed as I drove south to Rothbury (of Raoul Moat fame) and then on the country lanes and into the forest park car park at NZ037996.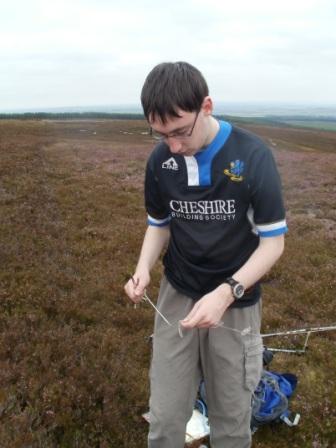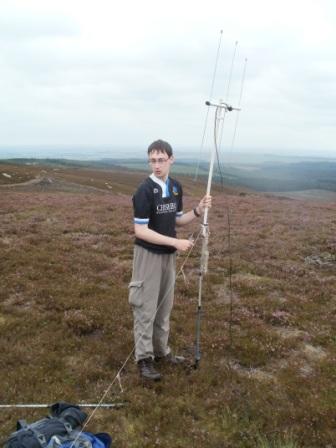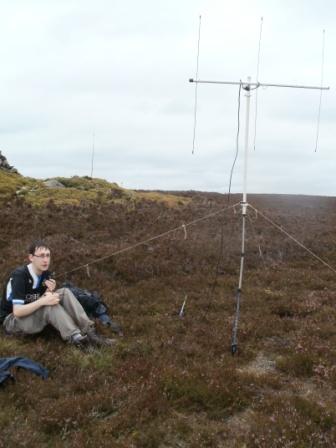 Although the walking involved was much easier than the likes of Sighty Crag G/SB-005 or Peel Fell G/SB-004, this was still a long walk, as indeed the later summit of Long Crag G/SB-008 would be. Fortunately, Liam was now walking really quickly as well as enthusiastically, and for most of the approach to Tosson I couldn't keep up with him.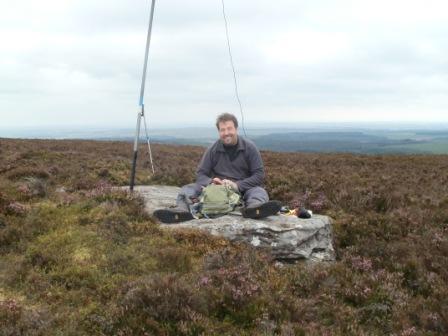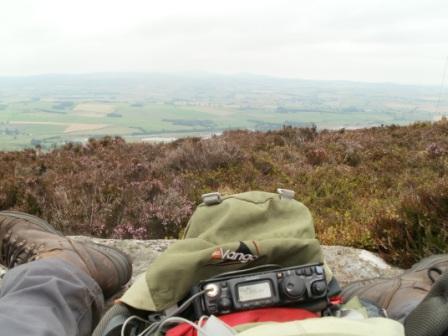 We followed the forest tracks as they looped around and headed past the distinctive Simonside Crags. But just as we got close to them, our route turned and headed away for a long gradual climb to the summit of Tosson. Here, the trig point was surrounded by a stone shelter. Liam quickly baggsed this spot as his own to play on his 3DS and spend yet another 10 playcoins just earned on the ascent!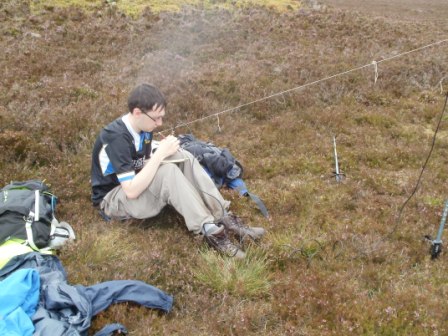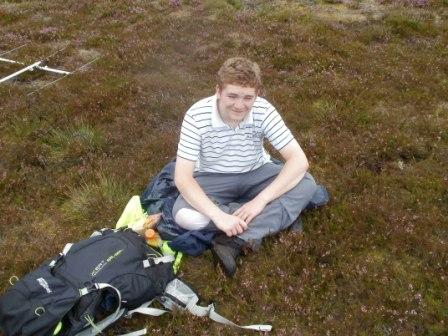 Jimmy M3EYP made 9 contacts on 2m FM, including S2S with Neil 2W0TDX/P and Karen 2W0XYL/P on Old Man of Coniston G/LD-013, also Jim G0CQK/M and George and Lesa, G2ARY and M0BQD respectively. On 40m CW I did one better with ten QSOs, including S2S with Aage LA1ENA/P on LA/TM-217. But with another long walk to squeeze into the day, we got packed up and on our way when things went quiet, and it was onto Long Crag G/SB-008. Thanks to all callers:
| | | | |
| --- | --- | --- | --- |
| G2ARY | 2m | FM | J |
| M0BQD | 2m | FM | J |
| G7BYE | 2m | FM | J |
| M0ETQ | 2m | FM | J |
| 2E0TDX/P on Old Man of Coniston LD-013 | 2m | FM | J |
| 2E0XYL/P on Old Man of Coniston LD-013 | 2m | FM | J |
| M6SWR | 2m | FM | J |
| PA0WDG | 40m | CW | T |
| G0KNN | 2m | FM | J |
| G0CQK/M | 2m | FM | J |
| EA2EA/P | 40m | CW | T |
| MW0BBU | 40m | CW | T |
| ON4CAP | 40m | CW | T |
| ON5QRP | 40m | CW | T |
| M0BKV | 40m | CW | T |
| LA1ENA/P on Solhomfjell TM-217 | 40m | CW | T |
| OK1CZ | 40m | CW | T |
| G3RMD | 40m | CW | T |
| DL2DXA | 40m | CW | T |