Tullybrack, GI/SW-003 - 386m ASL - H 090 458 - OSNI Discoverer 17 - 1 SOTA point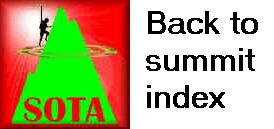 GI SOTA Trip - Activation #9 - Tullybrack GI/SW-003 - Wednesday 1st June 2016
For the first day of June, we would be in County Fermanagh, and activating the two highest hills in that county. They would both be long walks, and under very hot sunshine, with Fermanagh being described as one of Europe's hotspots on the radio that day.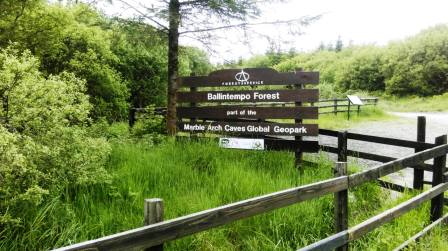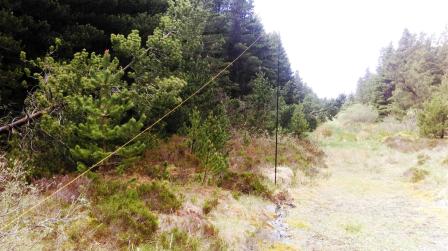 It seemed a long drive down into County Fermanagh from Omagh. We entered the Ballintempo Forest at H097423. We drove up as far as the parking area at H092432. The visitor signs advised that the circular walk ahead was 12.3km and "difficult/strenuous". We would need to add 3.2km to that in order to attain the summit on a spur from the main track at the north end of the forest. On the second half of the ascent we came across two young deer on the track in front of us. They remained motionless for a few minutes, but then started to run away with great spring in their gait.
Once I reached the end of the track at H092457, I was comfortably within the AZ around 15m lower than the summit. The true summit was now only 100m or so away, but on much more difficult ground. I left that for Jimmy to accomplish; I set up at the point where I was. On reflection, that was a mistake. I had lumbered myself with a midge hotspot, while Jimmy's slightly higher position had sufficient breeze to keep them at bay.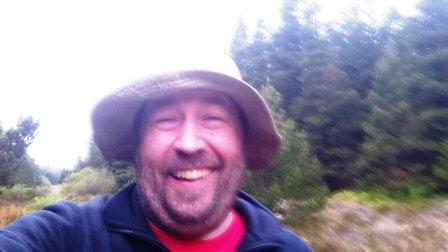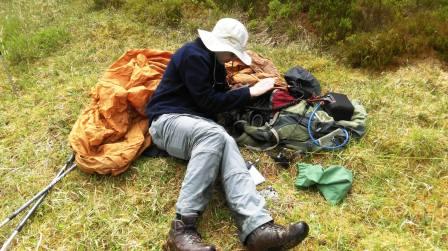 As such, I found myself needing to operate from inside my bothy bag. 40m was in good shape and a made 16 QSOs, 8 each on CW and SSB including S2S with HB9AFI/P on HB/BE-104. Jimmy had only managed to work Robert MI0GDO on 2m FM, so used my set-up to add three more on 40m SSB.
We could now "look forward" to the near 8km return walk to the car. In doing so, we continued anticlockwise around the circular forest route to complete the circuit. At the car, we rewarded ourselves with the deliciously hot (thanks to the new flask) seafood chowder soup before heading over to Belmore Mountain GI/SW-002.
| | | | | | |
| --- | --- | --- | --- | --- | --- |
| Time | Call | Band | Mode | S2S | Op |
| 08:54z | G3TJE | 7MHz | CW | | MI1EYP/P |
| 08:57z | DL6DSA/P | 7MHz | CW | | MI1EYP/P |
| 08:59z | HB9AFI/P | 7MHz | CW | HB/BE-104 | MI1EYP/P |
| 09:00z | G3RDQ | 7MHz | CW | | MI1EYP/P |
| 09:03z | DL6UNF | 7MHz | CW | | MI1EYP/P |
| 09:04z | PA9CW | 7MHz | CW | | MI1EYP/P |
| 09:04z | G0ANV | 7MHz | CW | | MI1EYP/P |
| 09:10z | G4OBK | 7MHz | CW | | MI1EYP/P |
| 09:19z | G4OBK | 7MHz | SSB | | MI1EYP/P |
| 09:20z | MI0GDO | 144MHz | FM | | MI0HGY/P |
| 09:21z | G0RQL | 7MHz | SSB | | MI1EYP/P |
| 09:22z | G8MIA | 7MHz | SSB | | MI1EYP/P |
| 09:29z | SM6CNX | 7MHz | SSB | | MI1EYP/P |
| 09:30z | G7BGA | 7MHz | SSB | | MI1EYP/P, MI0HGY/P |
| 09:31z | G7AFM | 7MHz | SSB | | MI1EYP/P, MI0HGY/P |
| 09:32z | G1BLJ | 7MHz | SSB | | MI1EYP/P |
| 09:34z | G4HPE | 7MHz | SSB | | MI1EYP/P |
| 09:46z | MM0GGI | 7MHz | SSB | | MI0HGY/P |