Waun Rydd, GW/SW-004 - 769m ASL - SO 062 206 - OS Explorer OL12 - 6 SOTA points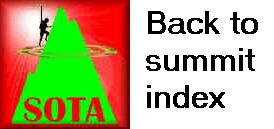 South Wales SOTA Trip - Day 3 - Tuesday 26th May 2015
It was the customary early start at Brecon Beacons YHA, eating breakfast bars and making the flask of soup. The main target for the day was Waun Rydd, the highest summit in the national park not yet visited by us. Jimmy directed me to the car park at SO066175 - after a hefty detour due to an unforeseen road closure.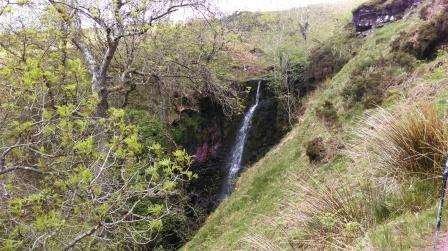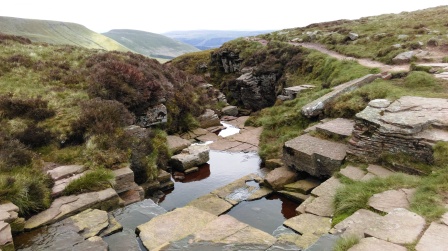 The route got off to a great start, climbing steeply beside an impressive waterfall. I was slightly lesser impressed with how steeply the ground dropped away a few centimetres from my left boot as I was going up, but that, I'm afraid for me, would be a recurrent feature of this route. It wasn't quite so bad once we had attained the main ridge of Craig y Fan Ddu but the path nonetheless clung to the edges rather than centre. The next ridge section - Graig Fan Las - was worse again, and this time it was my right foot I was checking uneasily with every step. "Is there an alternative return route?" I asked Jimmy. "No" came the grimly deadpan response.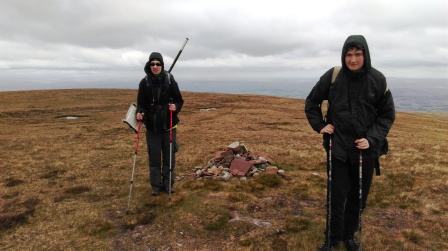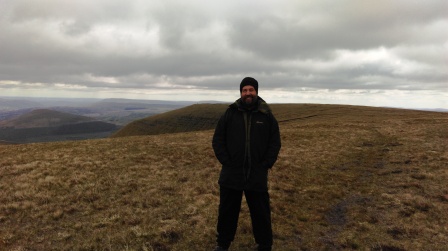 Finally came a thankfully much more boring final plod along to the true summit, marked by a small cairn. Still I found it my own "challenge" to pick up the Challenge multiplier. Again, it was Jimmy persuading one of his 2m FM local QSO partners to QSY that did the trick. Other than that, a straightforward qualification with more than enough contacts each, and we were able to get on our way for the return walk.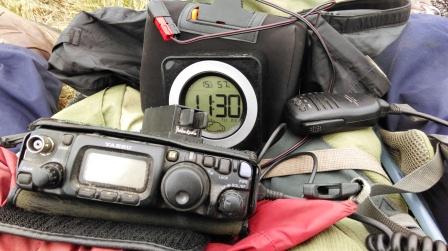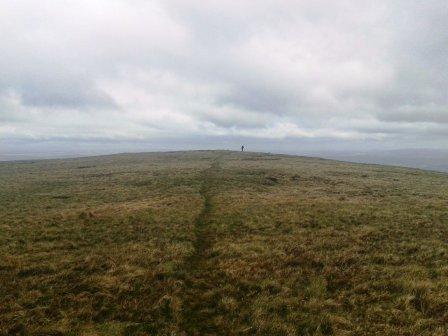 The walk back was slightly less than enjoyable, putting up with the steep drops unnervingly close to my left initially, then more steep drops to my right on the final section, coupled with a steep descent in itself. Once back at the car, we were all ready for a bit of a rest. We agreed not to try and squeeze another summit into the afternoon, but to rest ahead of a more relaxed early evening meal and that night's intended contest activation of The Begwns GW/MW-025.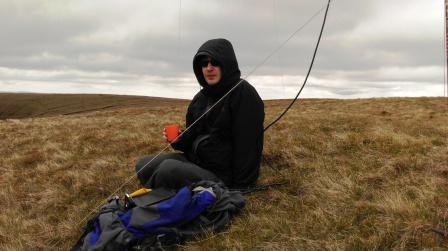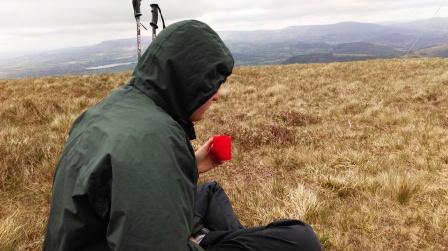 The intended spot for dinner was the Bell Inn at Talgarth, an old favourite of ours. However, when we got there, we found that the pub is now closed, and the place now only runs as a B&B establishment. Nonetheless, the landlady Syd, kindly invited us in for a chat and remembering the days we used to go there for faggots and chips on our camping holidays!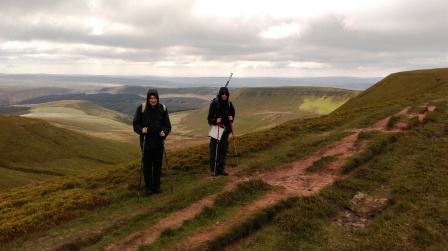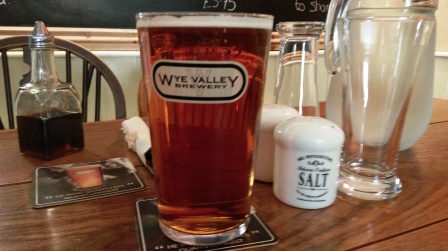 A different pub in Talgarth - the Bridge End Inn - was chosen for food and drink that evening, before we drove up to The Begwns GW/MW-025 for the 6m contest.
| | | | | |
| --- | --- | --- | --- | --- |
| Time | Call | Band | Mode | Op |
| 10:43z | G0LGS | 144MHz | FM | J |
| 10:45z | MW0YCC | 144MHz | FM | J |
| 10:46z | G0VFK | 144MHz | FM | J |
| 10:47z | M0JLA | 144MHz | FM | J |
| 10:48z | M0NTC | 144MHz | FM | J |
| 10:49z | G0RQL | 144MHz | FM | J |
| 10:50z | G0LGS | 28MHz | SSB | T |
| 10:52z | 2W0TBP | 144MHz | FM | J |
| 10:54z | G0LGS | 50MHz | SSB | T |
| 10:54z | G4ILI | 144MHz | FM | J |
| 10:57z | M3LDS/M | 144MHz | FM | J |
| 11:00z | G4OBK | 7MHz | CW | T |
| 11:01z | PC2D | 7MHz | CW | T |
| 11:02z | G4SSH | 7MHz | CW | T |
| 11:02z | GW4AZS/P | 144MHz | FM | J |
| 11:03z | G4FGJ | 7MHz | CW | T |
| 11:03z | G4WTF | 144MHz | FM | J |
| 11:04z | DF5WA | 7MHz | CW | T |