Widdebierg, LX/LX-004 - 387m ASL - 49 39 19 N 6 19 18 E - Luxembourg R8 - 2 SOTA points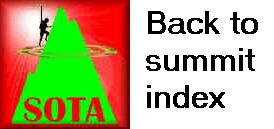 Monday 1st July 2019
From the CR-134 main road, we followed a country lane north to park at the edge of the woods, a kilometre or so due south of the summit. The route seemed to pass through the base of a quarried-out channel, not marked on the map, before climbing out and into a higher part of the woods.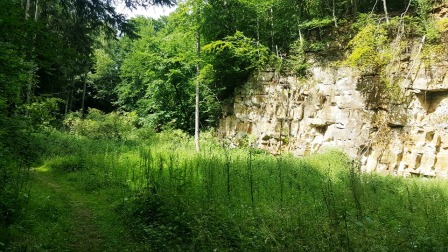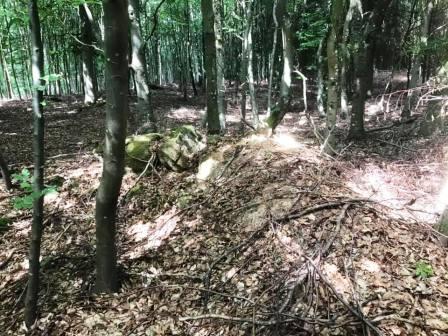 The true summit was off to the right of the track in rough ground. As usual, Jimmy went off to investigate while I focused on getting the HF antenna erected. The radio on this summit followed the same pattern yet again - nothing for Jim on VHF, easy qualification for me on 40m CW, then a similarly easy one for Jimmy on 40m SSB.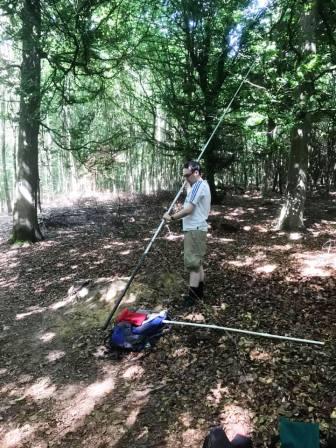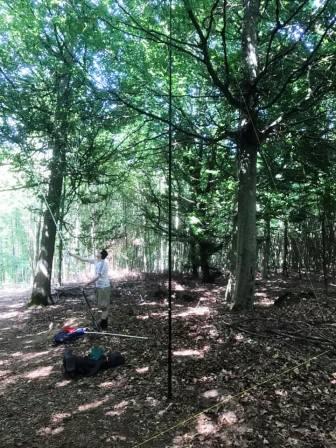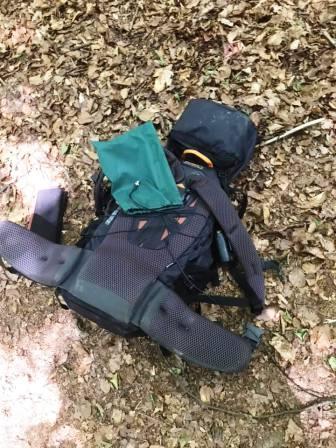 We had great support from the chasers on this day, with many working one or both of us on multiple summits. Fabio IK2LEY got us on all five - excellent work!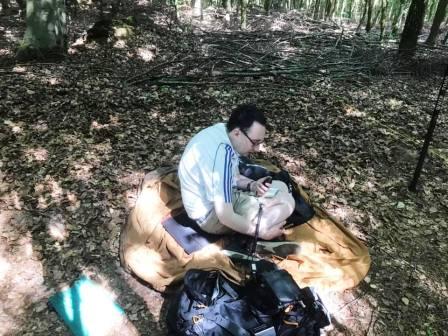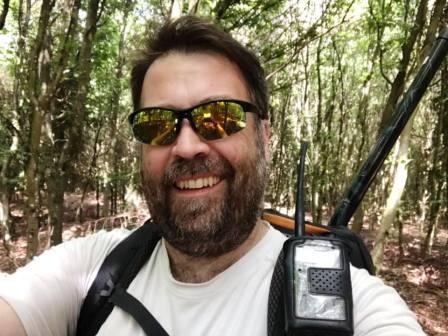 Later that evening we were relaxing with the family, enjoying great food and beer in Le Legia bar & restaurant, Liege. I'd become a fan of Liegeois meatballs, Belgian chips, and Juliper beer!
| | | | | |
| --- | --- | --- | --- | --- |
| Time | Call | Band | Mode | Op |
| 14:18z | DK3WM | 7MHz | CW | LX/M1EYP/P |
| 14:19z | IK2LEY | 7MHz | CW | LX/M1EYP/P |
| 14:20z | G3RDQ | 7MHz | CW | LX/M1EYP/P |
| 14:21z | DF2UD | 7MHz | CW | LX/M1EYP/P |
| 14:22z | IV3TNP | 7MHz | CW | LX/M1EYP/P |
| 14:23z | SM4BNZ | 7MHz | CW | LX/M1EYP/P |
| 14:24z | DL5CX | 7MHz | CW | LX/M1EYP/P |
| 14:25z | S52CU | 7MHz | CW | LX/M1EYP/P |
| 14:26z | DJ1PQ | 7MHz | CW | LX/M1EYP/P |
| 14:26z | EA2DT | 7MHz | CW | LX/M1EYP/P |
| 14:27z | DL1INKS | 7MHz | CW | LX/M1EYP/P |
| 14:28z | DG1NPM | 7MHz | CW | LX/M1EYP/P |
| 14:28z | G4WSB | 7MHz | CW | LX/M1EYP/P |
| 14:29z | G4FGJ | 7MHz | CW | LX/M1EYP/P |
| 14:31z | DL6FAX | 7MHz | CW | LX/M1EYP/P |
| 14:37z | G4WSB | 7MHz | SSB | LX/M0HGY/P |
| 14:37z | G0RQL | 7MHz | SSB | LX/M0HGY/P |
| 14:38z | G4OBK | 7MHz | SSB | LX/M0HGY/P |
| 14:39z | M0JLA | 7MHz | SSB | LX/M0HGY/P |
| 14:40z | F5LKW | 7MHz | SSB | LX/M0HGY/P |