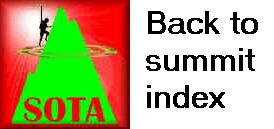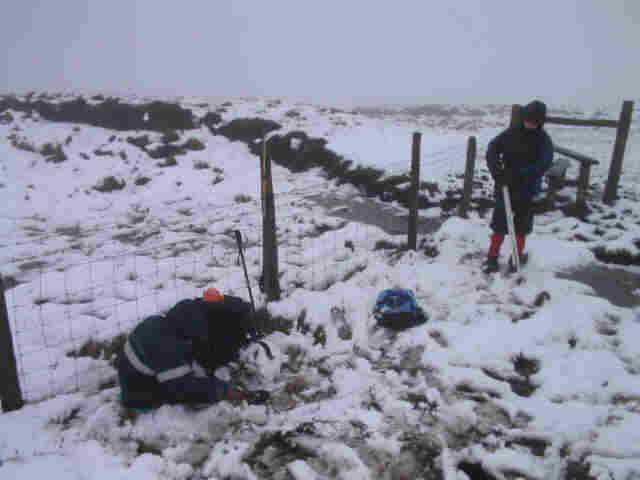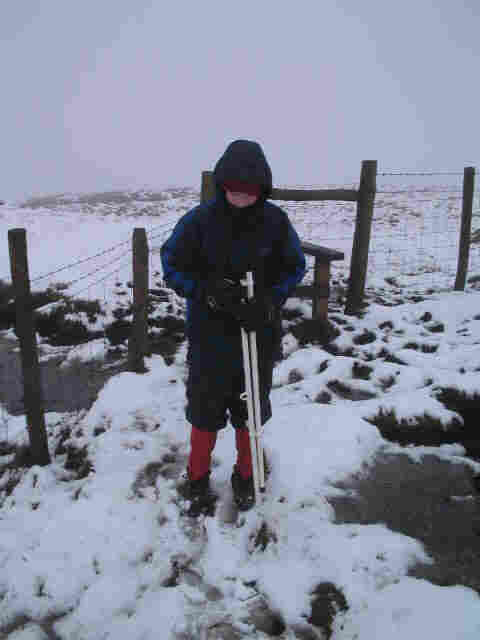 Thursday 7th April 2005 saw us take a drive up the A34, M60 and M61, exiting at the Reebok Stadium - home of Bolton Wanderers - in Horwich. From here it was a combination of memory and guesswork as we picked out the roads that would lead us up the hill, and ultimately to the access road for NTL Winter Hill. We parked by one transmitter compound on the hill and walked about 600m up the gentle slope to the trig point. Winter Hill had about 6 inches of snow down, and we set up in a bit of shelter in the corner of the field. For once on this hill, there were mainly clear views. In just over half-an-hour, I worked 11 stations on 2m FM. There was a little disruptive breakthrough, but nothing like as bad as that on Billinge Hill three days earlier. A ranger wandered across and asked us about the activity, and was quite content with everything.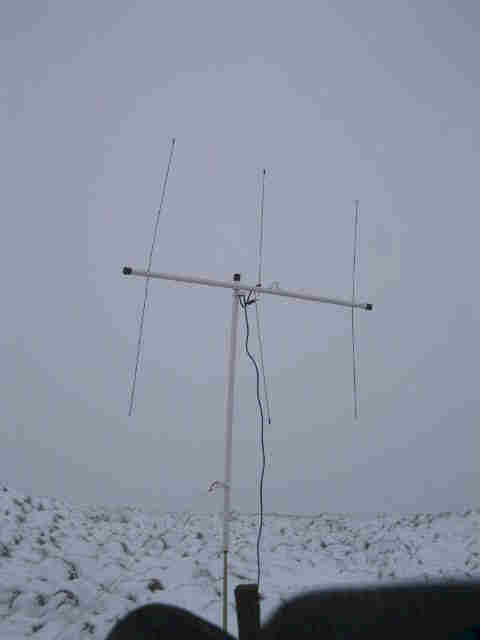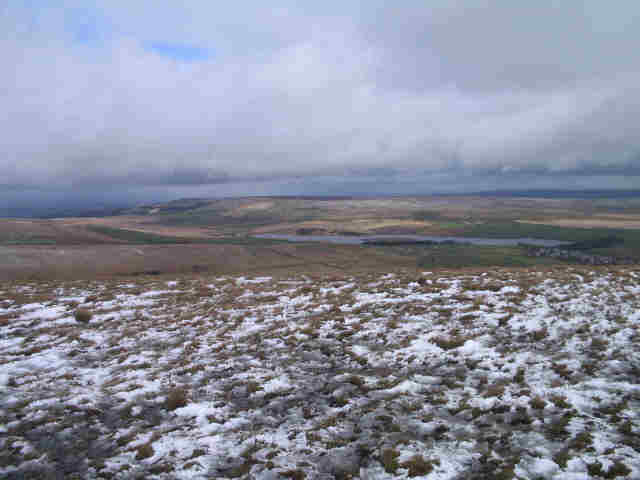 The weather closed in and we returned to the car, in which I operated in a much more comfortable environment and giving the ISWL club callsign a good workout. Of course, this was now quite separate to the activation, and the stations calling in were informed as such. However, when G4BLH called in, we got talking about the converted PMR 2m handheld I had picked up for £25 at Norbreck. I sensed an opportunity to both give it a try, and do something a little unusual. I asked Mike to standby for 10 minutes or so, and I repeated the walk to the summit with the handheld. Mike was worked for a valid chaser point, and I had the unique summit log that indicated a gap of 2 hours and 12 minutes between my 11th and 12th contacts!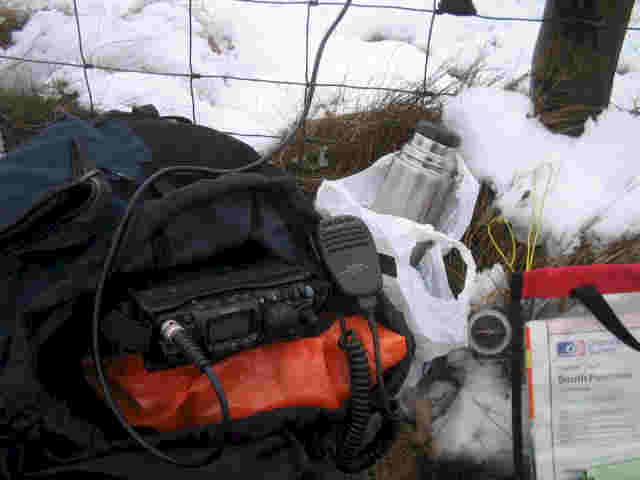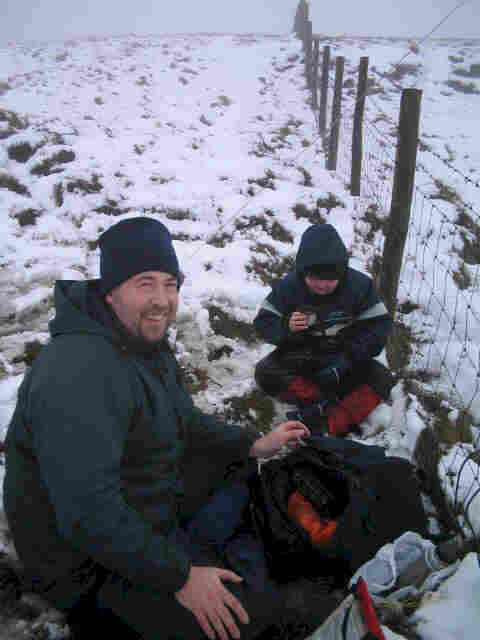 Rejoining Jimmy and Liam in the car, we drove down into Bolton town centre, and into Modern Radio to collect a TMC-BNC adapter, following which we drove back home.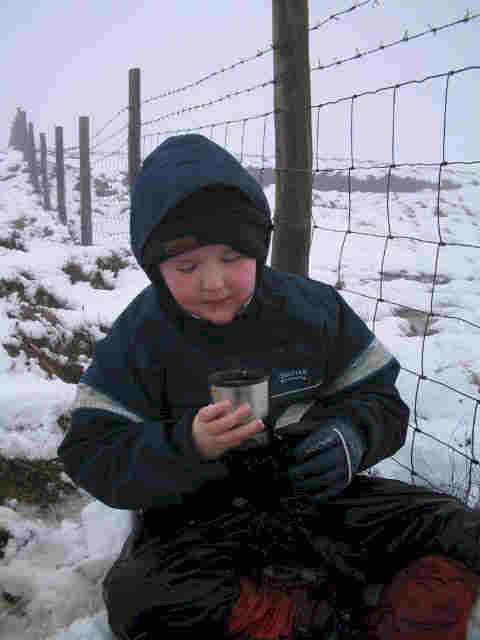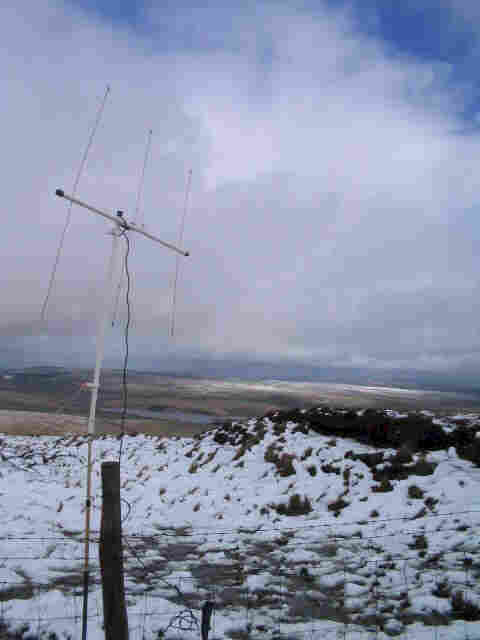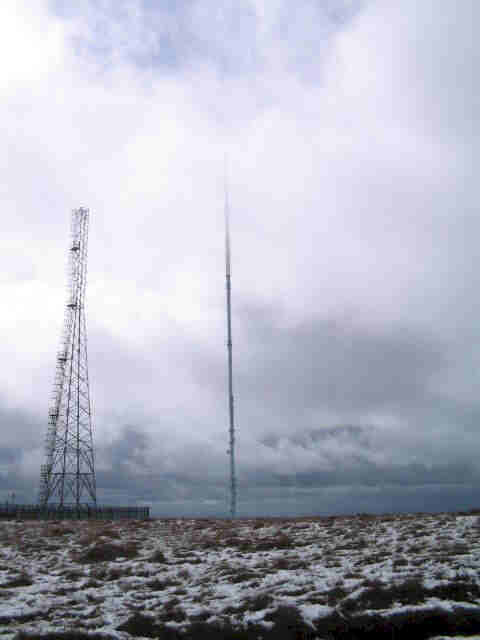 Thanks to the following stations, all worked on 2m FM, and all on 2.5 watts, except the first and third on 0.5 watts, and the last on 4 watts:
| | | |
| --- | --- | --- |
| G0HDX | Accrington | Roy |
| G4RQJ | Walney Island | Rob |
| M1BZJ | Wigan | Peter |
| 2E0GDB | Runcorn | Gary |
| G6LKB | Ulverston | Dave |
| M3HJD/M | A59, Whalley | Mick |
| 2E0CSG | Burnley | Derek |
| G4FQW | Accrington | Brian |
| G4PKD | Accrington | Jack |
| G0LEE | Ulverston | Bob |
| M3DJU/P | Great Eccleston | John |
| G4BLH | Brierfield | Mike |
A window of opportunity on the afternoon of Sunday 9th October 2005 allowed Jimmy M3EYP to grab the 2005 point for Winter Hill. Splendid isolation this was not. Earlier in the year, Winter Hill G/SP-010 featured Jimmy, Liam and myself, a friendly ranger and not another soul. Today must have been the Mass Winter Hill Day of 2005 or something, for everyone was up here. Walkers, cyclists, drivers, dogs, mountain bikers (meant as distinct from the cyclists) and at least four radio amateurs.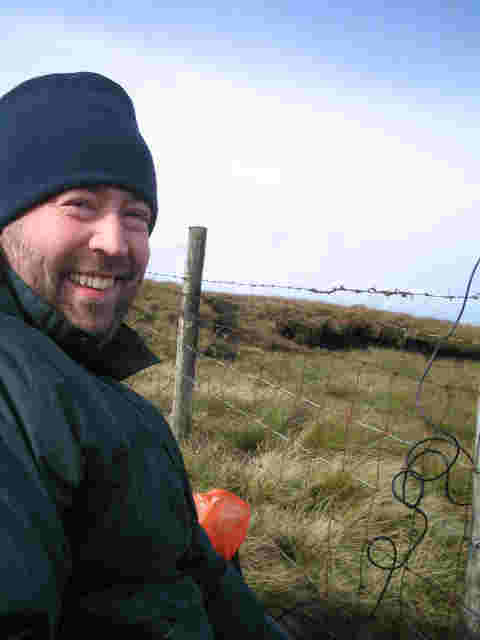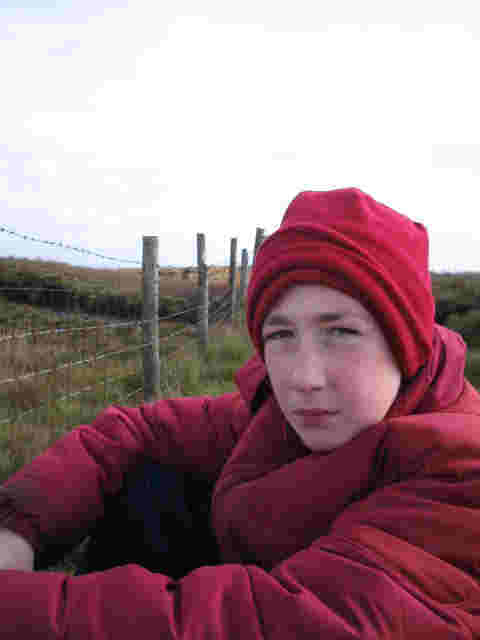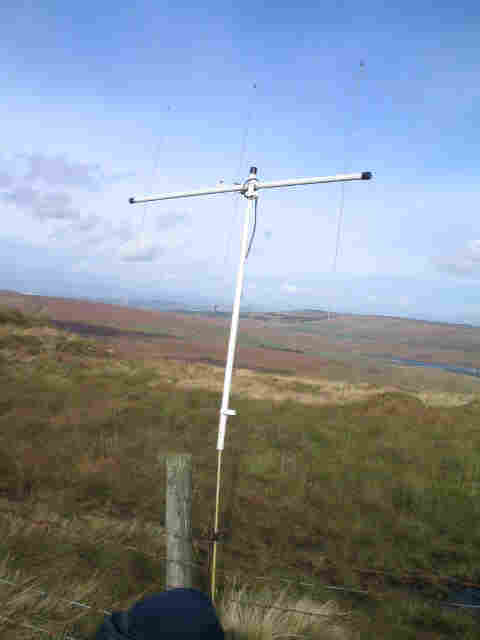 The first radio amateur we met was Tony G4DEE, not activating, but playing radio with a typical "carpackers" set-up. I drove about 300 yards beyond the main TV transmitter and parked at the corner. Liam wanted to wait in the car and monitor on one of the handhelds, so we left him with the Yaesu VX-110 tuned to 145.425MHz, which I used as my working frequency as often as I could. As it turned out, the handy was completely desensed up here, so he wasn't able to listen in anyway!
Jimmy (M3EYP) and myself (M1EYP) set up in the dip by the fence near the trig point. Jimmy kicked off and worked five stations on 2m FM, and was then up and off to find the Sotacache. This he did in short order, and we both signed the logbook. I continued to work on 2m FM and 70cm FM, even though I had already activated this hill this year. You see, this is what happens when a new licence does not arrive on exactly January 1st! I even managed to work one station who had never heard of SOTA and thought I was a scout station! When I explained what it was all about, he said "What I suggest you do is get other participants on other hills at the same time, and try to contact them using line-of-sight". Smashing idea, must do that.
Winter Hill's 4th amateur of the day was Dick M0EIQ/M, ascending as I was working him as my penultimate contact. We descended and drove home. Jimmy then hogged the computer to enter his activator, chaser and SWL logs. Thanks to the following stations, worked on 2m FM with 2.5 watts, except G4BLH, G7ADF and M0LMP on 70cm:
| | | | |
| --- | --- | --- | --- |
| G3VUS | Barrow-in-Furness | Dave | J |
| MW3ISZ | Wrexham | Richard | J |
| G1YUX/P | Kirkby | John | J |
| G6LKB | Ulverston | Dave | J |
| G0PZO/M | Billinge | Charlie | J, T |
| 2E0HJD | Clitheroe | Mick | T |
| G4BLH | Brierfield | Mike | T |
| G7ADF | Wigan | Ian | T |
| M0LMP | Clitheroe | Lee | T |
| G1JCW | Padiham | Tony | T |
| G4FQW | Clayton-le-Moors | Brian | T |
| G7BTB/M | A580/A58 | Phil | T |
| M0EIQ/M | asc. Winter Hill | Dick | T |
| M1AVV | Dalton-in-Furness | Simon | T |