Yr Eifl, GW/NW-075 - 564m ASL - SH 364 447 - OS Explorer 253 & 254 - 2 SOTA points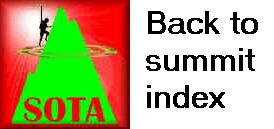 Liam was chuntering a bit that he was hoping this was a seaside holiday, but was turning out to be a SOTA holiday. Fair comment I thought, so Bank Holiday Monday morning, 25th August 2008, saw us drive down to Pwllheli where he was given a tub of 2ps and a few 50ps in the arcade, then a ride in the dodgems. Job done; it certainly wasn't beach weather!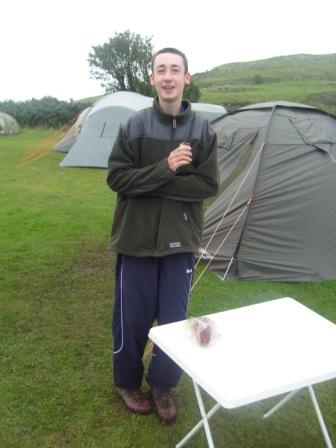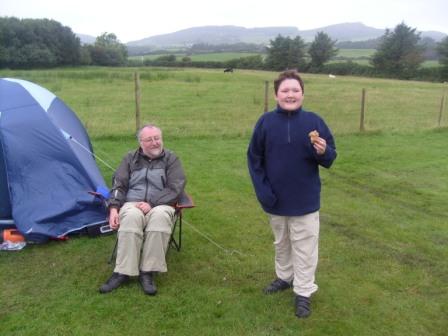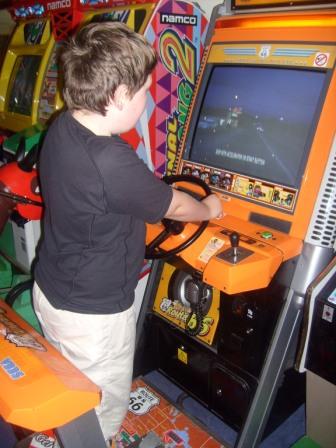 Back at the campsite, mid-afternoon, Jimmy and I began to plot a teatime activation of Yr Eifl. We had been admiring the summit over the past two days, but today its peak was well above the cloudbase. "No point in me coming if there's to be no view" said my intrepid brother-in-law Campbell. Calum wanted to try out his new wetsuit, and Liam didn't want to go "summit walking". Campbell invited Liam to go with him and Calum down to Nefyn, while Jimmy and I did the activation. Convenient, and a welcome opportunity for Jimmy and I to bag a rapid ascent and slick activation all in time for tea. Ha!

Jimmy directed me to the large car park beneath the hill, but then we didn't correctly remember which path to take - there's a maze of them at the start of this hill. We followed the wall for a while, but when it started sloping downwards, we realised we had missed the path. We cut left, and began climbing the grassy slopes in increasingly poor visibility.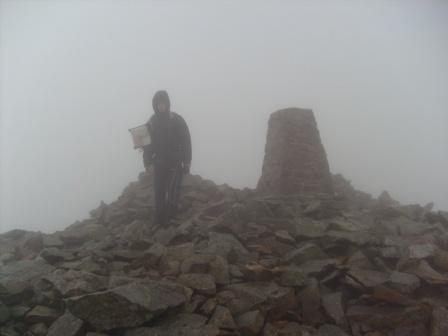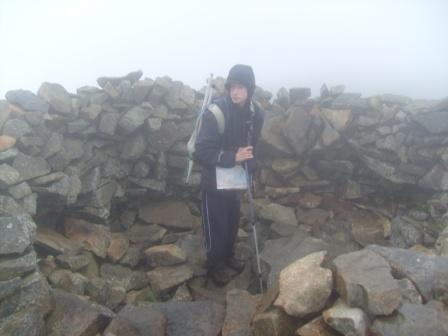 Our trousers were soon wet again. It wasn't raining, but in the clag, the long grass and abundant heather were drenched. The moisture was transferred effortlessly to our clothes. We continued to angle left and uphill, and soon met the stony path we should have been on. Now it was a straightforward march to the summit, and we bedded down in the down hollowed shelter.

We set up the SOTA Beam and FT-817 and worked four QSOs each, seven different stations between us. I was expecting more from this lofty perch, but just seven it was, and all in GW apart from Jordan M3TMX across the water in Cumbria.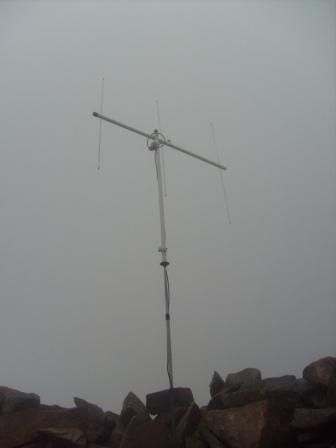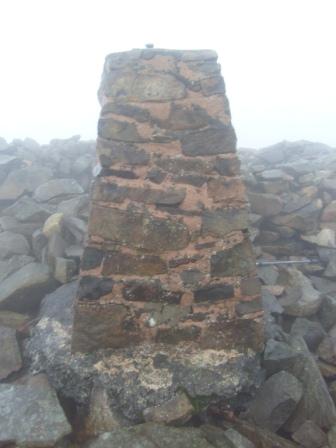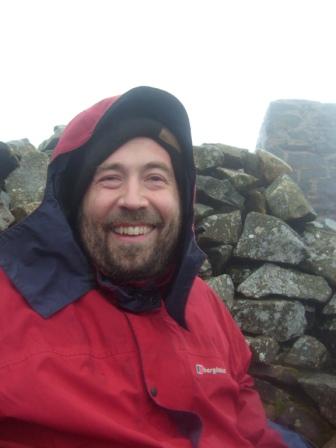 Now we set off on our descent. We followed the stony track back down off the summit and looked forward to our imminent liaison with the car. Except that the path bended around the wrong way, there were some boulder fields we didn't recall, and the lie of the land was wrong! We reached a broad shoulder and it started going uphill again!

This was bad. We had been descending for 45 minutes and were quite tired. The poor visibility meant that we couldn't pinpoint exactly where we were although I had a fair idea. The compass confirmed the direction we needed to be going, and the (uphill) path ahead was certainly not it! The map did not indicate any viable escape routes, nor did the ground, with the lofty saddle being surrounded by steep and treacherous boulder fields, as far as we could see anyway.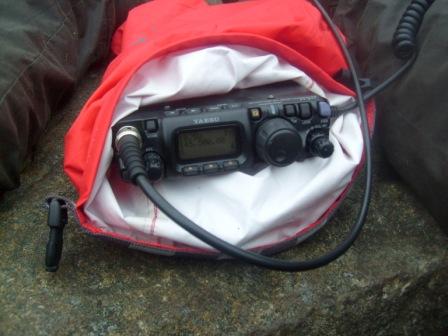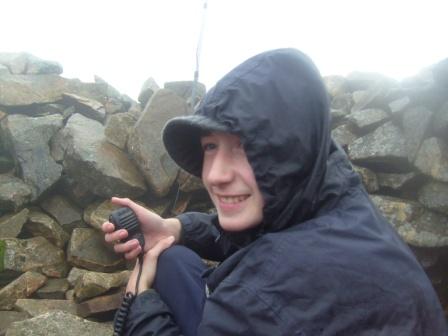 One option remained. Reluctantly, Jimmy and I agreed to turn back, and return to the summit of Yr Eifl, and start over. This was hard work, with some difficult energy-sapping terrain and some steep sections. We had to regain all our lost height, which was quite considerable. Adrenalin powered us to the summit, and the sight of the trig point was welcome in a way. A few steps to the side of the path we had taken was another. "Ah, here we are" I said. And off down that path we went. This time, it only took us five minutes or so to realise we were heading the very same wrong way again! Back to the summit again!

More map and compass work. Another few steps to the side. And here, definitely, was the main drag down. And really, it was so much more of a wide, well-trodden established path that we really shouldn't have allowed ourselves to continue as long as we did on the other route. Still, there you go, no-one's past a good-old mistake, regardless of how experienced they are. I heard of very experienced walker, quite an elderly chap, who recently descended the entire Snowdon Ranger Path believing it to be the Llanberis Path!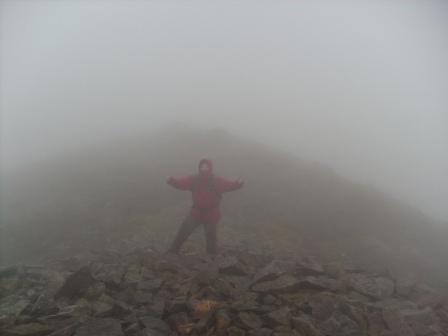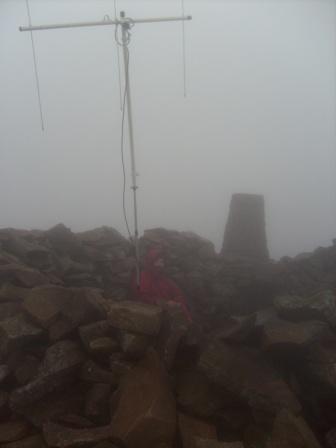 Our little scrape had cost us 90 minutes overall. But in a funny sort of way, it was quite stimulating too, realising that we were in that little scrape, but confident in our own ability and determination to get ourselves out of it. The first job upon reaching the campsite was to apologise to my brother-in-law for the unbooked overtime on his babysitting, quickly followed by firing up the stove and cracking a can.

It was a three-course meal tonight. Liam had a tin of spaghetti, while Jimmy and I had beans & sausages. The was followed by Chicken & Mushroom Pot Noodles all round, and then more of mummy's homemade cakes. By then, it was dark, Liam's bedtime, and back into my big tent front room for chat, and lager. Many thanks to the following stations, all worked on 2m FM with 5 watts:
| | | | |
| --- | --- | --- | --- |
| M3TMX | Dalton-in-Furness | Jordan | T, J |
| GW6DGU | Cardigan | Roy | J |
| GW1SXN | Caernarfon | Patrick | J |
| GW1JFV | Haverfordwest | Richard | J |
| MW0RHD/M | Chwilog | Bob | T |
| GW0CSR | Caernarfon | Derek | T |
| GW8NCU | Borth | John | T |