Allt yr Esgair, GW/SW-023 - 393m ASL - SO 126 243 - OS Explorer OL13 - 1 SOTA point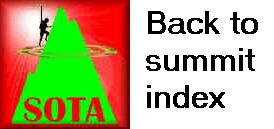 From Tor y Foel GW/SW-013, Jimmy directed me back down to follow the A40 north-west for a short distance, then right onto a minor road up to the hall at SO122256. We parked in the small car park in front of the hall, this also being a splendid viewpoint over Llangors Lake. This was our second and final summit on Wednesday 1st June 2011, and indeed our last summit of the two day outing that centered on our SOTA talk at FODARG on the Tuesday night. Allt yr Esgair GW/SW-023 was the most challenging Welsh pronunciation of all our summits, and neither of us made much of an attempt at it! What a change from our first summit of the trip - Sugar Loaf GW/SW-011! (Now what would that actually be in Welsh? Swcr Loff or something like that maybe? But no - Pen y Fal in fact!).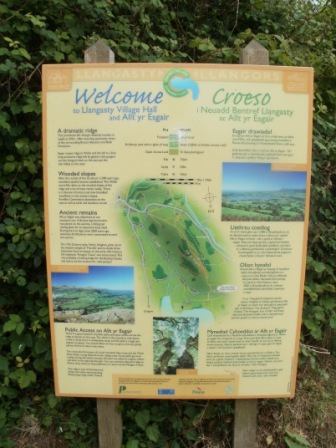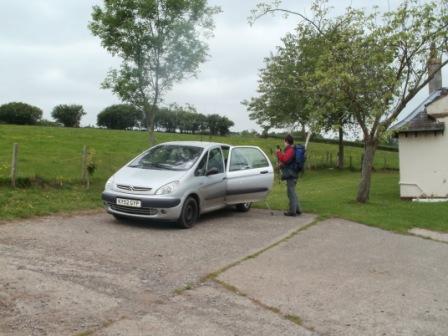 It was becoming quite a humid early afternoon, but we had to be lively on our feet. Initially, we walked up a narrow path flanked by tall hedges, before going into the woodland to follow a nicely graded meandering ascent path. This covered quite a distance and gained plenty of height before emerging from the trees and affording us a view. We finally had an airy approach along the broad ridge to the summit.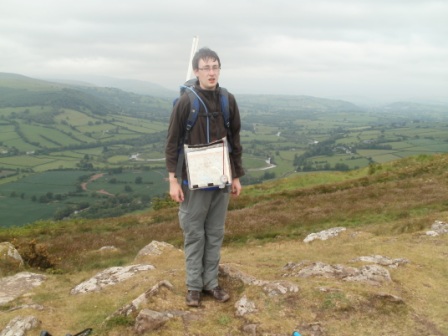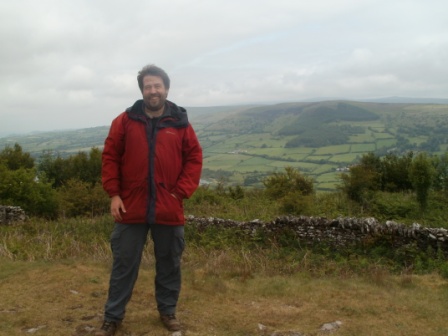 Jimmy set up by the wall, but struggled on 2m FM as he feared, from this summit almost surrounded by higher ground. The 40m band had bombed again like the previous afternoon, so it took a little time to generate some interest to my CQ calls. When it did come, it lasted all of five contacts. I started to pack up, as we had to be home in time for Marianne to go out to work. But Jimmy was stranded on three QSOs. I took the map off him, so I could inspect the topography on my descent. Jimmy continued to call CQ, hoping for a 4th contact before resorting to working me on my descent. He had to limit these calls, timing one minute before calling again as his battery was running out.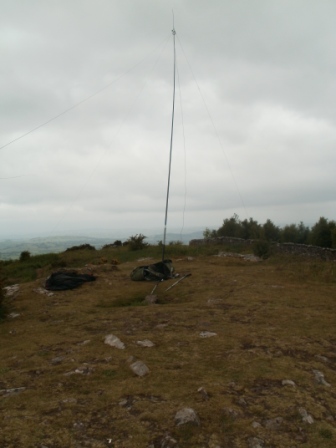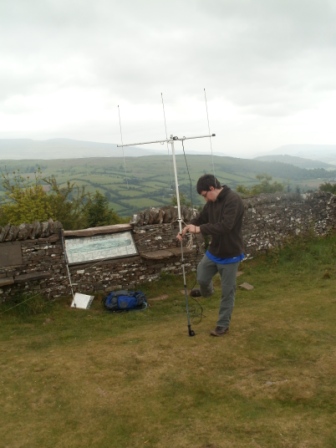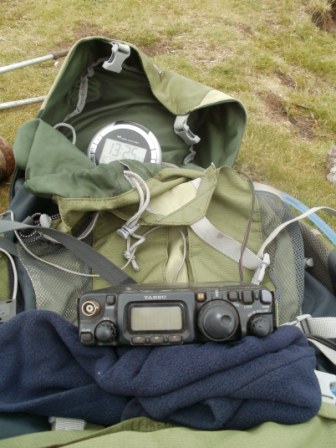 I had been monitoring, so when I heard him call CQ again when I was very safely below the activation zone, I worked him as MW1EYP/M to provide that all-important fourth contact. Not the most satisfactory way of doing things, but considerably more satisfactory than abandoning the summit on three QSOs!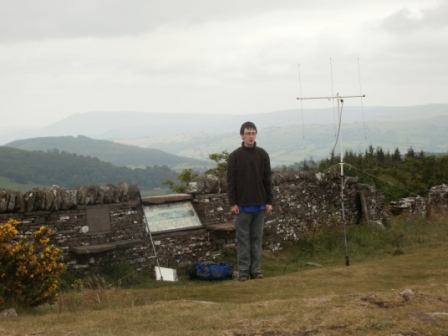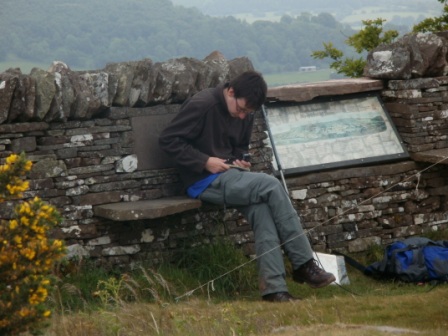 We were a little bit behind schedule, but the motorways were mainly clear, and we were home by 5.45pm. And it turned out that Marianne was leaving for work at 6.10pm, not the 5pm we had understood it to be, so everything worked out. This was a very satisfying two-day outing. Six SOTA activations, five new uniques, eight SOTA points, a full SOTA evening at FODARG and a bed & (magnificent) breakfast stopover.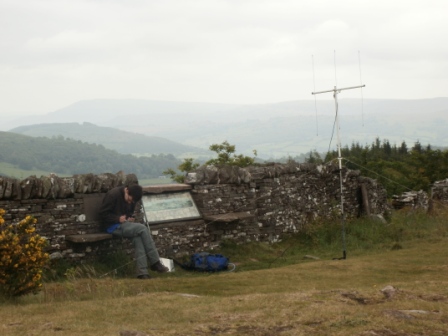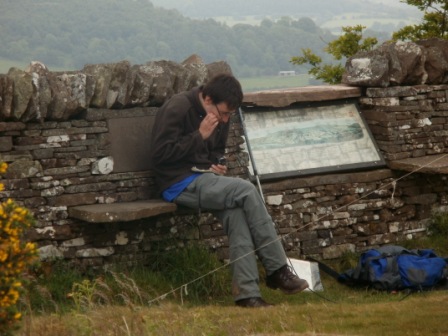 Now, what other clubs would like us to visit with the SOTA (or other) talk that are sufficiently distant to require an overnight stop?! With many thanks to Chris G0SDD for arranging it all and ensuring a large turnout for the talk. And of course, thanks to all the stations that called us on this final activation of the trip:
| | | | |
| --- | --- | --- | --- |
| F5PLC | 40m | CW | T |
| ON4CAP | 40m | CW | T |
| M6HBS/P | 2m | FM | J |
| GW0WRJ/M | 2m | FM | J |
| MW0YDH/P on Foel Cwmcerwyn MW-011 | 2m | FM | J |
| PA0WDG | 40m | CW | T |
| DF5WA | 40m | CW | T |
| PA0ALW | 40m | CW | T |
| MW1EYP/M | 2m | FM | J |