Bryn Arw, GW/SW-026 - 384m ASL - SO 301 206 - OS Explorer OL13 - 1 SOTA point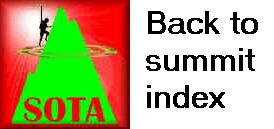 The second summit on Tuesday 31st May 2011 was Bryn Arw GW/SW-026. From the parking area for Sugar Loaf GW/SW-011, Jimmy directed me back down through Abergavenny, the village of Bettws and up to Forest Coal Pit. Here we turned right up the cul-de-sac to Old Coalpit, and the farmhouse beside which the road stops and the bridleway begins. I found a space to park and tucked my car in there.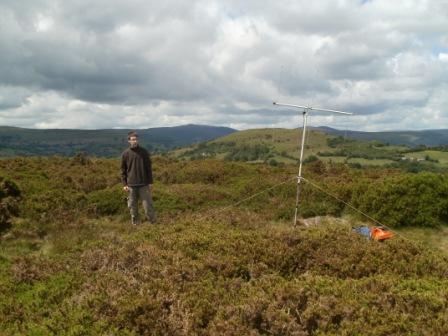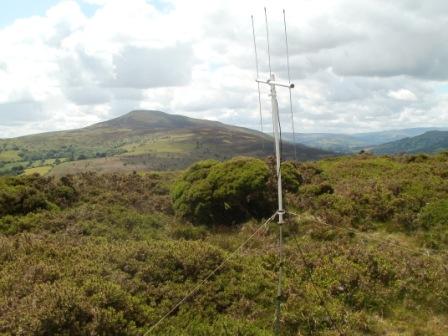 It was now a warm day, and the coats used on the earlier summit were now firmly stuffed into our rucksacks. Jimmy marched ahead up the by-way, but waited to indicate to me where to turn right and head up hill. This was still on a path, but nowhere near as used and established as the by-way just left. This was a short steep climb up a grassy hill. As it began to level off, it was time to branch left and follow a largely flat approach to the summit. Jimmy was already there setting up, and I found myself a bit of shelter behind tall gorse.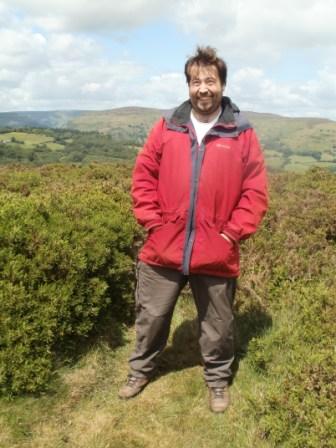 It was just four QSOs on 2m FM for Jimmy this time, and I soon realised that 40m was in pretty bad shape with very low activity across the band and signal strengths well down. But 7.032 works even when the ionosphere doesn't it seems, and I was able to force seven contacts through, all with regular chasers.

I wasn't overly concerned at the brevity of the activation, for that gave the chance to squeeze another unique out of the day, before heading across to Ruardean. After descending and returning to the car, we agreed to bring Ysgyryd Fawr GW/SW-016 forward one day from the original itinerary. The JimNav sprung into action once again. Thanks to all the stations that called:
| | | | |
| --- | --- | --- | --- |
| 2E0WYE/M | 2m | FM | J |
| DL1FU | 40m | CW | T |
| PA0WDG | 40m | CW | T |
| DL2EF | 40m | CW | T |
| M0JLA | 2m | FM | J |
| F6CXJ | 40m | CW | T |
| G3RMD | 2m | FM | J |
| G0SDD | 2m | FM | J |
| G3WPF | 40m | CW | T |
| G3RMD | 40m | CW | T |
| G3RDQ | 40m | CW | T |