Sugar Loaf, GW/SW-011 - 596m ASL - SO 272 188 - OS Explorer OL13 - 2 SOTA points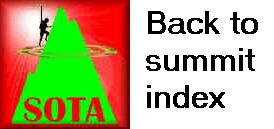 Tuesday 31st May 2011 was the day that Chris G0SDD had booked Jimmy and I to present a SOTA talk at the Forest of Dean Amateur Radio Group (herein after referred to as FODARG) in Ruardean. Part of the deal was B&B for Jimmy and myself, so we made it into a two day SOTA expedition. We set off around 6am having been up since 5am, and headed for the M6. The car was telling me it needed more diesel as we approached the Midlands, so we pulled into Hilton Park services to fill her up, and fill us up too with full English breakfasts.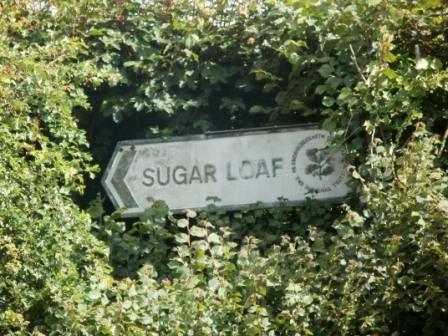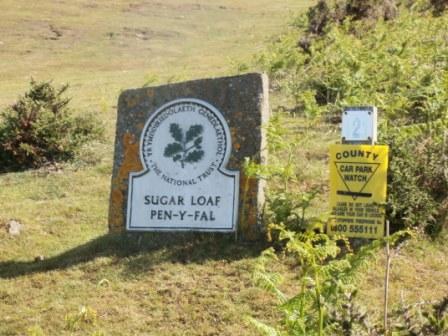 There were no hold ups at all, and it didn't seem to take long to progress down the M6, M5 and M50. Nor on the A40 through Monmouth to Abergavenny, shortly after which Jimmy directed me onto a minor road and up to the parking spot and viewpoint at SO268167. The first SOTA of the trip would be Sugar Loaf GW/SW-011.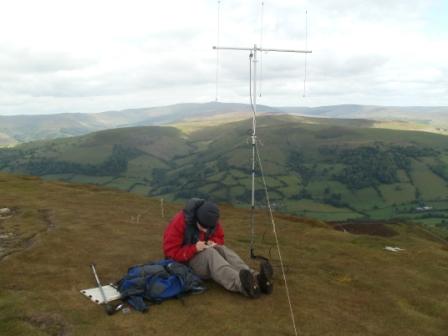 After kitting up, we were walking up the path opposite, and enjoying the gentle start to the day afforded by the benign gradients involved. The walk finally did offer some challenge with work to be done on the steeper shoulder of the hill, but it remained straightforward. The summit area was rather thin, so setting up out of others' way was not obvious - so we didn't! As it was, we were, as usual, chatted to by lots of interested and friendly walkers. One of them introduced himself to me as G8YJM, and his son who was studying for the Foundation licence.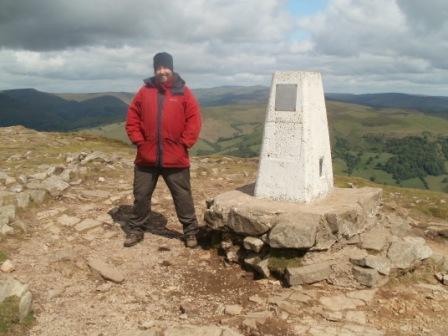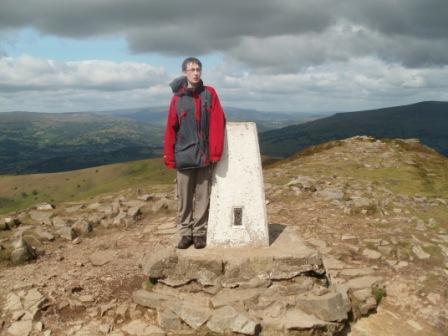 Jimmy had what was to be his best activation of the trip with 16 QSOs on 2m FM. It would all be downhill from here for Jim! On 40m CW I managed 23 QSOs, which would also turn out to be a relatively bumper total, as HF conditions would take a turn for the worse later on. We were pleased with the hill. It was a really nice walk, and the views from the summit were superb.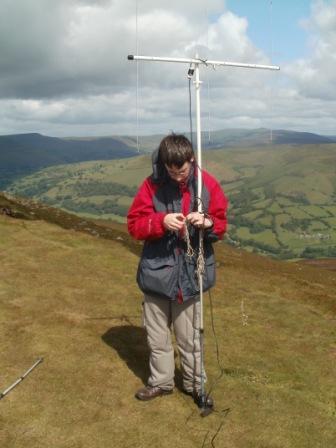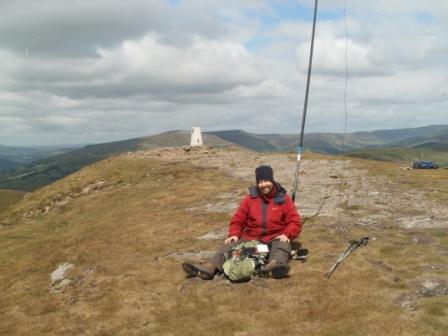 The return journey was a simple reversal of the ascent route, and it did not take too long. Back at the car park, we were a little relieved to find that no attack had been made on the car, and no horrid thugs appeared to be lurking. Research had made us wary of the problems with car crime in walkers' car parks in South Wales. Of course, we were carrying our overnight bags, plus SOTA merchandise and my laptop. We kept it all well hidden from prying eyes! That was the first new activator unique of the trip, and it was now off to Bryn Arw GW/SW-026. Thanks to all callers:
| | | | |
| --- | --- | --- | --- |
| 2E0WYE | 2m | FM | J |
| GW0IRT | 2m | FM | J |
| G3RMD | 2m | FM | J |
| G3XQE | 2m | FM | J |
| F6ACD | 40m | CW | T |
| G4TVK | 2m | FM | J |
| G3RMD | 40m | CW | T |
| G4OOE | 40m | CW | T |
| DL1FU | 40m | CW | T |
| G0TDM | 40m | CW | T |
| 2E0ZST | 2m | FM | J |
| F6CEL | 40m | CW | T |
| G3LVP | 2m | FM | J |
| ON5EX | 40m | CW | T |
| F6BWO | 40m | CW | T |
| M0JLA | 2m | FM | J |
| G0NUP | 40m | CW | T |
| G4ILI | 2m | FM | J |
| DL2EF | 40m | CW | T |
| G8YDC/M | 2m | FM | J |
| DJ5AA | 40m | CW | T |
| G0LGS | 2m | FM | J |
| PA0WDG | 40m | CW | T |
| G0NXA | 2m | FM | J |
| G4OBK | 40m | CW | T |
| G3RDQ | 40m | CW | T |
| 2E0IXC | 2m | FM | J |
| M0DCM | 2m | FM | J |
| DF5WA | 40m | CW | T |
| G4DDL | 40m | CW | T |
| DL2HWI | 40m | CW | T |
| DL3HXX | 40m | CW | T |
| G4CMQ | 40m | CW | T |
| G0ANV | 40m | CW | T |
| DL1NVE/M | 40m | CW | T |
| G1RLF | 2m | FM | J |
| CT1BQH | 40m | CW | T |
| OE8SPW | 40m | CW | T |
| G3YIP | 2m | FM | J |