Frenni Fawr, GW/MW-028 - 395m ASL - SN 203 348 - OS Explorer 185 - 1 SOTA point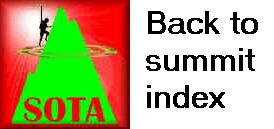 Jimmy had arranged a meet-up with Steve MW0BBU, so it was another early 5am get-up on Thursday 23rd August 2012. We drove out through Maenclochog and picked up the A484 to Crymych. On a minor road, we parked at the roadside at SN209345, where Steve was also waiting for us. We exchanged pleasantries, for it was the first time we had met, then kitted up for the walk.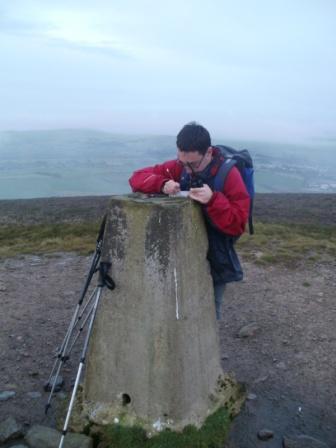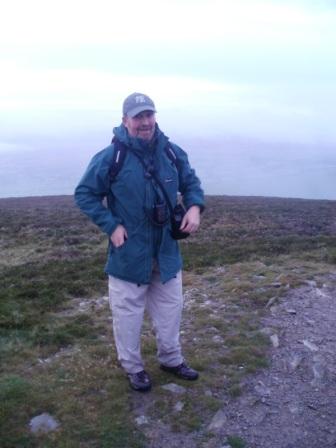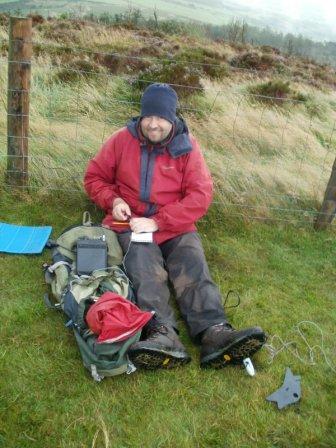 The ascent commenced through a gate opposite the lay-by. We progressed diagonally uphill to a treeline, which we then followed more directly and steeply uphill. Jimmy was out in front as usual, but I had Steve MW0BBU to walk and chat with. As such the ascent absolutely flew by, and it was something of a pleasant surprise when the trig point suddenly loomed out of the mist right in front of me.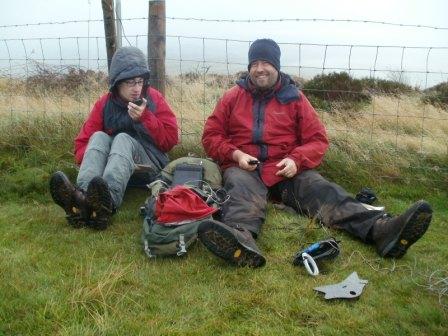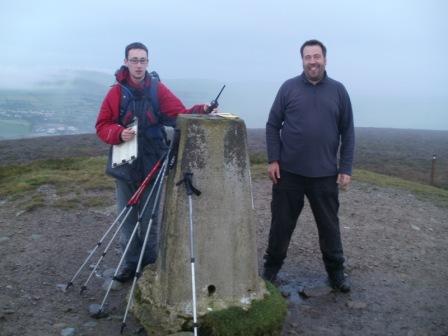 Jimmy's customary 2m FM handheld endeavour came to nought as expected, so he was straight onto 40m SSB as soon as the FT-817 and 40m dipole was set up. Three QSOs were made, but conditions were still poor, even at this early hour. We accepted that even early morning, 20m would have been the better bet. The 20m antenna was in the pack ready for use if required - after a quick repair that was, as I found one of the radials had come separated from the rest of the aerial!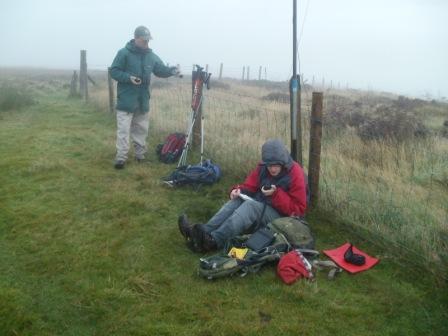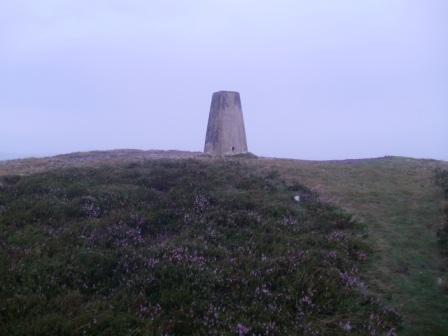 I took over and made nine QSOs on 40m CW, so clearly conditions were well down on usual. However, a few more chasers might have been up out of bed by then, and sure enough, when Jimmy called again on 40m SSB, there was Mike DJ5AV to give him his qualifying contact.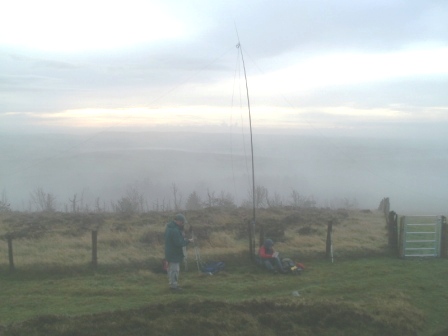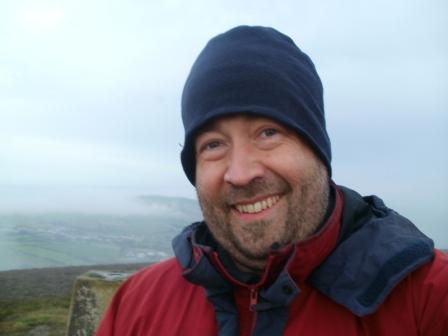 After the summit photo-shoot, we descended with Steve and thanked him for coming up from Milford Haven to join us. We were back at the cottage in Llys-y-fran just after 9am. The final activation of the holiday would be the next morning from Brandy Hill GW/MW-037.
| | | | |
| --- | --- | --- | --- |
| OE6WIG | 40m | SSB | J |
| F6CXJ | 40m | SSB | J |
| IK3DRO | 40m | SSB | J |
| OK1TGI | 40m | CW | T |
| IK3DRO | 40m | CW | T |
| HB9CGI | 40m | CW | T |
| OM7DX | 40m | CW | T |
| OK1DVM | 40m | CW | T |
| F8MRU | 40m | CW | T |
| F5PLC | 40m | CW | T |
| ON5SE | 40m | CW | T |
| HA5TI | 40m | CW | T |
| DJ5AV | 40m | SSB | J |