Brandy Hill, GW/MW-037 - 205m ASL - SN 213 133 - OS Explorer 177 - 1 SOTA point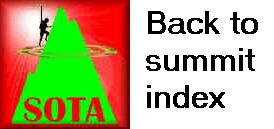 South Wales SOTA Trip - Day 6 (part 4) - Friday 27th May 2015
From Mynydd Sylen GW/SW-036, a drive of about 20 miles west was required to get to Brandy Hill. However, this was mostly along a fast dual carriageway, and Brandy Hill is another almost "drive-on" summit.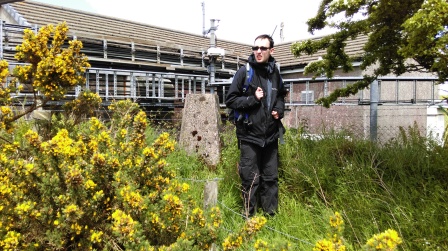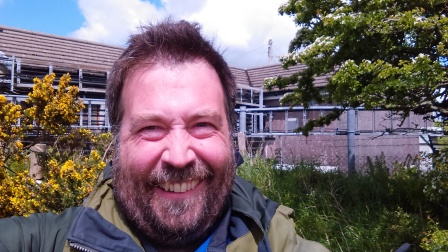 We walked all the way across the field to the trig point before setting up. Jimmy got his qualification on 2m FM with relative ease. Meanwhile, I had secured a 6m SSB contact for the Challenge multiplier, and a good number of 40m SSB QSOs. A single 40m CW QSO rounded things off for me.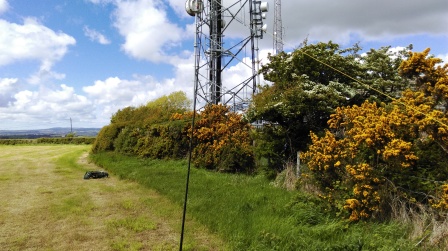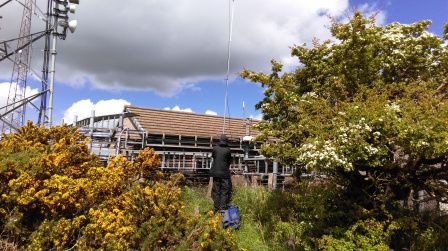 That was four activations done, and we aspired to yet do three more before driving home. Now we would switch to the east of the principality, using the dual carriageway and M4 motorway to take us into the vicinity of Wentwood GW/SW-033.
| | | | | |
| --- | --- | --- | --- | --- |
| Time | Call | Band | Mode | Op |
| 13:22z | GW6DGU | 144MHz | FM | J |
| 13:27z | MW3DLA | 144MHz | FM | J |
| 13:28z | G0RQL | 144MHz | FM | J |
| 13:34z | GW1JFV | 50MHz | SSB | T |
| 13:37z | MW6NPW | 144MHz | FM | J |
| 13:37z | G0FEX | 7MHz | SSB | T |
| 13:39z | GW1JFV | 144MHz | FM | J |
| 13:39z | G7BGA | 7MHz | SSB | T |
| 13:39z | M6KVJ | 7MHz | SSB | T |
| 13:39z | G0BFJ | 7MHz | SSB | T |
| 13:40z | SM6CNX | 7MHz | SSB | T |
| 13:41z | G4CQR | 7MHz | SSB | T |
| 13:42z | G0RQL | 7MHz | SSB | T |
| 13:42z | G4ZRP | 7MHz | SSB | T |
| 13:43z | G4SQA | 7MHz | SSB | T |
| 13:43z | M6RUG | 7MHz | SSB | T |
| 13:47z | G4IUP | 7MHz | CW | T |