Before leaving the Kerridge Hill ridge, I took the opportunity to grab a couple of snaps afforded by our lofty position. We were now very close to our home town of Macclesfield, and the two tower blocks on the Hurdsfield estate were easily recognisable. Looking ahead to tomorrow's walk, we could see Croker Hill (Sutton Common), with the distinctive Bosley telecommunications tower on its summit. I used to think that this was a tree growing out of a chimney when I was a small child, and recently I have heard other local people actually refer to it as "Electric Tree".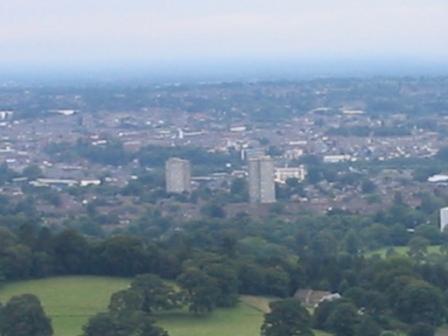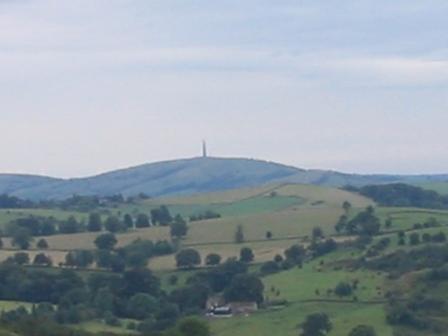 Coming steeply off the side of Kerridge Hill, we had an almost birds eye view of Rainow village, and could pick out our objective, the Robin Hood Inn at its northern end. This was probably the steepest descent of the whole day, and I was glad it had been a relatively short day mileage wise and was therefore not piling too much punishment on the knees. The end of the Gritstone Trail for the day was reached at the B5470 Macclesfield to Whaley Bridge road, and now it was time to plod downhill, and then climb back up again to our booked accommodation.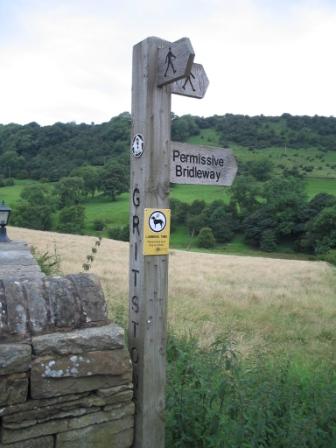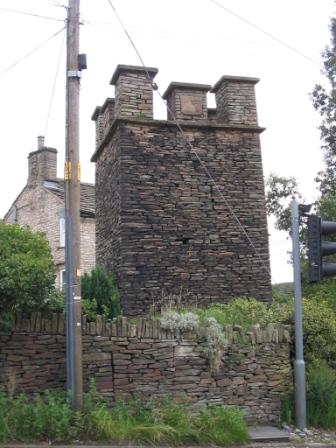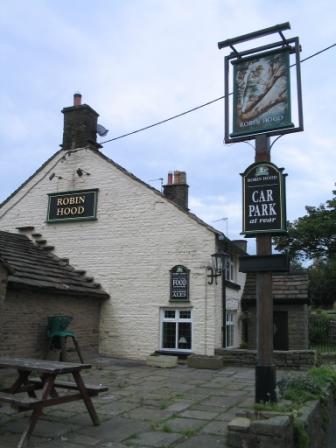 Another folly, this time the stone tower on Tower Hill in Rainow, was passed, and then we were walking up to the Robin Hood Inn. Despite my research of a few days previous churning up "Open all day every day" on the pub's website, it was shut! A noticed by the door referred to the "new opening times". We tried knocking on the door, but there was clearly no-one about, so we were resigned to waiting the hour from 4pm to 5pm. Thankfully, it was a mild afternoon, so we sat up on the picnic table by the pub's car park, sipping on water and studying the maps for today and tomorrow.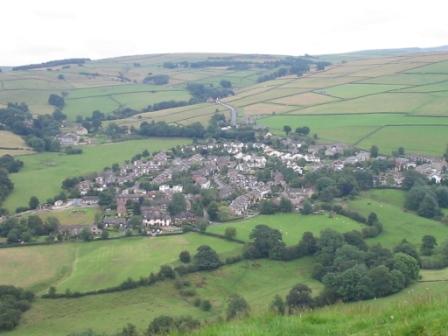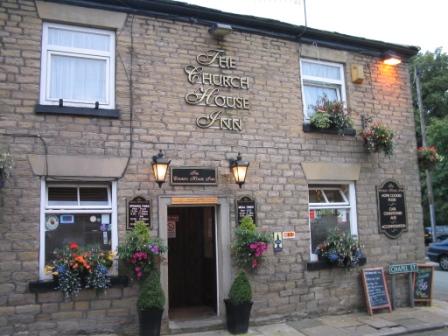 At around 4.45pm, a car pulled in, and a woman who we didn't recognise got out. "Are you Mr Read?" she asked. I responded in the affirmative, and then came the dreaded words "I'm afraid I've got some bad news for you". The pub, in the last few days, and been taken over by new people, and they were not offering bed & breakfast, nor evening meals until completing a programme of refurbishment. Nonetheless, Rachel had sounded out a couple of alternative nearby accommodations, and when we explained the nature of our trail walk, she even arranged a lift there for us and offered to pick us up in the morning. After a pint of Black Sheep in the bar at the Robin Hood, Rachel's boss came to pick us up and run us down to the Church House in Bollington. Here, Jimmy and I had a single en suite room each, but for the same price as the twin room at the Robin Hood, thanks to Rachel's negotiations.
After a few frantic 'phone calls rearranging everything, we were joined for a meal by my wife Marianne, other son Liam, and friend Richard G3CWI who had taken the opportunity to cycle down the Middlewood Way. A starter of black pudding, followed by Heathcote's speacial sausage was a welcome and hearty meal, washed down by pints of the various real ales on the bar. I went to bed before 10pm and slept soundly right through.