Tor y Foel, GW/SW-013 - 551m ASL - SO 115 195 - OS Explorer OL13 - 2 SOTA points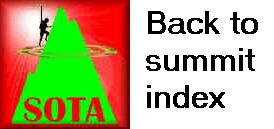 Wednesday 1st June 2011, and what a treat was in store! The breakfast at the Edale House B&B in Parkend, Forest of Dean. It was stunning, with special recipe sausage and black pudding, and thick hand-sliced bacon from the local butcher - an 82 year old woman, I was informed. Delicious free-range eggs, home made hash browns, and all the other trimmings. I recommend that everyone books to stay at Edale House for one night just to try the breakfast!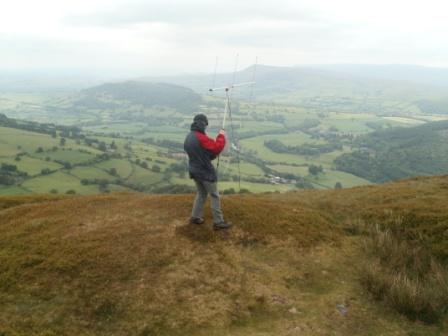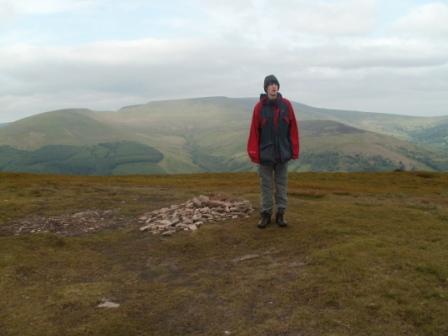 But at 9am, it was time to go. The landlord confirmed that the bill had already been settled by FODARG, so it was back west through Monmouth and Abergavenny. But this time, we took the A465, A4077 and the B4558, for our target was Tor y Foel GW/SW-013. Jimmy directed me onto a minor road, a long cul-de-sac climbing high up on the eastern side of Talybont Reservoir. We got to where the road ends according to the map, but on the ground it appeared to carry on quite some considerable distance. We parked here anyway and began our plod up the wide curving path to the summit.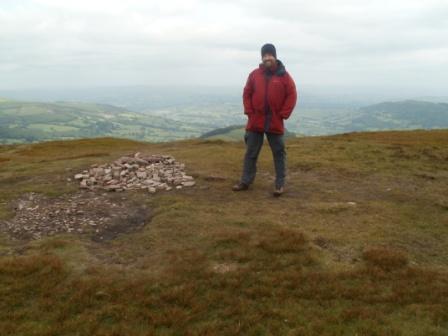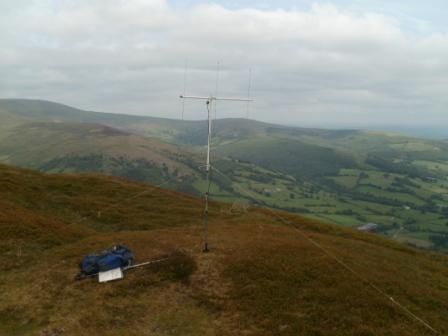 This was a bit steep, and we were still tired from the previous day. So progress was slow, but balanced by the fact that this is a short walk. There was a really stiff breeze across the top, so we both found spots on the north-facing heathery slopes to set up. 40m CW was in reasonable, if not tip-top condition, and 15 QSOs went into the logbook. Over on 2m FM, Jimmy was heard enthusing to Chris G0SDD about the breakfast at the B&B he had booked us into! Jimmy finished with the necessary four contacts, as VHF FM continued to fail to reap the kind of rewards we are used to "up north".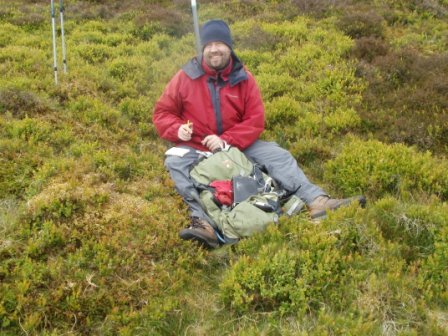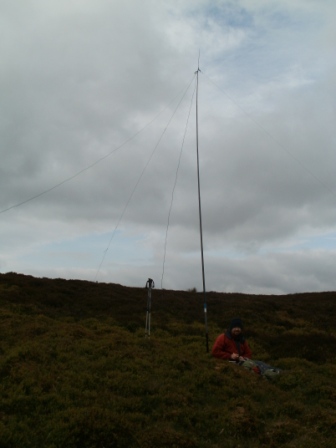 Now, we were chasing deadlines again. Marianne had set a time of 5pm to be home, as she was going out to work. I decided we could get one more summit in, and Jimmy selected Allt yr Esgair GW/SW-023. Thanks to all stations who called in:
| | | | |
| --- | --- | --- | --- |
| M0JLA | 2m | FM | J |
| G0SDD | 2m | FM | J |
| DL1FU | 40m | CW | T |
| 2E0WYE | 2m | FM | J |
| G4OOE | 40m | CW | T |
| G4ILI | 2m | FM | J |
| DF5WA | 40m | CW | T |
| G4SSH | 40m | CW | T |
| F6ACD | 40m | CW | T |
| HB9BIN | 40m | CW | T |
| S51ZG | 40m | CW | T |
| ON4CAP | 40m | CW | T |
| HB9BHW | 40m | CW | T |
| DF3ZE | 40m | CW | T |
| PA0WDG | 40m | CW | T |
| GI4SRQ | 40m | CW | T |
| PA3CWG | 40m | CW | T |
| ON43ND | 40m | CW | T |
| G4CMQ | 40m | CW | T |