Pen y Fan, GW/SW-001 - 886m ASL - SO 012 216 - OS Explorer OL12 - 8 SOTA points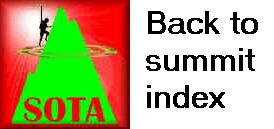 At last! Good weather. We awoke on the morning of Saturday 29th August 2009 to clear blue skies and warm sunshine. The main agenda item today was to be the highest mountain in the Brecon Beacons, Pen y Fan GW/SW-001, 886m ASL, and what a day to do it. The second half of the plan had been changed though. I realised that following it with Fan Fawr GW/SW-005 was too ambitious with Liam in the party, and so replaced this with The Begwns GW/MW-025.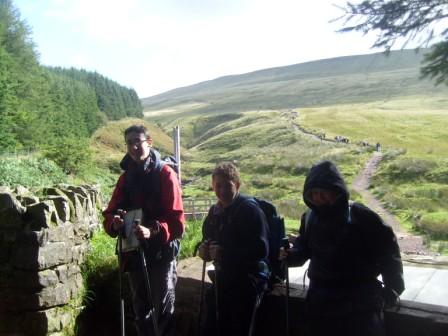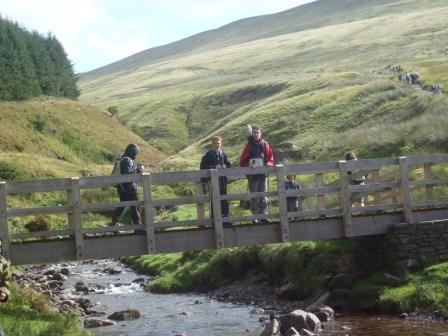 I sorted out the rucksacks and bladders for all four, while the other three had a bit of a lie-in. When we were up and about though, we drove off, calling at the site shop for lunch and energy/bribe items.

The shop was stocked with fresh pasties - cheese & onion, chicken tikka, Cornish or chicken & mushroom - every morning, which was useful. They also sold Welsh cakes and syrup waffles, which proved to be good mid-ascent energy boosters. The helpful staff even went through to the site bar to get me a couple of bags of pork scratchings. Liam will do anything for a pork scratching - even "walk up to that stone there"! The salt content is perhaps not what you would want as a mountain food, this tactic was more about 'hearts and minds' than good practice!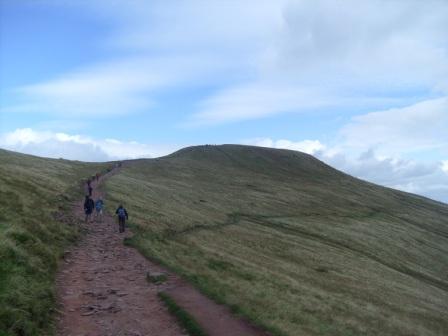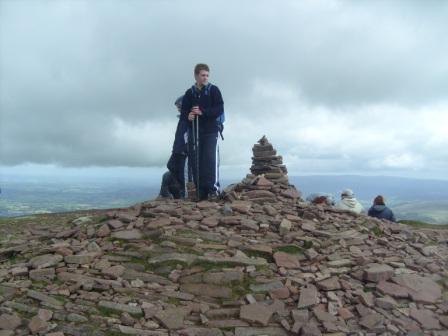 Jimmy directed me west towards Brecon, and then south down the A470. We past the Storey Arms Centre - the other main start point for Pen y Fan - and continued down to the large free car park, with refreshments and toilets, at SN987198. It was extremely busy. For the expedition newcomer Craig, it was to be a total contrast to Black Mountain GW/SW-041 and Waun Fach GW/SW-002 where we hadn't seen another soul all day on either.

Liam grumbled that he wasn't looking forward to fording the river just behind the car park, over the stepping stones. However, when we reached it, we were both surprised and pleased to note the addition of a sturdy wooden footbridge. We were soon onto the ant-trail that cuts diagonally up the hillside from the river to the gap between Corn Du and the Craig Gwaun Taf ridge.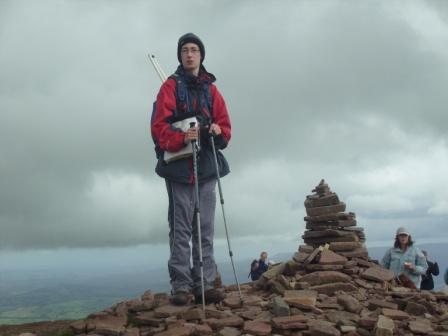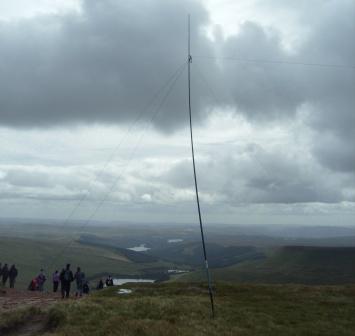 Jimmy and Craig and, as usual, gone off ahead. Liam was in good spirits, and a Dad that had pork scratchings in his pocket had been elevated in status from persona non grata to superhero! Other walkers looked on with concern at this episode and asked me if I wanted an energy bar to give Liam. I replied that I had plenty of energy bars with me and explained the bribery and motivation technique!

Many of the other walkers were choosing to summit Corn Du on their way over to Pen y Fan, but I didn't bother. Instead, we enjoyed the rest afforded by the wide flat path by the side of it, and the stunning views now opened up before us. We were soon on the summit, and reunited with Jimmy and Craig, who had set the SOTA Beam up for use with Jimmy's handheld. Jimmy MW3EYP/P made six contacts on 2m FM.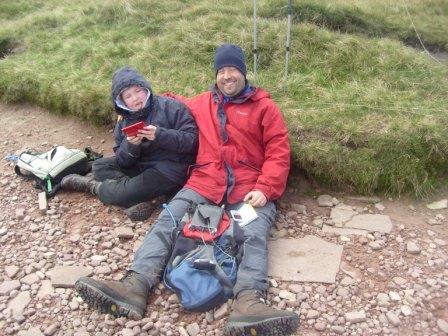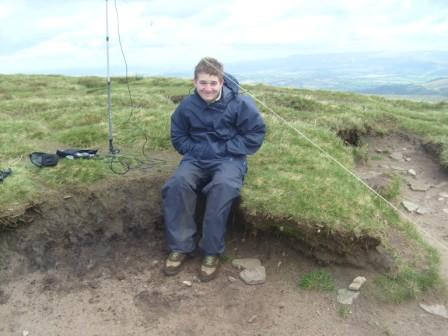 On 40m CW, I had a good activation, working 18 contacts including a S2S with DK5WL/P on Bosenberg DM/RP-499. I did have to break off a couple of times to answer questions from interested walkers about amateUr radio and SOTA.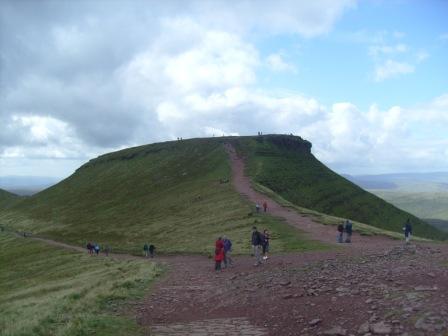 The descent was straightforward, and still a busy ant-trail. We all agreed that it had been the best mountain outing of the trip and that the views were fantastic. The JimNav was told to take me to The Begwns GW/MW-025, a fair drive away, but an appropriate summit to round things off on the third day of our tour. Thanks to all the following stations worked by us on this activation:
| | | | |
| --- | --- | --- | --- |
| 2W0MCB | 2m | FM | J |
| MW1EYP/M | 2m | FM | J |
| MW0EQL | 2m | FM | J |
| F6ACD | 40m | CW | T |
| HB9CGA | 40m | CW | T |
| 9A7W | 40m | CW | T |
| F4CTJ | 40m | CW | T |
| HB9AGH | 40m | CW | T |
| 9A4MF | 40m | CW | T |
| M3WDS | 2m | FM | J |
| F5SQA | 40m | CW | T |
| GM0AXY | 40m | CW | T |
| G0LGS | 2m | FM | J |
| ON4ON | 40m | CW | T |
| ON4AAC | 40m | CW | T |
| ON4BB | 40m | CW | T |
| DF5WA | 40m | CW | T |
| DL7VKD | 40m | CW | T |
| DL4CW | 40m | CW | T |
| ON3ND | 40m | CW | T |
| 2W0VET/M | 2m | FM | J |
| DK5WL/P on Bosenberg RP-499 | 40m | CW | T |
| DL4FDM | 40m | CW | T |
| ON5KL | 40m | CW | T |