Tuesday 8th August 2006 - Alston to Greenhead - 18 miles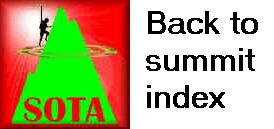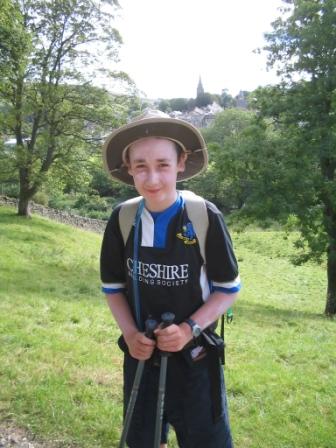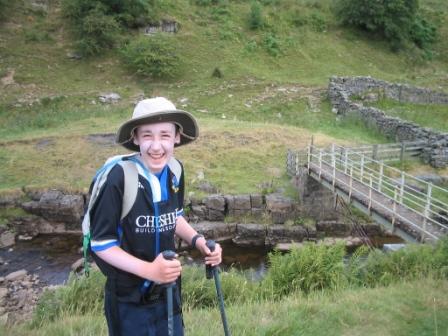 Alston to Greenhead need only be a 16 mile walk, but Jimmy and I both agreed that we did not want to miss out any of the Pennine Way, but that we didn't want to be walking a kilometre west along a main road from Greenhead tomorrow morning to rejoin the path. We agreed a route that would take us beyond the A69 and around to the north of Greenhead, leaving a more pleasant connecting walk along a public footpath, and in generally the right direction for tomorrow.
After another 'healthy option' breakfast at the hostel, we collected our packed lunches and set off. There was no need to make any kind of connecting walk to the Pennine Way this morning; it ran right past the youth hostel front door. Soon we were turning left and crossing the large arched road bridge over the River South Tyne. Then it was another section of riverside meadow walking very similar to yesterday.
Two walkers came from behind us and soon caught up; like everyone else we met, they preferred a faster pace to their walking. This was Derek and Emma from London, although Derek was originally from Scotland, as identifiable by his unmistakable accent. I immediately had to ask if they were walking the Pennine Way, and indeed they were. They had set off a few days later than us and were aiming to complete in 14 days, hence their punishing pace.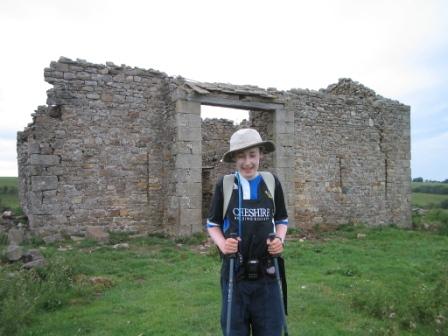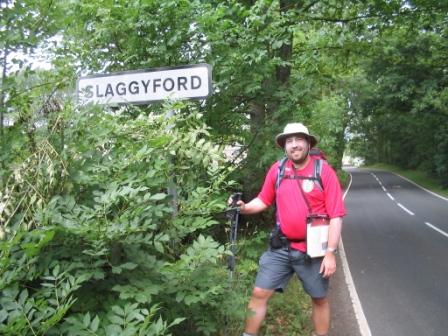 Our route today mainly weaved around the Northumberland farms, and was fairly featureless. The Pennine Way couldn't seem to decide which side of the A689 it wanted to be on, and we were with that road many times, both before and after the village of Slaggyford. The Pennine Way North National Trail Guide had billed today's section as a disappointment. In terms of features, views and points of interest, that was probably true, but the going was easy and we were feeling fitter and stronger than ever. Plus we were now full of confidence that we were going to complete our big ambition. Onwards we pressed.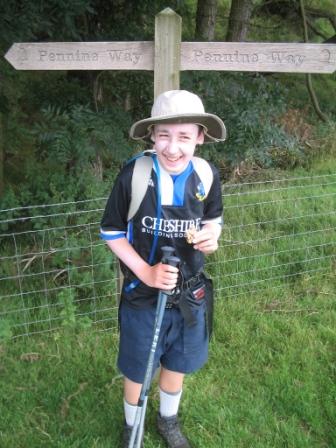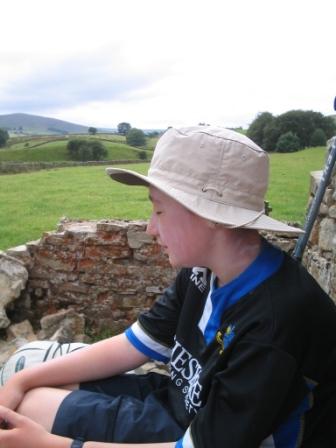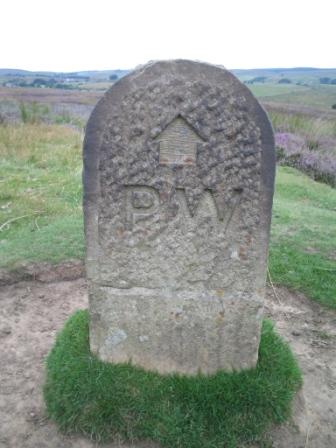 One of the ruined old farm buildings at Merry Knowe seemed to provide an ideal spot for some lunch. We decided to have an extended lunch break, eating all items in our packed lunches. I used the broadcast receiver facility in my Yaesu VX-7R handheld amateur radio transceiver to tune into BBC Radio 5 Live, and we rested for nearly an hour, enjoying a leisurely lunch in the sun. As we set off again for the afternoon's walk, the sun began to beat down ferociously, and the signs inviting us to the pub near Knarsdale caused serious temptation. The was still a considerable distance to cover to Greenhead though, so we made a reluctant but sensible decision to keep the legs moving.
There was still not much to see along these long straight stretches of the trail. Four parallel stripes on the map were represented as four parallel stripes in our view as the Pennine Way, the A689 road, the South Tyne Trail footpath that follows a disused railway line and the River South Tyne itself all progressed consistently north. We walked along with our focus on objectives every approximately two kilometres. First it was the A689 at Burnstones, then the A689 bend at Glendue Burn. The next thrilling episode to target was the A689 west of Lambley, following which we were finally free of the bloody A689 and wandering uphill on some desperately needed more varied terrain.
The time now passed more quickly, as did the distance we were covering. The route became very ambiguous between Greenriggs and Wain Rigg, and the map and compass were used in anger for the first time in days. We passed to the right of the trig point on Wain Rigg, not bothering to pose for photographs by it, and looked ahead as the view opened up for the first time in miles and miles.
The Pennine Way turned sharp right along a farm track then into a field full of cows and calves. We took care to take a considerate line through the cows so as not to disturb or concern them, but suddenly one of them went very edgy. She gestured towards us defensively and tried to stand in front of her young calf. Suddenly, there was a full stampede on, with scores of cows and calves running around in confusion. We were trapped in the middle as they circled us, but fortunately their charge soon broke away from us. Nonetheless, we were anxious not to disturb them further, and we were relieved when our left turning out of the pasture appeared - or so we thought. We ambled gratefully down the walled track, but soon realised we had turned off too early. We thought it would be better to continue and cut across to the Pennine Way from where we were, as opposed to return to the field and risk upsetting our bovine friends again. We followed a drain across the field to the Pennine Way, and it was soon clear that others had also made this mistake, and a large array of fences, gates, barbed wire and spikes and been assembled in the drain to prevent people passing through. Perhaps this should have been our hint to turn back, but we decided to try and climb over the obstacle. After several false starts, I managed to get myself atop the shaky six feet high construction of gates and barbed wire. Carefully, I got my legs over the top, and with difficulty managed to rotate my feet in order to allow me to climb down the other side. Then I got stuck about halfway down, and the only way to complete the descent seemed to be to jump down the remaining three feet. I launched myself off and landed on the ground, missing by centimetres a four foot metal spike sticking vertically out of the ground. I hadn't even seen it, and realised I had come horribly close to impaling myself upon it! I tried to recover my composure as I talked Jimmy over the fence and down. We were pleased to be back on the Pennine Way, without cows, fences or spikes!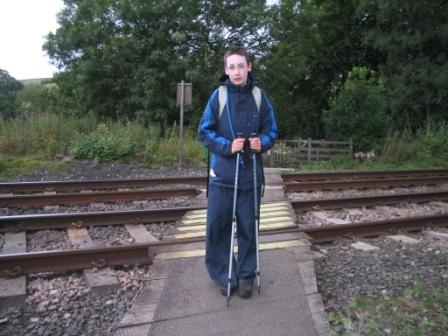 We reached the A69 from where the town of Greenhead, and its youth hostel lay just a kilometre or so to the right down the trunk road. Just enough time was still available to stick to 'Plan A' , so we crossed the road and continued on the Pennine Way path northwards over more fields. The first evidence of the Roman history of this area was the gently sloping 'Vallum' at the edge of Haltwhistle Golf Course. It would have been much higher and more dramatic in Roman times of course. Much more visible clues of times gone by would be encountered over the next two days. Once we walked across the railway lines, we were to turn right (south) away from the Pennine Way for the short easy stroll to Greenhead.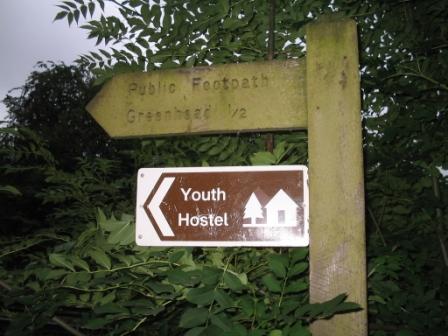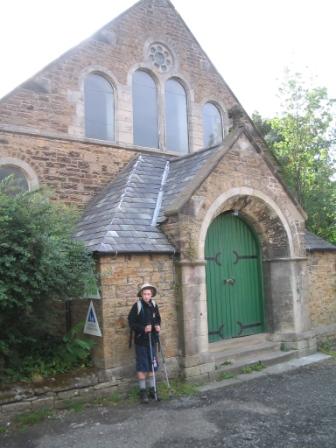 Greenhead Youth Hostel was accommodated inside an old methodist church. It is soon yet another hostel done away with in the sweeping and brutal round of 2006 closures. However, it was then apparently bought by the Greenhead Hotel and reopened under the YHA Enterprise Scheme. The staff were extremely attentive, and served up an excellent meal of lentil soup, Northumbrian Sausage with rustic mash and red wine gravy and sticky toffee pudding. We dined with a Belgian couple who were doing the Hadrian's Wall Path long distance trail. The church building meant that no beer could be on sale in the hostel. Jimmy and I made our beds up and showered before wandering out to see what pubs there were in Greenhead.
Right across the road from the hostel was the Greenhead Hotel. There were no hand-pulled real ales, but I had learned my lesson from the keg bitter in Alston. I had a couple of pints of Kronenburg 1664 continental premium lager! We sat with Derek and Emma, who happened to be spending the evening in the hotel bar, and I think they were indeed staying there. They signed the Wainwright book, and we exchanged email addresses and wished each other well for the remainder of the walk. They were walking all the way to Bellingham tomorrow, while we were only going to Steel Rigg, so yet another pair of Pennine Way walkers had crept up on us from behind and overtaken us at greater pace! Having completed 18 miles today courtesy of our "extra" bit 'borrowed' from tomorrow's leg, I was tired, and the bunk bed seemed even more welcoming and cosy than usual.