Arenig Fawr, GW/NW-011 - 854m ASL - SH 827 369 - OS Explorer OL18 - 8 SOTA points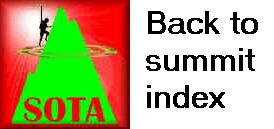 This was the last summit on mainland Wales that Jimmy needed to catch up with my activator uniques. From Moel Llyfnant GW/NW-018, we made our way down the grassy slope on the eastern side of the hill, across the marshy saddle and up the ridge. This was quite steep and punishing, so once it levelled off into a pleasant amble between rock outcrops and mountain tarns, we found a spot to enjoy lunch in the glorious sunshine.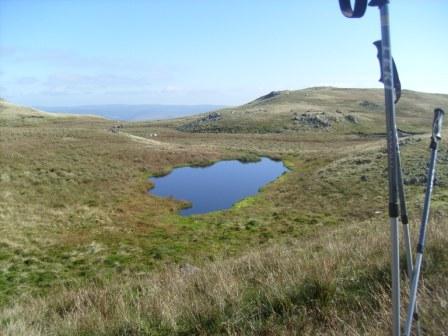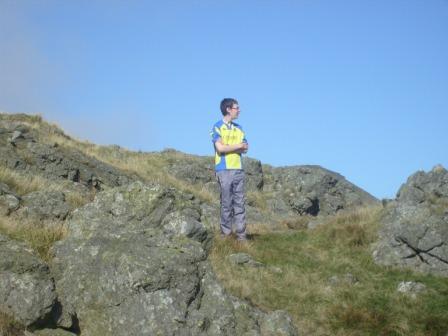 The Baxter's asparagus soup was delicious, and the rest welcome. Another walker came down from Arenig Fawr, the only one we had seen all day. He reported the same, but expressed concern at the time he had been out and effort expended on what was described as a 4 hour walk on the Trail Magazine route card he had with him. I suggested a possible escape route back north along the lower flanks of Arenig Fawr, and he discussed navigation with Jimmy over the OS map.
Before Arenig Fawr itself, there was a false summit to walk over. Jimmy followed the main path straight over this. Following behind, I tried to be clever and work my way around to the right and saving some ascent/descent. This turned out to be a bad move, and I was forced to scramble steeply up to the false summit anyway when things got too exposed for my liking.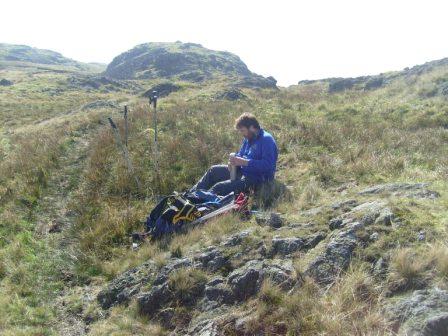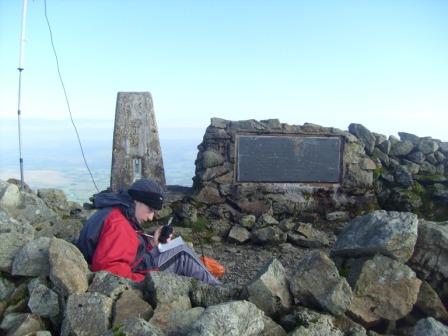 I could now see that Jimmy was on the summit and setting up the SOTA Beam. Shortly I joined him and set up the 40m dipole. Jimmy did nine QSOs on 2m FM, while I did 12 on 40m CW. We now left the summit at shortly after 4pm, and walked down the long grassy bank to the valley below. I was now very tired, and incredibly hungry. Perhaps it was a sign that middle age is imminent, but I spent most of the rest of this descent fantasizing wildly about a Ginsters peppered steak slice. I was glad to be reunited with Jimmy at the tumbledown farmhouse where he was waiting for me, and a Land Rover driver was waiting for two paragliders that had been floating around Arenig Fawr for the last hour or so.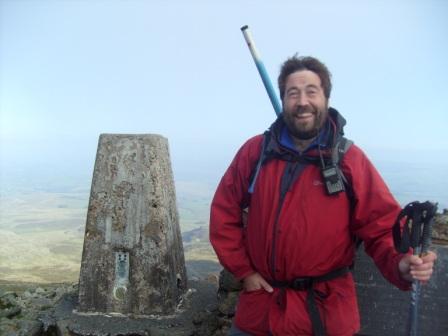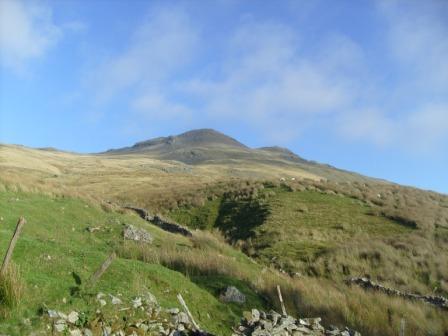 A short track took us back to the other abandoned farmhouse, from where we had branched off for Moel Llyfnant GW/NW-018 earlier. Then it was back along the track to the car at Nant Du. Our appetites would not wait until we reached our accommodation on the Lleyn, showered and went out again. Instead, we dived in the very first chippy we found - in Penrhyn - and fish, chips and peas has never gone down so fast!
Our accommodation was B&B at Rhos y foel, Llanor, near Pwllheli. We had camped in the field here last year. Because it was quiet, the landlady gave us a free upgrade to a room each - luxury! After a shower and change, Jimmy and I headed out to the pub for a pint and pudding, before returning to settle about 10pm. Jimmy went straight to bed, while I, in the comfort of my own room, watched the first hour of Match of the Day before my eyes refused to stay open any longer! Thanks to the following stations, worked from this summit:
| | | | |
| --- | --- | --- | --- |
| G1OHH | 2m | FM | J |
| G4IZL | 2m | FM | J |
| G4JNN | 2m | FM | J |
| OK1FFU/P on Cihadlo US-012 | 40m | CW | T |
| G6LKB | 2m | FM | J |
| DL1FU | 40m | CW | T |
| DL3JPN | 40m | CW | T |
| DL3VTA | 40m | CW | T |
| DL6KVA | 40m | CW | T |
| DL3HSC | 40m | CW | T |
| GW4PJQ | 2m | FM | J |
| ON4AUB | 40m | CW | T |
| ON4ON | 40m | CW | T |
| F6FTB | 40m | CW | T |
| DL4FDM | 40m | CW | T |
| S58R | 40m | CW | T |
| G6SGX | 2m | FM | J |
| DL9CM | 40m | CW | T |
| G4BLH | 2m | FM | J |
| MW0IDX | 2m | FM | J |
| G1KLZ | 2m | FM | J |