Moel Llyfnant, GW/NW-018 - 751m ASL - SH 808 352 - OS Explorer OL18 - 6 SOTA points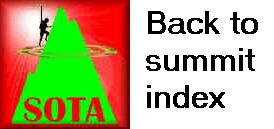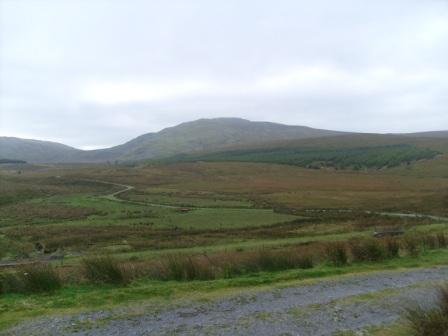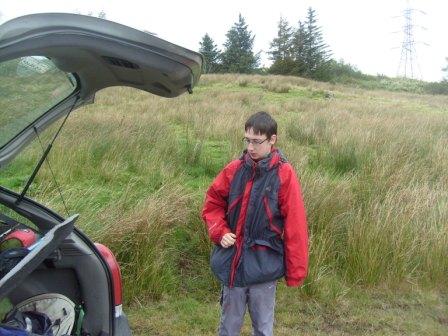 The Lake District is always lovely when I visit. Snowdonia is always wet! So I never quite allowed myself to believe the fine forecast for Snowdonia. As Jimmy and myself pulled off the driveway at 6.40am on Saturday 26th September 2009, it was grey and damp, and we didn't feel optimistic. The skies were starting to brighten slightly when we reached Lymm Truck Stop 30 minutes later. After a large breakfast of bacon, scrambled egg, sausage, toast, mushrooms, beans, black pudding and tea, we continued on the M56 and A494 to Bala.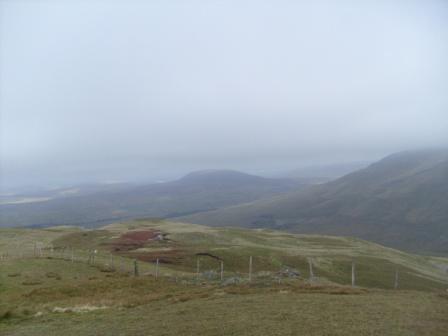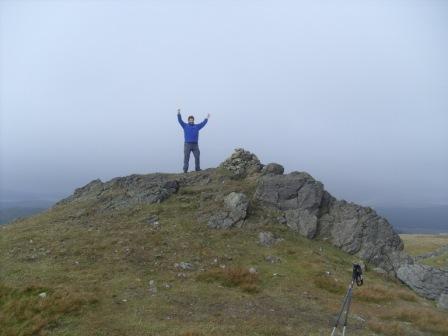 Beyond Bala, we parked just off-road at Nant Du. We dropped down, went through a few gates, and walked along the flat stony track to an abandoned farmhouse. Here we veered right up what appeared to be a disused quarry railway, and around onto the open fell as height was quickly gained.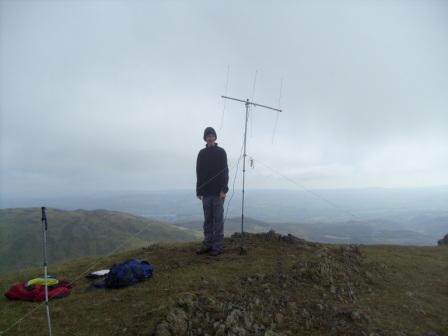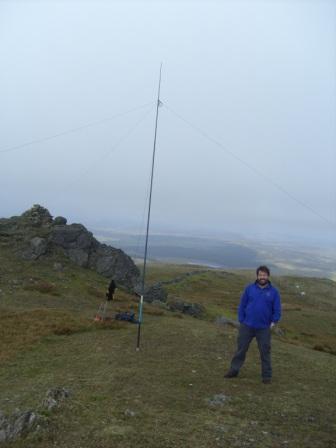 The summit soon came into view, a stone cairn perched upon large rocks that poked their way through the mainly grassy hill. By now, it was hot and sunny, and it was shirt sleeve order on the summit. Jimmy operated on 2m FM and made four QSOs, while I did 23 on 40m CW. The views were fantastic, and now the only cloud in the sky was a small blob of mist sat upon Arenig Fawr GW/NW-011 on the opposite side of the valley. Thanks to all callers:
| | | | |
| --- | --- | --- | --- |
| HB9AGH | 40m | CW | T |
| DL6KVA | 40m | CW | T |
| G4SSH/A | 40m | CW | T |
| DL8YR | 40m | CW | T |
| F4CTJ | 40m | CW | T |
| F6ENO | 40m | CW | T |
| ON4CMT | 40m | CW | T |
| F5SQA | 40m | CW | T |
| OE8SPW | 40m | CW | T |
| EI7CC | 40m | CW | T |
| G4ELZ | 40m | CW | T |
| ON5KL | 40m | CW | T |
| DJ5AV | 40m | CW | T |
| G4CMQ | 40m | CW | T |
| DL1AVK | 40m | CW | T |
| DL2EF | 40m | CW | T |
| DL3JPN | 40m | CW | T |
| LA8BCA | 40m | CW | T |
| 9A7W | 40m | CW | T |
| GM0GOV | 2m | FM | J |
| GW4ZPL | 2m | FM | J |
| DK6NC | 40m | CW | T |
| G3WPF | 40m | CW | T |
| GW0DSP/M | 2m | FM | J |
| GW1GJJ/P | 2m | FM | J |
| F8AAB | 40m | CW | T |
| G4WSX | 40m | CW | T |