Home Band Musicians Gigs Media Contact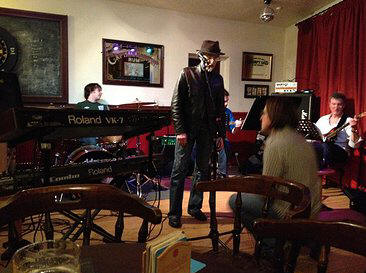 Manatees was put together by Garry 'The Hat' in the summer of 2011 after preliminary conversations with selected musicians. Fortunately, they weren't too appalled at the prospect, and the promise of international fame and untold riches (all lies to draw them in) swung it and the core band of Garry White, Nick Davis, Tom Read, Mark Breen, and Elliot White (Garry's son) got together to see if they could make some acceptably interesting music.

Why these particular guys?

Nick – Garry and Nick had worked together on and off for 40-odd (very odd) years and he still answered the phone to him, so it was worth another punt. He also owns an electronics company – useful.

Tom – Garry and Tom had accidentally worked together in the Adam Palma Band for a few, not too disastrous, (nay, excellent) gigs and Tom claimed to be able to read music, which is not much of a drawback, so he got asked. He now refers to himself as MD (monstrously deluded).

Mark

– was the only keyboard player that Garry knew that was not in a band and had some nice keyboards. Turns out he's not too shabby at playing them either.

Elliot – As he is Garry's son, it was reckoned he owed his dad a couple of favours. He also co-owns a studio in Macclesfield for rehearsals and stuff – useful. He got the job – or else.

Why 'Manatees' (pronounced man at ease)?

Overweight, lazy, lovable creatures. Notoriously flatulent (come on, we're blokes) and the most chilled out mammals on the planet. Since the original line-up started gigging, a situation arose where Mark was not available, so instead of finding a dep keys man (too much like hard work)...

Tim Davis -

(Nick's son) was recruited to sub the keyboards parts on guitar. Now we can't get shot of him. He shows up more often than not. Nine feet tall, skinny as a rake. Tom's had bigger starters in restaurants.

Music

Yes, that's what we are here for. Started out as a bluesy, jazzy, funky ensemble. Then we started to explore some more sophisticated styles of rock (think Steely Dan) then discovered we are still a bluesy, jazzy, funky ensemble that plays some sophisticated rock as well, that is bluesy, jazzy and funky.

God knows why, but we decided we would benefit from a brass section so Tom recruited two of his father's ex-pupils on tenor and alto sax (Tom's father, Roger, taught a significant portion of the world how to play something or another). Deb and Judy thus became the brass section.

Debs Doorbar and Judy Lakeland ...are not men. They do not therefore fit the description of a "man at ease". They are known affectionately as the Girlsatease (corny), Girlzatees (slightly less corny and more 'rock & roll') or Chas and Dave, or Eric and Ernie, Marks and Lenin, or just the Bras Section (that's more like it, crass chauvinism). Turns out we did benefit – "brought a new dimension to the Band" they said. Still working out whether it was height, width, depth, girth, or just square footage.

Stewart Butler

originally stepped in to dep for Debs on tenor sax at the 2013 Nantwich Jazz & Blues festival. He was then mistakenly booked to dep for Debs on a gig that Debs was available for. In the meantime, it transpired that Stewart was the proud owner of a rather magnificent baritone saxophone, and Garry wasn't letting him go anywhere after that. With the bass end of the horn section sorted out, a lead trumpet would be nice...

Laura Horne just happened to introduce herself around this time. What's more, she has a great trumpet, a great sound and can read music very well. She sat in on a rehearsal with us to give it a go. What she didn't realise was that from ten minutes into that rehearsal, she was already a permanent member of the Manatees. Only thing is now that Garry's original play on words of "Man at Ease" no longer works that well with no less then three females in the band. Laura's "permanent member" status became slightly sporadic when she headed to Spain for her gap year.

Nigel Kirkham

is our current lead trumpet player. His CV includes several brass bands and function bands around the Manchester area, as well as being part of the horn section for Martha Reeves' last UK tour.

Tony Kelly

is

our current soloist tenor sax player. His collection of gig toys also includes soprano sax, flute and clarinet. His CV includes several brass bands and function bands around the Manchester area, as well as being part of the horn section for Martha Reeves' last UK tour.

Adam Kelly is one of our current alto sax players. His CV includes several brass bands and function bands around the Manchester area, but was never part of the horn section for Martha Reeves' last UK tour, as he was only about 5 years old at the time.

Will Read

, Tom's brother, has depped on drums for Elliot when he is busy being a rock star, but is now mainly one of the band's backing vocalists. Will used to fill up his spare time being an international TV celebrity as a Showbear, but a serious fall from grace soon meant he was only picking up small-time gigs with Gloria Estefan at the Royal Albert Hall, London and Basel, Switzerland.

Lesley Kirkham

stands alongside Will providing the b/v's on our bigger gigs. Lesley had worked with Tom for over 25 years in his function band "Grapevine" and Alan Shaw's function band "Galerie", also with Tom. And she is Nigel's wife.

Liam Read

, yes another flamin' Read. Its a friggin' dynasty. This is Tom's youngest son who occasionally gets up and sings a party piece with us, especially if his mum is in the audience.

Tom Scragg, the alto man from Rough Twist, and yet another former pupil of the late Roger Read. Tom is usually first to be called when either Debs or Judy are off, as he is usually first to be available.

Ben Ward

, the tenor guy from Rough Twist, and yes, yes, guess who taught him... Ben is usually last to be called when we need a dep sax player because he is usually too busy running his excellent pub, the Old King's Head at Gurnett.

Neil Shaw-Hulme is yet another of our huge pool of horn players. Neil plays tenor and alto saxophones, and counts Judy amongst his pupils.

Neil Marshall is a professional drummer of top standing. He has occasionally depped for us in the unlikely circumstances that he had a gap in his diary in between world cruises, pantomimes and The Castaways.

James Nelson is another in our pool of dep drummers. And another in our pool of former students of Roger Read...

Things they say about:

Garry -"Best front man I've ever seen, I should know, I'm his mother".

Nick

– "Is that another new guitar?"

Tom

– "That bass looks too tight for him".

Mark

– "He needs a taller stool".

Elliot

– "What's he smiling about?" and "Best drummer I've ever seen, I should know I'm his grandmother".

Tim

– "Has he eaten anything today?" and "Is that one of Nick's (guitars)?"

Debs

and Judy – " Nowt like a bit o' brass".