Baystones, G/LD-039 - 487m ASL - NY 403 052 - OS Explorer OL7 - 1 SOTA point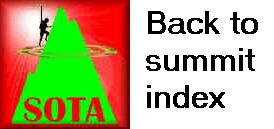 An earlyish start from Macclesfield on Friday 17th April 2009 saw us join the M6 and completely ignore Lymm Truck Stop. We had other ideas today. We sailed up the M6 and left at J36 to follow the A590 down to Newby Bridge. Here, we stopped to fill up with diesel at the Texaco garage, and also fill up with breakfast at the cafe next door. This establishment had been recommended to us by Steve M0SGB.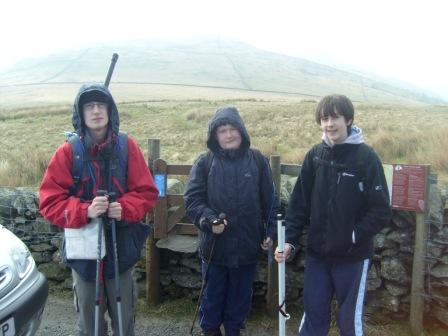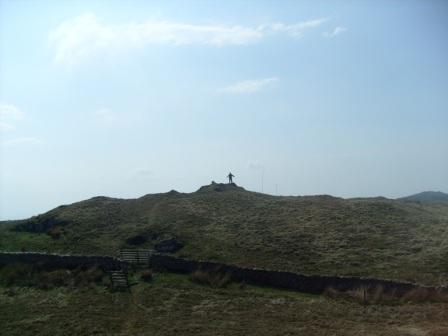 Here, we were soon met by Ian G7EGQ and Jordan M3TMX, plus Jordan's younger brother and sister. They joined us inside for breakfast and hot drinks. I tucked into "The Bridge" full cooked breakfast and pot of tea - excellent.

I had worked Jordan a couple of weeks previous, and he was bemoaning his current lack of opportunity to get out SOTAing, due to his parents' work patterns. I mentioned my intended trip to the South Lakes, and said that he was welcome to join up with us on any of the days. It turned out that the Friday was feasible, and furthermore, the two summits I had alerted would represent new uniques for Jordan.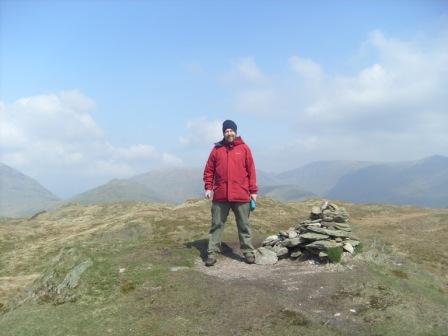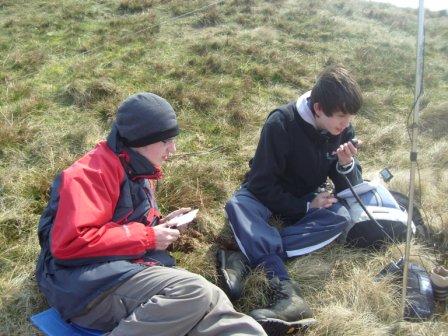 After saying goodbye to Ian and family, we hit the road - the A592 - up through Windermere and Troutbeck towards Kirkstone Pass. The parking spot was a small layby at NY405068, usefully positioned right by the wall stile at the start of our ascent path.

What followed was a straightforward, gently ascending and occasionally boggy amble up to the summit of Baystones. The path was an indistinct faint line in the grass, but could be followed with care. It probably took about half-an-hour to reach the summit cairn, by which Jimmy and Jordan were already assembling a 2m beam when Liam and I arrived.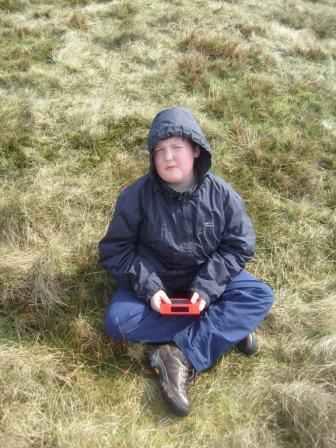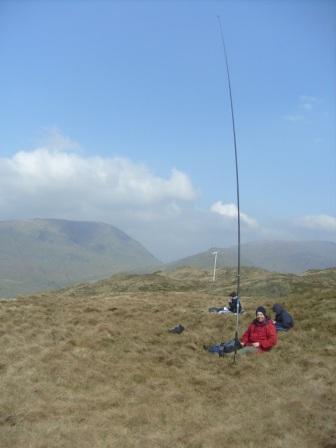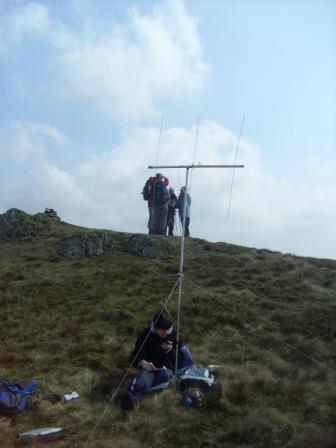 I assembled the 20m Magic Moggy and sat down to enjoy the lovely weather (when sheltered from the wind) and excellent views. This summit was also a WOTA - LDW-178 - but Jimmy and Jordan were better at remembering to offer the WOTA reference than I was! I worked just seven stations on 20m CW, but OM - Slovakia was a less-often heard one amongst them. Jordan M3TMX has a quick go on 20m SSB, and worked into Russia amongst others.

The descent was straightforward, and Jimmy and Jordan led the way, discussing all things Marilyns, Wainwrights and prominences. We were all back at the car in good time, about 1.30pm local, and eagerly anticipating the next summit - Loughrigg Fell G/LD-047. Many thanks to the following callers (Jordan M3TMX appears as 'X' in the table!):
| | | | |
| --- | --- | --- | --- |
| G1OHH | 2m | FM | X |
| G4BLH | 2m | FM | J, X |
| GW0DSP | 2m | FM | X |
| G6LKB | 2m | FM | X |
| G4ZRP | 2m | FM | J |
| G1KLZ | 2m | FM | J |
| G1HAK | 2m | FM | J |
| G4WHA/M | 2m | FM | J |
| OM1DM | 20m | CW | T |
| EW8EC | 20m | CW | T |
| S51ZG | 20m | CW | T |
| G0TDM | 20m | CW | T |
| HB9AGH | 20m | CW | T |
| DF5WA | 20m | CW | T |
| DL2JES | 20m | CW | T |
| G7EGQ | 2m | FM | J, X |
| 2E0ZMO/M | 2m | FM | J |
| 2EOTOG | 2m | FM | J |
| G4USW | 2m | FM | J |
| G6LKB | 20m | SSB | X |
| G0PZO | 20m | SSB | X |
| S57AX | 20m | SSB | X |
| S57GB | 20m | SSB | X |
| RN4HN | 20m | SSB | X |