Bessy Bell, GI/SW-001 - 420m ASL - H 390 820 - OSNI Discoverer 12 - 2 SOTA points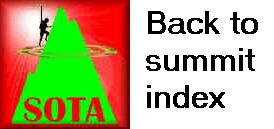 GI SOTA Trip - Activation #5 - Bessy Bell GI/SW-001 - Tuesday 31st May 2016
The owners of the guesthouse spoke highly of the walk up Bessy Bell, so we were looking forward to this. The day began with me preparing the flask of tarka dhal soup. After doing so, I carried the flask to the car and immediately noticed how hot it was to carry! Only one conclusion - flask broken!
It was a short drive directly along the minor roads from Mountjoy, to Wind Farm Entrance #2 at H378804. It looked as though it might be possible to drive onto this access road, but we decided against it and walked. The first 1.5km was mostly horizontal as the road contoured around the hillside just below the wind turbines. At the crossroads, we turned right and started gaining height up the hill.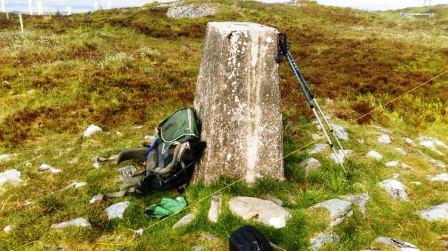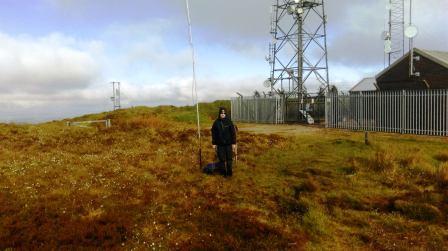 After a further 1.5km of walking up the fairly steep tracks, we emerged on the summit behind the radio station. The views were really nice and we were still being blessed by gloriously warm, sunny and un-Irish-like weather! Ten easy contacts earned me my two points for the activation. Jimmy could only raise two on 2m FM though, and sat in on my set-up to get a couple more on 40m SSB.
As we descended, we noticed several cars on the access roads. I had a chat to one of the drivers as he got out to walk his dog. "Oh sure, it's fine to drive up here" he said. But I had enjoyed the walk, the exercise and the views, so I didn't feel any sense of "opportunity missed".
Conscious of the flask problem, I decided we would take "lunch" very early. Even at this early time, the soup was already down to lukewarm temperature. We were now on the lookout for potential retailers from which to purchase a new flask as we drove around for the rest of the day. First though, we made our way towards Mullaghcroy GI/SW-009.
| | | | | |
| --- | --- | --- | --- | --- |
| Time | Call | Band | Mode | Op |
| 07:52z | MI0GDO | 144MHz | FM | MI0HGY/P |
| 07:56z | G3VQO | 7MHz | CW | MI1EYP/P |
| 07:56z | F5SQA | 7MHz | CW | MI1EYP/P |
| 07:57z | EB2CZF | 7MHz | CW | MI1EYP/P |
| 07:58z | DJ5AV | 7MHz | CW | MI1EYP/P |
| 07:59z | F8AAB | 7MHz | CW | MI1EYP/P |
| 08:00z | GI0AZB | 144MHz | FM | MI0HGY/P |
| 08:00z | G4CMQ | 7MHz | CW | MI1EYP/P |
| 08:00z | G3RDQ | 7MHz | CW | MI1EYP/P |
| 08:01z | ON4FI | 7MHz | CW | MI1EYP/P |
| 08:03z | PA0B | 7MHz | CW | MI1EYP/P |
| 08:05z | PA0SKP | 7MHz | CW | MI1EYP/P |
| 08:10z | G0RQL | 7MHz | SSB | MI0HGY/P |
| 08:15z | OT6V | 7MHz | SSB | MI0HGY/P |