Mullaghcroy, GI/SW-009 - 242m ASL - H 329 818 - OSNI Discoverer 12 - 1 SOTA point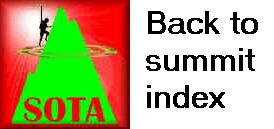 GI SOTA Trip - Activation #6 - Mullaghcroy GI/SW-009 - Tuesday 31st May 2016
From Bessy Bell GI/SW-001, it was a very short drive through minor lanes to the parking spot at H332826. The research from http://mountainviews.ie had promoted this route as "five minutes" but it was considerably more than that. It was not at all far at 1km with only 70m of ascent, but much of this was on difficult ground making progress slow.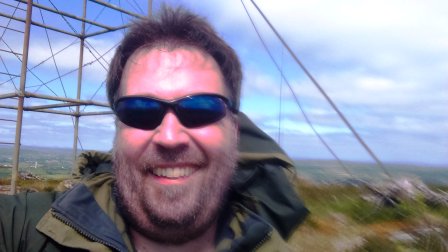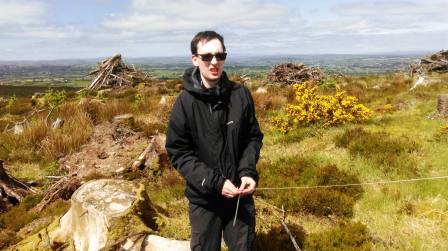 Initially the going was good on a farm track, but then we need to cut across a field of very long grass to a fence crossing. We were now in the same enclosure as the summit itself, and could see the fire tower at the top. This was now just 500m away and 25-30m higher, but was all on completely felled upper slopes and so far from trivial.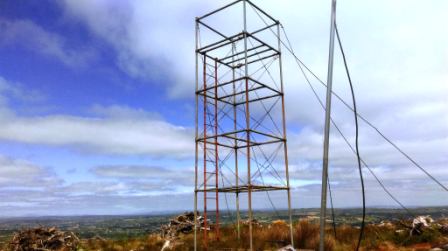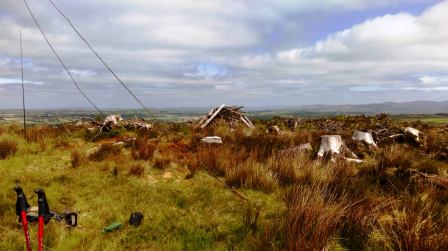 We set up very close to the fire tower at the summit, although neither of us were remotely tempted to climb up it! Jimmy was first to make a contact on his 2m FM set-up, but he struggled to a frustrating 3 QSOs over the next 15 minutes. By then I had easily qualified with 6 QSOs on 40m CW. I self-spotted and moved onto 40m SSB while Jimmy was making his final pitch for a 4th QSO - which didn't come off.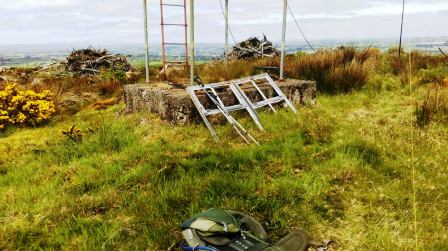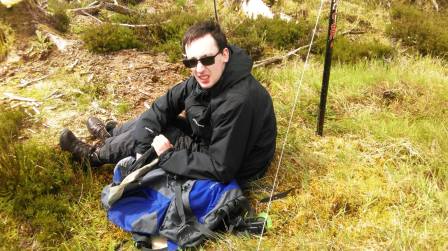 I worked two on 40m SSB to take my activation total to 8, then Jimmy got his all important fourth QSO from Pedro EA2CKX. With another four summit day planned, and a slightly tricky descent, we were keen now to pack up and get back to the car. Next on the agenda was Bollaght Mountain GI/SW-005.
| | | | | |
| --- | --- | --- | --- | --- |
| Time | Call | Band | Mode | Op |
| 10:37z | 2I0DJM | 144MHz | FM | MI0HGY/P |
| 10:39z | G3RKF | 7MHz | CW | MI1EYP/P |
| 10:40z | G3VXJ | 7MHz | CW | MI1EYP/P |
| 10:41z | ON4FI | 7MHz | CW | MI1EYP/P |
| 10:46z | GI7FHZ/M | 144MHz | FM | MI0HGY/P |
| 10:47z | HB9AGH | 7MHz | CW | MI1EYP/P |
| 10:48z | OE1WIU/P | 7MHz | CW | MI1EYP/P |
| 10:50z | GI7PWQ | 144MHz | FM | MI0HGY/P |
| 10:50z | G3VQO | 7MHz | CW | MI1EYP/P |
| 10:53z | G0FEX | 7MHz | SSB | MI1EYP/P |
| 10:54z | G8TMV | 7MHz | SSB | MI1EYP/P |
| 10:56z | EA2CKX | 7MHz | SSB | MI0HGY/P |